STEPN
STEPN is the world's first move2earn NFT game for mobile phones. To get tokens, gamers must go outdoors and walk, jog, or run while wearing an NFT Sneaker. The game has a dual token system, a Game Token (GST), and a Governance Token (GMT)[1]. 
Overview
---
STEPN is a Solana -powered move-to-earn non-fungible token (NFT) game that began private beta testing on November 3, 2021. It launched in December 2021 and is now accessible to play on iOS and Android[2]. 
The program is set up in a way that users may put on an NFT shoe and then earn tokens by walking or running. To avoid exploitation, the game has a built-in wallet with a swap, cross-chain conversion feature, and a thorough anti-cheating system[3]. 
The NFT Sneakers collection will be airdropped to community contributors during the first season. Bug catchers in private beta and the most active community members will receive limited edition NFT shoes[4]. 
STEPN is the first move2earn NFT mobile game in the world, with the goal of persuading millions of people to adopt healthier habits[5]. 
Unique features that make STEPN a standout game include accessibility and a zero-entry barrier. Everyone can participate in STEPN's earning process. STEPN employs a method known as move2earn, which the great majority of people can understand[6]. Players do not need to hold Non-Fungible Token (NFT) assets to play STEPN because it has a zero-entry barrier. Instead, they can borrow them for free from other players in order to begin moving2earn, with the earnings divided afterward.
Gameplay
---
The mobile game rewards players with game tokens for every step they take; game tokens may be won passively or actively, and governance tokens can be gained after the player has reached the maximum level. An NFT shoe, which may be purchased or rented for free, is required to play the game. Burning game tokens and/or governance tokens allows players to level up, add jewels, and create new NFT footwear in the game.
Players may compete in an online Marathon for top leaderboard positions and awards, or they can use their energy to undertake a power run for not just game/governance tokens, but also accomplishments and Non-Fungible Token (NFT) badges. Certain NFT badges grant players special advantages in-game.
Game Modes
---
Solo Mode
Players can earn tokens by moving in Solo Mode. Their profits are determined by two factors: their degree of physical activity and the rarity/aspects of the Sneakers they possess.
To begin Solo Mode, players must simply hit the START button and move. If they haven't already done so, the system will choose a Sneaker for them; otherwise, they may manually select a Sneaker by pressing the shoe symbol on the screen.
In Solo Mode, GST is collected according to the players' walking/running pace and the level/attributes of the Sneakers they are wearing.
Solo Mode stops earning GST after Energy is exhausted, although players can continue walking/running without earning. Otherwise, players can manually exit Solo Mode[7]. 
GMT
When a player's Sneakers reach the maximum level, they begin to earn Governance Tokens. Because the total amount of Governance Tokens earned each year is predetermined, participants' earnings will be pro-rata. The GMT earning rate is 10% of the player's GST earning rate; for example, for every 10 GST earned, the player would receive 1 GMT. 
Marathon Mode
Players must register for the Online Marathon under the Marathon Tab under Marathon Mode. Weekly and monthly Marathons are available, and participants must register for each one separately 24 hours prior to the start of the Online Marathon.
The Weekly Marathon takes place once a week and lasts throughout the whole week. The 2km, 5km, and 10km Marathons are available to participants. At any one moment, players can only take part in one Marathon[8]. 
The monthly Marathon takes place once a month and lasts the full month, regardless of how many days there are in that month. Participants can select between the 21-kilometer and 42-kilometer marathons. Players must register for monthly marathons through their favorite/local running club.
Background Mode
With at least one Sneaker in their inventory, players may earn GST without ever opening the app or paying repair charges. The Background Mode collects the step count straight from the mobile device's Health Data while the STEPN app is turned off. Sneaker Durability is not affected by steps taken in Background Mode (walking, Jogging, or Running).
Background Mode earning is capped at 3,000 steps, and it is in addition to players' Daily Token Caps in Solo Mode. The earning in Background Mode has been rectified, and it will have no effect on Sneaker Quality or NFT Badges.
NFTs
---
The STEPN NFT packs come as sneakers and also as shoe boxes.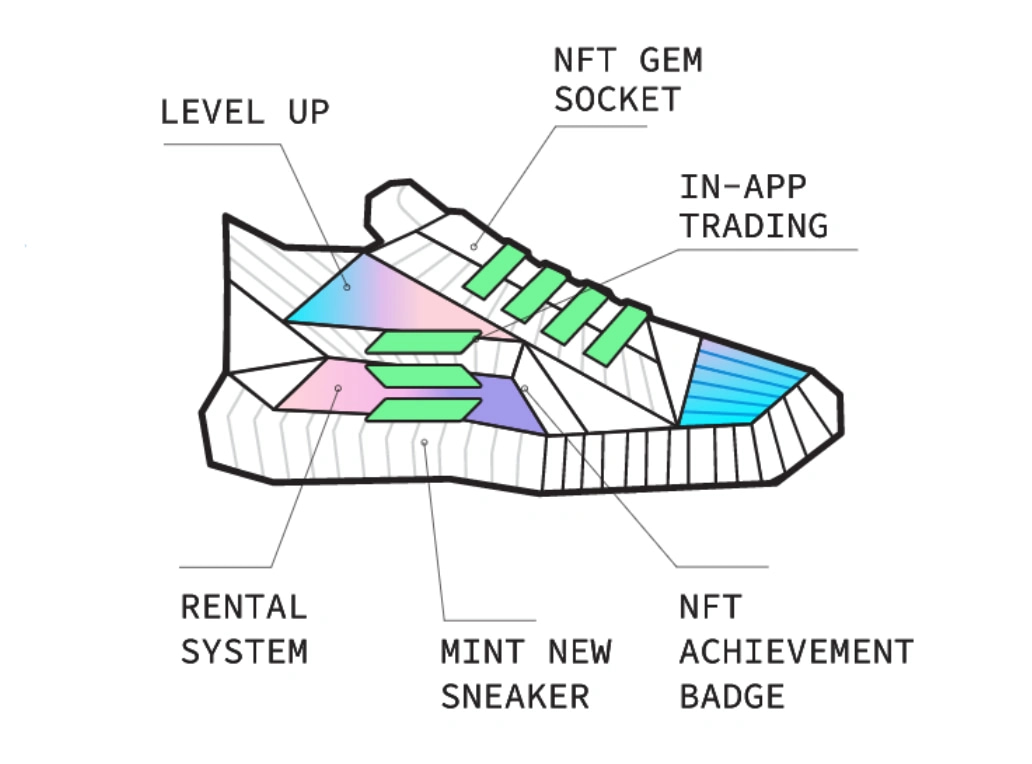 Sneaker Attributes
Efficiency (GST/GMT Earning)
Determines how much additional GST/GMT players may earn over and above the Sneaker's base return in Solo Mode. The more efficient a GST/GMT player is, the more money he or she may make per unit of energy expended. In Marathon Mode, Sneakers with a greater Efficiency will accrue more points, allowing players to climb the Leader Board faster. If players wish to initiate Solo and Marathon Mode on their own, efficiency is a great trait to have[9]. 
Luck (Mystery Box)
In Solo Mode, the frequency with which a Mystery Box appears in players' chest slots is determined by luck. Sneaker owners can also earn Mystery Boxes by leasing their Sneakers to other players.
For players who want to lease the majority of their Sneakers to the market, Luck is an excellent Attribute[10]. 
Comfortability (Buff)
Comfortability controls how often players may earn a Short/Long Buff in Solo Mode. In Solo Mode, a Short Buff is a 1-5 minute earning/energy boost that occurs at random while players are moving. Short Buffs can appear on any Sneaker between Lv1 and Lv30, and they can stack.
A Long Buff is a 24-72 hour boost that can occur within or outside of Solo Mode. Long Buffs improve events outside of Solo Mode, such as lower Shoe-Minting expenses, point bonuses for Marathons, or a greater chance to lease a Sneaker. Long Buffs can appear on any Sneaker between levels 20 and 30, and they DO NOT stack; the new Long Buff replaces the old Long Buff.
Comfortability is an Attribute that may be used to improve gameplay in a strategic way. When used correctly, it can help players advance faster than others.
Resilience (Durability/Repair)
In Solo Mode, Resilience determines the Sneaker's Durability*. Higher Resilience equals more Durability, which implies fewer repairs. If players want to fix their Sneakers, the repair charges will be lower.
In Marathon Mode, High Resilience allows players to run faster and longer without fear of getting a "wore-out" penalty if the Sneaker's Durability falls below 50%. When a Sneaker's Durability falls below 50% and 20%, respectively, the Sneaker gets a "worn-out" penalty, which decreases the Sneaker's Efficiency to 90% and 10% of its full value, respectively. The following factors influence the pace at which Durability degrades:
Movement Speed

Sneaker Resilience
Resilience is a valuable Attribute for lowering maintenance expenses, especially for marathon players.
Sneaker Types
There are four main varieties of Sneakers, each suited for a specific workout intensity and/or fitness level. The four kinds are listed below in order of their classifications:
| Type | Optimal Speed (km/hr) | Base Return at Optimal Speed |
| --- | --- | --- |
| Walker | 1-4 | 4 GST / 1 Energy spent |
| Jogger | 5-8 | 5 GST / 1 Energy spent |
| Runner | 9+ | 6 GST / 1 Energy spent |
| Trainer | Any speed | 4 - 5 GST / 1 Energy spent |
Quality
There are five different types of sneaker qualities. When a Sneaker is minted, all four Attributes are chosen at random from the Quality's min/max values. This means that due to shoe-minting variety, even high-quality sneakers might have drastically varying attributes. The Qualities are also distinguished by distinct colors: Common (grey), Uncommon (green), Rare (blue), Epic (purple), and Legendary (purple) (orange).
Level
Players may level up their Sneakers from Lv 1 to Lv 28 by burning GST. As the level develops, the quantity of tokens necessary to level climbs exponentially. Each level improvement takes time to complete, yet the time spent leveling up can be avoided by burning more GST. To level up a Sneaker from Lv28 to Lv30, a player must expend both GMT and GST.
Players may enhance the NFT Sneaker by adding one point to each of its four attributes, and once the NFT Sneaker reaches a particular level, they will earn a bonus. At Level 30, the user can alter the Sneaker's name by burning GMT Tokens. The name of each Sneaker is one-of-a-kind and cannot be reproduced.
Gem and Socket
Gems improve a player's Sneaker's Attributes. This is accomplished by placing Gems in the appropriate Socket. Sockets of high grade can improve Gems' Attributes even more. There are four different varieties of Gems, each of which represents a different Attribute and color:
Blue: Efficiency

Yellow: Luck

Green: Comfortability

Red: Resilience
Gems may be upgraded by combining three of the same level and type Gems. Players may use GST to convert these three Gems into one higher-level Gem in the Upgrade tab.
A Sneaker contains four distinct Sockets, each of which is designated by a color that corresponds to a Gem kind. Players may increase the Sneaker's attributes by inserting Gems into the Socket. Each time the Sneaker hits level 5, 10, 15, or 20, one Socket is unlocked. Only matching Gem kinds can be inserted into the Socket. A higher Socket grade will give the inserted Gem's Attribute an additional boost.
Without opening the Socket, players will be able to view the Socket type, but not the Socket Quality, which is dictated by the Sneaker's Quality.
Shoe-Minting
---
The Shoe-Minting Event (SME) occurs when players utilize two vintage sneakers as a blueprint to create one Shoe Box (containing a New Sneaker). To begin the SME, players must guarantee that the two Vintage shoes are not leased and have 100%/Full Durability.
They may then start minting by opening the Shoe-Minting feature on the Inventory page. Shoe-Minting takes time, and producing a Shoe Box for higher-quality Vintage shoes will take longer. To one Sneaker, players may only execute a maximum of 7 SMEs. The higher the SME count, the more costly it is to utilize a Sneaker for Shoe-Minting. The charges of shoe-minting are computed individually for each Vintage in the minting pair.
GST is only required for Shoe-Minting on Common to Rare Quality Sneakers, whereas GST and GMT are required for Epic and Legendary Quality Sneakers. Six percent of the GST consumed in this process will go to the game's treasury, where GMT holders will be able to vote on how it is distributed.
Tokenomics
---
A Game Token (GST) and a Governance Token (GMT) are used in the game. GST is spent in-game to mint new Sneakers, level up Sneakers, and upgrade Gems, among other things. The Governance Token (GMT) is utilized for profit-sharing in the game as well as high-end in-game actions including Sneaker renaming and high-level leveling/upgrading.
Game Token: GST (Green Satoshi Token)
The GST has infinite supply and is minted when a player is moving in Solo or Background Mode.
The GST is burned via:
Shoe-Minting

Marathon registration fee

Repair

Level up Sneakers

Upgrade Gems

Unlock Socket

Remove inserted Gems from Socket
Governance Token: GMT (Green Metaverse Token)
The GMT is minted at the Token Generation Event, with a total of 6,000,000,000 minted.
The GMT is burned through:
Participate Governance

Taker option is voted result

Renaming the Lv30 Sneaker

Lv28-Lv30 Sneaker leveling

Epic and Legendary Sneaker Shoe-Minting

Lv7-9 Gem upgrade
In the game, STEPN has a built-in decentralized wallet. The wallet supports three asset chains: Bitcoin, Ethereum, and Solana, as well as a swap and cross-chain conversion feature. When a player's asset exceeds $50, the player is automatically reminded to back up their wallet.
See something wrong?
Report to us.
STEPN
Did you find this article interesting?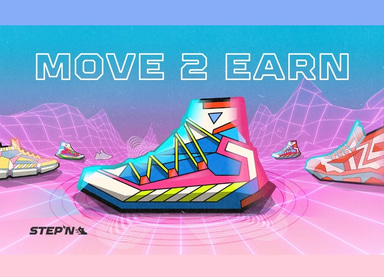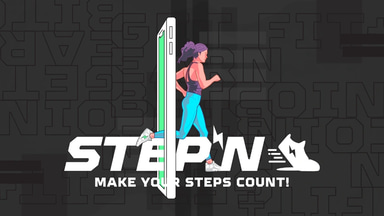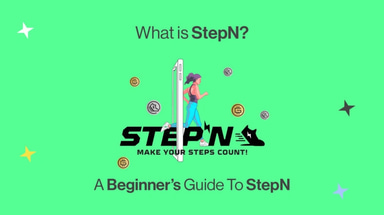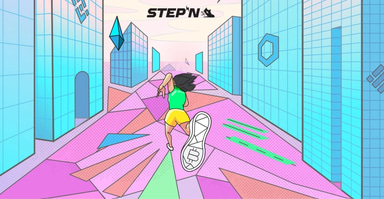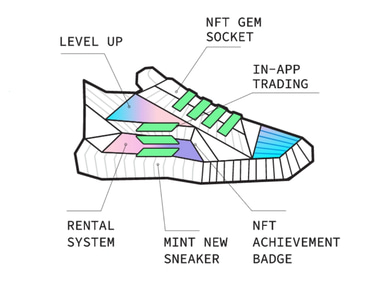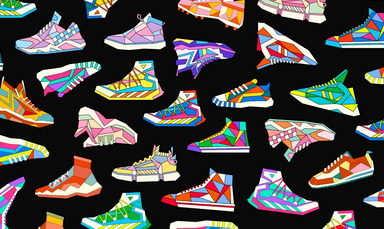 REFERENCES
[1]
STEPN—An NFT Sneaker you can use in real life
Aug 19, 2022
[2]
STEPN - An Intro 1 of 2
Aug 19, 2022
[3]
STEPN Official
Aug 19, 2022
[4]
Find Satoshi the Game Demo
Aug 19, 2022
[5]
@stepn_official Linktree
Aug 19, 2022
[6]
Meet the winners of Solana IGNITION
Aug 19, 2022
[7]
Stepn v2.0 test version
Aug 19, 2022
[8]
StepN by Find Satoshi Lab
Aug 19, 2022
[9]
STEPN – A pair of NFT sneakers that you can wear
Aug 19, 2022
[10]
STEPN on Coinmarketcap
Aug 19, 2022