Thomas Hain
Thomas Hain is the Co-founder and Chief Science Officer (CSO) of Fetch.ai, an open-source and permissionless network leveraging artificial intelligence (AI) to create a decentralized machine-learning system that can execute tasks on the blockchain. [1][2][6][9]

Education
After getting a diploma in Electrical Engineering from Technische Universität Wien, Thomas Hain went on to study for a Master's degree in Image processing at the RWTH Aachen University in 1993. In 1997, he attended the University of Cambridge to study for a Ph.D in Information Engineering. [2][8]
Career
Before venturing into blockchain, Thomas Hain worked for 6 years as a Lecturer at Cambridge University. In June 2010, he was the co-founder and Director at Koemei. In February 2022, he became an Advisor at Meta specializing in Machine learning. In March 2018, Thomas moved to Nagoya Institute of Technology as a Visiting Professor. [1][9]
"I've been working on machine learning for a better part of 25 years. Started off in signal processing in the speech domain but then very quickly moved on to sequence modeling in that domain and even though I've sort of a very strong background in speech, I've always been very machine-learning oriented and my interests are very strong on sequence modeling on modeling relationship & modeling semantics" - Thomas Hain on his Machine Learning journey[7]
Fetch.ai
Thomas Hain joined Fetch.ai in July 2017 as a Co-founder and Chief Science Officer (CSO) alongside Humayun Sheikh and Toby Simpson. Fetch.ai network is an open-access decentralized machine learning blockchain-based network created to enable the development and growth of the digital economy without human interference. The network connects devices and services to the Internet of Things (IoT) and also facilitates the involvement of other agents, such as people. [2][1][3]
Fetch.ai was launched via an IEO (Initial Exchange Offering) on Binance in March 2019. The Fetch.ai mainnet went live in January 2020. [1]
FET Token
The FET token is the native ERC-20 token of the Fetch.ai platform. It is required by autonomous economic agents to perform specific tasks as well as register on the network. FET is used to pay for Fetch.ai services, deploy AI agents, and network transaction fees. Users can also stake FET for a chance to participate in ecosystem security through its proof of stake (PoS) mechanism on the Fetch.ai Ledger to earn rewards. [5]
In February 2019, the Fetch.AI (FET) token sale on the crypto exchange Binance's Launchpad reached its hard cap of $6 million dollars with the sale of over 69 million tokens. In a tweet published the same day, Binance CEO Changpeng Zhao reported the sale had been completed within a "dizzying 22 seconds". [4]
Research Career
In February 2019, Thomas Hain became a Director at UKRI Speech and Language Technologies CDT, in Sheffield, UK. He also works at the University of Sheffield as a Professor of Speech and Audio Technology, and the Head of Speech and Hearing Research. [2][9]
In April 2022, Thomas joined LivePerson as the Director of the LivePerson Research Centre for Speech and Language at Sheffield University. [2][9]
See something wrong?
Report to us.
Thomas Hain
Did you find this article interesting?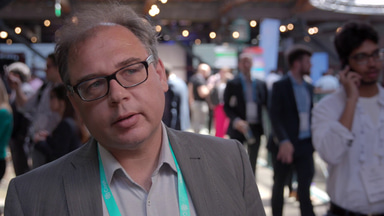 REFERENCES
[1]
official fetch.ai website
Oct 13, 2023
[2]
linkedin profile
Oct 13, 2023
[3]
bybit - fetch.ai
Oct 16, 2023
[4]
Token Sale on Binance Launchpad Raises $6 Million Within '22 Seconds'
Oct 16, 2023
[7]
Professor Thomas Hain On His Background In Machine Learning | Blockchain AI | Fetch.ai
Oct 16, 2023
[8]
thomas hains bio
Oct 16, 2023
[9]
thomas hain personal website
Oct 16, 2023