Tyler Winklevoss
Tyler Howard Winklevoss (born August 21, 1981) is an American cryptocurrency investor, Co-founder of the Winklevoss Capital Management & Gemini exchange, and Olympic rower. Winklevoss co-founded Harvard Connection (renamed ConnectU) alongside his brother Cameron Winklevoss and Harvard classmate Divya Narendra. [1][2]

Early Life & Education
Tyler Winklevoss, born in Southampton, New York, and raised in Greenwich, Connecticut, is the son of Carol and Howard Winklevoss. Howard is an author and professor of actuarial science at the Wharton School of the University of Pennsylvania. [3][4]
Winklevoss attended Greenwich Country Day School and graduated from Brunswick School. Winklevoss studied classical piano for 12 years, beginning at age 6. He studied Latin and Ancient Greek in high school. He and his twin brother Cameron founded the crew program during his junior year. [4]
He attended Havard University in 2000 and graduated with a Bachelor of Arts degree in Economics in 2004. In 2009, Winklevoss began a graduate business study at the Saïd Business School at the University of Oxford and completed an MBA in 2010. [2]
Career
ConnectU
In December 2002, Tyler Winklevoss, alongside his brother Cameron Winklevoss, and classmate Divya Narendra, conceived an idea for a social network for Harvard students named HarvardConnection, which was to expand to other schools around the country.[5]
In January 2003, they enlisted Sanjay Mavinkurve, a fellow Harvard student and programmer, to help build HarvardConnection. However, Mavinkurve left the project in the spring of 2003 after graduating to work for Google. After his departure, the Winklevosses and Narendra approached Narendra's friend, Harvard student and programmer Victor Gao, to work on HarvardConnection. [6]
Gao, a senior in Mather House, opted not to become a partner in the venture, instead agreeing to be paid in a work-for-hire capacity. He was paid $400 for his work on the website code during the summer and fall of 2003 when he left the project due to personal reasons.[5][6]
Mark Zuckerberg's Involvement
In November 2003, the Winklevosses and Narendra invited Mark Zuckerberg to join the HarvardConnection team. The previous programmers had made advancements in coding front-end pages, the registration system, a database, back-end coding, and a user connection mechanism referred to as a "handshake" by Gao. Shortly after, Zuckerberg engaged with the HarvardConnection team and prepared to assume programming responsibilities from Gao.[7][8]
On November 25, 2003, in Harvard's Kirkland House dining hall, the Winklevosses, Narendra, and Zuckerberg met. They discussed HarvardConnection, expansion plans, project confidentiality, and the importance of being first. Allegedly, Zuckerberg entered into an oral contract, becoming a partner in HarvardConnection. [7][8]
Zuckerberg was given the unfinished HarvardConnection website code and server access. Rather than monetary compensation, he opted for equity in the project as his payment (sweat equity). [5]
Facebook Lawsuits
In 2004, ConnectU (fka HarvardConnection) filed a lawsuit against Facebook alleging that creator Mark Zuckerberg had broken its oral contract. The suit alleged that Zuckerberg had copied ConnectU's idea and illegally used source code intended for the website Zuckerberg was hired to develop. Facebook countersued concerning Social Butterfly, a Winklevoss Chang Group project. [9]
The countersuit was named among the defendants ConnectU, Cameron Winklevoss, Tyler Winklevoss, Divya Narendra, and Wayne Chang, founder of i2hub. An agreement settling both cases was reached in February 2008, with the Winklevoss party receiving $20 million in cash and $45 million in Facebook stock. In May 2010, however, ConnectU accused Facebook of misrepresenting the value of the stock that it turned over to the ConnectU plaintiffs as part of the settlement and sought to void the settlement. ConnectU alleged that the value of the stock was $11 million rather than $45 million, as represented by Facebook at the time of the settlement. [10]
In April 2011, Ninth Circuit judge Alex Kozinski opined that "at some point, litigation must come to an end. ... That point has now been reached." The twins' lawyer stated that they would seek a rehearing with the entire appeals court bench. In June 2011 it was announced that a decision to pursue the case in the Supreme Court had been withdrawn. [11]

Quinn Emanuel Lawsuits
ConnectU's law firm, Quinn Emanuel, accidentally revealed the confidential settlement amount in marketing material, stating they "won a $65 million settlement against Facebook." Quinn Emanuel sought a $13 million contingency fee from the original settlement. As a result, ConnectU terminated Quinn Emanuel's services and filed a malpractice lawsuit against the law firm. However, on August 25, 2010, an arbitration panel ruled in favor of Quinn Emanuel, stating they "earned their full contingency fee" and found no evidence of malpractice. [12]
The Winklevoss Chang Group Lawsuit
On December 21, 2009, i2hub founder Wayne Chang and The i2hub Organization launched a lawsuit against ConnectU and its founders, seeking 50% of the settlement. The complaint says,
"The Winklevosses and Howard Winklevoss filed [a] patent application, U.S. Patent Application No. 20060212395, on or around March 15, 2005, but did not list Chang as a co-inventor..."
"Through this litigation, Chang asserts his ownership interest in The Winklevoss Chang Group and ConnectU, including the settlement proceeds."[13]
On May 13, 2011, it was reported that Judge Peter Lauriat made a ruling against the Winklevosses, and Chang's case against them could proceed. The Winklevosses had argued that the court lacks jurisdiction because the settlement with Facebook has not been distributed and therefore Chang hasn't suffered any injury. Judge Lauriat wrote:
"The flaw in this argument is that defendants appear to conflate loss of the settlement proceed with loss of rights. Chang alleges that he has received nothing in return for the substantial benefits he provided to ConnectU, including the value of his work, as well as i2hub's users and goodwill."
Lauriat also wrote that, although Chang's claims to the settlement are "too speculative to confer standing, his claims with respect to an ownership in ConnectU are not. They constitute an injury separate and distinct from his possible share of the settlement proceeds. The court concludes that Chang has pled sufficient facts to confer standing with respect to his claims against the Winklevoss defendants."[14][15]
Rowing
Tyler Winklevoss began rowing at the age of 15, encouraged by family friends and the example of next-door neighbor Ethan Ayer who rowed at Harvard University and Cambridge University. He began rowing at the Saugatuck Rowing Club on the Saugatuck River in 1997. His first coach was Irishman James Mangan who coached him and his brother throughout high school. Winklevoss' high school did not have a crew; in his junior year, he and his brother Cameron Winklevoss co-founded the crew program at their high school. [17]
In the summer of 1999, he earned a place in the United States Junior National Rowing Team, competing in the coxed pair event with his brother at the World Rowing Junior Championships in Plovdiv, Bulgaria. [17]
In 2007, Winklevoss was named to the United States Pan American Team and competed at the 2007 Pan American Games in Rio de Janeiro, Brazil. He won a silver medal in the men's coxless four event and stroked the men's eight boats to a gold medal on the Lagoa Rodrigo de Freitas.[18]
Tyler Winklevoss earned the 6th position rowing with his brother in the men's coxless pair event representing the United States of America's Rowing team in the Beijing 2008 Olympics.[16]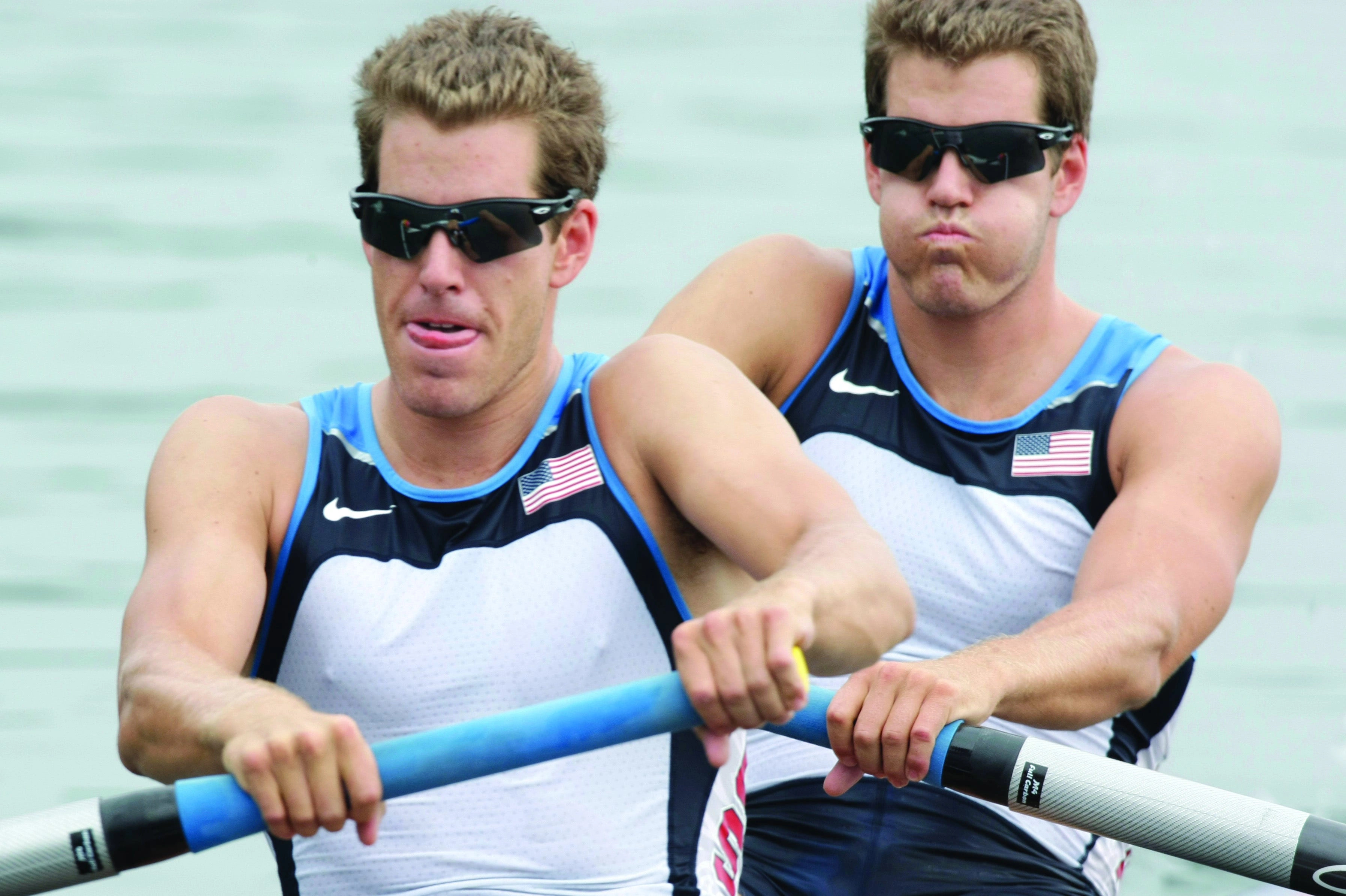 Winklevoss Capital Management
In April 2012, Tyler and his brother Cameron founded Winklevoss Capital Management, a firm that invests across multiple asset classes with an emphasis on providing seed funding and infrastructure to early-stage startups. The company is headquartered in New York's Flatiron District.[19][2]
Gemini
In February 2014, Tyler Winklevoss and his brother Cameron founded Gemini, a digital currency exchange and custodian that allows customers to buy, sell, and store digital assets. The exchange is licensed as a New York trust company, making it a qualified custodian and a fiduciary under New York Law. Tyler serves as the CEO, overseeing the company's affairs. [2][20]
Gemini Dollar
Gemini Dollar (GUSD) is a crypto stablecoin built on the Ethereum blockchain, issued by Gemini Trust and pegged 1:1 to the U.S. dollar. GUSD was launched on the 10th of September, 2018, after receiving regulatory approval from the New York State Department of Financial Services (NYDFS). [20][21]
"The Gemini dollar is part of our mission to build the future of money. It is the missing link between the traditional banking system and the crypto economy." - Tyler Winklevoss[21]
Gemini vs SEC
In a series of tweets on January 12, 2023, Tyler Winklevoss shared his disappointment about the charges by the Securities and Exchange Commission (SEC) over Gemini's "Earn" program, claiming the regulator was "optimizing for political points." [22]
The United States SEC on Jan. 12, 2023, charged Gemini with offering unregistered securities through Gemini's "Earn" program. [23]
Tyler called the SEC's action "totally counterproductive" and said that Gemini had been discussing the Earn program with the regulator "for more than 17 months." [23]
"It's disappointing that the @SECGov chose to file an action today as @Gemini and other creditors are working hard together to recover funds. This action does nothing to further our efforts and help Earn users get their assets back. Their behavior is totally counterproductive." - Tyler tweeted[24]
Gemini's Earn product launched in February 2021 and officially ran until Jan. 8. A deal with the crypto lender and Digital Currency Group (DCG) subsidiary Genesis allowed Gemini users to earn yield by lending their crypto to the market-making firm. Tyler Winklevoss stated Gemini would defend itself against the unregistered security charges and would "make sure this doesn't distract us from the important recovery work we are doing." [23]
See something wrong?
Report to us.
Tyler Winklevoss
Did you find this article interesting?