YuanJie Zhang
YuanJie Zhang is the Co-founder and Chief Operating Officer (COO) of Conflux Network, a public Layer 1 network that allows users to exchange digital assets and record transactions. [1][3]

Education
YuanJie Zhang attended Fudan University, Shanghai, China, and obtained a Bachelor's degree before proceeding to obtain a Master's Degree from Brandeis University, Massachusetts. [1]
Career
Prior to joining Conflux as a founding member, YuanJie gained professional experience at Huatai Private Fund of Funds, UNC Endowment Management Company, and Novus on Wall Street. YuanJie's interest focuses on investments, capital markets, and business operations.[1][2]
Conflux
YuanJie Zhang joined Conflux as the founding member alongside Ming Wu and Fan Long in September 2018. Conflux is a permissionless layer-1 blockchain made to power decentralized applications (dApps), e-commerce, and Web3 infrastructure by being more scalable, decentralized, and secure. [4]
Zhang describes Conflux as a consensus protocol and a blockchain system aiming to achieve high throughput without compromising decentralization. [5]
In December 2018, the Conflux blockchain project raised $35 million from backers including Sequoia and Baidu. [6]
"My little achievement is I raised about 35 million dollars for this project in the first round. That's my job" - YuanJie Zhang mentioned in an interview[5]
YuanJie Zhang is also a public speaker whose primary interest is in blockchain, NFTs, and business operations. [2][3]
See something wrong?
Report to us.
YuanJie Zhang
Did you find this article interesting?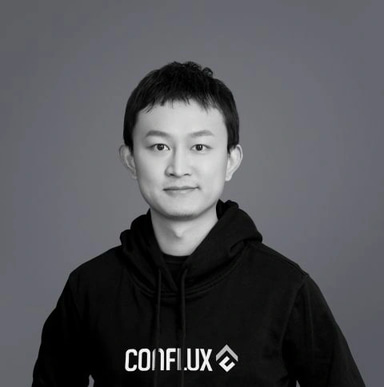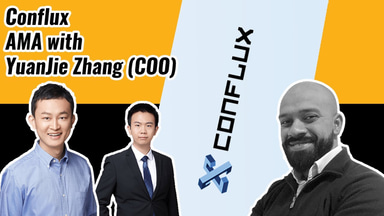 REFERENCES
[1]
YuanJie Zhang
Jul 18, 2023
[2]
Conflux Founders Series — Meet YuanJie Zhang
Jul 18, 2023
[3]
Yuanjie Zhang, Co-Founder of Conflux Network on why every brand should adopt an NFT strategy
Jul 18, 2023
[4]
conflux website
Sep 19, 2023
[5]
youtube - YuanJie Zhang interview
Sep 19, 2023
[6]
$35 Million: Sequoia Backs Turing Award Winner's Blockchain Project
Sep 19, 2023