Ziga Drev
Žiga Drev is the Co-founder and Managing Director of Trace Labs – OriginTrail core developers. OriginTrail is a web3 infrastructure project combining a decentralized knowledge graph (DKG) and blockchain technologies to create a neutral, inclusive ecosystem. [1][2][3]

Early Life & Education
Žiga Drev was born and raised in the Slovenian countryside. He attended the University of Ljubljana in 2008 where he graduated with a Bachelor's degree in International Relations and Affairs in 2012. From 2012 to 2014, he was at the University of Ljubljana, Faculty of Economics studying for a Master of Business Administration (MBA). [1][4]
Career
Žiga Drev co-founded Trace Labs in 2013 while finishing his MBA in Ljubljana and soon recognized the importance of GS1 standards for business data exchange and introduced them to OriginTrail's service. [4]
OriginTrail
Co-founded in September 2013 alongside Tomaž Levak and Branimir Rakić, OriginTrail is a Decentralized Knowledge Graph (DKG) that organizes humanity's important assets making them discoverable, verifiable, and valuable. It connects the physical world (art, healthcare, fashion, education, supply chains, etc.) and the digital world (blockchain, smart contracts, Metaverse & NFTs, DeFi, etc.) in a single connected reality.[3]
On how he got started with OriginTrail, Ziga Drev explained:
"OriginTrails started some 10 years ago when myself, Tomaz and the other co-founder started unveiling problems in supply chains. Back then, the project itself did not entail blockchain because 10 years ago, everything was very much in the beginnings. We essentially developed a very rudimentary project to help consumers understand provenance and transparency and trust establish trust in food supply chains"
OriginTrail has its own native token known as Trace (TRAC). TRAC is an ERC-20 token created on the Ethereum blockchain. It can be used as a payment method for data exchange services on the OriginTrail network and also to incentivize stakeholders to carry out actions that deliver value for the ecosystem as a whole. There is a maximum supply of 500 million TRAC tokens. Plus, all TRAC tokens in circulation were pre-mined during the initial coin offering (ICO) in January 2018. [5]
"Trace(TRAC) is the main driver for incentivizing the data longevity. The tokenomics is based on compensating nodes which are maintaining data that is being relayed to them by the data creator nodes.

The data creator nodes are typically owned by the companies which are using the OriginTrail decentralized knowledge graph so this is a kind of the two-sided aspect of the tokenomics" - Ziga Drev on TRAC's tokenomics[6]
OriginTrail Parachain also introduces a native OriginTrail Parachain token (OTP token) which is a utility asset that is not only used for blockchain gas fees and inclusive governance but also enables a way to incentivize the growth of DKG (decentralized knowledge graph) usage. [3]

Žiga Drev managed the OriginTrail pilot projects in China and helped design a blockchain-based food traceability blueprint in 2017 which got OriginTrail to become an inaugural member of the Walmart Food Innovation Pipeline as well as the first winner of the Innovation Spark Award. [4]
He is often the 'face' of the company at global events, contributing his hands-on experience from supply chain projects the OriginTrail team has been involved in within Asia, Europe, Australia, and North America. [4]
See something wrong?
Report to us.
Ziga Drev
Did you find this article interesting?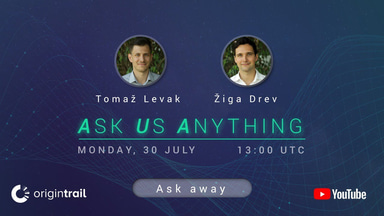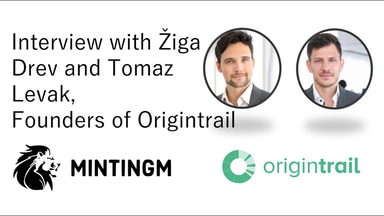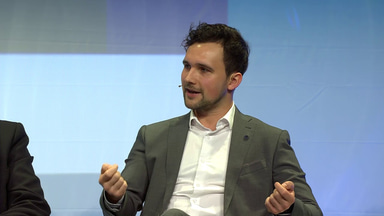 REFERENCES
[1]
linkedin profile
Oct 18, 2023
[3]
origintrail website
Oct 18, 2023
[4]
ŽIGA DREV ON FOOD DATA MARKETPLACE GOING GLOBAL
Oct 18, 2023
[5]
Everything you need to know about Trace token
Oct 18, 2023
[6]
MintingM talks with Žiga Drev and Tomaz Levak, Founders of OriginTrail
Oct 18, 2023