Golem Network
Golem Network is an open-source, decentralized computing platform that utilizes a peer-to-peer (P2P) network to provide affordable and accessible computing resources. [1]

History
Golem Network was born in 2015, with the aim of democratizing access to censorship resistant computing power. It was first presented at DEVCON0 in 2014. Piotr Janiuk, Golem's CEO presented Nanopayment in Ethereum at DEVCON1 in 2015.[3] Golem was originally to be funded by DAOist, but by
November 2016 Golem Network became one of the first projects to crowdfund for building. The Initial Coin Offerings (ICOs) to fund its development raised funds by selling Golem Network Tokens (GNT).  The team raised about $8.6 million in ETH by selling more than 80% of the total supply at the time when the project was pitched.[4]
Golem's first implementation Brass Golem became one of the first apps to be launched into Ethereum mainnet. It was launched in April 2018, with the specific focus on CGI rendering, specifically for the 3D modeling application Blender and the rendering engine LuxRenderer. There are three releases that follows which are Clay, Stone and Iron. Golem has recently updated their Brass Beta and the highlight of this upgrade are the streamlined task creation GUI, the support for partial task restart in case of subtask timeouts and the fix that should alleviate the issues with the Docker service on Windows.[11] In October 2018, Golem launched a GPU version of its decentralized computing power marketplace. [1]
Throughout 2020, the Golem team continued to release updates and improvements to the network. In November, Golem began a token migration, in which original GNT tokens migrated to GLM 1:1 ERC-20 tokens. Golem's utility token was initially called GNT, but as the project's new transaction framework is built on Ethereum's Layer 2, ERC-20 tokens were required. [7]
By 2021, Golem's team released the mainnet version of Golem, Beta 1 aka Yagna being a more polished, less buggy, slightly enhanced and incremental improvement of Alpha IV. [8] They also announced a strategic partnership with Polygon, a layer 2 scaling solution for Ethereum. This integration aimed to enhance the scalability and cost-effectiveness of transactions on the Golem Network. The collaboration came with the release of Beta IV which includes Yagna v0.9.0 which is important for both requestors and providers. [5][6]
Overview
Golem is a blockchain-based software that allows users to buy, sell and rent computational power for various purposes, including artificial intelligence, cryptocurrency mining, CGI rendering, and other complex computations that demand great computing power. The Golem network enables users to rent out their idle computing power to others who need it, effectively creating a global marketplace for computational resources.
Golem operates through an advanced protocol that enables users to provide and rent idle hardware from providers in a peer-to-peer (P2P) manner. The protocol's settlement layer, powered by the Golem Network Token (GLM), facilitates the establishment of a shared and alternative economy. In this system, users can generate passive income by leasing their hardware resources. The integration of these features empowers developers to construct applications on the platform, and to building on traditional cloud infrastructure, while avoiding the challenges commonly associated with centralized platforms. [9]
Golem allows to break down tasks into smaller subtasks and distribute them across multiple providers, enabling parallel processing. This approach boosts efficiency and speeds up the completion of complex computations. Users engage directly on the Golem platform, exchanging GLM tokens for the utilization of their idle computing resources. [10]
The Golem platform incorporates a specialized feature that seamlessly integrates with the Ethereum-based transaction system, facilitating direct payments among requestors, providers, and software developers. Beyond its central role in the decentralized computing power market, the platform is primarily designed to function as both Infrastructure-as-a-Service (IaaS) and Platform-as-a-Service (PaaS). [13]
$GLM
GLM is a ERC-20 network token that utilizes a proof-of-stake (PoS) consensus mechanism. Requestors pay GLM after receiving computing power from the network and the value exchanged for this purchased power is primarily distributed to all the individual power suppliers involved. It is used as a medium of exchange within the Golem ecosystem, allowing users to pay for computational services and enabling providers to earn income by leasing their idle hardware resources. GLM runs on the Ethereum blockchain network, enabling it to be traded and swapped on-chain with other Ethereum-based digital assets. [12]
See something wrong?
Report to us.
Golem Network
Did you find this article interesting?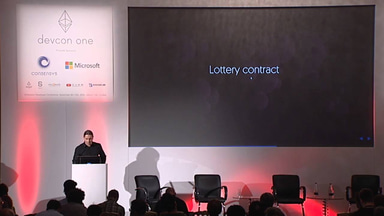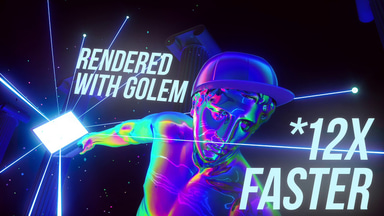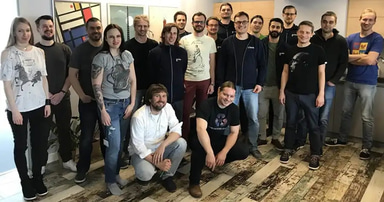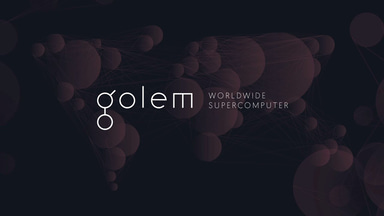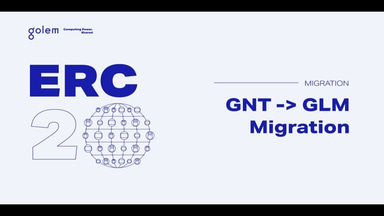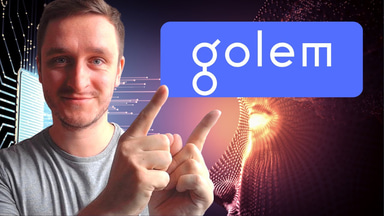 REFERENCES
[1]
What is Golem?
Nov 28, 2023
[4]
About Golem Network
Nov 28, 2023
[5]
Golem and Polygon collaboration.
Nov 28, 2023
[6]
Golem X Polygon
Nov 28, 2023
[7]
History of GNT
Nov 28, 2023
[9]
Piotr Januik's article on Golem Network
Nov 28, 2023
[10]
Golem on CoinMarketCap
Nov 28, 2023