OHM
OHM is an ERC-20 token on Ethereum, powering the Olympus DAO, a decentralized reserve currency protocol. Olympus rewards stakers with compounding interest, increasing their OHM holdings over time.[1][2]
Overview
OHM was introduced by Olympus DAO as an alternative to both cryptocurrencies and stablecoins. Unlike stablecoins, the value of OHM is not pegged to another currency. It is backed by 1 DAI in the treasury.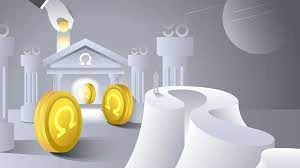 OHM was launched in March 2021 through a Discord offering and an Initial Decentralized Exchange (DEX) Offering (IDO). Users that joined the Discord early enough were able to purchase 141 OHM for a price of $4 per OHM. As many as 50,000 OHM were given out, and an additional 18,260 tokens were given through the IDO on
SushiSwap
. Within a month of this release, the token hit an all-time high of nearly $1,500. This level meant that the initial investment of $564 in the Discord was worth over $200,000 in less than a month.
Numerous venture capital firms invested in the project, including D64 ventures and Zee Prime capital. These firms are also investors in projects such as Solana and Polkadot.[3]
Tech
OHM is backed by Dai tokens in a 1:1 ratio. For each OHM token, there is a DAI token held in the treasury. Tokens can't be minted or burned by anyone except the protocol. The protocol only does so in response to price. When OHM trades below 1 DAI, the protocol buys back and burns OHM; when OHM trades above 1 DAI, the protocol mints and sells new OHM. Because the treasury must hold 1 DAI and only 1 DAI for each OHM, every time it buys or sells it makes a profit. It either gets more than 1 DAI for the sale or spent less than 1 DAI on the purchase.
OHM token does not rebase. New supply is created via direct sales into the market and burned via direct purchases from the market. This way, OHM remains backed by real assets in the treasury.
OHM is minted and distributed for staking rewards. More OHM staked reduces the APY but pushes the OHM price higher, creating a balance that protects a user's investment.
Features
OHM Staking
Staking is the primary value accrual strategy of Olympus DAO. Stakers stake their OHM on to earn rebase rewards. The rebase rewards come from the proceed from bond sales, and can vary based on the number of OHM staked in the protocol and the reward rate set by monetary policy.
The Olympus staking system allows the platform to provide compounding returns automatically. They do this with sOHM, a secondary token that represents staked OHM. sOHM can always be exchanged 1:1 for OHM, but it rebases to reflect profits.[4][2]
OHM Bonding
Bonding is the secondary value accrual strategy of Olympus. It allows Olympus DAO to acquire its own liquidity and other reserve assets such as LUSD by selling OHM at a discount in exchange for these assets. The protocol quotes the bonder with terms such as the bond price, the amount of OHM tokens entitled to the bonder, and the vesting term. The bonder can claim some of the rewards (OHM tokens) as they vest, and at the end of the vesting term, the full amount will be claimable.[5]
See something wrong?
Report to us.
OHM
Did you find this article interesting?