Plasma Finance
Plasma Finance (PPAY) (Launched in 2018) is DeFi (Decentralized Finance) dashboard which aggregates the most popular DeFi protocols in one place. Plasma.Finance creates an all-in-one solution that is useful for experienced users and novices alike.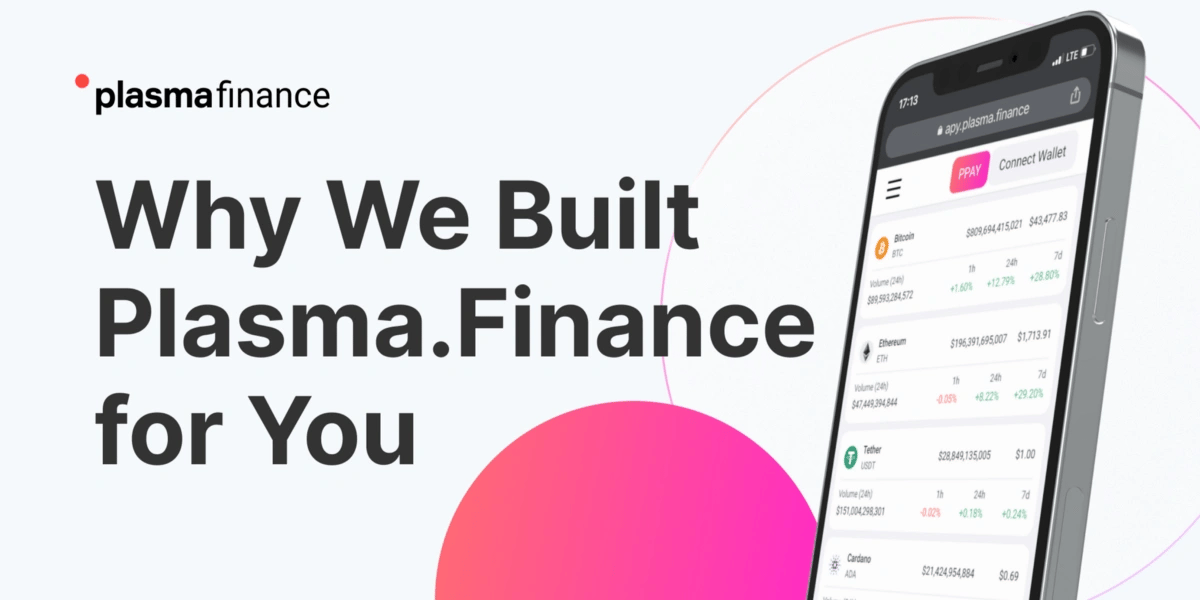 Introducing Plasma Finance
Plasma.Finance is your home for DeFi (Decentralized Finance). Invest, Store, and Manage any DeFi token with ease.[1]
Plasma.Finance is designed to make DeFi (Decentralized Finance) accessible for all, without compromise, for the greater benefit of people. It is the gateway to DeFi on the road to financial liberty.
It basically creates an aggregator that brings the best Decentralized Protocol under one hood, Through plasma finance, users now can interact with PlasmaSwap, Uniswap, Mooniswap, SushiSwap, PancakeSwap, Curve, Balancer, Compound, Aave ($AAVE) and Synthetix, allowing users do cross-chain Swaps and many more[2].
Company
As a company, Plasma.Finance believes in people.They believe in humanity as a whole, and we believe in the rights of individuals.
It was founded in September 2018 by Evgeny Fedorov and Ilia Maksimenka.
Plasma Alliance OÜ has its Headquarters Tallinn, Harju maakond and is licensed in Europe (Estonia). It has a range of 11-50 employees and Specializes in Blockchain, finance, fintech, Cryptocurrency, Bitcoin, trading, exchange, investments, payments, remittance, social network, Ethereum, tokens, mobile, banking, fund, e-wallet, OpenAPI, digital assets, Ripple, and Corda.
Plasma is actively using 77 technologies for its website, according to BuiltWith. These include Viewport Meta, iPhone / Mobile Compatible, and SPF.
Funding
Plasma Alliance has raised a total of $1.6M in funding over 1 round. This was a Seed round raised on Oct 5, 2017[3].
Overview
Founded in 2017 by Ilia Maksimenka, Plasma.Finance is DeFi (Decentralized Finance) Dashboard which aggregates the most popular (Decentralized Finance) protocols in one place. Plasma.Finance creates an all-in-one solution that is useful for experienced users and novices alike. With Plasma.Finance, its team aims to simplify and democratize the DeFi market and lower the barriers to entry.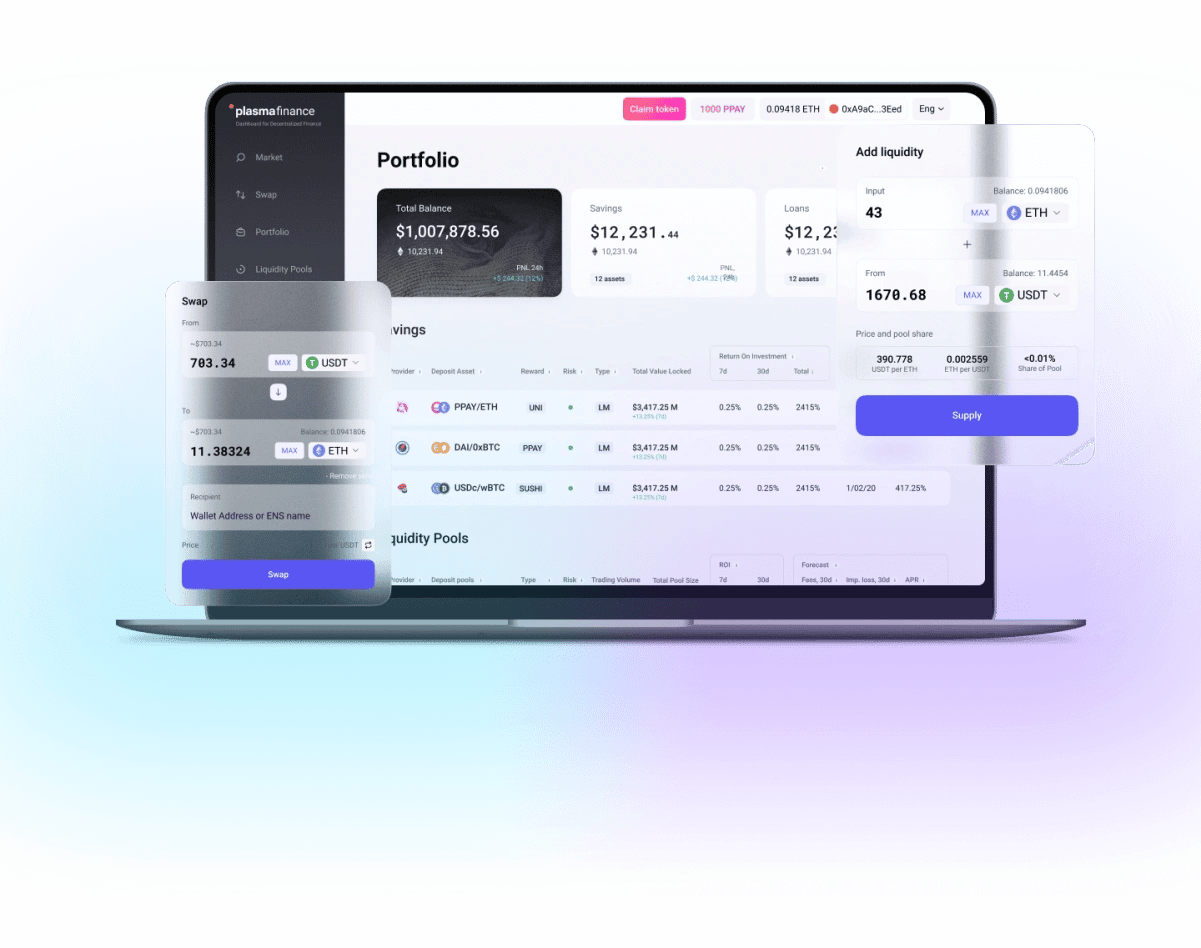 Plasma Finance Dashboard
Using Plasma.Finance users can easily manage their DeFi portfolio from a single intuitive interface. The dashboard is easily unlocked with MetaMask or any other web 3.0 wallet.
Plasma.Finance offers a variety of advanced financial tools which allows users to remain in the drivers seat of their financial freedom and all without the need for a degree in cryptography. The platforms aim with creating its Dashboard was to give universal access to the very best DeFi tools with the goal of pushing Crypto adoption to the masses.
A major element which they aim to make simple is for Plasma.Finance to act as a bridge between the centralized and Decentralized financial markets by providing a seamless way to connect fiat on- and off-ramps for users across the world. Users can request payments, deposit and withdraw digital assets all with a click of a button, it's this swift simplicity that makes the Dashboard an essential part of their financial life.
This platform allows transactions with assets from Ethereum and on future Polkadot, Cosmos, EOS, and other Blockchain chains through the HyperLoop cross-chain bridge. PlasmaChain has a high speed and transaction confirmation without Blockchain commission (example: Ethereum GAS). The user's assets remain completely under his control, trading is carried out by logging in and signing a transaction through wallets without transferring private keys from accounts to the platform.
At Plasma.Finance we see people as time travelers, hurtling towards the future at the speed of 60 seconds a minute, 60 minutes an hour, 24 hours a day. We can't travel through time any faster than that, but we can increase the pace of technological innovation. With a clear vision, application and ambition we hasten that future closer
Plasma.Finance also supports Plasma Swap, Pools, Lending and Borrowing protocols. PPAY is a major token on the platform that used as a commission fee token and reward token in PPAY pools and PlasmaSwap.
Plasma Dashboard:
Plasma's DeFi Dashboard aggregates the most popular DeFi protocols from different Blockchain and allows users to manage their DeFi portfolio in one Simple Interface.
Plasma.Finance dashboard helps non-technical users to invest, track and manage DeFi protocols. The Dashboard includes all instruments:
Portfolio Management
Liquidity Pools
Lending & Borrowing
Fiat On/Off Ramp
DEX & SWAP Aggregator
Cross-Chain Asset Swap
Features
Swap:
The swap feature aggregates popular DEX's (Uniswap, Balancer, Mooniswap i.e) and determine the best exchange rate in real time. The swap displays the best exchange rate for the pair. Statistics and market analytics fo the selected pair among several protocols. Swap allows users to instantly exchange one asset for another one at the best price and with the lowest commission of the exchange provider.
Liquidity Pools:
The Liquidity Pools features aggregates the analytics of liquidity pools across various DEX's and protocols allowing users to provide liquidity to the most profitable pools enabling maximum rewards.
Borrow:
Aggregation of assets (Fiat and Crypto) and Lending\ borrowing protocols with the best rate ion the market and with the most Liquidity.
On-boarding:
Simple on-boarding for new Crypto users allows them to set up a MetaMask wallet and Buy ETH with a bank card or bank Wire.
Market Overview:
The Overview feature is the homepage to the market. it contains general market statistics and Customized financial widgets. The page highlights DeFi assets and Liquidity pairs and can be filtered to feature the highest yield rate at the moment with option to purchase o swap at the best rates.
The saving section aggregates protocols with the highest APY (yield farming, Staking, vaults, lego money, Liquidity mining) and the ability to purchase these assets or make a deposit their DeFi strategy.
The pool deposits section aggregates information about the best liquidity pools across several DEX's and Blockchain Including the ability to provide liquidity to these pools and enables users manage their profits from them[4].
Plasma Pay
PlasmaPay is a Blockchain protocol developed by Plasma Finance, allowing for fast and efficient cross-border payment opportunities for all users[5].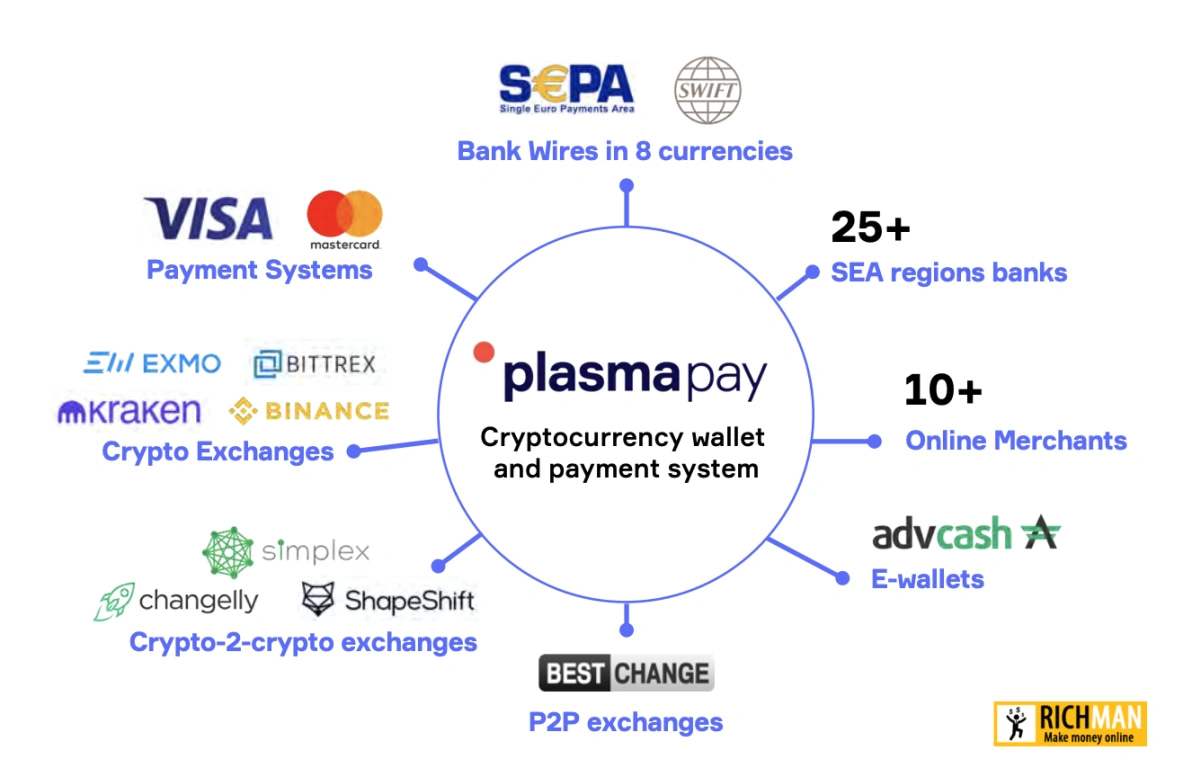 PlasmaPay came into existence as a Bitcoin and Ethereum wallet. Currently, the platform operates in more than 160 countries and working with different financial institution to provide for users fiat on- and off-ramp. Built on the top of PlasmaChain, PlasmaPay is now a trusted digital payment dApp that can be used as a Crypto wallet, an online payments account, or a Crypto Exchange.
It is a global payment and remittance platform for people and digital business. Here users can securely store crypto and fiat currency, buy and exchange popular digital assets, make and receive payments, build their own payment network with zero-fee transactions. PlasmaPay uses Blockchain technology to allow users to securely store Crypto and fiat currency, buy and exchange digital assets, send and receive cross-border payments, and build payment networks with zero transaction fees[6][7][8].
Different Types of Accounts :
Personal/Individual
Business accounts
Each account has different features and supported functionality. PlasmaPay provides multi-currency wallet for individuals and business to send and receive payments over 200 countries.
Individual Account:
Multicurrency (crypto/fiat) account
Purchase cryptocurrency with card, bank wire
Send, exchange, store crypto assets
Business Account:
Multicurrency (crypto/fiat) account
Payment Gateway API
Plugins for Checkout page
Payout/ payroll
Invoice builder
Plasma Pay Products
Crypto Wallets:
Secure non-custodial Cryptocurrency wallet for popular assets (BTC, ETH and 3000+ ERC20 tokens, Plasma)
PlasmaPay wallet supports:
• Non-custodial BTC, ETH wallet
• 3000+ ERC20 tokens
• Plasma DLT Stablecoin
• Crypto-to-crypto exchange
Mobile Apps:
Native mobile apps for IOS and Android
Key Features:
● Instant purchase of Bitcoins with card
●Instant exchange crypto to crypto by the best market price
●Convenient balance tracking and detailed transaction history
●Hierarchical deterministic (HD) address generation and wallet backups
●Payment protocol (BIP70-BIP73) support
●Email and push notifications for exchanges and transfers
●Contact list for easy sending and payment requests
●No additional fees, the only Blockchain transaction fee
●PlasmaPay token (PPAY) rewards for users
Fiat on-/off-ramp :
Purchase Cryptocurrency Instantly And At The Best Rate. PlasmaPay integrates and support different payment methods in 160+ countries:
• Visa/MC bank cards
• SEPA/SWIFT
• FPS in United Kingdom
• 25+ Digital Banks in SEA region
• E-wallets (AdvCash)
Crypto Merchant checkout:
Crypto checkout that helps online businesses accept cryptocurrency, plasma and cards, as a payment method.
Cross-Chain Bridge:
It is a bridge for multiple Blockchain and allows you to manage data from multiple Blockchain and transport it using PlasmaChain
Tokens Supported by Plasma.Finance
PlasmaPay has prepared a very convenient DeFi Dashboard, which is the Plasma.Finance. With it, our users can quickly and easily buy cryptocurrency with any bank card.
That means that any user can invest in any DeFi token, or other supported crypto, in a matter of seconds in the over 160 countries that PlasmaPay is currently servicing.
The supported Cryptos include:
Kava (KAVA)
Aave ($AAVE)
NEM (XEM)
Swipe Network (SXP))
Dai (DAI)
3X Short Stellar Token (XLMBEAR)
Band Protocol
Compound Coin (COMP)
Bitcoin (BTC)
Ethereum (ETH)
EOS
Litecoin
Bitcoin Cash
Uniswap (UNI)
Synthetix (SNX)
Yearn.Finance (YFI)
Filecoin (FIL)
Monero (XMR)
TomoChain (TOMO)
Plasma Chain
PlasmaChain is core infrastructure of PlasmaPay service. It is the first Blockchain that built and customized for financial needs not only of Crypto projects and exchanges, but for real payment companies, banks and fiat financial app with zero transaction fees and instant speed.
The Plasma Blockchain was designed specifically to support instant transactions in dApps for trading, gaming, and financial applications. It has the technical ability to support up to 160,000 transactions and store application data on separate storage nodes. The Plasma Blockchain is cheaper, faster, and more scalable than any other Ethereum (ETH)-based Blockchain. Its technology allows developers to build robust financial tools that empower people to control their assets.
Developers will be able to use Plasma's building blocks such as the fiat on and off-ramp gateways to develop new DeFi protocols and dApp's. Online businesses, mobile/web developers and e-commerce companies are just some examples of organizations that can greatly benefit from utilizing tools built on top of PlasmaPay.
Benefits include payment processing, sending & receiving payments regardless of card provider or bank, cross-border transactions all with zero commissions and instant liquidity.
A first layer protocol optimized for cross border payments, digital currency innovation and speed
Top Layer: DApps New internet layer of distributed applications (games, services, platforms, social networks) that are based on the Plasma Blockchain.
Middle Layer: Financial Assets Tokenized @financial asset (fiat, stocks, commodities, etc.), for trading and storing in digital wallets and processing on Plasma Blockchain.
OAuth Connector For Web 3.0 Dapps: A new protocol standard and authorization layer for Decentralized application (DApp) on the Plasma Blockchain without the need for external applications or extensions.
Layer One: Plasma: A layer one Blockchain with instant and cost effective transactions. Built specifically for Web 3.0 and the processing of dApps, DeFi, DAO's and CBDC.
Platform Stack
Defi adoption:
Plasma allows the community to develop open finance protocols with fixed transaction costs, fast execution, and reliability. Tools for convenient onboarding of new users into applications form the adoption of the CeFi market. Plasma DeFi supports the concept of smart contracts, transactions are executed in a deterministic and secure manner, and changes are added to information blocks on the public Blockchain. An open financial architecture enables financial institutions to create immutable and interoperable financial systems that are characterized by unparalleled transparency and equal access rights.
Transaction Cost:
Transaction on the ETH network requires payment for gas - the network commission, its cost is speculated by miners and the network load, for example, in a $ 10 transfer, you can pay $ 1 today and $ 2 tomorrow or your transaction will not be accepted by the network, this model is not applicable and not a competitor in the payment system, the EOS network is more democratic and uses a model of payment for network resources, which includes @RAM/ CPU / NETWORK, which is required to conduct transactions and also has speculation on the part of market makers, as these parameters are inherently ordinary tokens. Plasma is initially free to transact, download smart contracts, and charge a flat percentage commission for ecosystem tokens.
Transaction execution Speed:
An important factor in the adaptation of the CeFi economy is its requirements for the competitive execution of the transaction, the current primitives cannot organize it without losing the properties of decentralization. Plasma's smooth transition from CeFi to DeFi delivers competitive transaction speeds without sacrificing Decentralization.
Liquidity:
An organized liquidity approach also means maintaining the CeFi-DeFi link, which means that the platform keeps records in a distributed ledger of traditional assets in tokenized form, direct control by suppliers implies the safety and integrity of platform liquidity expressed in CeFi instruments, traditional business needs stability and the security of their assets, and their use in tokenized form introduces additional security and reduces bureaucracy from the business itself. What does this mean for Plasma? When a business accepts payments in Stablecoin, it partners with a liquidity provider to process payments, Stablecoin are issued dynamically when money is deposited through CeFi instruments, and when withdrawn is burnt, thus liquidity is organized by a network of providers and trusted ecosystem partners. Variable liquidity - Decentralized banks such as MakerDAO offset the high volatility inherent in decentralized underlying money such as ETH by over-collateralising, often blocking multiple times the amount they seek to present. However, the risks of automatic liquidation are constantly present and are not suitable for a smooth transition from CeFi to DeFi, but are tools of speculation and R&D. These tools shape the market and also provide a transition, so Plasma encourages this R&D to get rid of CeFi impacts in the future.
Bankless:
Plasma accounts have full control by the users themselves, by analogy with bitcoin, we only support non-custodian providers to sign the transaction in order to maintain maximum security for users and control over their credentials.
Ci-Fi adoption:
Plasma has a flexible system for traditional applications and the transition from heavy banking infrastructure to bankless tools, reduces the costs and time of traditional business for processing payments with convenient boarding of clients through traditional banking tools with conversion to a bankless ecosystem. This model has an end-to-end bridge between CeFi and DeFi tools, while the traditional business also becomes a model of a hybrid Dapp application without spending on infrastructure, writing your own Smart contract, issuing tokens, connecting fiat processors, placing on Peer to Peer (P2P) Exchanger - plasma provides everything in one tool, in this model of the CeFi - DeFi hybrid, the transition to full DeFi is possible only through the passage of the bridge from the old model to the new one.
Consensus Layer
Plasma - uses a hybrid system of consensus protocols; they are divided into program type and social; we allow the program type of consensus to entrust execution and verification of transactions, and with the help of social we provide reliable network Validator.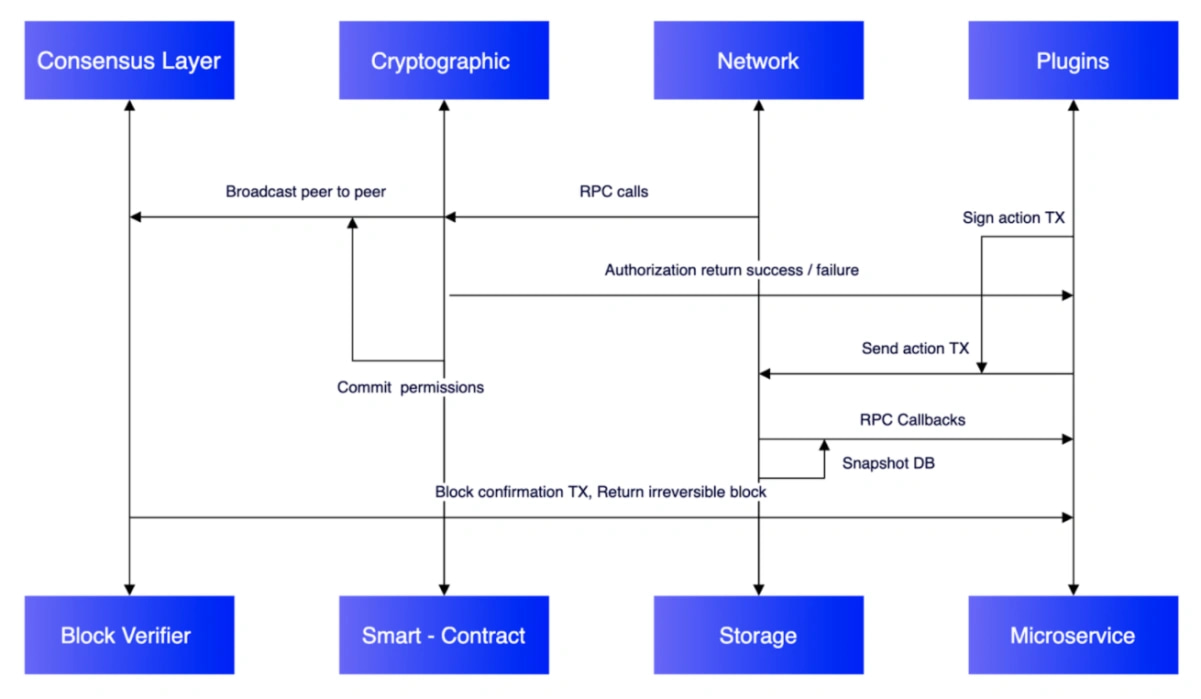 Co
nsensus Layer
The consensus protocol replicates submitted transactions among the Validator, executes potential transactions against the current database, and then agrees on a binding commitment to the ordering of transactions and resulting execution. As a result, all Validator can maintain an identical database for a given version number following the. The programmatic view of the Liquid Provider Byzantine fault-tolerant protocol is based on the conditions - for each transaction in the system, a hash of the last block header and a vote of ≥ 15f + 1 for the block with incoming transactions are required. Prevention of transaction replay in different Blockchain, the network signal that the user and their share are at a certain fork, this prevents the validators from acting maliciously in other chains, if the Validator skips the block, penalties are imposed on it to temporarily disable the validation of blocks from the consensus. Plasma doesn't use rewards through mining or inflation, the Mastercoin in the system is issued dynamically from the internal liquidity of currencies. Validators must provide liquidity to the rate from which a list of 21 validators is selected at the highest rate who are able to deposit new blocks for a fee in the form of 95% system commissions where the remaining 5% is distributed among the validators in the queue. Each validator must undergo a special check by the owners of the Mastercoin, collect votes and provide liquidity to the rate as a mastercoin.
ChainID:** identification number for network, serves as a single key for unique node Synchronization ID. Block time - a new block is generated every 0.5 seconds
Block size: 1MB of data is able to include 9,615 light transactions of 104 bytes as sending a token from one account to another on 0.5 seconds. Settlement time - Immediate
Requirements:**The hardware must meet certain requirements to run a full node, 500 GB of free disk space. Accessible at a minimum read/write speed of 100 MB/s. 4 cores of CPU and 8 gigabytes of memory (RAM)
PPAY Token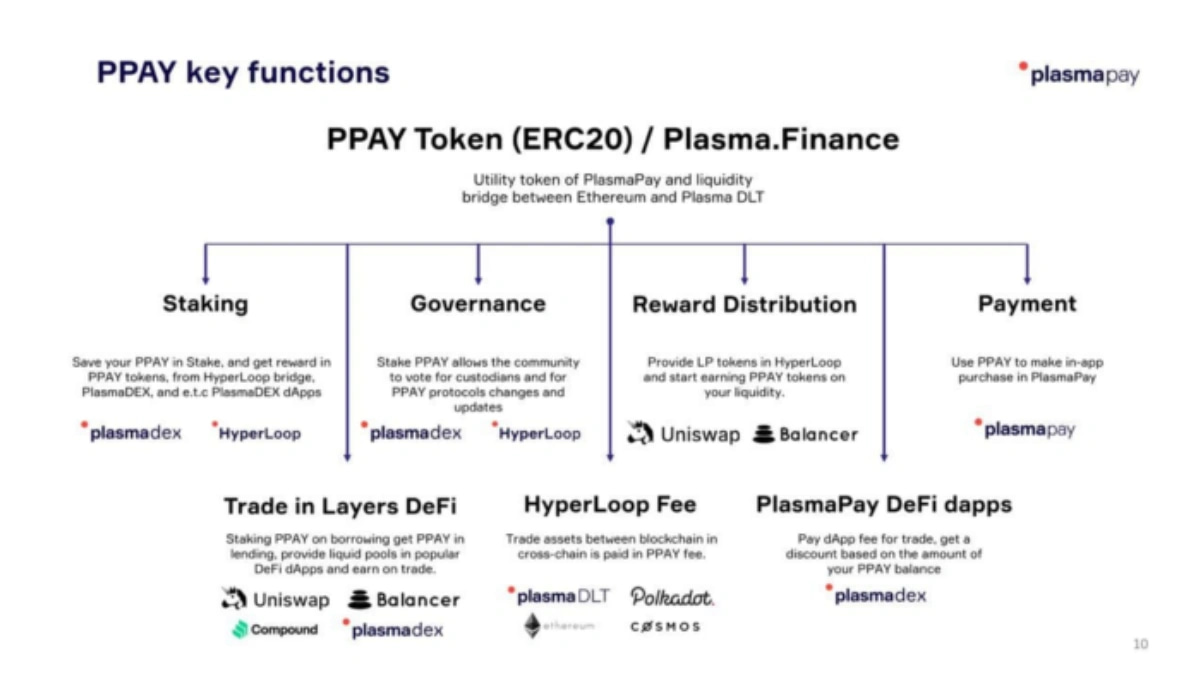 Fun
ctions of Pay Token
PPAY (ERC20) is the utility token of PlasmaPay and PlasmaFinance. PPAY is designed as the all-in-one Decentralized Finance service token, enabling swaps, rewards, liquidity mining, borrowing/lending, staking and governance. The PPAY token will be used as a bridge between Ethereum (ETH), Polkadot, BSC and the zero-fee Plasma Blockchain developed in-house. PPAY can also be used natively to pay gas fees for all your DeFi transactions via the upcoming Plasma Gas Station, so you never need to worry about having enough Ether in your wallet.
PPAY Key Function:
Rewards: Users can Provide LP tokens in HyperLoop and start earning PPAY tokens on their liquidity.
Staking: Users can save their PPAY on stake and get rewads in PPAY tokens, from Hyperloop bridge, Plasma DEX, e.t.c Plasma dApps.
Governance: Stake PPAY allows the community to vote for custodians and for PPAY protocols changes and Updates.
Trade in Layers DeFi: Staking PPAY on borrowing get PPAY in lending, provides liquid pools in popular DeFi dApps and earn on trade.
Hyperloop Fee: Trade assets between Blockchain in cross chain is paid in PPAY fee.
Plasma Pay DeFi dApps: Pay dApp fee for trade and get a discount based on the amount of the user PPAY balance.
How does PPAY work?
The PPAY is a community utility token and unlocks the full potential of the Plasma ecosystem. PPAY token holders should be people who somehow interact with the ecosystem, committed to its future development, and want to participate in governance. This is how they aim to truly decentralize and harmonize community members of Plasma.
| PPAY Utility | Staking | Rewards | Governance | Payments |
| --- | --- | --- | --- | --- |
| Action | Hold and Earn | Earn | Voting | Get Value |
| PlasmaPay | Earn a portion of fees | Provide Liquidity | Manage Protocols | Pay for Service fee |
Voting PPAY in Governance
Stake PPAY allows the community to vote for delegates as well as changes and updates to the PPAY protocols. This mechanism will be activated upon the distribution of 52.5% of all tokens from the emission. Voting on proposals will be carried out by delegated voters. If sufficient support is obtained by the end of the period, the offer will be automatically accepted. Accepted offers are queued and executed in the contract after a temporary review. A voter cannot create another Once a proposal is created, the community can vote for a 7-day period. If the proposal is submitted by a majority and at least 40,000,000 votes, it is put on the queue for temporary consideration and can be implemented within 7 days. Governance Fund will be deployed to attract and incentivize strategic partners that will help the PPAY ecosystem grow and thrive. PPAY holders will be able to elect new initiatives by voting.Governance Fund will be deployed to attract and incentivize strategic partners that will help the PPAY ecosystem grow and thrive. PPAY holders will be able to elect new initiatives by voting.
How to vote PPAY in PlasmaPay Defi Dashboard
Head to PlasmaPay Defi Dashboard
Switch to the Governance tab
Click Voting or Proposal
Sign the proposed ones, vote for the delegate, create your proposal with a xPPAY token from Stake
Distribution Community
The distribution of PPAY will become a core mechanic of the PlasmaPay Defi Dashboard. All users and all applications built on top of PlasmaPay will continuously, and automatically receive governance rights, for free— in order to shape the future of the platform.Stake and un stake LP tokens, smart-contract will automatically harvest PPAY rewards for you. Reward Reserve 52.5% of total PPAY token with 24 month period.
PlasmaPay Fiat OFF/ON - Ramp
Buy and Sell cryptocurrencies with your bank card, wire e.t.c Part of the fee goes to the buyout and distribution to the PPAY stakeholders. Earlier we used liquidity of third-party partners, but now we will fill the pools with liquidity from PlasmaPay Dashboard & HyperLoop protocol and all transactions will be displayed through the liquidity pool win-win.
| Liquidity Providers= | Uniswap | Binance | PlasmaPay and Hyperloop |
| --- | --- | --- | --- |
| Trade fee | 0.3% | 0.1% | 0.3% |
| Transaction Cost | 30$-4$ | 10$-5$ | 0% |
| Blockchain Speed | 15m - 1hour | 15m - 1 hour | 0.5sec |
| Slippage Volatility | 0.05% | 0.03% | 0% |
| Competence | DeFi | CeFi | DeFi |
| Exchange Cost | | | |
| Liquidity Providers fee on 100$ | 4,35 - 30,35$ | 10,13$ - 5, 13 | 0,3$ |
| Fiat Provider | | | |
| Processing | 6% - 3% | 6% - 3% | 4% - 1% |
| Receiving | | | |
| buying or selling crypto 100 USD | 64$ -92.65$ | 84.74$ - 91.74$ | 95.7$ - 98.7$ |
What is xPPAY
xPPAY is a PPAY derivative asset, and is the token that represents your PPAY share in the staking pool and includes yet-to-be-paid future profit.Users can trade xPPAY in the PPAY/xPPAY pool on PlasmaSwap or add liquidity to this pool and generate additional revenue, If PPAY is the user token for trading and speculation, then xPPAY can be considered as the user stock share of the Plasma.Finance platform, entitling them to all future platform earnings, similar to dividends from stocks in CeFi.[9]
PPAY Staking via Savings
Plasma.Finance users are now able to stake PPAY tokens directly from the dashboard by accessing the Savings option. It only takes 2 steps to earn from Staking.
Once your web3.0 wallet is connected, all they need to do is:
Deposit their PPAY tokens to Stake them as Saving (just as one would on a regular bank savings account!). The user will receive an Annual Percentage Yield (APY) returned to them automatically as xPPAY in a 1:1 ratio for every PPAY they stake.
Redeem their xPPAY for PPAY to Unstake their Deposit.
PPAY Tokenomics
PPAY has a circulating supply of 130 Million PPAY coins and a max supply of 1 Billion. The current CoinMarketCap ranking is #2535.


Distribution:
PPAY Emission Model: PPAY will be issued across 11 pools with various lockups and cliff periods. 52.5% of the supply will be locked for liquidity mining.
Distribution & price model: The PPAY token generation event will bring to market a very limited token supply, 5,5% for trading, staking and utility.
| Rounds | percent % | PPAY (1b) | TGE day | Monthly Thereafter |
| --- | --- | --- | --- | --- |
| Seed Round $0.01/PPAY | 5,0% | 50, 000 000 | 10% | 10% |
| Private Round 1- $0.015/PPAY | 10,0% | 100 000 000 | 16% | 16.8% |
| Private Round 2 - $ 0.02/PPAY | 7,5% | 75 000 000 | 33% | 33.5% |
| | | | Cliff,m | Vesting |
| Market Making & Exchanges | 1.0% | 10 000 000 | - | - |
| Team Options | 10,0% | 100 000 000 | 6 | 18 |
| Advisory | 2,5% | 25 000 000 | 1 | 5 |
| Equity Holders allocation | 6,5% | 65 000 000 | 2 | 6 |
| Community | 52,5% | 525 000 000 | 2 | 24 |
| Reserves | 5,0% | 50 000 000 | 4 | 3 |
PPAY timeline & use of funds : Distribution of PPAY will be completed by the end of 2022. Our staking incentive and unique utility and buyback program will burn up to 20% of the supply, leaving only a limited number of PPAY tokens on the market.
Token Allocation
Seed Round, Private Rounds, Equity holders
Early investors get better deals, help us jump-start the plasma ecosystem, and are first and foremost members of our community.
Market Making & Exchanges
Formation of liquidity pools on Uniswap e.t.c with the release of additional tokens to start their circulation.
Team Options
Founders and early teams reserve tokens in the vesting period.
Advisory Pool
Assistants and followers in the early development of the project receive tokens with a vesting period.
Reserve
Reserve for distribution for promotions, content management to maintain noise around the project with a vesting period. Will be completely transparent and consistent with the governance.
Community
The community will receive most of the PPAY tokens, in a period of 24 months for liquidity mining, will be able to participate in the voting and management of the protocol, and develop the PPAY token ecosystem.
Plasma Pay Listed Exchanges
The top exchanges for trading in Plasma Finance are currently CoinBene  , Uniswap  , Hoo  , MXC.COM  , Bithumb  and Bilaxy. You can find others listed on our List of Cryptocurrency Exchanges page.
Plasma Finance Partnership
Plasma Finance partners includes:
intotheblock
Bondly Finance
Bridge Mutual (BMI)
RioDefi
Orion
Elrond
APY Finance
AnRKey X (ANRX)
Kava
GeeqChain
Settle
PAID Network (PAID)
Plasma Team and Advisors

Team Members
Plasma CEO and Founder Illia Maksimenka, along with a highly talented team of 40+ Cybersecurity developers, economists, and business professionals are deeply committed to their mission of creating an open, intuitive financial platform that will allow the world to unlock the full potential of Blockchain technologies.
PlasmaPay token stages
Original roadmap & achievements:
Successful launches PlasmaPay MVP Website and interface developed user can creating wallets and send coins Ethereum and Bitcoin.
PlasmaPay Successful launches Beta Strong interface, Support: Non-custodial wallets:
BTC wallet
ETH wallet Generating Mnemonics, Creation of invoices and history of transactions.
PlasmaPay Support:
ERC20 tokens;
Simplex (buy crypto with card);
Wallet bots for Telegram;
Two Factor Authentication.
2019
PlasmaChain Testnet - Beta Full launch testing and loads of producer nodes
PlasmaPay PlasmaWallet Our PlasmaChain Blockchain has got an interface and wallet creation.
PlasmaPay IOS/ANDROID App The mobile version of the web wallet is now available
PlasmaPay support Buy crypto with credit card ( processing); Our clients were no longer satisfied with partners for the purchase of Cryptocurrency and we created our own processing on our best terms.
PlasmaPay OAUTH for dApp on PlasmaChain We made it possible to connect and create applications in the wallet, thereby anyone who created the application receives the interface of the personal account for users.
PlasmaPay support EU and Asia Banks We are not limited to one fiat partner, and for the stability of the system, we are constantly in the race for better conditions and security.
PlasmaChain Public Smart-Contracts Environment; For the growth of an infant into a child, we opened the door for external developers, but we still control the processes.
PlasmaChain Oracle network Now the Blockchain is filled with rates every second from trusted sources and is also verified by all node holders.
PlasmaChain 42 StableCoins We have launched an experiment on the creation of core bankless assets on the Blockchain as well, secured through fiat partners in tight coupling
PlasmaChain first dApp Dice Game For a pure experiment, we launched a dice game with fair random, and all Stablecoin on board.
PlasmaChain Mainnet Liberty Live Launching the main network after a successful network performance and security test
PlasmaPay Mainnet PlasmaChain wallet Create addresses and wallets on the mainnet
PlasmaChain Public Node Environment Only members of the plasma alliance are still allowed to code, but you can touch the Blockchain interface and start validating blocks.
PlasmaChain Data Explorer Statistics of all transactions, rates, and the slightest movement in the PlasmaChain, outside observers can now also help control the integrity.
Q4
PlasmaPay Crypto Checkout Plasma Alliance opened a corporate account on 5 major Cryptocurrency Exchange and launched a service to purchase Cryptocurrency with a bank card. PlasmaPay Business Checkout Plasma Alliance agreed with Visa/MC card processing providers and bank on integration and launched a crypto-fiat accounts for eCommerce businesses. PlasmaChain Smart-contracts Example tools We encourage our partners to launch their applications in the future with ready-made components in open source for fast application development. PlasmaChain Enterprise Chain Participation among the winners in the Rolls-Royce hackathon Launch of a private program for corporate Blockchain networks
2020
PlasmaChain powerful TX microprocessor Processing a transaction in the debit card layer requires their speed of execution, and here we are limited not only by the power of the Blockchain but also by the environment, we have strengthened these functions and continue to work on this every day.
PlasmaPay E-commerce Module for Business Checkout online stores are sold in ready-made boxes with all the functions, we have given these boxes integration with payments from PlasmaPay in one button/
PlasmaPay Business SEPA or SWIFT Off/On- Ramp The business got a job with their bank accounts for the circulation of their money, a small step for the ordinary, huge for the individual Crypto.
PlasmaChain and PlasmaPay - Big security update
Hashicorp Plugin;
New encryption;
50% of the code base;
Update APIs.
PlasmaPay Support new fiat processing partners We are not limited to one fiat partner, and for the stability of the system, we are constantly in the race for better conditions and security. PlasmaPay Support powerful Dashboard for Business Purchase history with detailed statistics in the merchant's store
PlasmaChain WEB IDE fast environment for working with Smart contract
PlasmaRooms MVP on board https://rooms.plasmapay.com/ Encrypted video conference rooms with built-in Crypto payments based on smart-contract PlasmaChain, This application allows you to experience the power of the Plasma ecosystem and how conventional applications can exist in the new web3.0 economy.
Plasma launches PPAY token New utility token of Plasma ecosystem, to accelerate development and achieve decentralization.
PlasmaPay launches Defi Dashboard MVP (ERC-20) Interface inside the PlasmaPay wallet, with access for other alternative wallets to the functions of DeFI projects, testing on a PPAY token. includes functions:
PlasmaChain HyperLoop cross-chain beta (Ethereum to PLASMA); Bridge protocol for controlling locked assets in multiple chains and unlocking in active ones.
PlasmaChain launches Synthetics protocol;** Supplement to the bridge protocol for the atomic creation of synth tokens secured by blocking in alternative Blockchain as example Ethereum.
PlasmaChain launches HyperLoop (Cross-chain Oracle network) Hyperloop bridge protocol management should evaluate not only the rates, but the total value of the transaction, the number of tokens, transfer of ownership, and other indicators to achieve transparency in the transportation of assets.
2021
PPAY token activates Staking PPAY holders will earn a portion of the trade fees based on the amount of xPPAY held relative to the weight of the staking. Where the tokens are staked to ensure the network remains secure, as good Delegates in Governance are rewarded, and bad actors lose their stake.
PlasmaPay launches Defi Dashboard Beta New features:
Staking
Lending
Borrow
Governance
Yield Farming
PlasmaRooms launches Encrypted video conference rooms with built-in Crypto payments based on smart-contract PlasmaChain, This application allows you to experience the power of the Plasma ecosystem and how conventional applications can exist in the new web3.0 economy.
PlasmaChain launches HyperLoop Cross-Chain Bridge in Mainnet Launch in combat mode and start trading on real assets.
PlasmaPay launches Defi Dashboard Beta Support integration gate for smart-contracts partners:
Uniswap
Balancer
Compound
Aave
Yearn.finance
Synthetix
PlasmaPay DeFi Dashboard support CrossChain (ETHEREUM to PLASMA) New opportunity for partners to transfer contracts and tokens to plasma chain and trade between Blockchain PlasmaPay pre-order Visa Crypto Card; Token holders will be able to order cards under better conditions, for the future circulation of a Decentralized non-custodian account, your card will open access to ATMs and online stores around the world
PlasmaChain HyperLoop Cross-Chain support Cosmos
EOS
BinanceChain PlasmaPay Defi Dashboard Support new assets:
Cosmos
EOS
BinanceChain
PlasmaPay Activate Visa Crypto Card program First cardholders will be able to start testing and spending their Crypto coins everywhere. PlasmaPay Update mobile apps IOS/Android with all functions in web PlasmaPay. Our web application is always ahead, but we do not forget about mobile applications, however, they must be identical
Public PlasmaChain Migrate from private to public mode launch in combat mode and start trading on real assets.
Social Media
Plasma finance can be reached through their various Social media platform:
See something wrong?
Report to us.
Plasma Finance
Did you find this article interesting?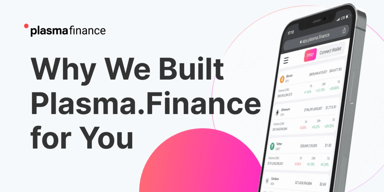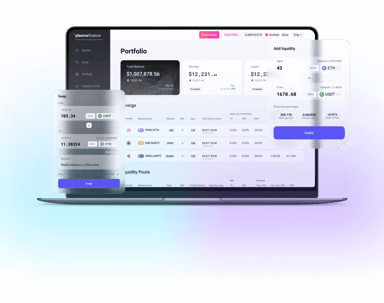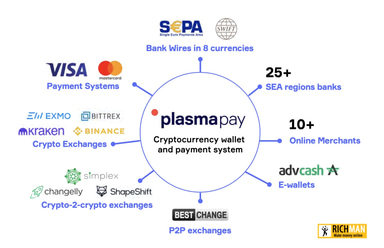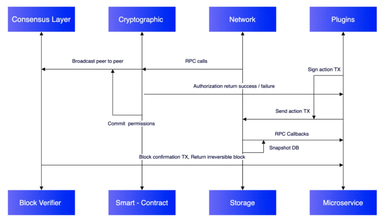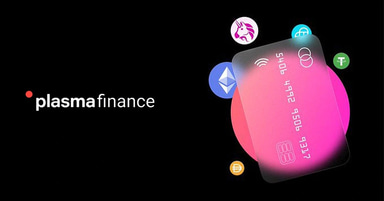 REFERENCES
[1]
Plasma Finance Website
Aug 9, 2022
[2]
Why We Built Plasma.Finance for You
Aug 9, 2022
[3]
Plasma Finance Company
Aug 9, 2022
[4]
Plasma Finance Dashboard
Aug 9, 2022
[5]
Bridge Mutual and Plasma.Finance Partner
Aug 9, 2022
[6]
PlasmaPay Partners with Bondly to Energize DeFi Digital
Aug 9, 2022
[7]
Plasma Finance LinkedIn Profile
Aug 9, 2022
[8]
What Is PlasmaPay? The Global Blockchain Payments System
Aug 9, 2022
[9]
What Is PlasmaPay? The Global Blockchain Payments System
Aug 9, 2022
[10]
https://twitter.com/plasma_pay
Aug 9, 2022
[11]
https://t.me/plasmapay_community
Aug 9, 2022
[12]
https://t.me/plasmapay_ru
Aug 9, 2022
[13]
https://www.facebook.com/plasmapay
Aug 9, 2022
[14]
https://medium.com/plasmapay
Aug 9, 2022
[15]
https://www.linkedin.com/company/plasmapay/
Aug 9, 2022