Raft
Raft Finance is an immutable, decentralized lending DeFi protocol that enables users to borrow and lend assets using their staked Ethereum position (Lido Finance's stETH) as collateral. Raft also enables the generation of R, a decentralized USD stablecoin, by opening a CDP (collateralized debt position), or by depositing stablecoins into the Raft protocol reserve. [1][2][3]
Overview
Officially announced in March 2023, Raft is built on Ethereum, and enables ETH stakers to earn yield while borrowing R, making it a capital-efficient stablecoin. Users can deposit stETH into a Raft position, borrow R with an over-collateralization ratio of at least 110%, and pay zero fees. While users hold and use R, they keep earning their stETH rewards. [2]
On June 5, 2023, the Raft app mainnet went live. [8][9]
On June 27, 2023, the Raft team announced the integration of a liquid staking token (LSD), rETH, into Raft. [11]
"This addition aligns with our commitment to offer our users a growing range of liquid staking assets. rETH, by Rocket Pool, represents staked ETH and brings unique features to the table."[11]
The integration of rETH into the Raft protocol opens up avenues for capital efficiency and financial freedom by introducing Diverse Collateral Options, Enhanced Capital Efficiency, and Robust Decentralization. [11]
On September 27, 2023, Raft announced its integration with Chainlink CCIP—the industry standard for secure cross-chain interoperability. [14]
"In order to help secure our cross-chain stablecoin transfers, we needed access to a highly secure and reliable interoperability solution. After reviewing various solutions, we selected Chainlink CCIP because it provides a multitude of important benefits and features" - the press release stated. [14]
On October 10, 2023, Raft initiated Wave 1 of the RAFT airdrop for eligible users to claim their tokens. 1.5% of the total RAFT supply (37,500,000 RAFT tokens) was allocated to the airdrop and claiming started on 11 October 2023. [13]
Raft's One-Step Leverage
Introduced in April 2023, Raft's solution called "One-Step Leverage" makes leveraging stETH a gas-efficient and straightforward process, eliminating the need for folding and improving the user experience. Raft uses its Flash Mint mechanism to achieve this. Flash Mint is a mechanism that allows users to borrow R like a Flash Loan but without the need for a liquidity pool. [10]
The R Stablecoin
R is a USD stablecoin backed by both collateralized debt positions (CDPs) such as stETH (Lido Staked Ether) and rETH (Rocket Pool ETH) and protocol reserves such as CHAI, the yield-bearing version of the DAI stablecoin. [4]
R is the stablecoin which uses a combination of hard peg and soft peg mechanisms to maintain its peg value of 1 USD. [3]
The hard peg mechanism relies on arbitrage opportunities to maintain the stablecoin price aligned with its stETH backing assets and always within the price band of 1 USD to 1.10 USD. This is done through two mechanisms: redemptions and over-collateralization:
Redemptions allow R stablecoin holders to redeem it for the equivalent value in wstETH (wrapped staked ETH) collateral. Whenever a user redeems their R tokens, these tokens get burned by a smart contract, reducing the R circulating supply and increasing its price. This implies that redeeming R tokens for wstETH is economically convenient only when R trades below 1 USD. [3]
Over-collateralization creates an upper boundary for the R price. Users can deposit the upper boundary amount worth of wstETH, mint 1 R, and sell it on the open market for more than the upper boundary worth to lock in a riskless profit when the R price exceeds this level. [3]
Meanwhile, the soft peg mechanism of R stablecoin relies on the ability of a stablecoin design to incentivize users to act based on the expectation that the peg will be kept in the future. This is done by creating a Schelling point to which the system tends to return after temporary deviations. [3]
Governance
The Raft DAO is governed by RAFT tokenholders. The DAO is responsible for the long-term growth of the Raft protocol. Changes to Raft Protocol and allocation of Raft treasury funds are made through a governance process, which includes an initial proposal, a temperature check, a snapshot vote to validate the proposal, and lastly, execution of the proposal that was voted in favor. [7]
RAFT Token
RAFT is the native token of the Raft ecosystem with two core functions: Governance and Staking. The RAFT token total supply is 2.5 billion, and its allocation is reported in the chart below: [5]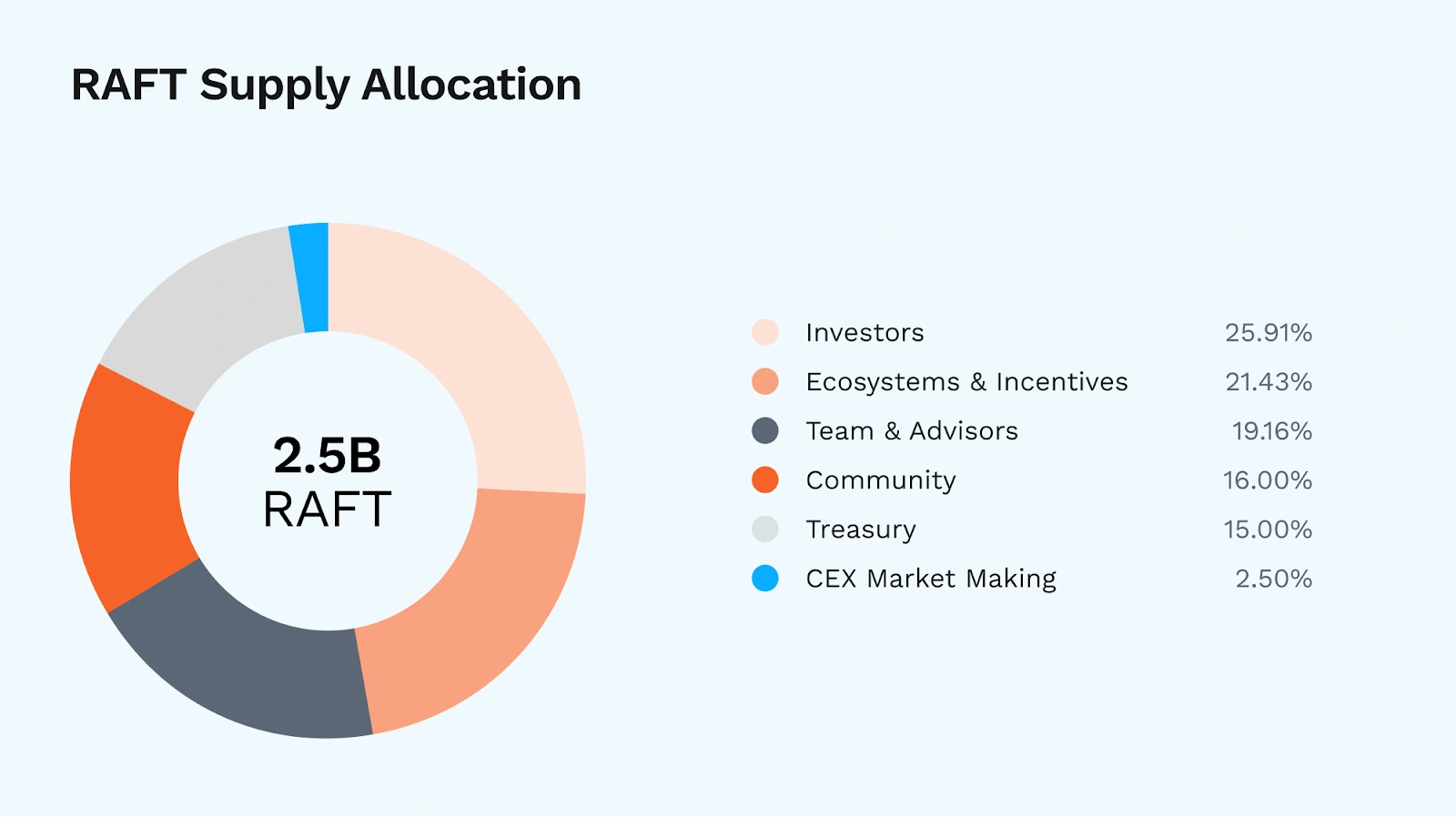 The RAFT token serves as the core element of veRAFT. Notably, veRAFT enables the exchange between RAFT and R, resulting in the scaling of RAFT liquidity alongside Governance.
[5]
veRAFT
veRAFT was introduced on October 10, 2023. Based on Balancer's veBAL, veRAFT is a non-transferable token that can be used to vote and govern the Raft DAO. veRAFT is obtained by providing liquidity into the RAFT/R 80:20 Balancer pool, staking the Balancer LP token (BPT) into the veRAFT contract, and receiving vote-escrowed (ve) RAFT tokens. The veRAFT tokens are non-fungible and their balance expresses the voting power and the share of rewards their holders are entitled to receive. [6][15]
veRAFT holders vote on proposals related to the protocol. These proposals cover a wide range of topics, from determining which pools to incentivize with RAFT to allocating and managing treasury funds. [6][15]
Raft Bond
On October 30, 2023, Raft launched its inaugural bonding program, powered by Bond Protocol's permissionless infrastructure. Bonds enable protocols to issue vested tokens to secure strategic assets. For Raft, the bonds are issued with R as the quote asset and RAFT as the payout asset. [12]
See something wrong?
Report to us.
Raft
Did you find this article interesting?