Ryoshi (founder)
Ryoshi is the anonymous creator behind Shiba Inu and the RYOSHI token, cryptocurrencies that are the parody of the meme coin Dogecoin. Similar to Satoshi Nakamoto, the creator of Bitcoin, the developer maintains a mysterious identity. It is unclear whether the developer is an individual or a group of people. The name itself means "fisherman" (Japanese: 漁師) in Japanese. [1]
History
SHIBA was first launched in August 2020 as a decentralized cryptocurrency inspired by Dogecoin. Afterwards, LEASH and BONE tokens were introduced, as a part of Shiba Inu's DEX project. In addition to these, other proposals such as the Shiba Inu Metaverse and the Shiba Inu games were presented.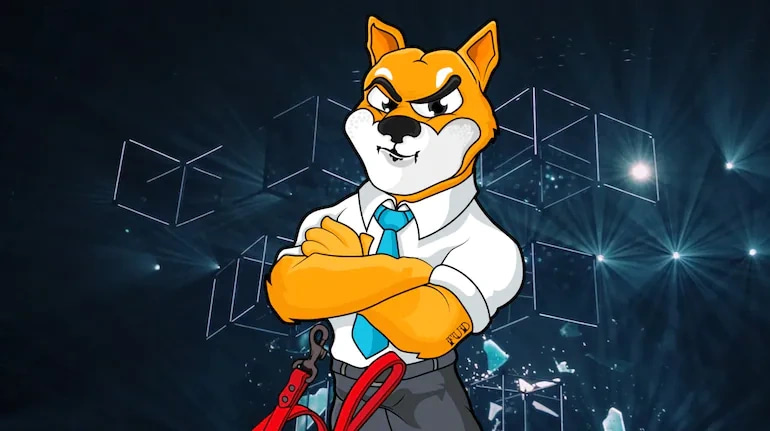 On August 2020, Ryoshi created the RYOSHI token with the goal of addressing the high fees and lack of transparency that Shiba Inu and Dogecoin were experiencing. Like these other tokens, RYOSHI is a community-driven cryptocurrency. It was developed with the intention of improving upon the existing problems faced by these other digital assets and providing a more efficient and transparent alternative.[3]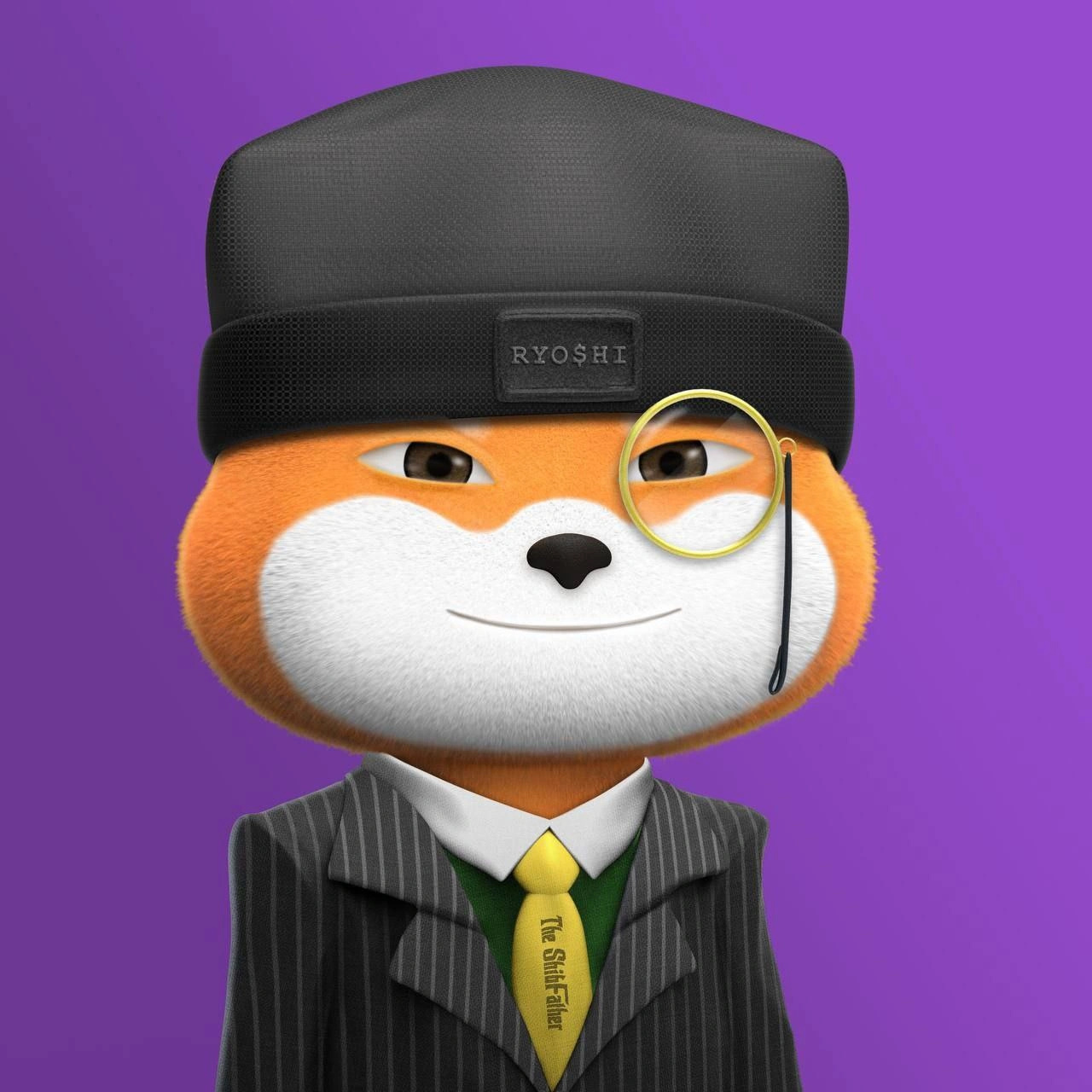 On May 29, 2021, Ryoshi published a now-removed blog post called 'I AM RYOSHI' in which the creator talked about their own identity.[2]
I've said from the start, I'm nobody, I'm not important. Attempts to dismantle my "identity", even if successful, will be disappointing. I'm just a non-consequential guy typing on a keyboard and I'm replaceable. I'm Ryoshi.
Exactly one year after publishing on their official blog, Ryoshi vanished from social media without warning, deleting all of their blog and Twitter posts. Before disappearing, they had previously given hints of the possibility of disappearing. In a blog post, they said:[4]
I am not important, and one day I will be gone without notice. Take the SHIBA and journey upwards frens.
After disappearing, Ryoshi sent another message titled 'We are all Ryoshi' along with a picture of Buddhist Jetsun Milarepa and stated, 'Every Shibarmy is Ryoshi. It does not represent someone, but the glory of Shibarmy.' In addition, all four SHIB blogs written by Ryoshi on Medium have been deleted.[5]
A twitter user called "cionny.eth" created an NFT of Ryoshi's now-deleted 'I AM RYOSHI' Medium article, which outlined his vision for SHIB and included the earliest concepts for Shibarium. This article was Ryoshi's final statement on SHIB. The NFT, which is stored on the Ethereum blockchain, is a 3-minute video of the entire blog post.[6]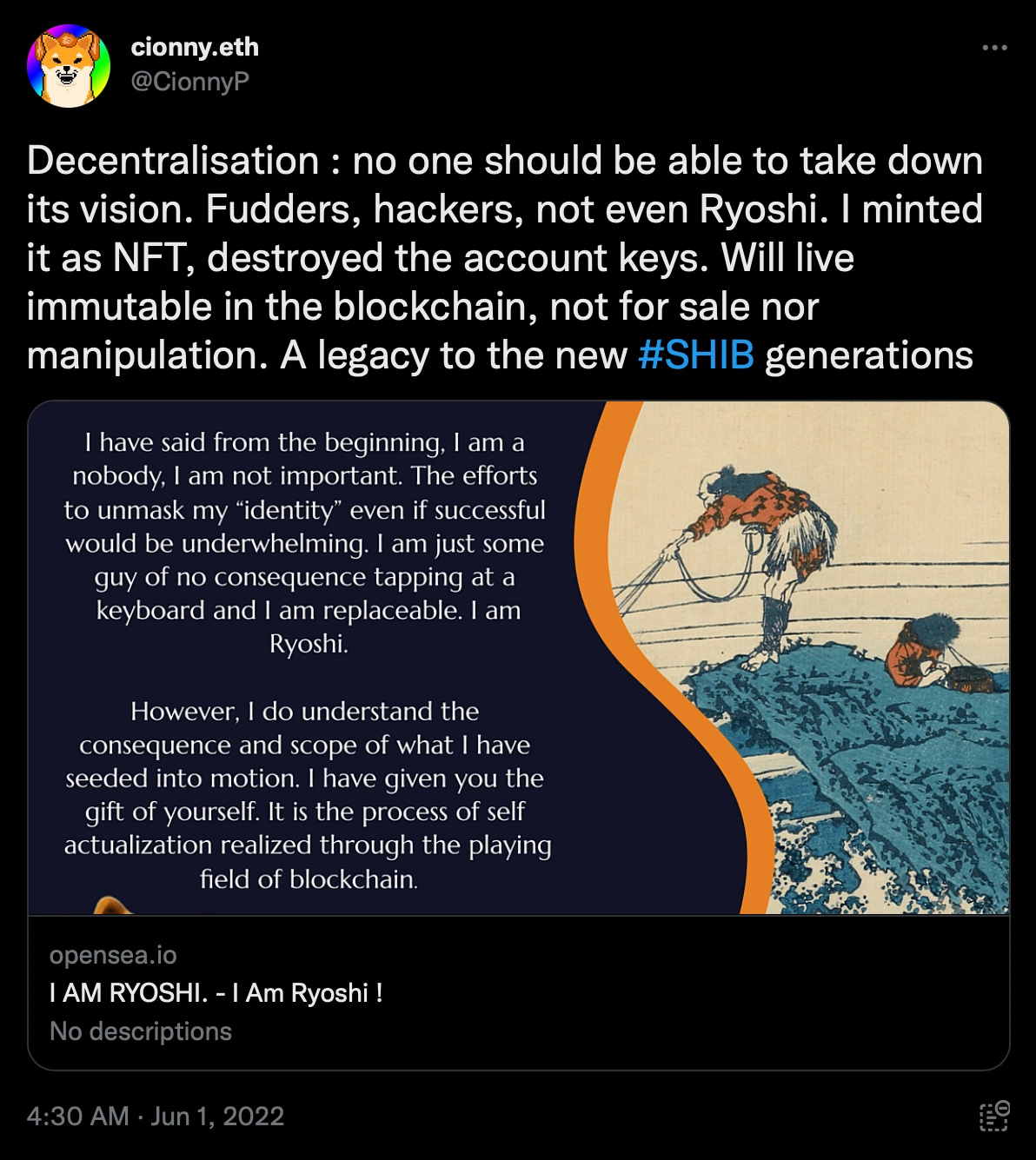 See something wrong?
Report to us.
Ryoshi (founder)
Did you find this article interesting?