Trung Nguyen
Trung Thanh Nguyen, aka, Trung Nguyen is the co-founder and CEO of Sky Mavis, a launchpad for developing blockchain games and products. Trung is currently the co-founder and CEO at Axie Infinity, an NFT-based online video game, developed by Sky Mavis.[1]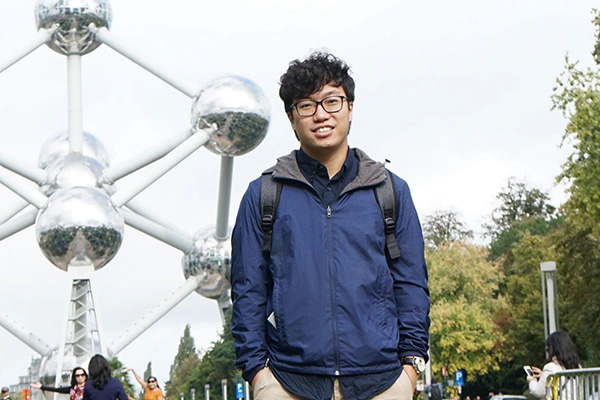 Early Years
Trung Nguyen was born in 1992 in Vietnam. Since his childhood, Trung was fascinated by the Japanese collectibles, like, manga, Pokemon characters, a trading card game- Yu-Gi-Oh and its show. He analyzed and showed much interest about the mechanism and rules of the games that he used to play. [2]
Education
He attended the High School for the Gifted in Mathematics and Information Technology at Hanoi University of Science[3]. In 2012, Trung co-founded and worked as CTO at Lozi, a social network for food bloggers to share their dining experiences. After 4 years of its business, Lozi has transformed into an e-Commerce platform for people to buy and sell stuff in various categories, such as, fashion, electronics, vehicles, pets, and housing.
He left Lozi in 2015 in order to dive deeper into the blockchain games and creating a game on his own. In 2015, he worked as a Software Engineer at Anduin Transactions, which helps investors, companies, and lawyers complete financing deals. In 2017, he graduated as a Bachelor of Science in Computer Software Engineering from FPT University. [4]
Career
In 2014, Trung represented himself at International Collegiate Programming Contest[ICPC]. When Trung first got to know about the cryptocurrencies, like bitcoin, he thought the ICO and trading was simply spending money. To him, just numbers. [18]
In 2017, Trung was absorbed into CryptoKitties, where digital cats can be purchased, collected, bred, and sold. He was fascinated by the mechanism of CryptoKitties, as well as, the idea of applying blockchain technology to a fun and playful concept.
I ended up having 1,000 virtual cats. It triggered my interest and imagination.
But, once he saw how the technology could be used to create something fun and meaningful, it changed his perspective about blockchain technology.[15]
The key lies in how you apply the technology.[17]
He decided to reverse-engineer the game mapping CryptoKitty data to learn about the algorithm and the probability of creating a rare CryptoKitty with desirable traits, which would be worth more on the secondary market. [5][14]
It's a pretty natural thing with being an engineer, because we see things at a deeper level. We try to understand everything happening behind the scenes, instead of just seeing the surface.
He also entered a hackathon contest, where, Trung and Tu Doan created a video game of their own, inspired by the mid-1980s multi-directional shooter on Nintendo Entertainment System, 'Battle City'. Although, they failed in this contest, they went back to develop a blockchain game with a cooped up ideas and interests.

Axie Infinity
Origin
Trung Nguyen, who was the most fascinated by the gaming mechanism, as well as the Pokemon characters, wanted to create a game based on the combination of both the characteristics, which gave rise to the idea of creating his own game, 'Axie Infinity'.
He then reached out to Masamune, aka, Tu Doan, to help form the creative side of the game. Masamune imagined the visual elements, with the first Axie, Puff, a mix between his pet axolotl and the food art he used to make as a kid, with regeneration capabilities.[16] Nguyen is the game's main engineer, in charge of its economy and architecture[12]. Tu Doan being is the Art Director, who makes the adorably cute characters of Axie Infinity, also known as, 'Axies'.
We were also inspired by our childhood experiences of creating creatures from our food. Sadly, the works of art from back then were consumed shortly after creation.
says Masamune.
Growth
Axie Infinity is an NFT-based (non-fungible token) blockchain game with a play-to-earn model, where players use cryptocurrencies to breed, trade, and battle digital pets called Axies and earn crypto in the process.
Development of Axie Infinity was commenced in 2017. It was oficially launched in March 2018. Its first battle system was released in October 2018. Development of real-time card battle system and application was commenced in March 2019. Its alpha was released in December 2019[8]. Its beta was released in August 2022.[7]
Trung explains Axie Infinity in his own words:[10]
At Axie Infinity, we build products that have the potential to educate millions of people about how to interact with blockchain technology through fascinating games and applications. Axie, our first product, is a community-driven digital pet game that replaces the abusive traditional gaming model and allows players to earn money while battling, raising, and building a kingdom with their friends. Axie is inspired by classic games you probably grew up playing such as Pokémon, Neopets or Tamagotchi. We've established ourselves as a bleeding edge project in the blockchain space. We're known for our amazing art, fanatic community, addictive gameplay, and advanced technical solutions.

Ronin wallet, which is an Ethereum sidechain that was created with Axie Infinity's community, was launched in February 2021. While investments in Axie Infinity as well as user numbers have dipped in 2022 due to the crypto recession and a security breach on the Ronin sidechain, Nguyen has remained committed to his work on Axie Infinity. Instead, Trung came up with many new features like, buying and selling of charms and amulets, competitions.[9]
Sky Mavis
Sky Mavis was co-founded in 2019, with Trung Nguyen being one of its co-founders and CEO. It develops Axie Infinity, which is a digital pet universe game and players battle. Its company is based in Singapore.[6] Trung expressed,
We are very proud to say that we are a Vietnamese company, even though Sky Mavis is legally headquartered in Singapore.[20]
Nguyen's Sky Mavis has attracted investments from the $150 million Series B funding round led by American venture capital firm Andreessen Horowitz.[13] In 2021, Sky Mavis conducted two rounds of funding. In May 2021, Mark Cuban and a group of international investors invested US$7.5 million in Sky Mavis.
Honors And Awards
ACM-ICPC World Final Yekaterinburg 2014.[11][19]
See something wrong?
Report to us.
Trung Nguyen
Did you find this article interesting?