XOX Labs
XOX Labs is a multi-chain DeFi Dapps & Web3 Solutions Provider which allows users to swap, stake, store, bridge, play, refer, invest, and earn within over 60 blockchain ecosystems. They offer services for beginners up to DeFi experts.[1][2]
In August, XOX Labs announced the completion of its Seed Sale, securing $130,000 from private investors. Then, on October 3rd, at 12:00 PM UTC, the XOX Stage 1 Token Pre-Sale for Whitelist Investors was launched on two chains: Ethereum and the BNB.[3][4]
Overview
In 2022, XOX Labs made its debut as a Multi-chain DeFi Dapps & Web3 Solutions Provider. [5]
XOX Labs supports 60+ blockchains, interconnected with 150+ DEXs, 30+ DEX Aggregators, and a network of bridges. XOX has been audited by security firms including CertiK, Hacken, and Zellec.[6]
XOX Labs Ecosystem
XOX Labs plans to create a range of apps, utilities, and solutions.
XOX DEX V1
The XOX DEX V1 is a decentralized exchange (DEX) and aggregator that allows users to trade between tokens without relying on intermediaries. It utilizes pools from XOX DEX V1, UniSwap, and PancakeSwap to find the best rates for swaps. Liquidity providers can also benefit by adding funds to XOX DEX V1 pools and engaging in yield farming.
This platform is built on the principle of "Not Your Keys, Not Your Crypto," ensuring traders have full control over their funds. It doesn't collect personally identifiable data and enables pseudonymous swaps directly from a user's wallet. Users only need to connect their Web3 wallet to access various trading pairs.
Liquidity providers can add funds to whitelisted pools, enhancing liquidity for traders and earning a share of trading fees. XOX DEX V1 offers secure and private token swaps. [7]
XOX DEX V2
XOX DEX V2 is a decentralized trading platform that aggregates liquidity from 60+ chains and 150+ DEXs to provide traders with the best rates. It offers an API for easy rate access and ensures secure, fast, and seamless token swaps across multiple blockchains. The platform includes a user-friendly interface with tools like live charts, technical analysis, and community feedback, and it supports multi-chain DeFi trading, including Ethereum, Binance Smart Chain, Polygon, and more. XOX DEX V2 is under development and aims to provide low fees, gasless trading, a referral program, limit and market orders, and revenue sharing for community growth. 8]
XOX Gamified Referral Program
The XOX Gamified Referral Program is an innovative incentive structure that grants USDT/USDC points to both those referring others and those being referred for successful connections. This program leverages gamification with various levels and milestones, offering escalating rewards. [10]
XOX Cross-Chain Bridge
The XOX Cross-chain Bridge, developed by XOX Labs, allows holders to transfer XOX tokens across various supported chains in the XOX ecosystem. It currently supports XOX transfers on Ethereum, BSC, Arbitrum, Polygon, Optimism, and zkSync Era.
The XOX Cross-Chain Bridge charges no fees for transferring XOX across chains. Apart from chain-specific transaction expenses, users will maintain the same value of XOX tokens before and after the bridge transaction, albeit on different chains. [11]
XOX Portfolio Manager
The XOX Portfolio Manager is a solution for the challenges associated with managing tokens across various blockchains. It streamlines the process by allowing users to oversee their token holdings on multiple chains through a single platform, all without the need for sign-ups or accounts. This tool aggregates data from diverse networks, delivering a holistic view of digital assets, including total combined value, detailed token information, asset performance metrics, transaction history, and even direct token purchase options. Users can further personalize their experience through customizable display options. [11]
XOX Lottery V1
The XOX DEX V1 Lottery includes XOX Token prizes. The lottery is funded by allocating 0.5% of the total transaction tax (10%) from XOX Token.
Every three days, lottery draws take place, with 0.5% of the daily 10% tax from the governance token added to the pool, resulting in larger rewards as the volume increases. Prizes are distributed based on matching numbers from the right side of tickets to the winning numbers drawn at the end of each lottery round. Each ticket includes six numbers, ranging from 0 to 9, and to win, players must match the draw numbers in the same order as the lottery balls, starting from the right of the tickets. Tickets are priced at $3 USD in XOX tokens each, with bulk purchase discounts available for up to 100 tickets, granting savings starting from 3 tickets and increasing to 5.99% when purchasing 100 tickets. After each round, prizes are awarded based on the number of tickets matching the same prize bracket. For instance, if three other tickets match the "Match all 6," the 10,000 XOX prize would be split evenly among the four winning tickets, resulting in each recipient receiving 2,500 XOX.[12]
XOX Mobile Wallet
The XOX Mobile Wallet offers direct access to the XOX ecosystem on a mobile device, allowing users to utilize various XOX features while on the go.
Trade efficiently: Swap across 60+ chains, 150+ DEXs, 20+ aggregators, and bridges using XOX DEX V2.
Maximize yields: Provide liquidity to XOX DEX V2 pools, earning from trading fees and farming rewards.
Portfolio management: Easily track and monitor your cryptocurrencies and assets in one place, set price alerts, and make informed investment decisions.
Optimized gas fees: Advanced algorithms optimize transaction fees for quick and cost-effective crypto transfers.
NFT management: Securely store, send, and receive NFTs, simplifying NFT management.
Stay updated: Access cryptocurrency news for market trends and regulatory updates.
Community interaction: Share insights and engage in discussions on cryptocurrency in our Crypto Hub Feed.
Learn with XOX Labs Foundation Academy: Educational resources provide a comprehensive understanding of cryptocurrency and blockchain technology.
Access trading data and tools: Utilize various tools and indicators to analyze market trends and make informed investment choices.
The XOX Wallet is fully secure, encrypted, and password-protected. Private keys and backup phrases are not accessible or stored, ensuring your privacy and security. The open-source nature of the XOX Wallet enhances security, promoting transparency, accountability, and community-driven development and improvement.[13]
XOX Native Utility Token
The XOX token is the native utility token that XOX powers the entire ecosystem, providing users with access to a range of DeFi tools and features. Being a multi-chain protocol, their native XOX token can be acquired across all supported blockchains via the XOX DEX liquidity pools created by XOX Labs. [15]
XOX Token Metrics
Token Name: XOX Labs
Ticker: XOX
Standard: ERC20
Max Supply: 180.000.000 XOX
Circulating Supply at TGE: 18.21% - 32,778,000 XOX Tokens[15]
XOX Token Use Cases
Platform Sustainability: XOX collects platform fees, driving ecosystem development and enhancement. A portion of these fees benefits XOXS stakers and community rewards.
Liquidity Provision: Users can add liquidity to multiple pairs, earning LP tokens and transaction fees, resulting in additional income.
Lottery Participation: XOX can be used to purchase lottery tickets, with 5% of the transaction tax contributing to the lottery fund, offering users the chance to win rewards.
Project Allocation: XOX is utilized in the XOX Multi-chain Launchpad for better project allocations, enabling users to invest in projects they support.
Transaction Currency: XOX is the primary currency within the XOX DEX V2, used for payments, earning programs, liquidity provider incentives, and cross-chain bridge fees.
Referral Program Benefits: Users can use XOX to earn cashback and transaction fee shares through the gamified multi-chain referral program, earning rewards by referring new users to the ecosystem.[16]
XOX Token Allocation
XOXS Hybrid Stable Coin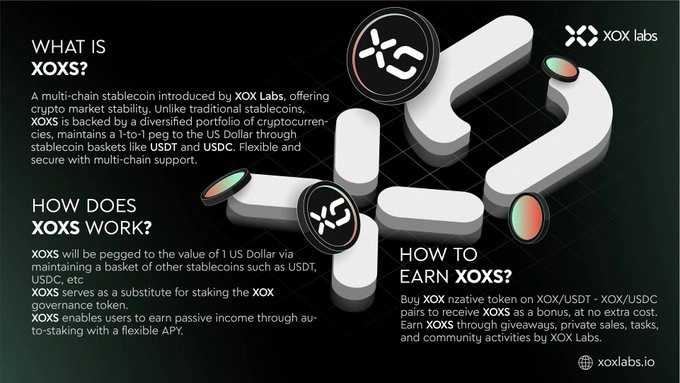 XOXS is a hybrid multi-chain stablecoin. It serves as an alternative to staking with the XOX governance token, designed to counteract supply inflation and selling pressure. The development of XOXS involved extensive research into staking mechanisms, chart behavior, high APYs followed by staker selling pressure, and passive income strategies employing stable coins like
USDT
and
USDC
. XOXS allows users to generate passive income via staking without posing risks to holders or the project's long-term sustainability.
18]
Key Information:
XOXS is accessible through purchasing the XOX native token on XOX/USDT or XOX/USDC pairs, where it's granted as a bonus.
It offers auto-staking functionality with a flexible APY.
XOXS can be earned through giveaways, private sale investments, task completion, community engagement, and similar activities.
Note: XOXS can solely be acquired by purchasing XOX Token (BEP20/ERC20) on the XOX Labs Native Swap via XOX-USDT and XOX-USDC pairs, and there are no other legitimate methods to buy or earn XOXS. Additionally, XOXS's current use case is serving as a stakable currency within the XOX Labs Ecosystem to counter inflation and mitigate selling pressure on the native token, XOX Token. Stay vigilant against scammers.[17]
Ecosystem Partners & Backers
zkSync
SyncSwap
iZUM
Bitgert
Dexalo
ELK Finance
Velocore
Xodex
Linea
Rubic
Swing
Chainge
Mummy Finance
Odos
Orbiter
deBridge
Symbiosis
Level Finance[9]
XOX Labs Team
The XOX Labs Team's mission and vision are centered on establishing a self-sustaining decentralized ecosystem with diverse revenue streams across multiple leading blockchains.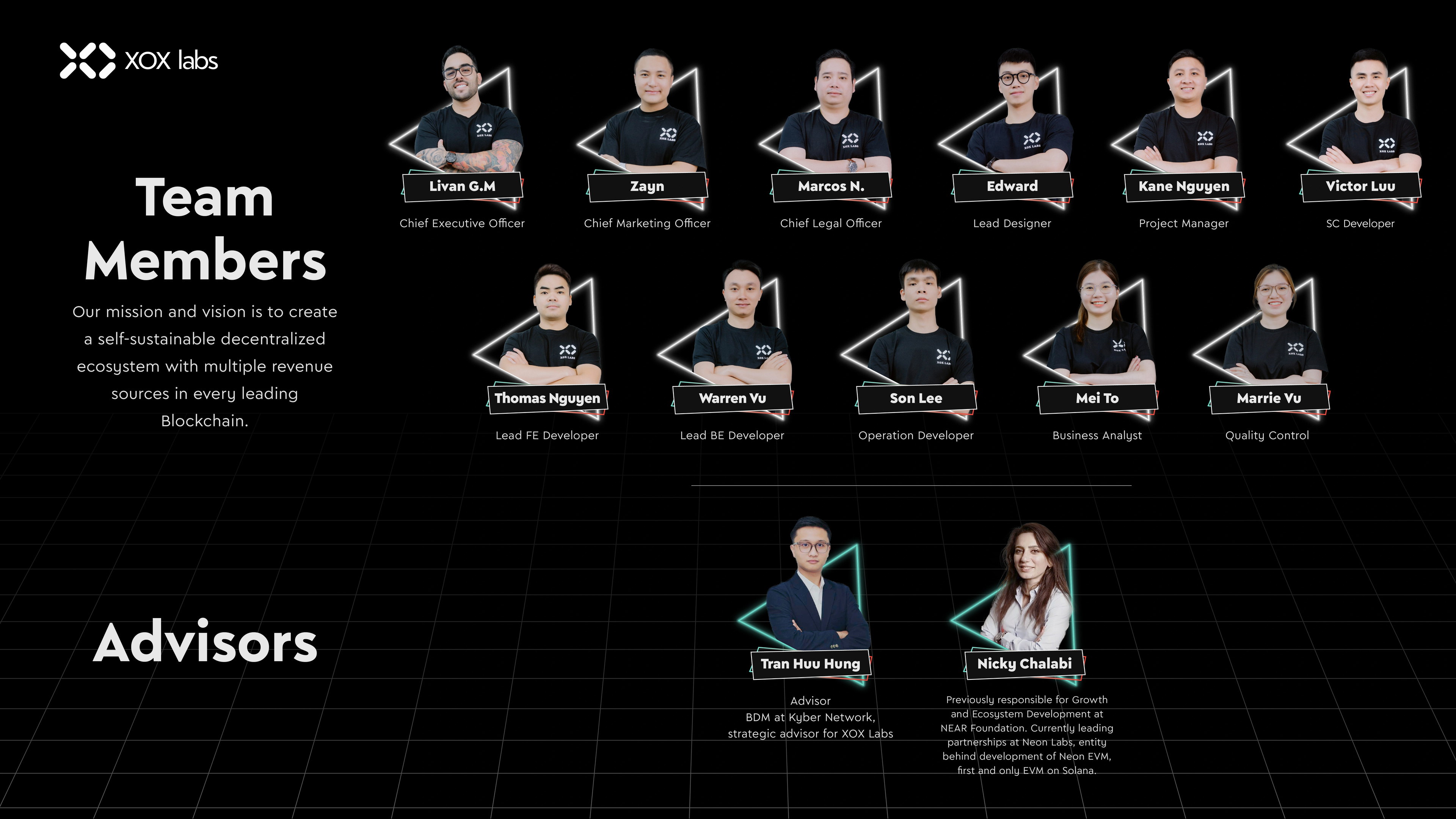 Team
Livan G.M - Chief Operating Officer (CEO)
Zayn - Chief Marketing Officer (CMO)
Marcos - Chief Legal Officer (CLO)
Edward - Lead Designer
Kane Nguyen - Project manager
Victor Luu - Smart Contract Developer
Lily - Marketing & Media
Kien Dao - Smart Contract Developer
Stella Le - Designer
Linh Nguyen - Designer
Mei To - Business Analyst
Thanh Nguyen - Lead Frontend developer
Warren Vu - Frontend Developer
Canh Nguyen - Frontend Developer
Son Hoang - Frontend Developer
Duc Tran - Frontend Developer
Duong Do - Lead Backend Developer
David Pham - Backend Developer
Lucie Ha - Lead Quality Control
Marrie Vu - Quality Control
Thao Le - Quality Control
Manh Nguyen - Operation Developer
Advisors
Hung Tran (Ken): BDM at Kyber Network & Strategic Advisor For XOX Labs.

Nicky Chabali: Advisor BD and Ecosystem Growth Description: In crypto since 2017. Previously responsible for Growth and Ecosystem Development at NEAR Foundation. Currently leading partnerships at Neon Labs, the entity behind the development of Neon EVM, the first and only EVM on Solana.
Development map
Live
Website
XOX & XOXS Multi Chain Smart Contracts
Decentralized Dex
Referral Program Dapp
XOXS Staking Dashboard
Multi Chain Assets Management Dapp
Under Development
Bridge
Adding Features To Already Live Utilities
XOX Mobile App/Wallet for IOS, Android & Web
XOX Multi-Chain Launchpad
XOX Coin Listing/Ranking Site (Early Stage)
XOX DEX V2
Upcoming Developments
Improve and fix bugs or issues on current live utilities. (Improvement Stage)
Planning & Researching Upcoming Potential Developments.
See something wrong?
Report to us.
XOX Labs
Did you find this article interesting?