Nouns
Nouns is a generative non-fungible token project on the Ethereum blockchain run by the Nouns DAO. Nouns are 32x32 pixel characters based on people, places, and things. One noun is generated every day. [1]

Overview
Nouns is a pixel art NFT collection with a novel distribution method and open-source IP. One noun is auctioned every 24 hours. Nouns are also a creative experiment on Ethereum designed to improve how on-chain communities interact. The Nouns DAO does this by using its treasury to build and support public goods.
The Nouns concept was inspired by a Twitter prompt from an anonymous founding member, Punk 4156. After interest grew in the idea, Punk4156 followed it up with a series of tweets outlining the framework that would become Nouns. Shortly after, a group of ten Nounders (what Nouns call its co-founders), including Vine founder Dom Hofmann, began working through a shared Discord and created the Nouns DAO, using Punk 4156's outline as a guide to solidify the concept.
Each Noun NFT is a little picture of a humanoid that has been algorithmically generated to order, then stored as a 32-pixel by 32-pixel picture directly on the Ethereum blockchain. A notable difference between Nouns and many other NFT projects is that Nouns are stored directly on Ethereum's scarce blockspace, rather than containing a link to an image hosted elsewhere (for instance on the decentralized web hosting service IPFS).
Unlike the limited supply and exclusive nature of Profile Picture (PFP) NFTs like CryptoPunks or Bored Ape Yacht Club, a new Noun is generated randomly every 24 hours and put up for auction. Once each auction closes, another unique Noun is minted (based on a series of predefined traits), and the process repeats, forever. The Nouns smart contract automatically sends 100% of the proceeds directly to the DAO Treasury. [2]
Nouns are offered at auction on the Nouns website, with a new Noun generated and offered for sale every 24 hours. They are also available on secondary markets such as OpenSea and Rarible.
The first-ever Noun was auctioned on August 8, 2021, and features a fox as a head and pink and purple two-tone glasses. [13]
Open-source IP
Nouns are open-source and are released under a Creative Commons CC0 "No Rights Reserved" license. This means that anyone can use the Nouns name and imagery to create anything, as it's in the public domain.
Anyone can create Nouns merchandise even if he/she doesn't own a Nouns NFT, and people have created derivative NFT collections such as Noundles, Lil' Nouns, 3D Nouns, and NounPunks. Anyone is also free to add new traits for future Nouns. The only caveat is that the Nouns codebase, including the art within it, is principally governed by the Nouns DAO, which votes on which traits are included in the collection. The DAO receives all of the ETH used to buy Nouns.
Nounders
'Nounders' are the group of ten (10) builders that initiated Nouns. Here are the Nounders:
Because 100% of Noun auction proceeds are sent to Nouns DAO, Nounders have chosen to compensate themselves with Nouns. Every 10th Noun for the first 5 years of the project (Noun ids #0, #10, #20, #30 and so on) will be automatically sent to the Nounder's multisig to be vested and shared among the founding members of the project. Nounder distributions do not interfere with the cadence of 24-hour auctions. Nouns are sent directly to the Nounder's Multisig, and auctions continue on schedule with the next available Noun ID. [13]
Multisig wallets, also sometimes called multisig vaults or safes, are a type of crypto wallet that requires two or more private keys to perform certain tasks. This is done to increase the security of the funds stored in the wallet by requiring multiple parties to sign off before sending any transactions. [14]
Derivative NFT Collections
Noundles
A community-led PFP collection, inspired by Nouns DAO. The mission, backed by a resilient community, committed leadership and a shared voice among holders, is to champion all differences and create a more inclusive space for those who seek their place.


Lil' Nouns
Lil Nouns, a project created within Nouns DAO, features a collection of adorable and whimsical Nouns at a more affordable price point. These Nouns are smaller than traditional Nouns, measuring just 16×16 pixels, and feature unique and playful designs intended to evoke a sense of cuteness and charm. They are generated every 15 minutes, but anyone can make a Lil Noun.[15]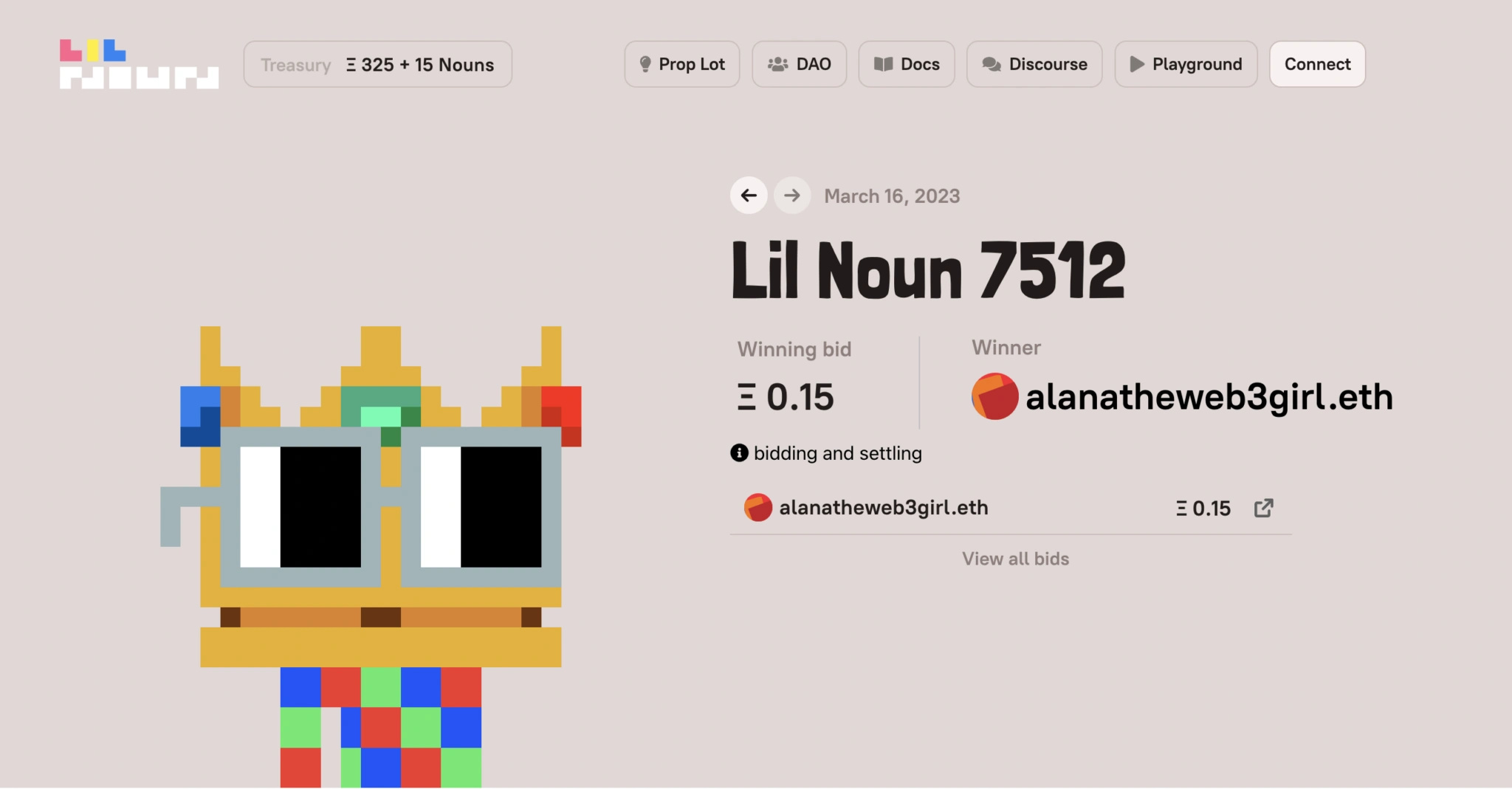 3D Nouns (or Nouns 3D)
3D Nouns is a collection of composable characters turning Nouns DAO pixel art into 3D avatars. 3D Nouns were the first community extension of the Nouns ecosystem and received funding from Nouns DAO on September 2nd, 2021 under Nouns DAO Proposal #2.
All 3D Nouns assets are CC0 and can be used freely. CC0 is the "no copyright reserved" option in the Creative Commons toolkit. After customizing a noun, download it as a GLTF file for use within 3D modeling programs like Blender or motion capture libraries like Mixamo. 3D Nouns are ready for the metaverse and can be imported into platforms like Decentraland and Cryptovoxels. The 3D Nouns collection contains additional traits outside of the current Nouns traits, and there will be more collaborations in the future.[17]
NounPunks
NounPunks is a collection of 9969 uniquely drawn Profile Pictures (PFPs) inspired by Larva Labs and Gremplin with aesthetic influence from the Cryptopunks and Nouns DAO and incorporating many of the iconic traits from Cryptoadz with lots of unique traits like VIBE neck tattoos, AR headsets, and Backenza backgrounds. [16]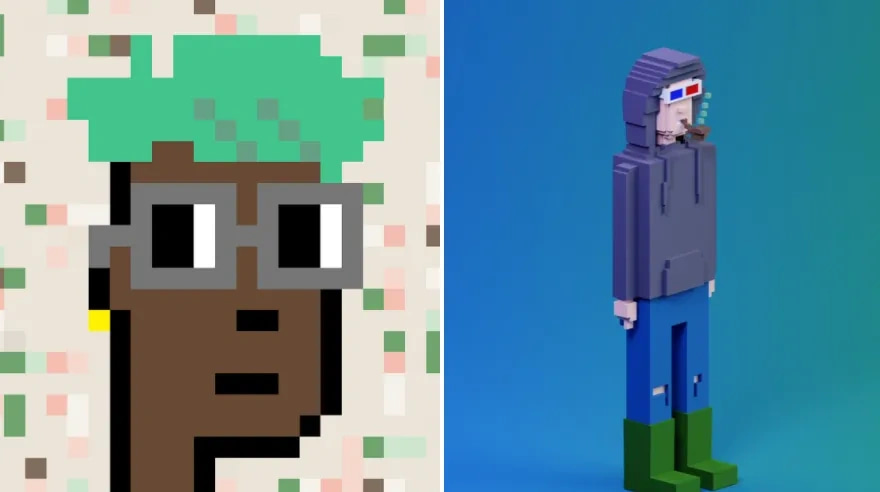 See something wrong?
Report to us.
Nouns
Did you find this article interesting?