beoble
beoble is a web3 communication infrastructure and ecosystem that facilitates wallet-to-wallet communication. The offering includes a web-based chat application and a toolkit for Dapps integration. The chat app is compatible with most major wallets, and all messages are secured through end-to-end encryption. [1]
Overview
beoble provides messaging and social modules, complete with APIs and SDKs designed for Web 3.0. This allows Web 3.0 services to quickly integrate messaging and social profile functionalities into their services within a 5-minute timeframe. beoble's core infrastructure features modularized wallet-to-wallet messaging, modularized social profile and decentralized identifier (DID), and a modularized customer support tool. [2]
beoble enables straightforward integration with any native dApps using its API/SDK modules, offering benefits such as easy UI integration with native social features for an enhanced user experience. Additionally, it introduces in-app organic engagement to native dApps, contributing to improved user retention and acquisition. [2]
Chat
beoble is a web3 native messenger where users can login using their wallet. Features include sending text, images, video, links, files, emojis, NFT stickers, and import stickers from Telegram. Users can also create encrypted DMs, encrypted group chats, channels, and topic chat rooms. [3]
Token-gated and transaction-gated chatrooms are possible, and users can create rules inside these chatrooms. Token and transaction rules can be used to filter spammers and scammers. [3]
Earn
Users can earn points that can bring potential benefits such as future airdrops or access to premium futures. Some earning sources include: earning from chatroom contribution, earning from super react (donation) on chats, earning from completing daily and weekly tasks, earning from bonus rewards, and earning from games. The current progress and rewards can be checked in the Reward Center tab. [4]
Earn from Chatroom Contribution and Super React
In beoble, users can earn from chatroom contributions through a system that distributes rewards based on individual participation. The more a user contributes to a chatroom, the higher the rewards they receive from that chatroom's generated revenue, known as the "chatroom share." This share is determined by factors such as super reacts received, super reacts sent, normal reacts received, and other engagements within the chatroom. [4]
Chatroom revenue comes from various sources, including an entrance fee. If enabled, new users must pay an entrance fee to join a chatroom, and these fees are distributed among chatroom members based on their chatroom shares. Users with higher shares receive a larger portion of the entrance fee revenue, reflecting their substantial contributions to the chatroom. [4]
React and Super React
Users can earn through React and Super React, expressions of respect and contribution. Reacting, like using likes or thumbs up, is a way to show respect and also a significant factor in measuring a member's contribution to a chatroom, affecting their chatroom share. [4]
Super React is a unique feature where users spend points to donate to the chat creator. Receiving a Super React results in a more substantial increase in the recipient's chatroom share compared to a normal react. This special form of reaction benefits both the chat creator and the sender, unlike a normal react, which doesn't provide any contribution benefit. [4]
Earn from Tasks and Activities (Bonus)
Users can earn from tasks and activities by simply using the app. Various actions performed within the app contribute to potential rewards, allowing users to complete tasks or passively accumulate bonus rewards. Task Rewards are divided into Daily Tasks, Weekly Tasks, and Secret Tasks, providing structured opportunities for earning rewards. Bonus Rewards are earned through activities such as sending chats, engaging with the community, and referring other users. Users can track their progress and view potential rewards in the Reward Center tab. This system enables users to earn rewards by participating in different tasks and activities within the app. [4]
Follow
The "Follow" feature in beoble has multiple functions. It allows users to add others to their contact list, ensuring that followed users appear at the top of search results when adding members to groups or initiating direct messages. The data from follows is used to improve user recommendations and chatroom suggestions through the app's algorithm. [5]
Another key use of the follow action is to monitor the wallet activity of the followed user. Upon following someone, users are automatically included in the peer followers' room, where beoble posts transaction updates related to the followed person's wallet activities. In summary, following someone grants access to a chatroom where transaction alerts are sent whenever the followed user has wallet activity, enabling peer followers to discuss these activities. [5]
This feature is unique in allowing users not only to track a wallet but also to engage in discussions with other users monitoring the same wallet. While traditional wallet tracking tools exist, beoble's approach enables users to obtain more meaningful information and analysis through discussions with fellow trackers. [5]
Discover
After analyzing a user's wallet, beoble automatically includes them in the relevant token holders' and NFT holders' rooms. Manual searching and joining of these rooms are not required. [6]
To connect with additional web3 enthusiasts, users can use the discover tab to find interesting communities, recommended chatrooms and users, transaction peers, or other users who share common interests. [6]
Architecture
Communication Delivery Graph (CDG)
The Communication Delivery Graph (CDG) in beoble is a specialized network for delivering communication, prioritizing privacy and decentralization. It is a fully decentralized and privacy preserving design of delivering communication. [7]
Privacy and Encryption
beoble employs a privacy and security methodology that involves multi-layered encryption, combining end-to-end encryption with additional layers. This process encrypts both the message and its path, allowing only designated "middle-man" nodes to decrypt and access the information. This encryption model is akin to a layered approach, ensuring enhanced security. [8]
Decentralized Identity & Social Graph
beoble's Decentralized Identity and Social Graph utilize the Communication Delivery Graph (CDG) for efficient and secure handling of both message and non-message information. The CDG is employed to verify and deliver follow requests, with CDG nodes retaining partial information for user lookup. Users can create their social graph on beoble's network and also benefit from the integration of other social graph infrastructures like Lens and CyberConnect. Logging into beoble automatically synchronizes contacts from these infrastructures using the social graph synchronizer, ensuring a smooth user experience. [9]
Cross-Chain Data Connectivity
beoble establishes cross-chain data connectivity by leveraging various layer-1 blockchains such as Ethereum, Polygon, Binance Smart Chain, Avalanche, Solana, Aptos, and Sui. These blockchains enable Web 3.0 user experiences within beoble, encompassing features like token gates, NFT gates, NFT profiles, and stickers. The maintenance of controls over these features is entrusted to beoble's Communication Delivery Graph (CDG), which is the primary graph responsible for delivering chats and information. [10]
To ensure seamless control and accessibility, the CDG nodes are equipped with microservice indexing capabilities. These nodes index every known beoble user (excluding non-users), allowing the CDG to efficiently look up existing layer-1 blockchains and maintain controls for Web 3.0 user experiences. [10]
Team
The co-founders of beoble are Sung Cho, Jungwoo Yun, and CH Yim. Sung Cho is the CEO and backend/blockchain developer with experience at Citadel, Goldman Sachs, and as the CEO of a game startup. Jungwoo Yun serves as the frontend and web3 developer and has been a co-founder and lead developer at multiple startups. CH Yim is a full-stack developer with a background that includes roles at JP Morgan and various startups. [11][12][13]
The team is composed of members with backgrounds from Microsoft, Meta, Goldman Sachs, among others.
Funding
The company raised $2 million during a pre-seed round backed by Digital Currency Group, Samsung Next, HashKey Capital, GBV, Token Bay Capital, and Momentum 6. [14]
See something wrong?
Report to us.
beoble
Did you find this article interesting?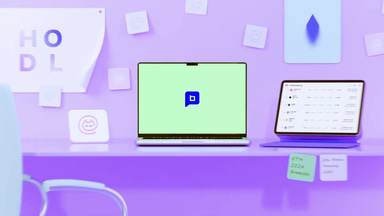 REFERENCES
[2]
Docs - Getting Started
Nov 16, 2023
[5]
Docs - Follow
Nov 16, 2023
[6]
Docs - Discover
Nov 16, 2023
[8]
Privacy and Encryption
Nov 16, 2023
[9]
Decentralized Identity & Social Graph
Nov 16, 2023
[10]
Cross-Chain Data Connectivity
Nov 16, 2023
[11]
Sung Cho LinkedIn
Nov 16, 2023
[12]
Jungwoo Yun LinkedIn
Nov 16, 2023
[13]
Chanhyeok Yim LinkedIn
Nov 16, 2023
[14]
Funding Announcement
Nov 16, 2023