Hedera
Hedera is a open-source, decentralized public ledger that uses the Hashgraph consensus instead of blockchains in an attempt to maximize speed and security simultaneously. The platform is also eco-friendly and facilitates transactions and the release of decentralized applications (Dapps) while providing transparency, enabling organizations to overlook movements on the network. [4][5]
Overview
Hedera Hashgraph was established in 2017 after Founder and former Chief Scientist Leemon Baird invented the Hashgraph consensus algorithm in 2015. After the invention of an alternative to blockchains, Baird put together a team of executives and secured crucial investment to work on Hedera. The company made its public debut in March 2018, presenting its offerings to a live audience in New York City and a virtual audience of 50,000 people. At launch, Hedera introduced its website, cryptocurrency, governing body (the Hedera Governing Council), and a whitepaper outlining its vision and plans. [6][7]
Hedera Hashgraph is described as a public distributed ledger technology (DLT) network that simply allows its users to relate and carry out online transactions efficiently and securely without the need for third-party companies, which often collect and sell their users personal information. The purpose of Hedera is to offer a stable, trustworthy network for a wide variety of decentralized, enterprise-grade applications. Hedera also utilizes a native token, $HBAR to power the Hedera's ecosystem. [2][3]
Hedera Hashgraph operates on a system known as asynchronous Byzantine fault tolerance (aBFT), which provides high levels of security even in the presence of compromised users. It boasts faster processing compared to Bitcoin and Ethereum, due to its parallel transaction processing pattern instead of the typical serial method used by blockchain technology. [8]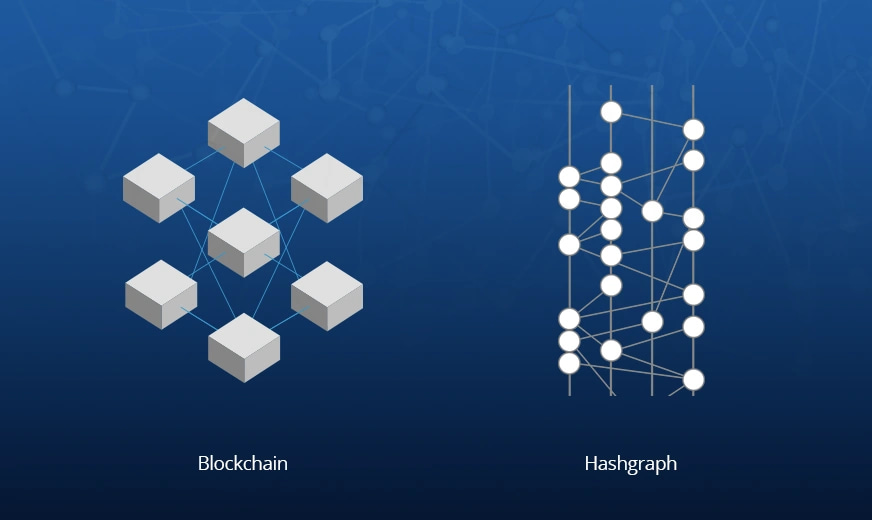 The network reaches consensus through the exchange of information between nodes, called gossip. Unlike mining in Bitcoin and other altcoin networks, nodes communicate and verify network transactions. The consensus protocol is overseen by a council of 39 leading businesses and organizations, who make decisions regarding software upgrades, network pricing, and treasury management. 
[8]
Hashgraph Consensus Algorithm
Hedera Hashgraph uses the Hashgraph consensus mechanism to maintain agreement on its transaction history across its distributed network. This mechanism is supported by two types of nodes - consensus nodes and mirror nodes. [9]
Consensus nodes are moderated by the Hedera Governing Council and is responsible for determining the transaction ordering and history, while mirror nodes are permissionless and serve to disseminate this information throughout the network to other participants. [9][10]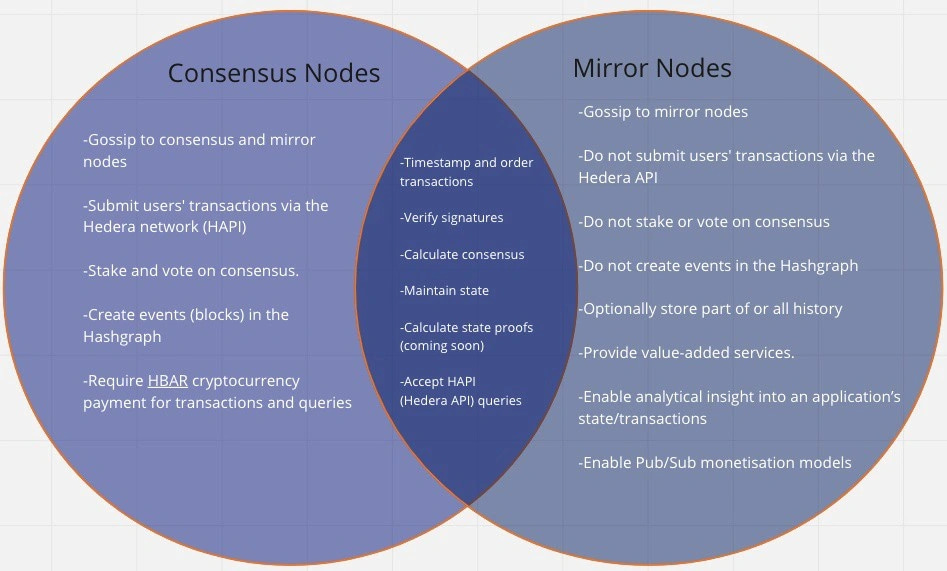 Hedera's approach is distinct from traditional
blockchains
that rely on a larger number of users to propose and add blocks to the chain through open competition. By utilizing a limited number of nodes to determine its history, Hedera's model provides greater security and stability of its transaction records, avoiding potential changes or reversals.
By blending the benefits of both public and private blockchain networks, Hedera Hashgraph aims to offer an improved consensus mechanism.

Governance
Hedera Hashgraph operates through a governing body called the Hedera Governing Council. The council is responsible for managing the consensus nodes, which decide the order of transactions on the network. The council comprises 39 members, including renowned companies such as Google, IBM, and Boeing. [4]
The primary functions of the council are to vote on changes to the software, ensure that funds are utilized correctly, and protect the network's legal status across different jurisdictions. It's worth mentioning that council membership is limited, with each member allowed to serve a maximum of two three-year terms, during which they hold equal voting rights on network and platform decisions. [11]
As of now, the Governing Council members run the mainnet nodes, but Hedera intends to open this up to any interested party in the future. [4]
Hedera Governing Council
The Hedera Governing Council was established in the first quarter of 2019. Hedera made their first announcement of the initial five members on March 7th 2019, introducing, Deutsche Telekom's T-Labs, DLA Piper, Magazine Luiza, Nomura Holdings and Swisscom Blockchain as their first council members. [19]
On August 12th 2019, Hedera announced the addition of IBM and Tata Communications as members of their governing council, stating that the two organization "expands the Council's diversity; it now includes leading enterprises from the telecommunications, technology, financial services, law, and retail sectors". [20]
"The addition of IBM and Tata Communications to the Hedera Governing Council is a powerful endorsement of the hashgraph consensus mechanism, and further decentralizes the governance of Hedera Hashgraph. Our governance model, which includes a robust system of checks and balances, ensures power can't be consolidated, while at the same time providing a stable and scalable platform on which developers can build." - Mance Harmon, CEO
On September 16th 2021, The Hedera Governing Council announced their plans to allocate 10.7 billion hbars, worth approximately US$5 billion at the time, to develop the Hedera ecosystem. The HBAR Foundation aimed to provide grants to startups and other organizations for developing the Hedera network's applications, including non-fungible tokens (NFTs), decentralized finance (DeFi), Central Bank Digital Currencies (CBDCs), and gaming. The remainder of the allocation was said to be used for partnerships and other initiatives to strengthen the ecosystem. [21]
"Our mission is to fund a future where entrepreneurs form digitally-native economies and ecosystems, controlling their own assets, identities, data, marketplaces, and more. We are excited to engage with and support organizations and teams that share this vision." -
Shayne Higdon, Executive Director and CEO
On July 12th 2022, The Hedera Governing Council replaced all previously permanent executive voting directors on the Board with elected representatives from the Council and the industry. These voting directors were responsible for maintaining enterprise-grade corporate governance, including financial oversight and the appointment and oversight of all corporate officers. The newly adopted governance process included an annual election where the Governing Council elected half of the seven voting directors to two-year terms, ensuring continuity of oversight. The Board of Directors consisted of six directors from existing Council members and one independent director. [22]
On February 7th 2023, Dell joined the Hedera Governing Council, with plans to develop decentralized applications for its customers' blockchain and Web3-related projects. The council has up to 39 members, including Google, IBM, Deutsche Telekom, Boeing, DBS, and Nomura Holdings. Hedera aims to attract big businesses to build on its public distributed network, offering security and stability. Dell's first public blockchain-related move in some time is to explore developing applications on the Hedera network for decentralized environments such as edge computing. [23][24]
$HBAR
HBAR is the official currency of the Hedera Hashgraph network. It serves multiple purposes within the network, including facilitating transactions for decentralized applications, enabling peer-to-peer transactions, and maintaining network security against potential malicious actors. It is also used for paying transaction fees and can power energy-efficient cryptocurrencies.
Network fuel
Developers use $HBAR to pay for network services, such as transferring HBAR, managing fungible and non-fungible tokens, and logging data. For each transaction submitted to the network, HBAR are used to compensate network nodes for bandwidth, compute, and storage. [3]
Network protection
Hedera's Proof-of-stake public network uses $HBAR, which are staked or proxy staked (coming soon) to a network node, to weight votes on transactions when reaching consensus. Weighted voting with hbars makes it difficult and expensive for a bad actor to maliciously affect consensus — it would require them to own and stake over one-third of the network's total supply of HBAR, which will not be possible for the first 5 years. [2]
Tokenized Asset
With the opportunity to access Digital assets like never before, Hedera Hashgraph allows asset tokenization on its ecosystem, by employing Native fungible and non-fungible assets on Hedera with performance, security, stability, and low, predictable fees.[3]
Tokenomics
The distribution of HBAR tokens are shown below:[13]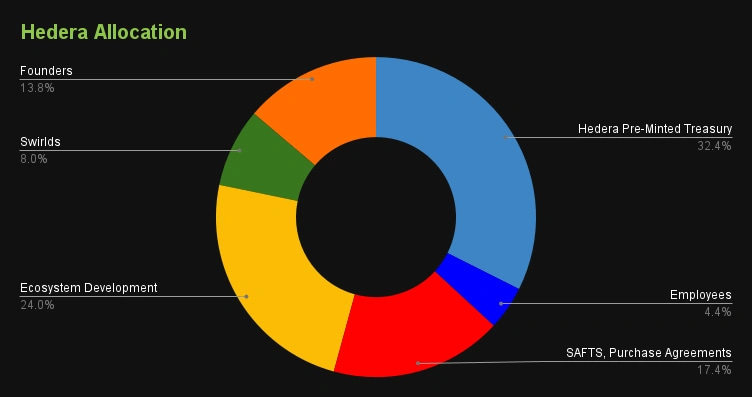 Staking
The Hedera public ledger operates using a proof-of-stake consensus mechanism, where a node's influence on the consensus is proportional to the amount of HBAR cryptocurrency it has staked. For a transaction to be validated and placed into consensus, it must be validated by nodes representing over two-thirds of the total HBAR staked. The staking feature has been rolled out in four phases, with the first three already completed at the time of writing. [14]
Phase 1: Technical Availability
The technical availability phase enabled the staking functionality to be live on both the Hedera Testnet and Mainnet as of July 21, 2022. In this phase, users were technically able to stake their accounts to mainnet nodes, but this did not contribute to a node's consensus weight (voting power). The goal of this initial release was to provide a level playing field for all market participants to join the staking program without giving an unfair advantage to early adopters. [14]
Phase 2: Ecosystem Development
Phase 2 supported exchanges and wallets were able to integrate the staking functionality and provide users with an easy way to stake their HBAR. However, no rewards were distributed during this phase. Node stake visibility was updated on a monthly basis and staking to a node affected its consensus weight (voting power). [14]
Phase 3: Staking Rewards Program Launch
Phase 3 was triggered when the Hedera Governing Council determined that the ecosystem had reached a minimum viable set of integrations for staking rewards. The council voted to update the reward rate, which was set at 1 billion HBAR per year, and the mainnet was updated with the agreed-upon rate. The staking reward account was then eligible to distribute rewards to stakers once the rewards threshold of 250 million total HBAR was met. [14]
Phase 4: Complete Staking Implementation
The final phase involved the release of 24-hour updates for visibility into stake per node and the node uptime feature. Node stake visibility would be updated on a 24-hour interval and staked accounts would only earn rewards if nodes were available and participating in consensus. [14]
Staking Nodes
The Hedera Governing Council has set a minimum stake threshold value of 1/4 of the maximum node stake value for all consensus nodes in the network. The maximum stake value for each node is calculated as the total number of HBAR divided by the total number of nodes in the network. The minimum node stake must be met for staked accounts to earn rewards. This value can be changed by vote of the Hedera Governing Council in the future.[14]
Lock up Period
There is no lock-up period for staking on Hedera's network. The entire balance of an account is automatically staked to a selected node or account, and the staked balance is liquid at all times. There is no concept of "bonding" or "slashing" of tokens. [14]
Staking Rewards
In the first phase, the staking reward rate will be set to zero and will be updated by the Hedera Governing Council once the Hedera ecosystem has reached the necessary integrations. The minimum staking period is one day (24 hours) and staked accounts must meet the minimum node stake threshold and be staked for the minimum staking period to be eligible for rewards. The minimum balance threshold for the staking reward account is 250 million HBAR and is voted on by the Hedera Governing Council. The maximum annual reward rate cap is 6.5%. Indirect staking is also possible, where staking to a node increases its consensus weight and the staking account is rewarded for its contribution. [14]

Services
Hedera Consensus Service (HCS)
Hedera Consensus Service is a tool for creating decentralized logs of immutable and timestamped events for web2 and web3 applications. Applications can use HCS to track asset transfers, count votes, monitor IoT devices, and more. HCS offers fast, secure, and fair consensus with a combination of public trust and privacy for sensitive data. It has low fees and offers development flexibility using any programming language. HCS provides a real-time auditable log for applications that require high-throughput, trusted timestamps, and fast finality. It also enables decentralized ordering and privacy for sensitive information in permissioned blockchain networks. [15]

Hedera Token Service (HTS)
The Hedera Token Service is a native tokenization platform on the public Hedera network that offers high-speed, low-cost, and compliant configurations for the transfer of fungible and non-fungible tokens. With on-chain programmability and integration with the Hedera Smart Contract service, the Hedera Token Service opens new opportunities for payments, financial services, supply chain management, and more. Tokens issued using the Hedera Token Service are native to the network and offer low, predictable fees, configurable compliance, and enterprise governance. The platform has undergone independent security audits by FP Complete, ensuring stability and security for users. Join the growing community of wallets, marketplaces, startups, and enterprises using the Hedera Token Service to drive network effects and create innovative applications. [16]

Hedera Smart Contract Service
The Hedera Smart Contract service is designed to allow developers to create decentralized applications using the popular Solidity language. The service is fully compatible with the Ethereum Virtual Machine (EVM) and can run Solidity code unchanged on the Hedera network. Smart contracts on Hedera are optimized for the hashgraph consensus algorithm, which results in fast transactions with finality in seconds and carbon-negative energy use. The Hedera Token Service allows developers to incorporate tokens or HBAR into their smart contracts for use in token exchanges, governance, and more. Smart contracts offer the potential for increased transparency and efficiency across industries and can be used for real-time settlements, auctions, bridges between networks, decentralized finance, and oracles for real-world data. Hedera provides open-source SDKs, examples, and tutorials to make it easy for developers to build decentralized applications. The Hedera network is also designed to be low-cost, fast, environmentally sustainable, and fair for all users. [17]
On February 7th 2022, Hedera launched their new Hedera Smart Contract Service 2.0. The new version improved the support for Solidity smart contracts and making it more suitable for enterprise workloads and Dapp developer needs. Hedera Smart Contract Service 2.0 also comes with improvements in performance, design decisions, and developer experience enhancements and allows the use of smart contracts to avoid counterparty risk and reliance on centralized intermediaries. [18]
HealthCare
The advancement of the public Blockchain and distributed ledger technologies (DLTs) enables healthcare providers to augment existing trial data and patient medical record information while maintaining patient privacy and meeting regulatory compliance.[2]
Hedera's Safe Health Systems, Inc., is a leading Health care platform used by over 150,000 users at Delta Airlines, Arizona State University, and the Mayo Clinic, turned to Hedera Hashgraph as their public distributed ledger of choice. Hedera logs an immutable and verifiable log of patient information and identifiers while preserving end-user Privacy; this increases trust by both patients and customer organizations, leading to greater adoption, retention, and platform usage.[3]
Management Team
Betsabe Botaitis: Chief Financial Officer & Treasurer
Sam Brylski: Chief Regulatory Officer
Alex Popowycz: Chief Information Officer
Nilmini Rubin: Chief of Staff & Head of Global Policy
Tom Sylvester: General Council & Secretary
Board of Directors
Tasker Generes
Pradeep Iyer
Brian P. Jeffords
Brett McDowell
Monique Morrow
Shyam Nagarajan
Ian Putter
Scott Thiel
See something wrong?
Report to us.
Hedera
Did you find this article interesting?