Ivan Liljeqvist
Ivan Liljeqvist (born on August 12, 1996) is a Swedish developer, entrepreneur, and YouTube personality based in Stockholm. He is known for his channel Ivan on Tech, which focuses on cryptocurrency and blockchain commentary.[1][4][17] He is also the founder of Moralis, a web3 development platform for developers to build and launch games, apps, and NFTs cross-chain. [3]

Personal life & Education
Ivan Liljeqvist was raised in Belarus' Minsk. He relocated from Minsk to Jönköping when he was nine years old and continued his tutoring in Sweden after that. Ivan developed an interest in programming and began creating games and applications during middle school. At nine years old, his mother who was a mathematician gifted him a book on HTML. He believed the HTML book would be helpful in his quest to learn how to develop video games. Ivan speaking on this in an interview with Forbes said:
My mom gave me this book, and on the cover of the book it said, 'Here's how you can make websites,' as if this book will teach you how to make websites. I was a bit disappointed when I finished it, because I could only do some simple things in HTML.[9]
Ivan later went on to learn Javascript so he could make games like RuneScape, an old favorite of his. [9]
Ivan relocated to Stockholm in 2014 to focus on PC innovation as a Computer Science student at KTH Royal Institute of Technology after graduating high school. He finished his studies in 2019, he was a colleague of Everipedia Co-founder Theodor Forselius in middle school.[8]
Ivan learned about Bitcoin from a friend in 2013 who had told him about it. Bitcoin then was in the bull market rising from $30 to $1,000. Shortly thereafter, the market collapsed and a new bear market began. Despite Bitcoin's price collapse from $1,000 to $200 during that time, blockchain technology was fascinating to him. Ivan studied blockchain from 2014 to 2017.[9]
Ethereum's 2015 launch helped him discover potential use cases beyond digital gold or electronic cash. Ethereum's Solidity programming language provided a new way to build applications on a blockchain network. Ivan learned Solidity and how to build dApps.[9] In 2017, While he was working as a programmer at Ericsson, Ivan started his YouTube channel, mainly as a way to share his knowledge about programming and technology in general.
Ivan Liljeqvist is fluent in four languages, Swedish, English, German, and Russian.[6]

Career
Early Career
Ivan has created mobile games and apps for Android (OS) and iOS, his first being Zombie River.[6] He later created Angry Clouds, a game that measured the player's cognitive ability to multitask.[6] Ivan was the Founder and Developer of SimKoll, a platform for swimmers and coaches to measure their progress, and was available cross-platforms on a website as well as an app.[6]
Ivan was a software developer for iOS and watchOS for Ericsson and later worked with machine learning for self-driving cars in a collaboration between Ericsson and Volvo.[6] Independently, Ivan created successful apps such as Zpotdrop (which creates the back-end infrastructure), the dating app Maybe Meetings, and the SOON app.[6]
Ivan on Tech (YouTube Channel)
In January 2017, Ivan launched his tech-focused YouTube channel, Ivan on Tech while he was working as a programmer at Ericsson. On the channel, he covers topics like programming, blockchain, and other relevant topics. Speaking about the channel launch, Ivan said:
I had the mindset that I didn't need a huge following, maybe just a few thousand people, because then I could show potential employers that people listen to what I have to say, so hire me. Also, my English was so bad at that time, I thought at least I could learn English by doing YouTube.
He started creating videos on coding and technology in general. But one day he created a video about Ethereum. Compared to the other videos, it did better. He observed a high demand for crypto content, and since he was passionate about cryptocurrency, it was a good fit. He'd discovered his niche. The Ethereum video received thousands of views after receiving only a few hundred for the videos that came before it. He continued to produce crypto videos and has become well-known in the industry over the years. He attributes his achievement to hard effort, talent, and good fortune.[9]
I didn't expect crypto to have that much of an audience on YouTube. That day, when I created the Ethereum video, I didn't know what else to create. So I thought, let me do a video on Ethereum just to get a video out today. Good thing I did that, because it completely exploded.
Ivan's videos explain how different cryptocurrencies work and function, including Bitcoin, Ethereum, EOS, Iota, Golem, among others.[7] He also started Ivan on Tech Russian, a cryptocurrency-themed Youtube channel for Russian-speaking audiences.
As of September 2022, Ivan on Tech has over 491,000 YouTube subscribers and is among the top 10 crypto YouTubers in the world.[10][11]

YouTube Ban
The YouTube purge of 2019 saw crypto content creators' videos and channels taken off YouTube including Ivan on Tech. The suspension restricted Ivan on Tech from uploading videos, live streams, or stories for a set period of time, based on the number of strikes received or violations committed.[12][13]
According to Ivan, the Purge was a blessing in disguise as he prompted him to encourage his YouTube subscribers to sign up on the Ivan on Tech mailing list so he could send them updates. It also forced all the influencers to get together and strategize on how to get their channels back. Following the uproar from the crypto community on Twitter at the time, YouTube moved to reinstate the affected cryptocurrency channels and videos.[13]
Ivan said:
We had a group on Telegram, where we organize ourselves, and we could get as much noise out on Twitter as possible, so YouTube finally responded, and finally said that it was a mistake.[9]
Ivan on Tech Academy
Ivan On Tech Academy was founded in 2017 by Ivan and Filip Martinsson. Ivan On Tech Academy is a leading online university for blockchain, cryptocurrencies, and programming. Ivan and Filip came to the realization that there was a lack of awareness and accessibility to blockchain technology. As a result, they made the decision to act independently and established Ivan on Tech Academy with the aim of empowering people everywhere by teaching them about blockchain and programming. Its vision is to become the number one go-to place for blockchain and cryptocurrency education in the world.[14]
The Academy has on offer hundreds of hours of on-demand video courses, assignments, quizzes, homework, and also programming challenges. The courses range from introductory courses on Blockchain, Bitcoin, and programming to Smart Contract Programming, Bitcoin Programming, and Blockchain Business Masterclass.[16] Over 60,000 students have joined the platform since its launch.[3][15]

Ivan on Tech Academy Becomes Moralis Academy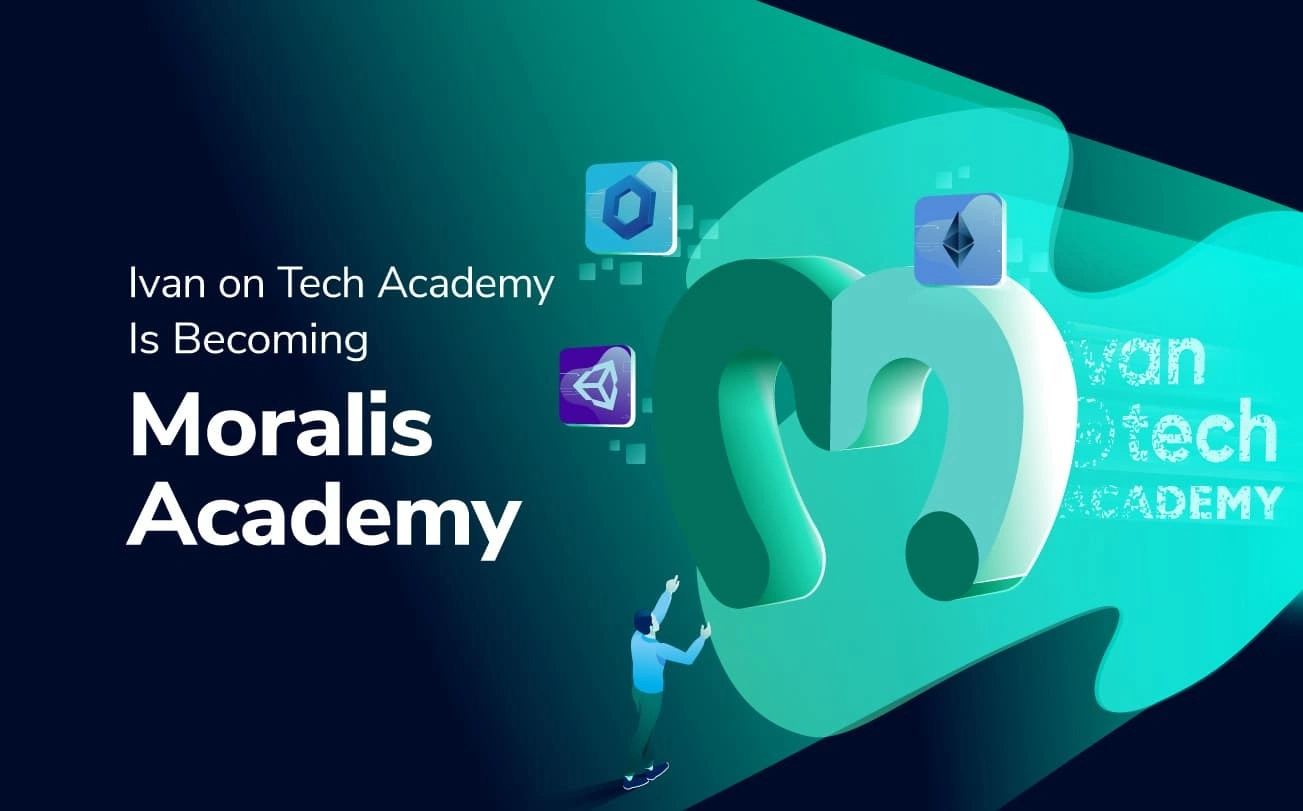 Ivan on Tech Academy Becomes Moralis Academy
In October 2021, Ivan on Tech Academy became Moralis Academy. This introduced additional tools and features to the platform. Moralis is a Web3 development platform for quickly developing web3 apps, dApps, and deploying DeFi projects. Moralis provides developers with a readily available blockchain backend infrastructure to develop dApps.[19]
Ivan had this to say about the name change:
We felt the time was right to now change Ivan on Tech Academy into Moralis Academy. This will allow us to bring even more great courses, features, and content to Moralis Academy.[19]
Kasta Partnership
On November 23, 2021, Kasta, a blockchain alternative to mainstream mobile payment services announced its partnership with Moralis Academy. Kasta's mission is to make cryptocurrency payments convenient worldwide. The partnership will benefit from Ivan's knowledge and experience as well as the opportunity to create a more accessible payment platform. According to Kasta, working with Ivan's community and Moralis will enable them access to an invaluable audience to which they can customize their features and expand their global reach.[18]
Awards and Recognition
Ivan is a member of Nova and the Association for Computer Machinery and has won the "Best Applicability Prize in a Design Competition organized by KTH.[3]
In 2018, he was named Blocktech person of the year, by BTCX.
In 2019, he was named the digital trainer of the year by, the IT company Consid.
See something wrong?
Report to us.
Ivan Liljeqvist
Did you find this article interesting?