Mirror
Mirror is a Web3 publishing platform that allows users to write and publish articles on the blockchain. It is a decentralized writing platform that utilizes Web3 technologies, Mirror runs on the Ethereum blockchain and stores its data on Arweave. It was developed to help creators connect with their target audiences more directly and innovatively.[1][2]
Mirror offers its users a crowdfunding tool, where writers can crowdfund their projects through the sale of NFTs, Editions, and Splits. Through a decentralized, user-owned, crypto-based network, Mirror revolutionizes the way its users express, share, and monetize their thoughts, enabling them to earn money in several ways. $WRITE token serves as a crypto alternative to the platform's invitation system, It gives writers publishing power on the Mirror platform.[3]
As of June 2021, Union Square Ventures Values Crypto Mirror at $100 Million. It participated in two seed financing rounds with Andreessen Horowitz, Union Square Ventures, and USV raising at least $10 million across both rounds.[4][5]
In May 2022, Mirror introduced Writing NFT, which allows users to mint writing as a digital collectible and set a customizable supply and price for it.
In July 2022, Mirror announced the launch of web3 subscriptions, a new feature that allows readers to subscribe to any Mirror publication with their wallets and receive email notifications when new content is posted.[10]
Overview
Founded by former Andreessen Horowitz crypto partner Denis Nazarov in 2020. Mirror is a decentralized blockchain and crypto-based publishing platform built using Web3 technologies. Users can start publishing content and embedding media blocks like movies, iFrames, social media postings, Non-fungible tokens (NFT), auctions, and crowdfunds once an Ethereum wallet is connected. Additionally, blogs can be imported from other websites like Medium or Substack.
The platform allows users to log in with their Ethereum wallet, store their writing on Arweave, and publish using the platform. Mirror allows its users to own their content and their audience. Contents published, are cryptographically secure so that they cannot be modified or corrupted, and users can exit the platform with all of their data if they no longer wish to be a part of it. All of Mirror's posts are available to access on Arweave, an on-chain decentralized storage layer that makes it so that its user's posts exist forever.
Writers can also use the tools provided by Mirror to earn in cryptocurrency instead of earning through the usual cash transactions. Additionally, creators can use non-fungible tokens (NFTs), which can be continually exchanged and keep making money on the author's behalf, to raise money for creative endeavors. The use of the Ethereum blockchain by Mirror makes this possible. Blogs can also be minted as what the platform terms "Entry Editions," which are a way for users to create NFTs of content and potentially monetize it.
Mirror has evolved from a tool for writers to a full-stack web3 creative suite for communities and DAOs.
How it Works
Mirror allows users to create and connect with the world of Web3 and can be used as a tool for sharing and funding anything. To start using Mirror, All new applicants must first compete in a "$WRITE RACE." Each candidate receives a 0.01 $WRITE token and is added to a waiting list merely for applying. Existing Mirror members cast votes after a week to determine whether writers competing in the race have earned the right to be a part of the platform.[6][7]
At the end of each $WRITE RACE, 10 participating writers are ultimately selected, and each receives one $WRITE cryptocurrency token. With this token in their possession,  Each winner can register a unique name in form of an ENS domain known as Mirror.xyz domain for their publication on the platform, thereafter they can start publishing their literary works.
The moment a piece is published, it automatically becomes an NFT, allowing the user to give it a special token name.
Mirror flips this model on its head by fostering a community-operated platform. Instead of a centralized company deciding who gets access to Mirror, the community chooses. It is important to keep in mind that writers who are accepted become Members rather than just users and membership attained via $WRITE RACE is evolving to represent decision-making power and stake in the future of the Mirror protocol and DAO.[8][9]
In October 2021, Mirror announced that anyone with an Ethereum wallet could join the platform and start writing, making it open for all.
Mirror Features
Crowdfunding Writing with NFTs
Authors can seek crowdfunding for creative projects via non-fungible tokens (NFTs) that can be continuously traded and keep earning on the writer's behalf. Using NFTs, users represent previously infinitely-reproducible creative works as scarce, tradable digital assets.
Writers can turn their publication into an NFT, which can then be sold at an auction to readers who want to invest in their thoughts, or they can sell their story to a publication as an NFT. Also, each time their NFT is sold, they can earn royalties on the NFT.
In addition to converting their story into an NFT, users can crowdfund their concept and accept payment from readers to write it. After the story is over, readers receive a portion of the earnings.[11][12]
Splits
Split is a built-in feature that enables the writers to distribute money continually to an infinite number of Ethereum addresses by a predefined percentage distribution. Split's crypto-native approach replaces a social contract with code-enforced rules that can't be fudged.
splits redefine what collaboration is, It makes citing and rewarding participants so simple that the essence of one's participation may be as fleeting as a conversation had three years ago on a late-night subway journey. The participant may not have much memory.[13]
Editions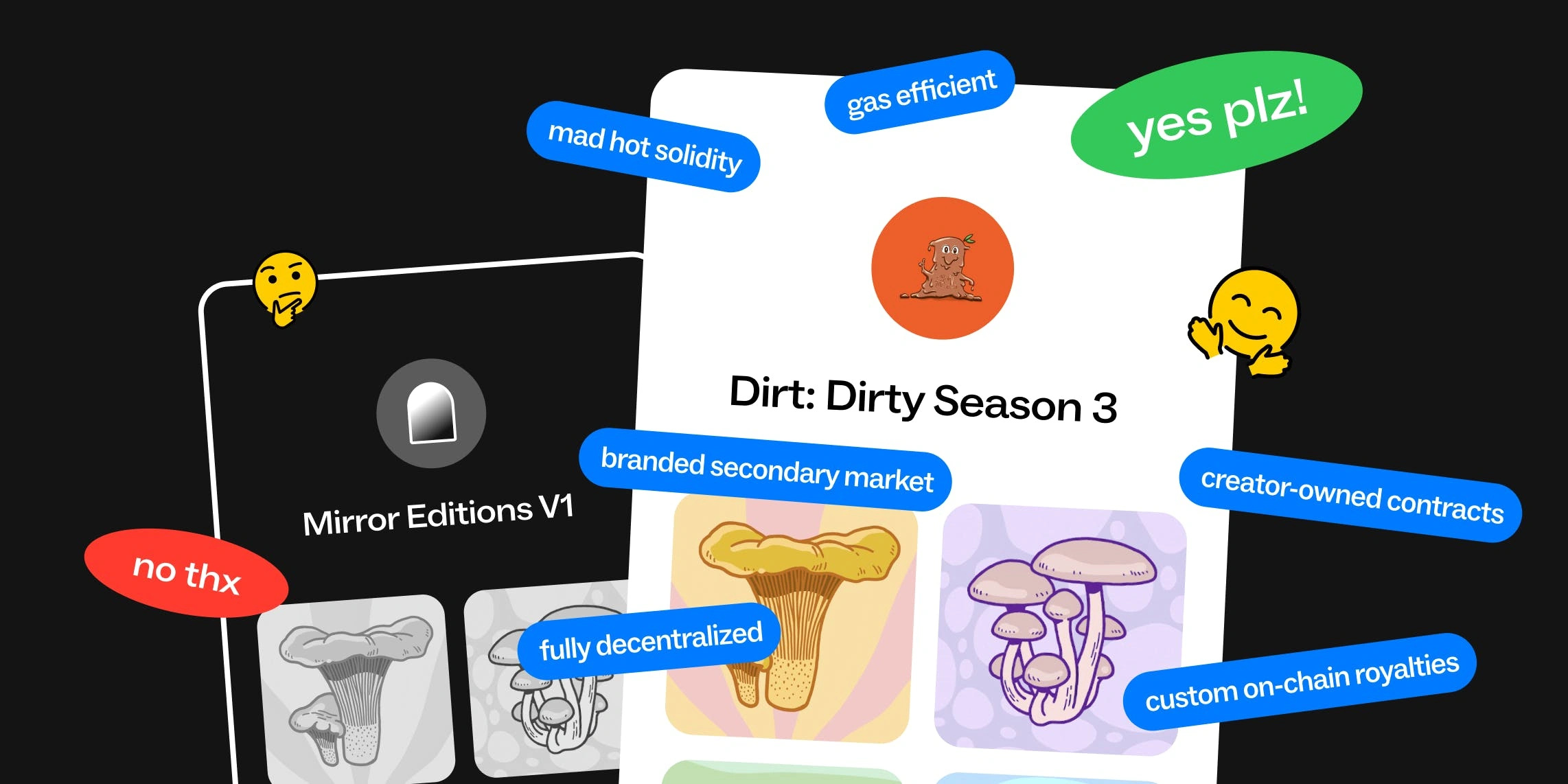 Editions are a way for creators to mint a limited supply of identical NFTs at a fixed price, directly on Mirror.
[17]
Writing NFTs
In May 2022, Mirror introduced Writing NFT, which allows users to mint writing as a digital collectible and set a customizable supply and price for it.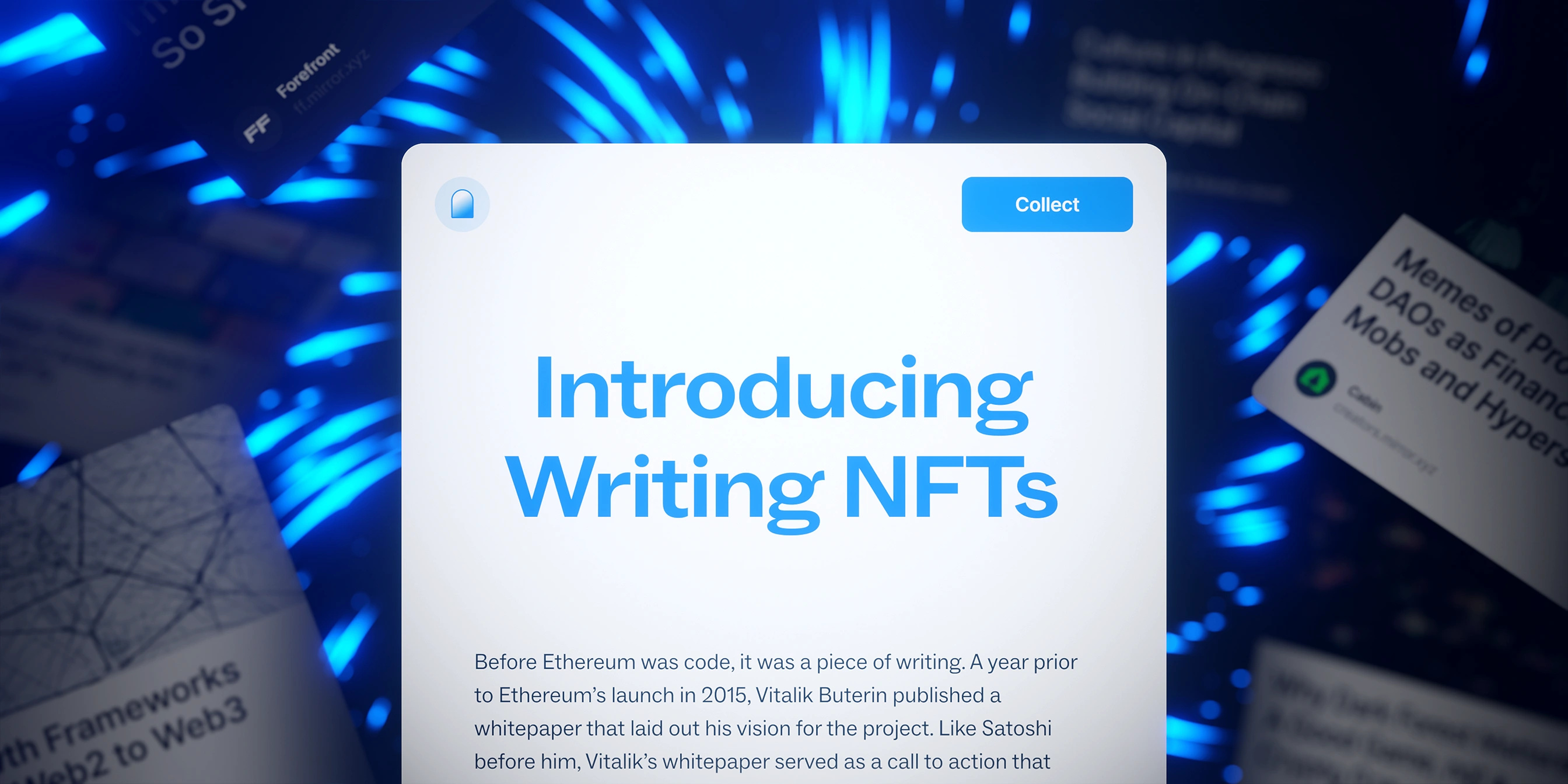 The creation of NFTs is entirely free, and as collecting occurs on an Ethereum L2, transactions are quick, cheap, and environmentally benign. Additionally, Writing NFTs are censorship-resistant and decentralized, just like everything else published on Mirror. Owning a Writing
NFT
gives collectors a stake in the work's legacy and a spot in the community that forms around it.
Example include:
Chase Chapman minted Co-ownership as a web3 social primitive with a supply of 333 at 0.01 ETH each.[14]
Web3 subscriptions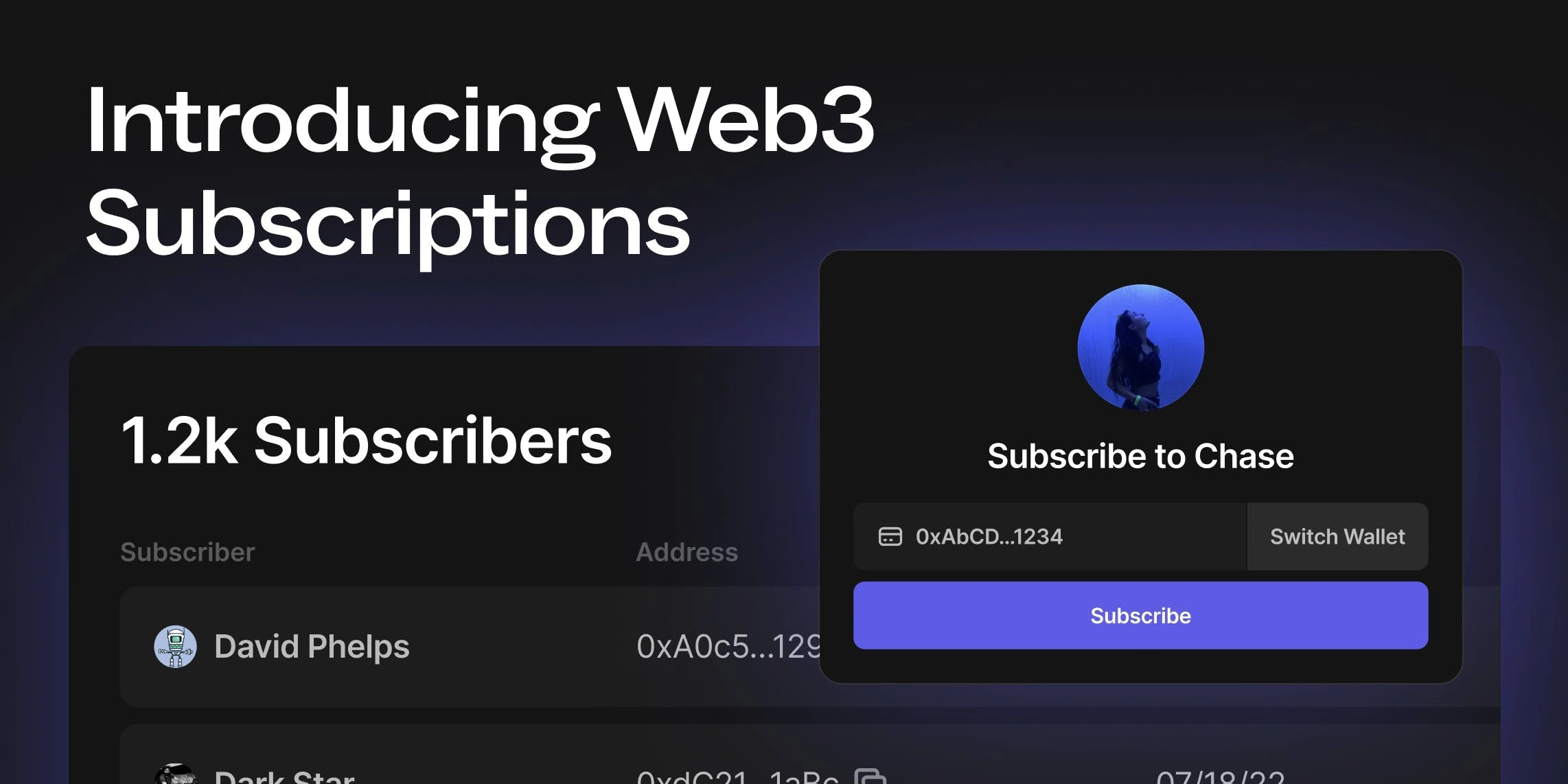 The launch of web3 subscriptions was announced In July 2022, It is a new feature that allows readers to subscribe to any Mirror publication with their wallets and receive email notifications when new content is posted.
This allows creators to establish a wallet-based community that can be used throughout web3.
We believe wallets are the fundamental representation of identity in web3, and creators will want to build a community represented by wallets rather than emails. A "hello world" post, whitepaper, or manifesto that marks the genesis of any important project on Mirror can now enable its audience to subscribe, creating a social and economic link between community and project.[15][16]
$WRITE RACE
$WRITE is the native token used in the Mirror platform. It is a crypto alternative to the traditional platform invitation system. $WRITE tokens are burned by a writer when they try to redeem an ENS. The process involves interacting with the $WRITE ERC-20 token contract, which approves an ENS registrar contract to burn the token just before registering the ENS label.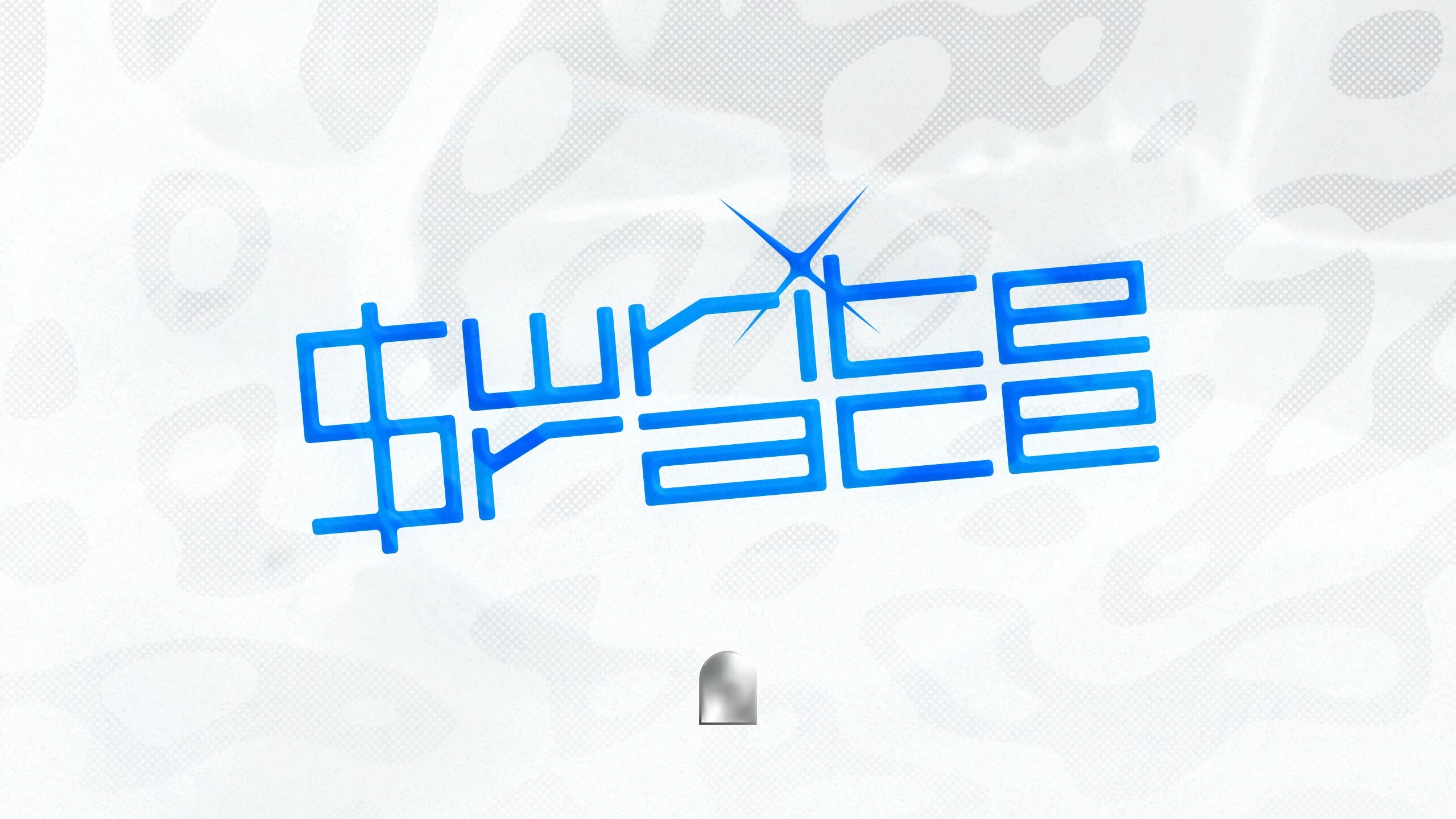 $WRITE RACE is a weekly competition between new members who want to join the Mirror DAO. The next DAO member is chosen by popular voting. The top 10 competitors receive an airdrop of one $WRITE token after each 2-hour round, which may be exchanged for a Mirror membership, a subdomain, and potential community benefits. One $WRITE token gives one publishing rights on Mirror. Users receive a special plot on the Mirror frontier, along with a special name on ENS and a minted publication, in return for burning their token.
[18]
The sole aim of the $WRITE RACE was to replace the traditional invite system used by Web 2.0 platforms like Clubhouse, Superhuman, and Gmail. This was made to show how decentralized the mirror protocol is, ensuring the Mirror community gets to decide who it's composed of and, accordingly, what it wants to be.[19][20]
See something wrong?
Report to us.
Mirror
Did you find this article interesting?