Solana (SOL)
SOL is the native cryptocurrency of Solana, a Layer 1 blockchain that supports smart contracts and dApps. Users can earn SOL by contributing to the network by being a node or validator. The network follows a deflationary model in which SOL tokens are burned as a means of reducing the token supply. Solana uses the SPL protocol as its token standard, which is similar to Ethereum's ERC-20. [1][7]

Token Allocation
The initial distribution of SOL was as follows: Seed Sale was allocated the largest percentage at 15.86%, followed by the Founding Sale at 12.63%, and the Validator Sale at 5.07%. The Strategic Sale was allocated 1.84%, while the Public Auction Sale was allocated 1.60%. The team and foundation were allocated an equal percentage of 12.50%, while the Community Reserve was allocated the highest percentage at 38.00%.[1]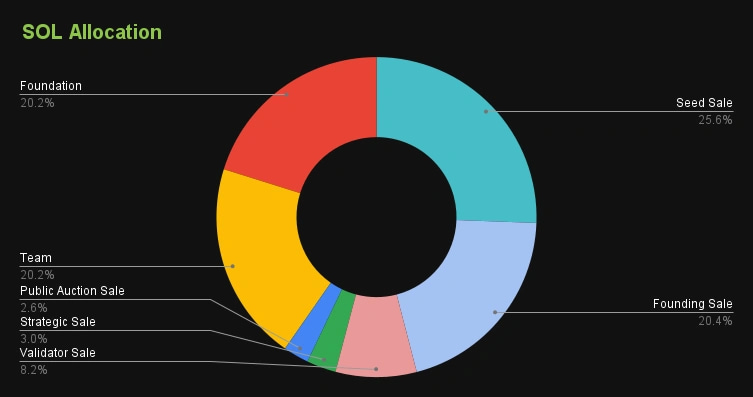 Inflation
As of 2023, Solana's annual inflation rate stands at 6.325% and is set to decrease by 15% each year. This inflation rate is based on an 'epoch-year' which spans approximately 180 epochs. The length of an epoch can vary between approximately 2.5 to 3.5 calendar days depending on the network's performance, resulting in variations in the actual inflation rate. [8]
There are two main reasons why staking Annual Percentage Yields (APYs) are often higher than the inflation rate. Firstly, APYs take into account the compounding effect of SOL held within a staking account over the course of a calendar year. Secondly, non-stakers compensate stakers for delegating their SOL to ensure network security. [8]
To offset the inflation rate, transaction fees play a role. Specifically, 50% of every transaction fee is burned, reducing the supply of SOL, while the remaining 50% is allocated as a 'block reward' to the validator who processed the transaction. Over time, it is anticipated that the volume of transaction fees will increase, providing compensation to validators for the decline in staking rewards. [8]
Funding
In 2019, three private sales were held, which led to the team securing $20 million in capital from investors such as Multicoin Capital, BlockTower Capital, and Rockaway Ventures. The number of tokens that were sold during these private sales was not disclosed. The funds raised were allocated towards engineering and project management, according to an official statement. [2]
In 2020, the team conducted a public auction on CoinList, which helped them raise $4 million. [2] The initial coin offering (ICO) took place from March 16th to March 24th of 2020 with a total of $25 million raised. [5]
Solana has raised a total of $315.8M in funding over 11 rounds. Their latest funding was raised on Aug 19, 2021 from a Corporate Round round. [9]
Utility
SOL tokens have two primary functions: paying for transaction fees incurred when using the network or smart contracts, and staking tokens as part of the PoS consensus mechanism. [7]
Staking
The Solana blockchain utilizes a Proof-of-Stake mechanism to safeguard its network and verify fresh blocks in the chain. When users stake their SOL tokens as part of this process, they earn newly issued SOL rewards. [2][3][4]
The staking process involves delegating tokens to validators who process transactions and maintain the network. This model incentivizes both token holders and validators to work together and share risks and rewards. Validators can earn more rewards with the more stake they receive, and they may compete with other validators by offering lower commission fees to attract more stake. However, there is a potential risk of losing tokens through slashing, which involves the removal of a portion of a validator's delegated stake in response to malicious behavior. This loss of future rewards for the validator encourages network security and performance. [6]
dApps
SOL is primarily used to pay for gas fees associated with any transaction, including those involving DApps. Similar to ETH, SOL serves as the primary currency within the Solana ecosystem, allowing individuals to pay for various products and services. For instance, SOL is used to pay for trading fees on decentralized exchanges like Raydium. Additionally, all Solana NFTs are denominated in SOL. [2][4]
See something wrong?
Report to us.
Solana (SOL)
Did you find this article interesting?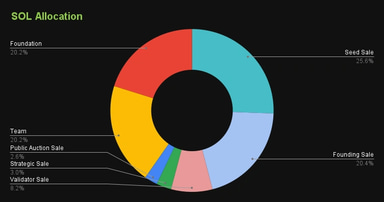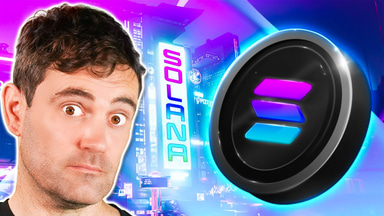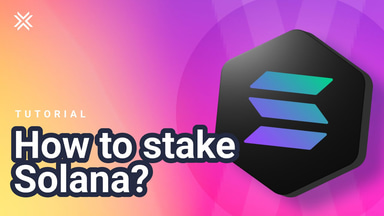 REFERENCES
[2]
Academy Shrimpy
Mar 31, 2023
[4]
Solana staking rewards
Mar 31, 2023
[6]
Docs - Staking
May 8, 2023
[7]
Binance Academy
May 8, 2023
[8]
Solana Compass
May 17, 2023