Alethea AI
Alethea AI (ALI) is an artificial intelligence (AI) company that utilizes blockchain technology to enhance how AI and humans interact. The native token for this project is ALI (Artificial Liquid Intelligence token), an ERC-20 token used for various work transactions, including leveling up and training iNFTs. [1][2]

Overview
Alethea AI, founded in 2019 by Arif Khan is a decentralized protocol for creating smart avatars that use AI to interact with people. The platform originated a new standard for NFTs called the intelligent NFT (iNFT), which enables the creation of NFTs embedded with AI animation, voice synthesis, and generative AI capabilities. iNFTs power the AI Protocol (formerly iNFT Protocol), allowing iNFT owners to customize, train, and earn from their creations in Alethea's metaverse, known as Noah's Ark[8]. The creation and training of intelligent NFTs require the project's ERC-20 token, ALI. [3][4]
The protocol created the first intelligent NFT (iNFT) that sold on Sotheby's for $478,800 on June 10, 2021. [5]
In July 2021, Alethea AI partnered with the Fame Lady Squad NFT Community to bring their collection to life as interactive, intelligent assets for the first time in history. The partnership enables users to Fuse Personality Pods and Fame Ladies together to make an intelligent NFT, or an iNFT. [13]
"NFTs need not start and end with jpegs; they don't need to be stationary, or still, or quiet. Instead, they can be engaging, interactive, and have some level of intelligence," says Arif Khan, CEO and Co-Founder of Alethea AI. [13]
In October 2021, Alethea AI and OpenSea broke the world record from the sale of the world's first Intelligent Collectibles & 10,000 Personality Pods (AI Souls) for NFTs which brought in almost 4,000 ETH in Primary and Secondary Sales to build a community-owned Intelligent Metaverse. [19]
"Alethea AI will serve as the connective tissue by upgrading NFTs to become interactive, intelligent assets that grow in value over time, as their intelligence evolves. Today most NFT native projects are static images, and with Alethea's protocol, these static images can be brought to life, creating richer more meaningful engagements for brands and creators." - Arif Khan[19]
In December 2021, Alethea AI announced an investment by Binance Smart Chain (BSC) across their Metaverse and NFT ecosystem through BSC's $1 Billion USD growth fund. [18]
"It is an honor to join Binance's incredible ecosystem, Binance has an incredibly deep bench of Tier-1 Projects in its ecosystem and as more Metaverses develop, we are confident that interactive, intelligent NFTs will play a critical role in elevating the consumer and gaming experience. I am confident that this Token purchase will only improve and expand our Intelligent Metaverse, Noah's Ark." Arif Khan, CEO and Co-founder of Alethea AI.[18]
In June 2023, Alethea AI announced the launch of Open Fusion, which can integrate ChatGPT (and other AI Models available in the Intelligence Layer of the AI Protocol) and allows anyone to request any ERC-721 NFT to be fused with an Intelligence Pod. By fusing an NFT with an Intelligence Pod (previously known as Personality Pods), which is a limited collection of 10,000 AI Assets, Open Fusion empowers the NFTs to tap into the Generative capabilities of ChatGPT and other powerful AI Models in the AI Protocol's Intelligence Layer, enabling them to become Tokenized AI Agents (Intelligent NFTs or iNFTs). [16]
On October 4, 2023, Alethea AI announced Amazon Web Services (AWS) as its strategic cloud collaborator to enhance AI training and jumpstart experiments with Open-Source Foundation models. The partnership aims to fuel Alethea AI's mission of harnessing the power of Web3 infrastructure to enable ownership of AI. [17]
"AWS has fueled Dynamic scaling, robust storage, and agile databases. It has really been a platform that has turbocharged our development and fortified our infrastructure, creating a standard for our growth. We are really excited to venture deeper into this partnership with AWS as we use their services and infrastructure for our growth." said Arif Khan, Founder, and CEO of Alethea AI, in an interview. [17]
CharacterGPT
In January 2023, Alethea AI announced the launch of CharacterGPT, a multimodal AI system that enables realistic AI character generation from a description in natural language. With CharacterGPT, users can generate realistic and lifelike AI Characters with customizable personalities and intelligence. [14]
In June 2023, CharacterGPT v2 was released as an upgrade that enhances its comprehension, generative capabilities, output diversity, and capacity to create higher-fidelity characters. [15]

Funding
Alethea AI raised a total of $31.4 million through private and strategic sales, as well as a token distribution auction (TDA). During the fundraising process, the company sold tokens to numerous institutions and individuals, including notable investors such as Multicoin Capital, Gemini, Galaxy Interactive, Dapper Labs, Binance, Mark Cuban, and Meltem Demirors, among others. [5]
Technology - The Alethea AI Stack
The structure of Alethea AI gives anyone the ability to build applications powered by AI and blockchain. Via its iNFT protocol, artificially intelligent NFTs can be created that will be used in applications that leverage the protocol layer. Alethea AI's stack displays the layers that compose this complex ecosystem allowing decentralization, artificial intelligence, crypto, and creativity to intermingle.
Protocol Layer & iNFTs
The iNFT Protocol is a set of permissionless smart contracts that allows anyone to create intelligent NFTs. It was deployed on Ethereum in October 2021. Since deployment, Alethea AI has been building out and launching various features of the iNFT Protocol some of which are the Fusion and Unfusion features released in June 2022. [6]
The process of creating an iNFT involves fusing a compatible NFT (like a Bored Ape) with a Personality Pod NFT. Personality Pods are ERC-721 NFTs created by Alethea AI that represent the personality and intelligence of the iNFT that users will be able to create using the iNFT Protocol. Only the Personality Pod gets locked into smart contracts, leaving the user's underlying NFT untouched. [5]
The anatomy of iNFTs represents humans with a Body, Soul, and Mind. The Body comes from the underlying NFT that remains on-chain at all times. The Soul of the iNFT is its Personality Pod, which comprises various on-chain personality traits that shape its abilities and evolution. The Mind represents all the capabilities of the iNFT based on the intelligence level of the Personality Pod. [5]
The Application Layer
Alethea AI's metaverse, Noah's Ark, integrates Web3 concepts with AI services. Other applications that incorporate the iNFT Protocol are able to integrate iNFTs like Noah's Ark does. The AI that is manifested as iNFTs interacting and performing AI services on the application layer is powered by the AI Engine. The AI Engine is a collection of proprietary AI models developed by the Alethea AI team that provide AI capabilities including real-time lip-sync for avatars with a neutral facial expression, audio speech recognition, comprehension, speech synthesis/voice generation, and intelligent response. [5]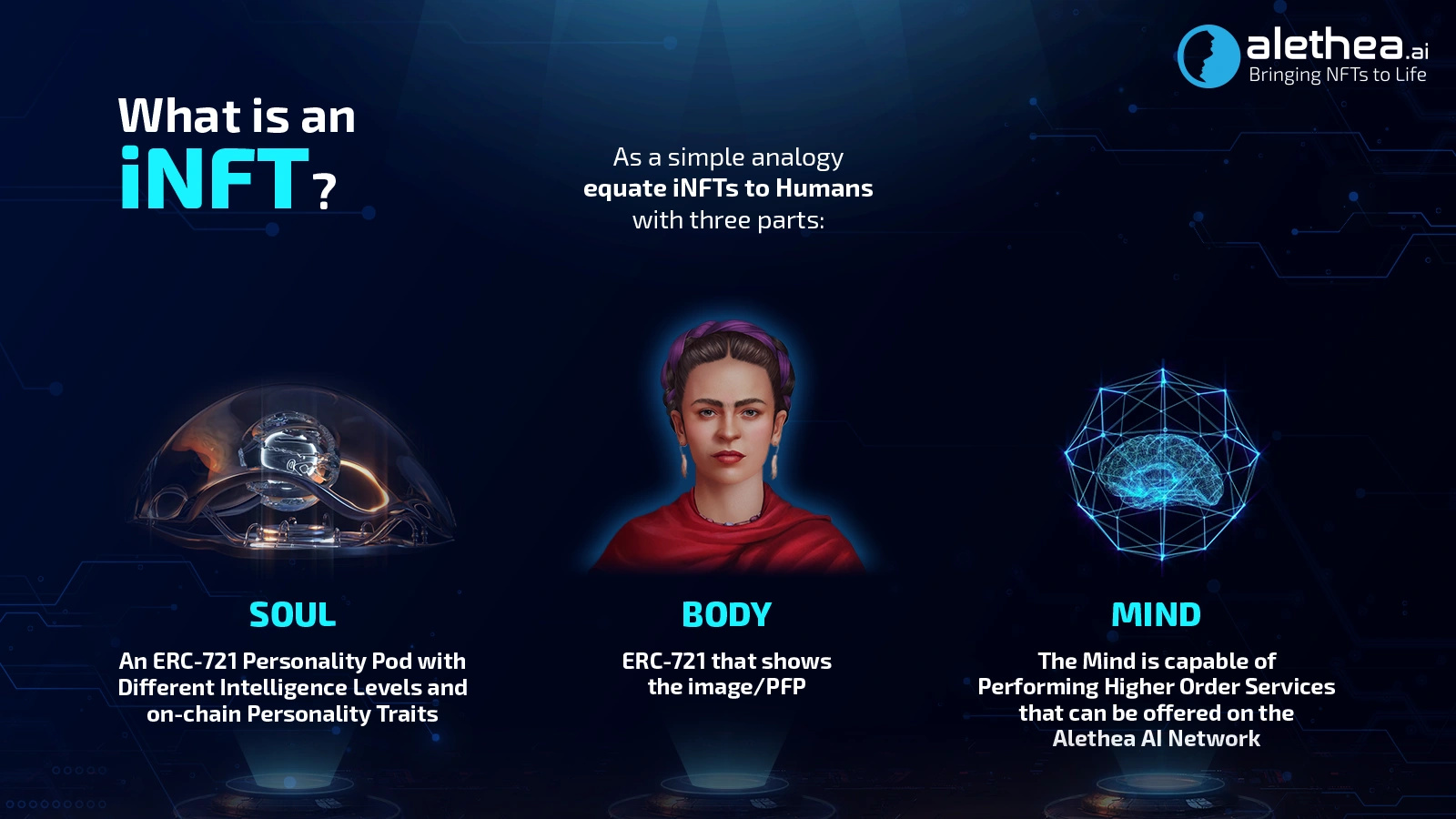 Intelligence Level
Each iNFT has an Intelligence Level, that dictates the maximum amount of Intelligence that can flow to it from the AI Engine. The higher the Intelligence Level of an iNFT, the more the intelligence that can flow to it, and so the more powerful AI Services it can access. Every iNFT is guaranteed a minimum Intelligence Level of 1. Intelligence Levels are dictated by the amount of ALI tokens locked by an iNFT owner. [9]
The act of locking an increasingly high number of ALI Tokens entitles the iNFT to be able to source more intelligence from the Noah's Ark AI Engine. This is because each Intelligence Level opens up a variety of AI Services that the iNFT can access. The higher the Intelligence Level of the iNFT, the more powerful the AI Services available to it. This ensures that the limited AI Resources of the Noah's Ark AI Engine are distributed fairly across the various iNFTs. [9]
Personality Legos
Personality Legos are the individual components of an AI-generated Personality. They dictate the AI Personality and Skills of a Pod. Examples of Personality Legos include Voice, Appearance, Name, Habits, Occupation, Psyche, Iterations, etc. [10]
Personality Legos are the primary mechanism of training an iNFT, they need to be individually trained, for it to start impacting the AI Personality of the Pod. Each new Intelligence Level unlocks more advanced Personality Legos, which help the Pod's owner shape and granularly design the AI Personality and AI Skills for their Pod. [10]
ALI Token
The Artificial Liquid Intelligence (ALI) token was launched on Ethereum as an ERC-20 token with a 10 Billion maximum supply and 790 Million ALI (7.9%) initially unlocked. Alethea AI locked 200 million ERC-20 ALI (2% of the maximum ALI supply) from the Ecosystem Development reserve to launch the ALI token on the Cronos Chain. [12]
Distribution
37% of the initial supply was allocated to Ecosystem Development, 20% to Team and advisors, 20% to Private Sale, 10% to Marketing, 5% to Treasury, 5% to Token Distribution Auction (TDA), and 3% to Strategic Sale. [5]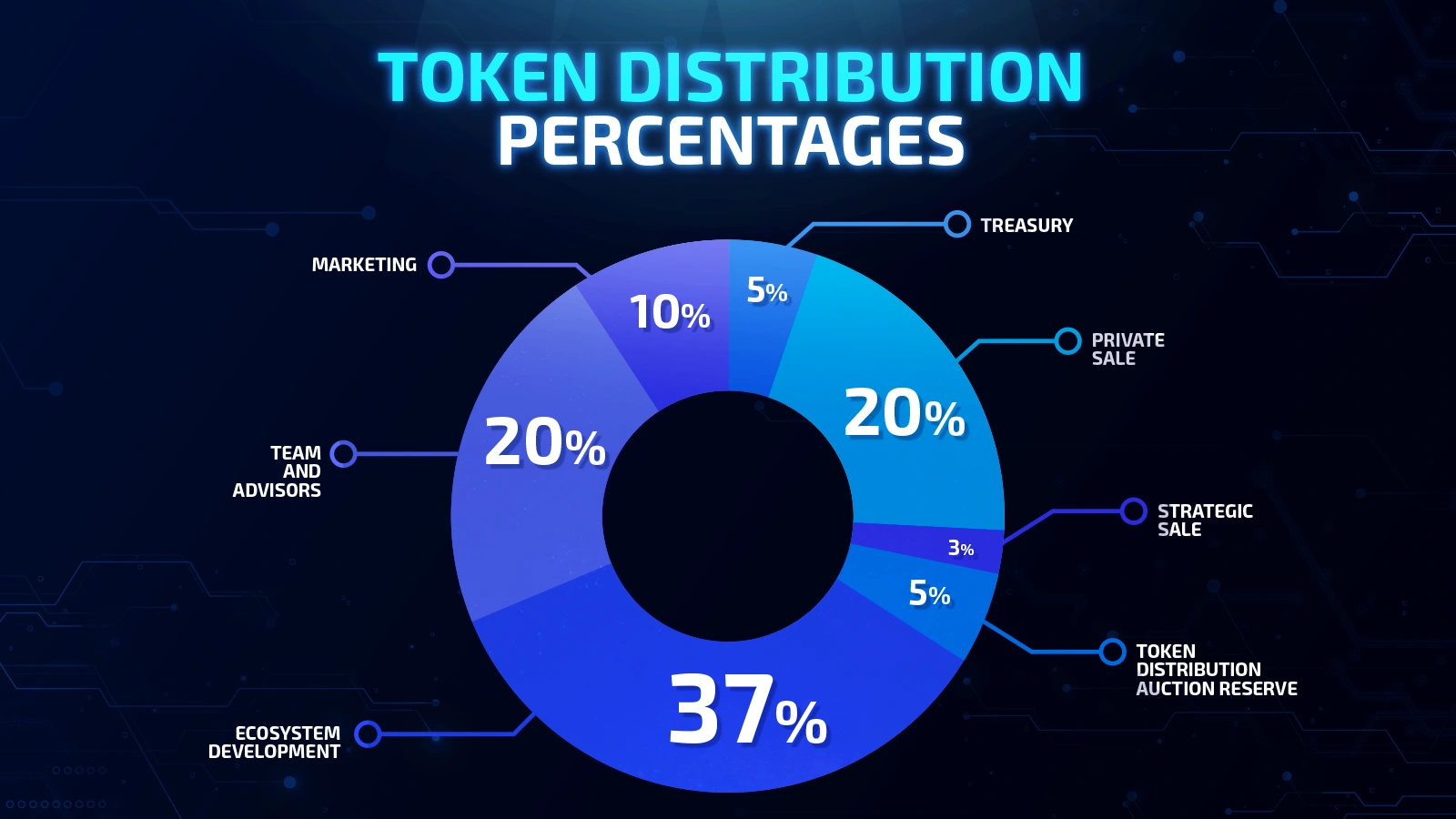 ALI Token Distribution Auction
In August 2021, Alethea concluded its $16 million private and restricted token sale. As a result, the protocol onboarded strategic purchasers like Metapurse, Multicoin, Crypto.com Capital, Alameda, Mark Cuban, BITKRAFT, Dapper Labs, Galaxy Interactive, Bitscale, DeFi Alliance, etc.[20]
"We are proud to be a lead partner of Alethea's token sale. Their innovative approach fusing AI and NFT technology will unlock new potential for the metaverse, which we are very bullish on." - Bobby Bao, Co-Founder of Crypto.Com, MD of Crypto.com Capital[20]
From the 28th to the 31st of December 2021, Alethea AI conducted a Token Distribution Auction for its ALI Token via the Copper Launch Protocol, and 173.33 M amount of ALI Tokens were purchased. [12]
Utility
The ALI token is used to exchange for off-chain ALI credits on Alethea AI's metaverse Noah's Ark. All transactions and staking within the metaverse are conducted with ALI credits off-chain, which saves users on gas but makes them reliant on Alethea AI to provide robust infrastructure. The ALI Utility Token regulates, incentivizes, and rewards the various participants of the AI Protocol. [5][7]
ALI token enables an iNFT Intelligence Level to be upgraded, it enables governance of the iNFT ecosystem, collaboration between iNFTs, and lastly, enables the iNFT Protocol and Applications to utilize growth hack mechanisms and other token-based innovations. [11]
See something wrong?
Report to us.
Alethea AI
Did you find this article interesting?