ARB (Arbitrum)
ARB is the native governance token of Arbitrum. The token is used to pay for transaction fees on the Arbitrum network and also serves as a means of governance for the protocol. Holders of $ARB can participate in decision-making processes, such as proposing and voting on protocol upgrades or changes. [4][5]
ARB Tokenomics and Airdrop
On March 16, 2023, Arbitrum announced the launch of the new governance token, ARB, and a self-executing DAO governance model.
"Today, the Arbitrum Foundation is extremely excited to announce the launch of DAO governance for the Arbitrum One and Arbitrum Nova networks, alongside the launch of ARB," - the team tweeted.
On March 23, 2023, $ARB airdrop claim started on the Arbitrum One chain. The airdrop is estimated to end on September 23rd, 2023. 12.75% of the total supply was allocated the Arbitrum Airdrop based on data taken on a snapshot on February 6, 2023.
Initial token allocation & airdrop distribution
| Percentage of initial supply | Number of tokens | Allocated to |
| --- | --- | --- |
| 42.78% | 4.278 billion | Arbitrum DAO treasury |
| 26.94% | 2.694 billion | Offchain Labs Team and Future Team + Advisors |
| 17.53% | 1.753 billion | Offchain Labs investors |
| 11.62% | 1.162 billion | Users of the Arbitrum platform (via airdrop to user wallet addresses) |
| 1.13% | 113 million | DAOs building apps on Arbitrum (via airdrop to DAO treasury addresses) |
The initial supply of $ARB token is 10 billion.
User airdrop eligibility details
A points system was used to determine the number of tokens that airdrop recipients could claim. Points criteria was focused on Arbitrum One and Arbitrum Nova. Points earned on Arbitrum Nova could bring a user up to 4 points total or give them an additional point if they had already scored 4 points or more on Arbitrum One. A maximum of one point was allowed per qualifying action before the snapshot date, and point scores were capped at 15. Points scored (minimum of three) before Arbitrum Nitro was launched on Arbitrum One mainnet are worth twice as much as points scored after. [6]
DAO airdrop criteria and distribution
A distribution was allocated for DAOs building applications in the Arbitrum ecosystem, as well as the Protocol Guild, a collective of Ethereum contributors. Nansen and on-chain data were used to decide how many tokens each DAO community should receive, taking into account qualitative and quantitative metrics, such as when the protocol launched, TVL, activity, transaction volume, and value of transactions. The goal was to recognize that Arbitrum is home to many projects with different KPIs and user interactions. [6]

AIP-1 Controversy
On April 1, 2023, a discussion was initiated among the token holders and members of the Arbitrum DAO, concerning a proposal that granted control of 750 million ARB tokens, valued at almost $1 billion, to the Arbitrum Foundation. This proposal caused controversy as some believed it was too broad, and the foundation would hold an excessive amount of control over the funds.[7]
The proposal aimed to transfer the ARB to a wallet designated for an administrative budget, intended for special grants, reimbursements to service providers, and operational and administrative expenses. Over the weekend, members of the Arbitrum community discovered that the vote was designed to approve a decision that had already been made.[8]
Nearly 750 million ARB ($885 million) has already been moved to a separate treasury without token holders approving AIP-1.
40 million ARB ($47.2 million) was allocated as a loan to a "sophisticated actor in the financial markets" space, per the foundation.
Blockworks Research also voted against the AIP (Arbitrum Improvement Proposal) framework, saying:
"our core concern lies within the 750M ARB tokens…that will seemingly be held under the control of the Arbitrum Foundation, with unknown wallet signers. Too often we have seen funds go into a black box of expenses. It is time to make DAO transparency a priority..."
Arbitrum Foundation Response
On April 2, 2023, the Arbitrum Foundation reacted to the controversy by tweeting that its first governance proposal, AIP-1, "likely will not pass" and added its "committed to addressing the feedback received from the community."
Arbitrum has decided to follow the DAO's advice and split the AIP into parts, allowing community members to vote on different subsections.
"AIP-1 is too large and covers too many topics. We will follow the DAO's advice and split the AIP into parts. This will allow the community to discuss and vote on the different subsections."[10]
Additionally, it was stated that a separate AIP will be held to vote on the transfer of 750 million ARB, and the team is exploring ways to increase accountability, including a four-year vesting period. The team also revealed plans to rename the Special Grants program to the "Ecosystem Development Fund" and provide further clarification on the utilization of the funds.
Arbitrum recognized the need for better communication regarding the proposal and verified that some of the tokens had been utilized to convert to stablecoins.
"The Foundation does not exist to sell tokens, only sold enough to fund its current operating expenses and has no near-term plans to sell more tokens."[9]
Additionally, the Arbitrum Foundation committed to not selling any more tokens in the near future, in response to the criticism it received for selling millions of dollars in ARB for "operational purposes" without obtaining community approval.[11]
Arbitrum New Governance Proposals
On April 5, 2023, the Arbitrum Foundation released a draft of new improvement proposals (AIPs) following the controversy that ensued after its first failed attempt at governance.
"The Foundation will not move any of the remaining 700M tokens in the Administrative Budget Wallet until an acceptable budget and smart contract lockup schedule have been approved by the DAO."[12]
The proposals include AIP-1.1, which covers a smart contract lockup schedule, spending, budget, and transparency. The other, AIP-1.2, tackles amendments to current founding documents and lowers the proposal threshold from 5 million Arbitrum (ARB) tokens to 1 million ARB "to make governance more accessible."
The foundation also issued a transparency report that "describes actions taken to get the DAO up and running."
"We have heard the feedback, and have worked diligently to address it and make sure the Foundation can represent, and serve the DAO's best interests with their support.[13]
The two recently introduced AIPs were published on the Arbitrum community forum and open for feedback for a minimum of 72 hours before a scheduled one-week snapshot vote.[11][12]
See something wrong?
Report to us.
ARB (Arbitrum)
Did you find this article interesting?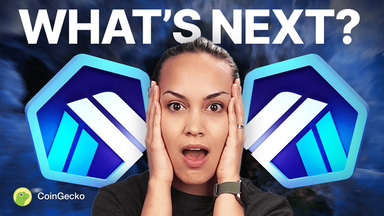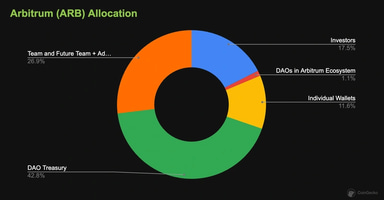 REFERENCES
[1]
arbitrum announcement
Apr 5, 2023
[4]
coingecko - arb
Apr 5, 2023
[6]
airdrop documentation
Apr 5, 2023