GateChain
GateChain is a public blockchain specialized in asset security. The on-chain secure account and lazy recovery features are designed to provide blockchain asset security even after the private key has been hacked.
Overview
GateChain was co-founded by Wassilios Lytras, Patrick Allemann, and Thomas Kofler on April 30, 2016. [9] GateChain is a next-generation blockchain developed and launched[11] by Gate.io in 2018 to grow and expand the Gate.io ecosystem[10]. It is the public chain of Gate.io, founded by Lin Han. With its unique Vault account technology, and supporting transactions model design, GateChain has implemented a secured clearance mechanism to solve the problem of stealing lost assets and private keys.
It also supports decentralized trade and transfer chains, among other core applications. Compared to traditional blockchains such as Bitcoin and Ethereum, GateChain focuses on the security of the asset chain and creatively proposes a number of novel concepts such as standard accounts, Vault actions, Retro accounts, overcrowding, calendar hours, address types, transaction types, etc.[1][2]
GateChain offered the vault account service to the user, which supports releasing digital assets without worries about private keys missing or theft during this period. As long as one can set a digital asset distribution ratio and release time, the user's digital asset will be transferred to their named beneficiary, accordingly. This asset processing method can also be used in other scenarios like scheduled fund granting, i.e., to send a certain amount of digital assets at the scheduled time.[18]
Services
The GateChain includes elements like the GateChain mainnet, GateChain DEX, GT token, and wallets.
GateChain Mainnet
Its first version of Mainnet was launched in 2020. It ensures secure and efficient management and transfer of digital assets on the blockchain.
GateChain DEX
GateChain DEX is a decentralized exchange based on GateChain. The user having control over his private key to his account can exchange freely. GateChain DEX uses private own encrypted wallets or hardware wallets to safeguard users' assets.
GateChain Token (GT)
GateChain Token is the native currency of the GateChain Mainnet. It is used to pay the transfer fees on the GateChain network.[3]
GateChain Wallets
Testnet phase - GateChain provided desktop wallets for Windows and Mac OS.
Asset Management
To meet the efficiency demand in daily payments and safety demand in asset storage, GateChain offered:
Standard Account – is used to store a tiny fraction of assets for daily use. It allows instant payment and the transaction is irreversible. It does not allow restoring lost private keys, similar to the features of a Bitcoin address.
Vault Account – is used to store the majority of the assets, which don't need to be accessed immediately. It can set a transfer delay period. It allows revocable transactions and private key restoration.
For instance, the transaction is confirmed upon payment and is reversible. In the worst case, when the Standard Account's private key is lost or stolen, the user's loss is limited to a small portion. The risk is still under control. When the asset in the Standard Account is insufficient, the user can transfer more from the Vault Account. The transfer will be received with a 2-day (say) delay. If theft is concluded during the delay period, the user can simply initiate a 'Revoke' request. The stolen transaction will be revoked and moved to a 'Retry Account'.[17]
Projects
All the projects mentioned below were built on GateChain.
DeFi: TripleFi, Emiswap, DRx, TrustFi.
NFT Marketplace: Vefi NFT marketplace, Flat Pyramid.
Infrastructure: Xhashtag, BitKeep, Seor, MultiChain, Legion Network, TP Pocket, Nabox, XP.Network, Dotoracle.
Metaverse: MetaMirror, LasMeta.
SocialFi: EarnTV, Eggheads.
Other blockchains: GBC.AI[14]
Features of GateChain
The main features of GateChain are as follows:
PoS: The GateChain uses the proof-of-stake (PoS) consensus mechanism to maintain network health.
Asset Issuance: Users can use GateChain to issue their own tokens.
Multi-Signature: An account can be shared by multiple individuals. This is suitable for both enterprise and family use.
Asset Safe Storage: The vault account system and clearing mechanism ensure 100% security from asset theft, private key loss, and abnormal transactions.
EVM Compatibility: GateChain is compatible with Ethereum Virtual Machine (EVM). This ensures that developers can easily port their Ethereum dApps on GateChain. Additionally, GateChain users have account support for both Ethereum and GateChain assets.
Cross-Chain Interoperability: This interoperability expands the reach and utility of digital assets, enabling efficient asset transfers and interactions across different blockchain networks.[12]
Ecosystem
Hipo DeFi
Hipo DeFi is a one-stop shop for all DeFi needs. It is a platform that collates real-time data on every DeFi project allowing users to compare exchange ratios, yields, loans, and interest rates. Users can discover new investment opportunities and access them directly through Hipo Defi's UI, with no added fees.[16]
GateBridge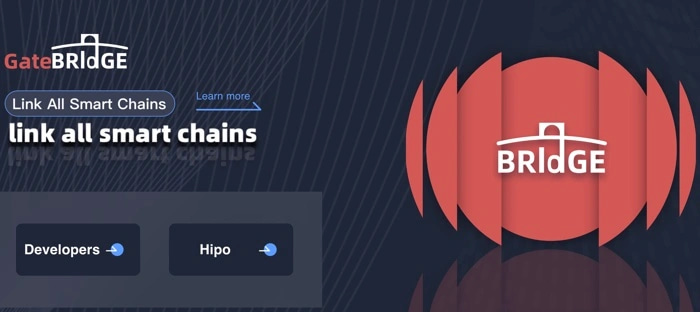 GateBridge is an asset bridge between the most popular blockchains based on EVM. It enables fast and safe asset transfer and a pioneered mechanism- 'Cross-chain
Liquidity Mining
'.
Farming
Liquidity Providers(LP) can get transaction fee distribution and staking LP tokens could earn more rewards for the user.
Magic Box
Launched in 2021, the NFT Magic Box is an NFT marketplace built on top of GateChain.
Features
Its core features are:
No minting fees: Minting NFTs on the Magic Box costs nothing. This ensures that artists can focus on creating instead of other factors.
Low fees: Being built on GateChain makes the platform very affordable.
High-quality works: NFT Magic Box has partnered with the likes of Bored Ape Yacht Club (BAYC) and NBA legend Allen Iverson.
Artist-first: The Magic Box has already minted over 300,000 NFTs and offers INO (Initial NFT Offering) for promising artists looking for funding.[15]
See something wrong?
Report to us.
GateChain
Did you find this article interesting?