InstaDApp
InstaDApp (launched in 2018) is a decentralized finance Application that seeks to provide a simple-to-use layer to interact with other DeFi protocols.[17]
It is a smart wallet with an intuitive interface built on top of popular DeFi projects like MakerDAO, Compound, Uniswap, etc. for managing assets. It's optimized for users lacking advanced technical or accounting experience. InstaDApp allows users to perform complex actions like leveraging or saving by buying or selling collateral in a single transaction.[1][11]
In 2019, InstaDapp raised $2.4 million in a seed round held from entrepreneur investors, such as Naval Ravikant and Balaji Srinivasan, and institutions like Pantera Capital and Coinbase. In June 2021, InstaDApp raised $10 million in its latest funding round from Standard Crypto, a venture capital firm, and strategic partners such as Andre Cronje, founder of Yearn, DeFi Alliance, and Longhash Ventures.[10][12]
Overview
InstaDApp was founded at ETHIndia in August 2018 by Sowmay Jain and Samyak Jain, InstaDApp launched on the Ethereum mainnet in December 2018. The platform released its v2 update in April 2019 which started as a cool interface built on top of Maker at the ETHIndia hackathon. Sowmay and Samyak's winning submission extended into an open innovation grant offered by Kyber Network to "build whatever service they felt was needed in the space". [2]
The team plans to add tie-ins with other protocols and additional features as it continues toward its goal of becoming a decentralized bank and driving mainstream adoption of DeFi. At this point, both of the brothers dropped out of school to go full-time DeFi. After accepting the innovation grant, they continued their core philosophy of simplifying DeFi with minimalistic interfaces. Eventually, they shifted their focus to building their smart contracts which allowed them to simplify complex transactions for users, and begin the "smart wallet" layer for their project. [3][4]
"We realized that the traditional finance systems we were studying in school were slow to innovate, extremely restrictive, tightly controlled by financial giants, and bound by geographical constraints. With DeFi, though, we realized that we can not only participate but [are] also able to innovate globally from day one." [5]
InstaDApp is a DApp built on the Ethereum network that integrates DeFi protocols into one platform for easy asset monitoring and management.
Funding
InstaDapp conducted a successful seed round in October 2019 led by Pantera Capital and raised $2.4 million to build out their project's vision. The round included several other notable investors like Coinbase Ventures, Kyber Network's Loi Luu, and even Naval Ravikant.[6] Paul Veradittakit of Pantera Capital said:
"We are impressed by InstaDapp's laser focus on aggregating and simplifying DeFi and their growth has been a testament to their ability to execute successfully. InstaDapp stands out from everything else we have seen in the space so far. We believe they're the right team to push the future of DeFi forward and help the next wave of users to onboard to the open financial ecosystem."
Tech
DeFi is one of the fastest-growing verticals in technology today; new developments in blockchain architectures, consensus protocols, and economic paradigms have created a variety of products for lending, borrowing, swapping, and trading cryptocurrency assets. But, the major drawback of DeFi is that a variety of financial actions like lending and trading are distributed among various products (i.e. Compound, MakerDAO, etc.). It's hard to keep tabs on what assets in each of these platforms are doing, and even harder to move them between platforms to optimize returns. [7]
InstaDApp is a user interface that allows individuals to track their blockchain assets distributed over a breadth of products and move them around based on financial paradigms and real-time market data. It integrates with a variety of DeFi protocols to allow users to visualize the position of their assets at any time in a comprehensible dashboard and make informed decisions about where to move their assets. This makes it easier for users to move assets and set up financial paradigms to maximize returns.
InstaDApp significantly simplifies the experience of asset management in the decentralized finance world. It preserves the benefits of decentralization by operating as non-custodial and leveraging smart contracts to ensure that users always have 100% control and ownership of their assets. The convenience added by InstaDApp is critical in advancing decentralized finance.
Though decentralization is valuable, it inherently has some friction with onboarding new users because there is no central entity through which a user can control all of their positions and assets. InstaDApp makes it much easier for new users to engage with the decentralized space, creating a promising future for the product, but also the ecosystem of DeFi itself.
Four main activities that can be performed on InstaDApp
The main activities that can be performed on the InstaDApp platform include:
Lending – Deposit crypto and earn interest on it
Borrowing – Borrow crypto directly from the InstaDApp dashboard
Leverage – The process of Increasing the capital one can be able to trade with
Swap – Instant exchange of tokens from one's Web 3.0 wallet[8]
How It Works
InstaDApp links its product to users' holdings in various DeFi platforms and constantly pulls data to display on its dashboards. Before InstaDApp, users would have to manually keep tabs on each platform to identify optimal interest rates, collateral, etc.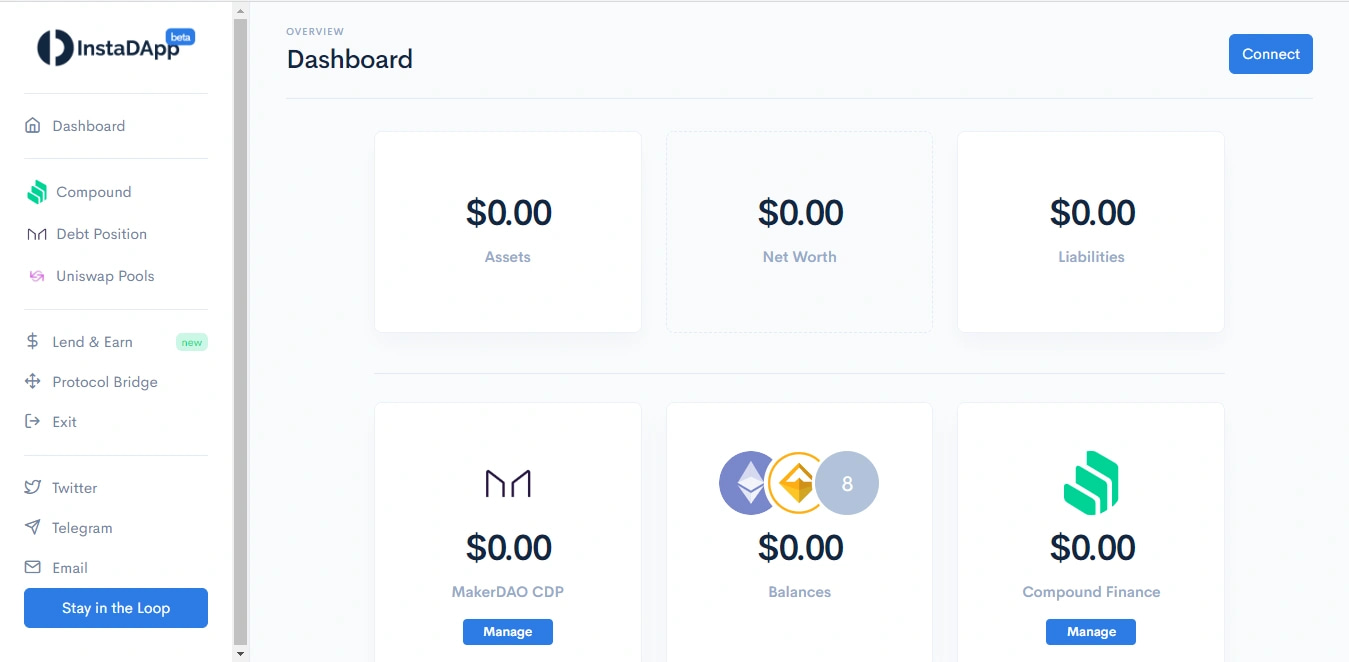 InstaDApp summarizes all this information in one view, drastically reducing the effort necessary to manage one's assets well. InstaDapp leverages the power of smart contracts to translate simple instructions from a user on where to move their assets into the series of complicated steps necessary to move them; it then executes those steps, making the experience of managing assets significantly easier for users. They take no fees for any of these executions; the user only needs to supply the funds to pay the gas price for moving assets.
Supported Platforms
Currently, InstaDApp allows users to interface with Compound (an algorithmic lending tool), MakerDAO (collateralized loans), and UniSwap (a liquidity reserve). The bridge between MakerDAO and Compound is considered to be one of the biggest use cases because it allows users to easily view the advantages of either protocol and make informed, easily-executable decisions on where to move their funds.[9]
INST Token
INST is the governance token of the protocol. It was launched on the Ethereum blockchain and has a total supply of 100,000,000 million INST. Instadapp's governance token INST fulfills the tenet of decentralization. The INST token will align incentives with users, developers, and businesses to provide stewardship of Instadapp's future. The INST token holders will determine the evolution and direction of the Instadapp platform.[13][14]
INST Allocation
The allocation will be as follows:
55% to Instadapp community members.
23.79% to current team members with 4-year vesting.
12.07% to investors with 4-year vesting.
7.85% for future team members and ecosystem partnership.
See something wrong?
Report to us.
InstaDApp
Did you find this article interesting?