Andre Cronje
Andre Cronje is a software developer best known for his role as the Co-founder of Fantom Foundation, Founder of Yearn Finance, and Keep3r Network. He has also participated in other DeFi projects including Hegic, Pickle, Cover, PowerPool, Cream V2, Akropolis, and Sushiswap. [7][8]

Early Life and Education
Andre Cronje was born in Cape Town, South Africa. Between 2001 to 2003, Andre Cronje earned an LLB degree in Law at Stellenbosch University. In 2005, Andre Cronje studied Computer Science at the CTI Education Group, completing a three-year course in five months. [4][17]
Career
Early Beginnings
Andre Cronje began his career as a Lecturer at Computer Training Institute, located in South Africa. From June 2005 to September 2006, Andre Cronje taught full-time and part-time students in the fields of Information Technology, Commerce, Creative Arts, Graphic Design, Psychology, Counselling, and Law. In October 2006, Andre Cronje became a Technical Team Leader (4CIT) at Vodacom. He left Vodacom in December 2008 for International Mobile Protection Initiative where he served as the Chief Technology Officer (CTO) from January 2009 to May 2010. [9]
Andre Cronje served as the CTO of Mobile Game Card Applications from June 2010 to August 2012. After leaving Mobile Game Card Applications, Andre Cronje joined Altron as the Mobile Development Manager in August 2012. In August 2013, Andre Cronje worked as the Software Architect at Full Facing (Pty) Ltd for two years. Andre Cronje was the Head of Technology (Mfin division) at The Shoprite Group of Companies from 2013 to 2017. [9]
Andre Cronje headed the technology team of Freedom Life from November 2013 to August 2018. He moved to BitDiem and worked there as the Blockchain Protocol Advisor for seven months. Andre Cronje was Technical Advisor at Aggero until January 2019. Andre Cronje served as the Blockchain Infrastructure Engineer for CryptoCurve for one year. Andre Cronje also functioned as a Technical Advisor for Kosmos Capital from March 2019. [9]
In June 2018, Andre Cronje joined Lemniscap, an investment and advisory firm specializing in investments in emerging crypto assets and advising early-stage blockchain startups as a Technology Analyst. In August 2018, he was the Head of Technology & Innovation at FUSION Foundation. From January 2018 to February 2022, Andre served as the Chief Crypto Code Reviewer at CryptoBriefing. [9]
Yearn Finance
Andre Cronje founded Yearn Finance (formerly known as iEarn) in January 2020. Yearn Finance (YFI) is a DeFi protocol on the Ethereum blockchain. It facilitates yield generation, lending aggregation, and smart contract insurance. The native YFI token grants holders with governance rights to vote on proposals to make changes to the platform. [10][11]
"the goal with Yearn was always to simplify and to codify knowledge"

Yearn Finance has several product offerings: Vaults, where users can deposit tokens and receive yields, yCRV, to get CRV yields in DeFi, veFYI, for users to lock YFI and take part in governance, and yBribe where users can sell votes or buy them, just like democracy. [11][10]
In August 2020, the market capitalization for Yearn.finance's native governance token, YFI surpassed $1.1 billion just one and a half months after its launch. The success of the company was due to its unique supply, active community, respected developer, and innovative products. At launch, Andre released YFI with no premine, a fixed supply of just 30,000 tokens, and no founder reward.[3]
Keep3r Network
Andre Cronje released Keep3r Network in October 2020. Keep3r Network is a registry designed to match organizations and other entities with technical professionals, known as Keepers, who can perform routine tasks such as collecting yield farming harvests. [14]
The project was spotted by individuals following Cronje's GitHub or Ethereum address, with Cronje having directly interacted with the code from his personal wallet. A handful of opportunistic traders and their bots quickly injected money into the platform and began trading the token on Uniswap, causing its price to spike from $1 to $2,000 on thin volume before the token dumped back below $100 as Cronje redeployed Keep3r's contracts multiple times while testing the code. [15]
The service was built to be a decentralized job marketplace. It allows for projects to post listings for external developments, and for teams to find jobs. Discussing the point of registering a job, Cronje explains,
"A job can be any system that requires external execution, the scope of Keep3r is not to define or restrict the action taken, but to create an incentive mechanism for all parties involved." [16]
Fantom Foundation
Andre Cronje joined Fantom Foundation in October 2018 as the Chair of Technology Council and Technical Advisor. [4]
Fantom is a decentralized directed acyclic graph (DAG) network with smart contract functionality. The Fantom platform makes it simple for developers to build rich, secure decentralized applications (dApps) with minimal friction. The Fantom token (FTM) is the primary currency throughout the network and is available on the native blockchain, as an Ethereum ERC-20 token, and as a Binance Smart Chain (BSC) BEP-20 token. Plus, holders can stake the FTM token to secure the network and earn staking rewards. In addition, the FTM token is essential for platform governance. It enables holders to vote on proposals to make changes to the protocol.
In March 2022, Andre Cronje temporarily left the DeFi space and also Fantom Foundation alongside his colleague Anton Nell. No reason for their apparent departure from the DeFi (decentralized finance) sector was given at the time. [18]
In November 2022, Andre re-joined Fantom Foundation as the Director of the company. He published an article on November 15, 2022, explaining the consensus (Lachesis) governing the platform. [22][4]

Controversy
Eminence Finance Hack
On September 29, 2020, the EMN protocol, a bonding curve contract for Eminence, an unreleased nonfungible-token gaming project Cronje had been developing was hacked. The hacker stole $15 million but then transferred $8 million back to Andre Cronje. Cronje has said that he did not intend to release EMN for another three weeks at the time of the hack. A group of investors crowdfunded a lawsuit against Andre Cronje over the unreleased and unfinished Eminence (EMN) protocol and its hack. [12]
EMN Investigation claimed if the project was a test with no value yet, Cronje, Blue Kirby, and banteg should not have promoted the project as much. The group said:
"If EMN was a test, it had zero value as a token. Yet Andre watched as $15 million poured in without a word. But kept hyping the project by retweeting. Why didn't he at least warn the Yearn Finance team that they were buying and selling a worthless test token? If developers from any other team started hyping and selling a test token, they would be accused of fraud and the entire team would lose legitimacy. At best, this was a viral launch gone bad, at worst, it was a rugpull." [12]
Andre Cronje dropped out of social media following the EMN hack citing death threats:
"As I am receiving a fair amount of threats, I have asked yearn treasury to assist with refunding the 8m the hacker sent. The multisig is safer and as such I feel more comfortable with them having the funds. Funds will be returned to holders pre-hack snapshot. https://t.co/wbputn5hYD" — @AndreCronjeTech
On October 9, 2020, fellow Yearn developer 'banteg' addressed Cronje's silence, posting: "Andre said he won't be Tweeting anymore. People got what they asked for." [13]
Andre Cronje Quits DeFi
In March 2022, Andre Cronje announced that he would exit DeFi "for good". Fellow Fantom Foundation colleague Anton Nell confirmed that this was not a "knee-jerk reaction" like previous departures. [18]
No reason for their apparent departure from the DeFi sector was given. Cronje deleted his Twitter account a week before and updated his LinkedIn profile to reflect he was no longer working at Fantom.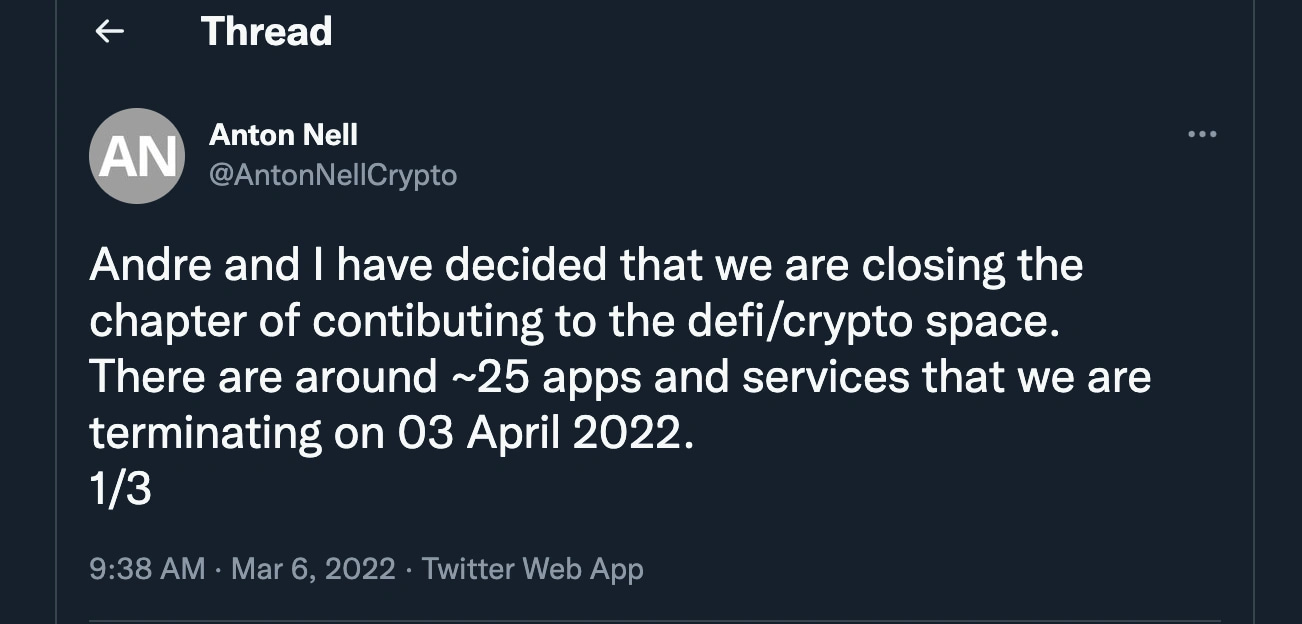 Of the 25 projects, Anton Nell said the most notable ones are related to
Yearn Finance
,
Keep3r Network
, Multichain.xyz,
smart contract
protocol exchange Solidly, Chainlist, and Bribe Crv Finance. Some projects will apparently be carried on by other people, Nell added.
[18]
In 2020, Cronje told Decrypt[5] he was on the edge of quitting crypto, citing a "toxic" DeFi community as his primary reason. However, following the quit notice in March 2022, Anton Nell said this time was markedly different and definite.
"Unlike previous 'building in defi sucks' rage-quits, this is not a knee-jerk reaction to the hate received from releasing a project, but a decision that has been coming for a while now," - Nell said in a follow-up tweet.
Immediately following the announcement on Twitter, many native tokens linked to projects and apps associated with or founded by Nell and Cronje began to fall, including FTM token.
Fantom Foundation Response
Following the announcement of Andre's intention to quit DeFi, investor confidence in Fantom and other Fantom projects took a turn to the downside. However, Fantom Foundation stated that life would go on without Cronje, thanking him for his service and contribution to the industry. [19][21]
"We're extremely grateful to Andre for all he did for crypto as a whole. However, Fantom isn't and never was a one man team. There are 40+ people working at Fantom." Fantom on Twitter
Fantom CEO Michael Kong clarified the consequences of Cronje's and Nell's stepping down. Although Cronje was instrumental in founding many projects, Kong said in a tweet that:
"these projects are not closing down development. Some of them have been running independently for years."[20]
The lead developer at Yearn.finance, Banteg, also chimed in to assure users and investors that Andre's leaving was of little consequence to the day-to-day operation of the DeFi yield aggregator.
"People burying YFI, you do realize Andre hasn't worked on it for over a year? And even if he did, there are 50 full-time people and 140 part-time contributors to back things up." [25]
Andre re-joined Fantom in November 2022 where he serves as the Director of the company. [9]
Hint About New Crypto Bank
On April 21, 2023, Andre Cronje disclosed that he is working on a payments infrastructure project for the crypto industry. [30]
Andre Cronje broke the news of the banking plans when responding to a tweet[26] from Curve Finance CEO and founder Michael Egorov alleging that the financial technology company Revolut had blocked his account after disclosing to them that crypto was the source of his funds. [29]
"Need a card, or just payments infrastructure? If the latter, I can add you to our closed beta. If card, that will be available by end of 2023, crypto-friendly bank available to public within this year." - Andre Cronje in response to Egorov's tweet. [28]
Cronje offered to add Egorov to his unnamed project's closed beta if he needed a payment infrastructure. He also added that card services would be available by the end of 2023, and a crypto-friendly bank is also on the agenda. [30]
However, Cronje says that the services will likely not be available to the citizens of the United States, citing an anti-crypto stance from US regulators.
"Legally we can, but given the USA's stance, we probably won't accept US citizens." - Andre Cronje in response to someone asking if it will be available in the U.S.[27]
Several people have shown interest in being part of the closed beta, highlighting the demand for banking services within the crypto industry. Meanwhile, Cronje told BeInCrypto that the project is "not yet available for the public." [30]
Awards & Recognition
See something wrong?
Report to us.
Andre Cronje
Did you find this article interesting?