New Order
New Order is a community-led venture DAO focused on DeFi projects, where they provide incubation and acceleration to build startups through resources and expertise. The DAO was founded with the goal of being a decentralized platform for edge-of-the-edge DeFi projects. [16]
Among its products is Alpha Drop, a monthly financial podcast that centers on the macroeconomic landscape and the decentralized finance sector. [23]

Overview
A fully decentralized incubator allows community members to democratically allocate funding and resources to projects that they choose. The primary criteria used to guide decisions are a focus on the Web3 ecosystem, the introduction of new asset classes, and multi-chain operability. This is intended to ensure that the most disruptive technologies are at the forefront of DAO resource allocation.[1]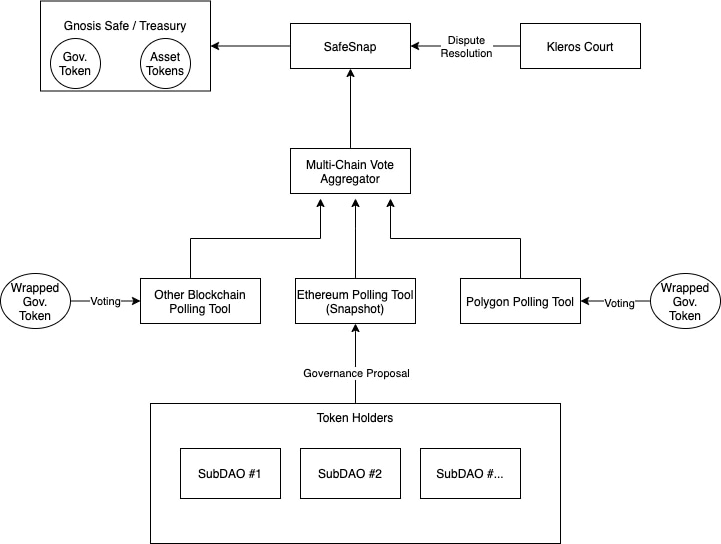 Governance
Governance is supervised by their own governance token, NEWO, which allows participation in a distributed voting platform for allocating resources and responsibly distributes project funding and rewards to community members. Community members include marketers and influencers, who will be selected and rewarded for building awareness of launched projects.[2]
The treasury assets and revenue generated from launched projects are stored in a treasury vault that is managed through a voting mechanism. Stakeholders such as researchers and strategists are rewarded for creating new investment opportunities, uncovering promising projects, performing due diligence, and ensuring that the assets in the DAO are well-positioned for long-term success. The tokens can also be utilized in the ecosystem through staking in liquidity mining programs or native DAO vaults, allowing for additional yield to be earned by the holders through an alignment of incentives with the protocol. [2]
Tokenomics ($NEWO)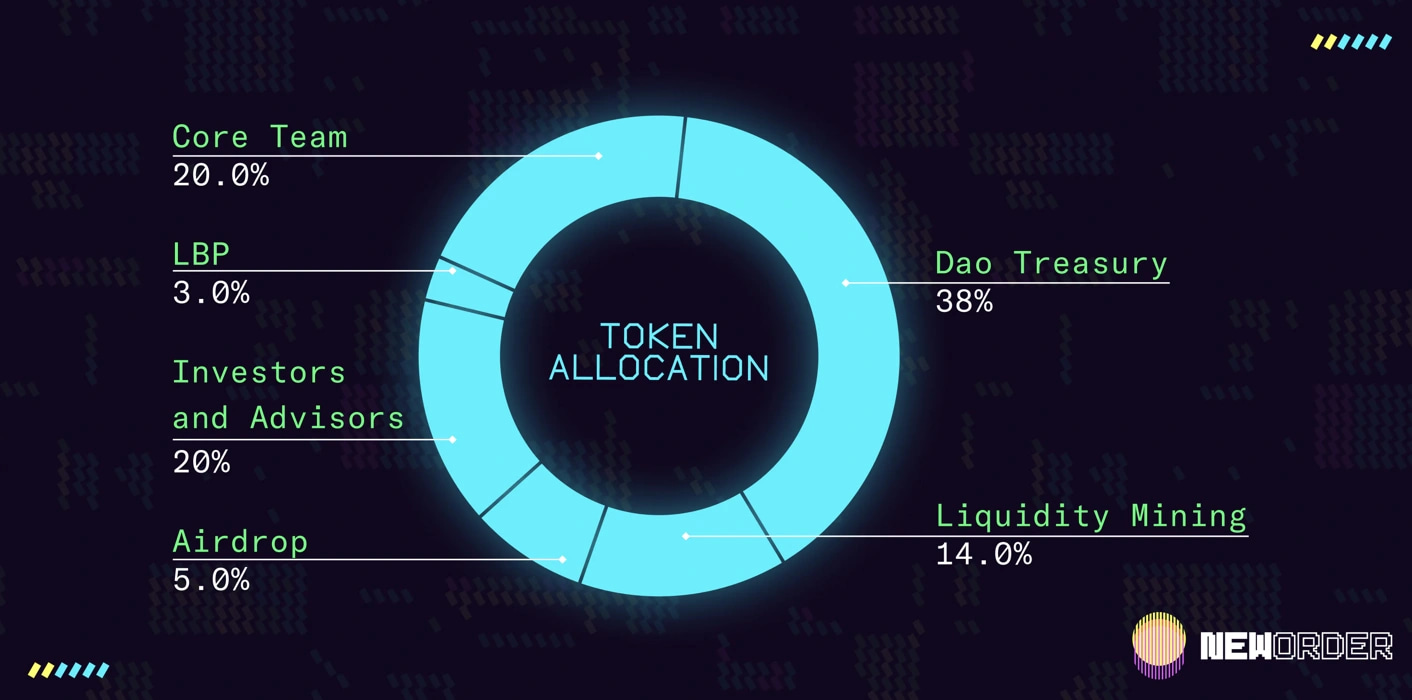 The maximum supply for NEWO is 800 million. The token distribution for this project is as follows: 20% is allocated to the core team with a 1-year cliff and a 4-year vest, 3% is sold on the Miso Dutch auction, 5% is allocated for an airdrop, 38% is held in the DAO Treasury and governed by NEWO holders, 14% is allocated for liquidity mining, and 20% is allocated to investors and advisors with a 6-month cliff and a 2-year vest.
[3]
veNEWO
NEWO follows the vote-escrowed (ve) token model, which was first introduced by Curve and then followed by other protocols such as Frax and Balancer. In this system, users lock their tokens for a set period, and depending on the duration, their corresponding governance powers and rewards will be given. [4]
In New Order, there are five ways in which value will be generated for holders of veNEWO. These mechanisms increase the utility of the protocol for those who hold the token.[4]
Governance Power: governance power is granted to veNEWO holders to incentivize engagement with incubation projects and protocol modifications. The longer the locking time, the higher the governance power the user holds
Protocol Emissions: emission of veNEWO will be distributed to both holders and LP stakers, and they will also have the opportunity to receive an additional reward for holding their tokens in a locked state, with the amount of the reward varying
Treasury Rewards: eNEWO holders have the opportunity to be eligible to earn rewards from the treasury, while LP stakers will not. The rewards are correlated to the yield generated by the tokens held in the treasury, and the yield sharing will be conducted on a monthly basis following the structure below: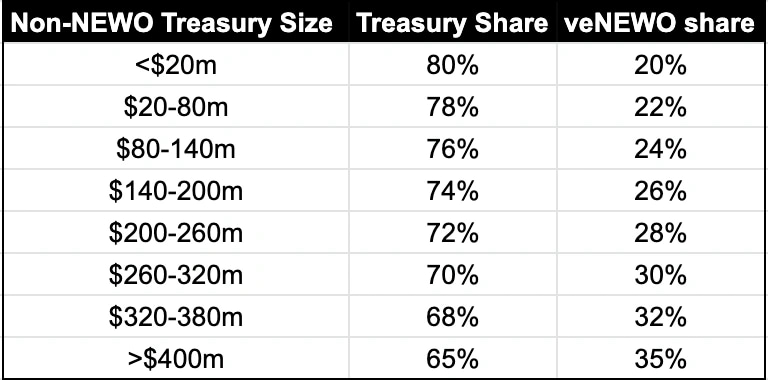 Airdrops: any project that is incubated by New Order will have airdrops that are exclusive to veNEWO holders. The amount of tokens that a holder will receive will depend on the length of time they have locked their tokens and the total number of tokens they have locked
Whitelists: The same logistics applied to airdrops will work with whitelists of any incubated project
Locking details
Holders of NEWO will have the option to lock up their tokens for a period of time to receive a boost in veNEWO tokens. The minimum lock-up period is 3 months, which will result in a 1x boost, while the maximum lock-up period is 3 years, which will result in a 3.3x boost.

$NEWO Token Dutch Auction
On December 9, 2021, NEWO conducted a Dutch Auction for investors to be able to get their hands on a limited number of potentially cut-price $NEWO tokens on the MISO IDO platform[27]. [29]
During the Dutch auction on MISO, investors engage in a price discovery process to arrive at a consensus on the price they are willing to pay for $NEWO tokens. Instead of arbitrarily setting a price, New Order sets an unrealistically high value for the tokens at the start of the auction. Over the course of 24 hours, the price gradually decreases until it becomes more reasonable for investors to start making their bids. The eventual price was determined by averaging out the cumulative bids once all of the available tokens had been sold.  [28][29]
New Order put up 24 million $NEWO tokens for auction on MISO out of its 800 million total supply, with an implied minimum price of 0.075 USDC per token. [29]
Portfolio
Redacted
The Redacted ecosystem is a set of smart contracts that provide on-chain liquidity, governance, and cash flow management capabilities to decentralized finance protocols. The project is a money lego built on the Curve protocol, with the goal of increasing its influence in the ecosystem by implementing a bonding system for the $BTRFLY token. [15][16]
Frogs Anonymous
Frogs Anon is a research hub established in April 2022 with the objective of publishing decentralized finance research from a wide range of contributors, following a decentralized structure. The project is a collective of anonymous writers and their respective contributions.[5][17]
Y2K Finance
Y2K Finance is a collection of structured financial products that enable market participants to effectively hedge or speculate on the risk of a particular pegged asset or a group of assets deviating from their expected market value. After a few weeks of launching, the project reached $10 million TVL and has generated more than $380k in revenue. [6][17]

H2O
H2O is a stablecoin that is backed by data tokens and the OCEAN token, and is used as the primary currency on the Ocean data marketplace. It is a fork of RAI, which is Reflexer's non-pegged and decentralized stableasset backed by ETH. [7]
OptyFi
OptyFi is a decentralized finance yield optimization tool that tracks a large number of strategies across various liquidity pools and protocols, to help users make informed decisions. [8]
Kima
Kima is an open protocol that enables decentralized applications to access liquidity, data, financial tools, and functionality across different blockchains and off-chains. [9]
Obey
Obey is a music-based marketplace built on blockchain technology where fans can earn money by demonstrating their taste in music. [10]
Identdefi
Identdefi brings institutional capital to the DeFi space. The project is constructing a compliant liquidity layer that can be utilized for any token, protocol, or EVM blockchain. 11][21]
Bright Union
BrightUnion is a collective of blockchain and insurance experts with the mission of being a decentralized insurance for the Web3 economy. [12]
Summeria Labs
Sumeria Labs offers the infrastructure required for DeFi applications. The project aims to create a decentralized debt market for the Open Metaverse. [13]
Lazy Trade
Lazy Trade is a CeFi and DeFi portfolio management platform. The platform enables users to scan their current web page and social media feed for tokens and perform trades on centralized and decentralized exchanges. It also provides a centralized view of the users' portfolio, consolidating information from their exchanges and wallet addresses. [14][22]
DeFi Base Camp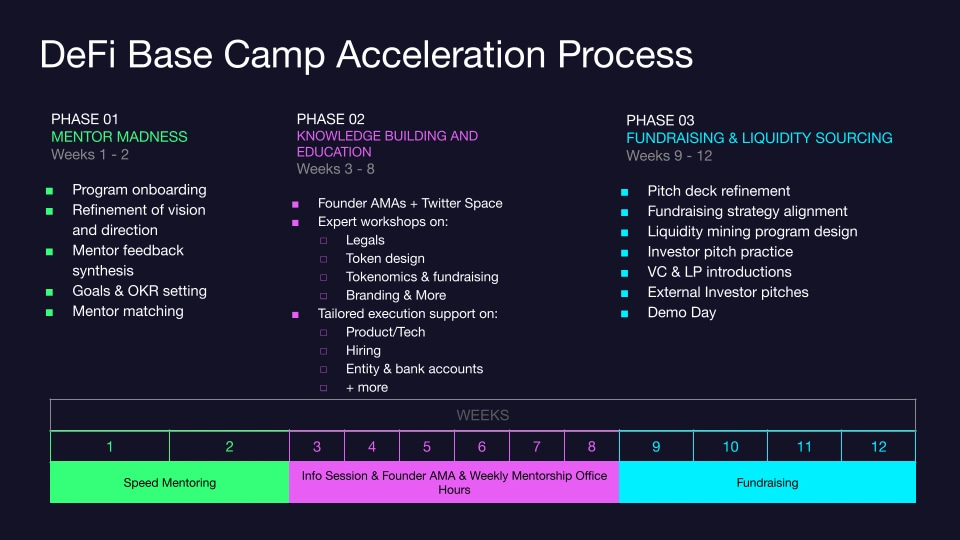 DeFi Base Camp is a three-month accelerator program that aims to assist early-stage startups in DeFi and Web3 projects led by New Order In partnership with Outlier Ventures. The program focuses on fostering the growth of the next generation of builders. 
[18]
[19]
Cohort participants in DeFi Base Camp can benefit from access to Outlier Ventures' and New Order's network of DeFi and Web3 industry leaders, mentors, and investors, which can aid in fundraising efforts, increase liquidity, and expedite growth. Throughout the program, teams receive assistance in areas including product development, community building, marketing, and fundraising.
[18]
[19]
Cohort 1
The first cohort of DeFi Base Camp ended in early July of 2022 with the graduation of six projects: Obey, Sumeria, IdentDeFi, Kima, Bright Union, and LazyTrade. Out of more than 290 applicants, these six teams were chosen and raised a total of $3 million in a span of 12 weeks. [17]
Cohort 2
The second cohort includes seven projects that fit into categories such as improved DeFi infrastructure, cross-chain infrastructure, market-neutral and sustainable DeFi, metaFi use cases, and CeFi/TradFi-DeFi solutions. The projects selected are 0xKYC, Casten, Smilee, Starfall, SuperHedge, Vyper Protocol, and Caviar (previously Danu Finance). [18]
Merge with Synonym Finance
On August 28, 2023, New Order announced on X (formerly known as Twitter) that its proposal to merge with Synonym Finance[24] had passed with support from the New Order community. [25][26]
"This merger represents an incredible opportunity and path forward for all stakeholders." - the team tweeted
New Order explained that Synonym Finance "is building the universal cross-chain credit layer for busy DeFi Professionals" [24]
"They've got big things planned and now have access to strong partnerships, a robust treasury and the incredibly deep New Order network. This is a massive opportunity."
Long-term supporters of the New Order are expected to receive a 1:1 token conversion to Synonym along with claims on select treasury yield. [26
See something wrong?
Report to us.
New Order
Did you find this article interesting?