[REDACTED]
Redacted is a product suite of smart contracts designed to provide on-chain liquidity, governance, and cash flow for DeFi protocols. The Redacted Cartel DAO builds the Redacted ecosystem. The Redacted protocol is powered by the BTRFLY token, which allows users to stake, earn incentives, and interact with governance proposals.[1]
[3]
[4]
Overview
REDACTED incentivizes bonding tokens from the Curve ecosystem into their treasury in exchange for the BTRFLY token. Each BTRFLY token is backed by value from the Curve ecosystem locked in the DAO treasury. BTRFLY is an ERC20 token but it bridges the core components and token to whatever chains Curve scales to.[2]
The strategies employed through bonding allow REDACTED to accumulate voting power in the Curve gauge and utilize that power to vote on the behalf of minters ensuring their interests are best represented in the Curve gauge.
[2]
In addition to an aggregation of voting power, when utilizing Curve LP tokens to mint BTRFLY, users receive a maximized yield and possess a liquid token that is securely backed by stable assets. BTRFLY is primarily backed by the stablecoin LP tokens, remaining relatively stable regardless of the market dynamics.[2]
BTRFLY Token
BTRFLY is the governance token of the Redacted ecosystem. It can be used to vote on Redacted governance proposals and locked for rlBTRFLY to earn BTRFLY inflation and protocol revenue. BTRFLY has a free-floating value that is partially based on the intrinsic value within the treasury and the revenues generated by the treasury, and as such can not be redeemable for the governance tokens in the treasury.[12]
The token can be minted in 4 ways which include:
Minting
Bonding
Dao Fees
pBTRFL
Token Allocation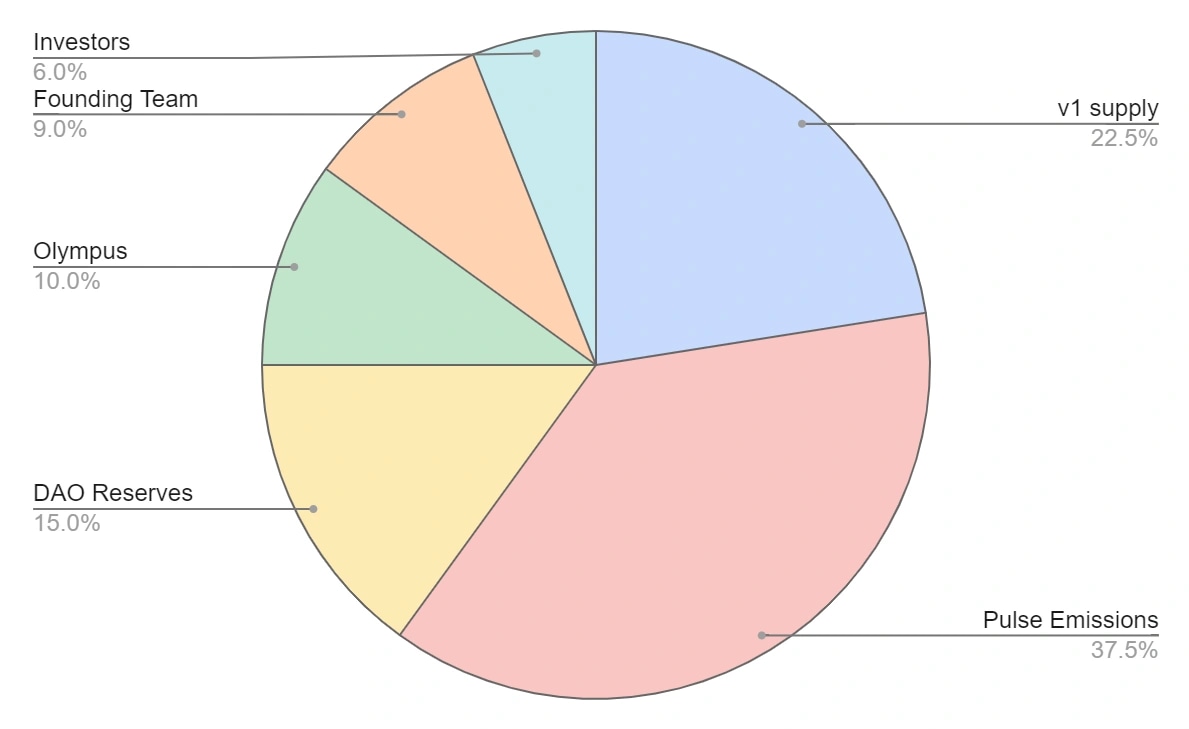 BTRFLY had an initial supply of 100,000 which was distributed through a triple Dutch Auction where OHM, CRV, and CVX were raised. At launch, BTRFLY was a rebasing token whose total token supply was consistently increasing due to staking rebase emissions, bond emissions, and DAO fee emissions.
[11]
rlBTRFLY
rlBTRFLY are revenue-locked BTRFLY. rlBTRFLY enables BTRFLY holders to lock their tokens for a 16 to17 week period to earn revenue from Redacted's treasury and product ecosystem. Users can also lock BTRFLY v2 tokens for rlBTRFLY to earn revenue and inflationary BTRFLY pulse emissions.[8]
After locking for rlBTRFLY, users are rewarded in ETH which is gotten from Redacted's treasury and ecosystem of products.
50% of Hidden Hand's revenue goes to rlBTRFLY holders.
42.5% of Pirex's revenue goes to rlBTRFLY holders.
Products
Hidden Hand is a marketplace for governance incentives, also known as "bribes." Protocols can use Hidden Hand to improve governance processes and engage voters. When using Hidden Hand, DeFi protocols will need to deposit a bribe into the Hidden Hand smart contract, these bribes are then sent back to users as a reward for their voting power.[3]
Hidden Hand will automatically choose the vote distribution with the highest bribe value. Otherwise, users will be rewarded in proportion to the size of their vote for a given bribe. Bribe rewards are distributed at the end of each voting period to users who have locked their veTokens.[4]
Hidden Hand charges its users zero fees for interacting with the Marketplace. Instead, Hidden Hand takes a 4% fee on all bribes added to the protocol, this way it generates its revenue and sends half to its treasury, and half is sent to lockers of $BTRFLY for locking their tokens in the protocol.[5]
[6]
For example, Vesta Finance uploads a $1M bribe in VSTA to the Frax Hidden Hand market. Hidden Hand will take a 4% fee on the $1M, a $40,000 turnover. The fee is then split in half between the treasury and lockers of rlBTRFLY, which will be claimable every 2 weeks. After the bribe is added, veFXS holders could then vote for the Vesta gauge on Hidden Hand and split a $960,000 pool of VSTA rewards.[7]
Pirex
Pirex creates liquid wrappers that allow for auto-compounding and the tokenization of future yield/vote events. The Pirex ecosystem includes applications built on top of Pirex liquid wrappers that increase the utility of governance tokens for users, enable novel utility, and provide yield opportunities that are only available to Pirex wrappers users. pxCVX (Pirex vlCVX) was the first Pirex liquid wrapper, with more to follow.
The Pirex team plans to launch several applications built on top of the Pirex protocol by the end of 2022, which will showcase the broad utility and flexibility of the protocol and the wide range of applications that can be built on top of it.
Pirex also offers developers incentives (in the form of referral fees and grants) to those wishing to build applications on the Pirex protocol. This will provide builders with a straightforward sustainable path toward building in the Pirex ecosystem.
Pirex is considered a Redacted incubated product. 75% of fees received by Pirex are paid to Redacted, of which 42.5% are distributed to rlBTRFLY Holders, 42.5% to the Redacted Treasury, and 15% to the DAO Reserves.

Convex
Convex is Pirex liquid wrapper for vote-locked Convex (CVX). It is a platform built to boost rewards for CRV stakers and liquidity providers. Convex boosts rewards thanks to the large amounts of veCRV that are under its control and the distribution of its CVX token as additional rewards.[8]
pxCVX is a pure liquid wrapper, with each pxCVX backed by 1 vlCVX, and all of the value from that vlCVX is passed onto the pxCVX holder. Its gauge votes will focus on maximizing returns to pxCVX holders and not bootstrap other Pirex or Redacted products. It is a vlCVX liquid wrapper that has the goal of increasing liquidity, yield, and utility for CVX holders.
pxCVX allows CVX holders to have a liquid, tradeable version of vlCVX which is 1:1 backed by vlCVX and allows for auto compounding of yield and tokenization of future yield/vote events.
There are three modes to deposit in Pirex for pxCVX, which are Standard Mode, Easy Mode, and Expert Mode. There are also two ways to exit pxCVX positions, which are:
Redacted will seed and maintain a pxCVX/CVX LP on Curve
pxCVX can be unlocked for CVX.
vlCVX
vICVX is vote-locked CVX, the is the governance token of Convex. CVX can be locked for 16 to 17 weeks for vote-locked CVX (vlCVX) which cannot be traded or transferred. vlCVX holders can claim a portion of Convex platform fees and can vote for Curve governance proposals, including bi-weekly Curve gauge weight votes. vlCVX holders vote on Convex governance proposals to decide how Convex's aggregate veCRV voting power will vote on Curve governance proposals.[9]
Pirex vlCVX is currently only on Ethereum mainnet but plans to go multi-chain shortly.[10]
BTRFLY v2 Migration
Redacted transitioned from rebasing tokenomics towards a fixed supply cap more commensurate with its focus on products such as Hidden Hand and Pirex. Both of which generate organic revenue for the protocol. This shift towards more sustainable tokenomics revolves around rlBTRFLY's distribution of real yield from treasury farming and revenue from Redacted's products.
The BTRFLY has gone from having an infinite supply to have a limited supply. At migration, the new supply was calculated as BTRFLY v2 Total Supply = (BTRFLY v1 Total Supply / 22.5%) / BTRFLY v1 Index, rounded up to the nearest 50k. [13]
DAO
Redacted is governed by its community, which is the BTRFLY holders. The community decides the direction of Redacted, and there is also an established governance process that allows the ecosystem to evolve. This process comes in stages starting with, Drafting a Proposal, Requesting Feedback, Creating RIP based on RFF, RIP Snapshot Submission, and Linking Snapshot to a revised Commonwealth proposal.[15]
Treasury
The treasury is where all of Redacted's revenue and governance power is stored. Most revenue gotten by Redacted is generated through various forms such as bonds, bribes, and yield farming strategies.[16]
Partners
Protocols that integrate Redated products include Abacus, Alchemix, Aura, Balancer, Berachain, Biba, Chainlink, Citadel Dao, Curve Finance, Commonwealth, Convex, dAMM Finance, Debt Dao, Dopex, Drops Dao, JPEG'd, Fiat Dao, Floor, Frax Finance, Lido, Mover Dao, New Order, Olympus, Perpetual Protocol, Ribbon, Stake Dao, Stargate, Tokemak, Tribe, Umami, Utopia Labs, Velodrome, and Vesta.[20]
See something wrong?
Report to us.
[REDACTED]