PAX Gold
PAX Gold is an Ethereum-based stablecoin backed by physical gold. It was issued in September 2019 by a blockchain company known as The Paxos Trust Company.[1]
Overview
PAX Gold was created by Paxos Trust Company in 2018. The Co-founder and CEO Charles Cascarilla wanted to create digital currency backed by gold because holding physical gold is an outdated investment nowadays. According to him, physical gold is harder to trade, divide or leverage against other investment assets. The PAX Gold was created with the intent to solve these fundamental issues while being fully regulated.[2][5]

PAXG is an ERC-20 Token created using smart contracts deployed on Ethereum. It is a stablecoin pegged to real gold. Every PAXG token issued is backed by an ounce of allocated gold stored in Brink's Gold Vaults in London. Anyone who owns PAXG owns the underlying physical gold, held in custody by Paxos Trust Company. PAXG holders have the ability to redeem the tokens for physical gold bars if they choose to.[2][5][6]
In just a few months of its launch, Paxos Gold received the support of dozens of blockchain platforms and saw a $5 million purchase from Nexo, a leading crypto lender. This purchase fueled an increase in PAXG's market capitalization to over $10 million.[3]
Features
Accessibility
PAXG can easily be moved or traded anywhere in the world, 24/7 as compared to physical gold, which requires transportation and other necessary documentation to get fulfilled.[3][4]
Regulations
PAXG is a custodial asset and can be redeemed for actual physical gold bars. PAXG is fully regulated by the New York State Department of Financial Services (NYDFS). It is also approved and regulated by the DFS and fully backed by allocated gold held in the most secure, leading vaults in the world. Additionally, cryptocurrency custodian BitGo has announced its support for Paxos Gold Token.[2][4]
Low Fees and Flexibility
Anyone can convert or redeem PAXG for fiat, physical or unallocated gold via the Paxos platform. Trade PAXG against other digital assets on popular cryptocurrency exchanges. Extremely competitive fee structure for creation and redemption of PAXG tokens (0.03-1% based on volume tiers) in the Paxos wallet, low on-chain Ethereum transaction fees(GAS) (0.02%) for and zero storage fees.[1][4]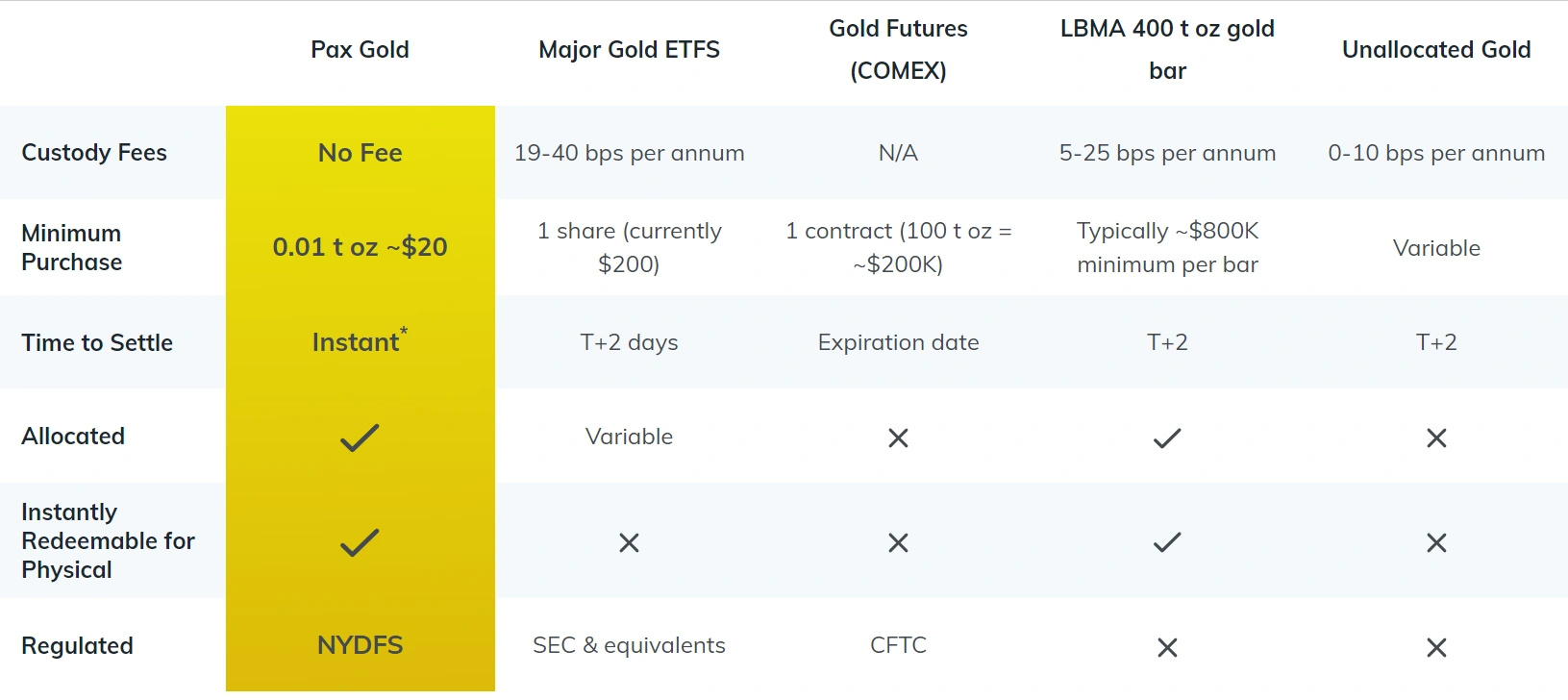 Redeemable
PAXG can be redeemed for LBMA -accredited Good Delivery gold bullion bars. Smaller amounts can be redeemed through a network of physical gold retailers around the world. Institutional customers can also redeem for unallocated Loco London Gold. Paxos customers can always redeem for United States dollars at current gold market prices.[3][4]
Security
The PAX Gold's smart contract is based upon the Paxos Standard smart contract which was audited by three third-party specialists (Nomic Labs, ChainSecurity, and Trail of Bits) in September-October 2018. In January 2019, Trail of Bits performed an additional audit for a potential upgrade to the PAX USD smart contract.[2][4]

Competition
PAX Gold is not the only gold-backed crypto token that's available to investors today. PAX Global competes with viable alternatives include Tether Gold and Digix Gold Token (DGX) Token. Just like PAX Gold, both of those tokens are also built on the Ethereum blockchain platform. There are other gold backen Token are also rising, which include Meld Gold by Algorand and Perth Mint Gold Token (PMGT).[2]
See something wrong?
Report to us.
PAX Gold
Did you find this article interesting?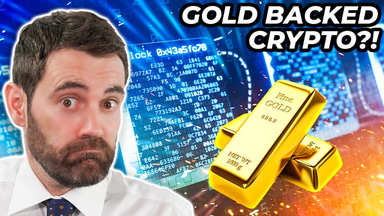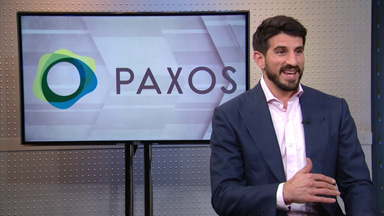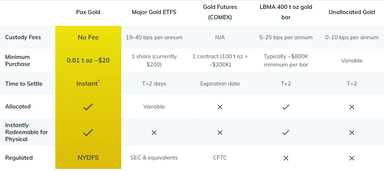 REFERENCES
[1]
Pax gold medium website
Aug 23, 2022
[3]
Buy Pax gold live
Aug 23, 2022
[5]
BinanceFeed post on PGLD
Jul 5, 2023
[6]
Pax Gold One sheet
Jul 5, 2023