Polkadot (DOT)
DOT is the native token of the Polkadot network. It was created after the Web3 Foundation concluded a relatively successful ICO in October 2017 and raised over $140 million by selling 50% of the 10,000,000 DOT token supply. The sale was split between a private sale, which raised over $80 million, and a public sale, which raised the remaining. [1][2][3][4]

Overview
On November 6, 2017, a vulnerability was exploited in the Parity multi-sig wallet containing over 500,000 ETH, including $98 million of the $140 million+ in ETH raised through the Polkadot ICO. These funds are frozen, and a debate among the Ethereum community will determine whether these funds can or will ever be recovered. [1][2]
Despite the exploitation, Polkadot further conducted two private sales. One in 2019, when the foundation announced it sold 500,000 DOT (old) tokens to an undisclosed group of private investors and successfully raised $60 million. The second private sale was held in the summer of 2020 and raised 3,982.07 bitcoin (BTC) worth an estimated $42.76 million upon completion. [1]
DOT tokens, by design, have a 10% inflation rate in the first year, after which validator and nominator staking dynamically determine the inflation. [1]
Distribution
The initial token distribution of DOT is as follows:
3.42% is allocated to Private Sale Investors.
5.00% is allocated to SAFT Investors.
50.00% is allocated to Auction Investors.
11.58% is allocated to Future Sales.
30.00% is allocated to Web 3 Foundation. [3]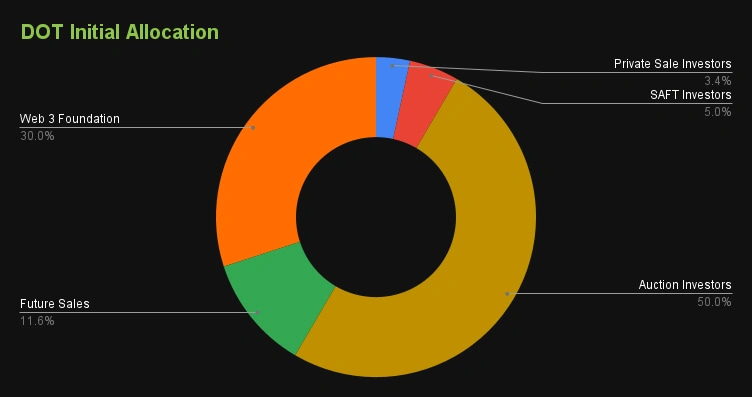 Funding Rounds
$79,488,000 was raised in the Private Sale 1 on 14/10/2017 with an average price of $0.288
$64,512,000 was raised in the Public Sale 1 on 15/10/2017 with an average price of $0.288
$60,000,000 was raised in the Private Sale 2 on 27/06/2020 with an average price of $1.2
$42,500,000 was raised in the Private Sale 3 on 24/07/2020 with an average price of $1.25. [3]
Utility
The DOT token serves 3 distinct purposes: Governance over the network, **Staking **for operations and security, and Bonding tokens to connect para-chains.[5]
Governance
DOT holders have complete control over the protocol. All privileges, which on other platforms are exclusive to miners, will be given to the Relay Chain participants (DOT holders), including managing exceptional events such as protocol upgrades and fixes. [5]
Staking
DOT can be staked natively on Polkadot, on Non-Custodial Wallets, Liquid Staking/Third-Party Pools, or on Custodial Exchanges. [5]
Bonding
DOT is inflationary, which means that, unlike Bitcoin, there is no maximum number of DOT. The rate of inflation is not fixed: it is designed to be 10% in the first year. The DOT generated is used for validator rewards, with the remainder going to the Treasury. The smallest unit of account in the ecosystem is a Planck, equivalent to 0.0000000001 DOT. [5]
See something wrong?
Report to us.
Polkadot (DOT)
Did you find this article interesting?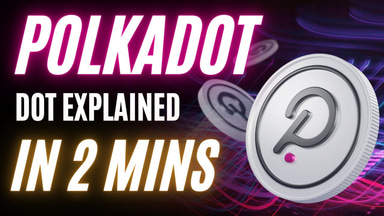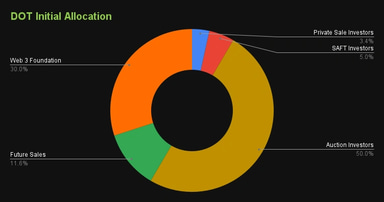 REFERENCES
[1]
messari - dot
Mar 29, 2023
[2]
coinmarketcap - dot
Mar 29, 2023
[3]
coingecko=dot
Mar 29, 2023
[5]
dot lightpaper
Mar 29, 2023