Solana
Solana is a blockchain network that utilizes a Delegated-Proof-of-Stake consensus mechanism. It is designed to support decentralized apps, marketplaces, and enterprise applications and aims to provide scalability while maintaining decentralization.[1][2][3] It was founded in 2017 by Anatoly Yakovenko.

History
Solana was founded in 2017 by Anatoly Yakovenko, among other engineers which include Greg Fitzgerald, Solana's CTO, as well as Eric Williams, they conceptualized a new way of dealing with the throughput problems that were present in both the Bitcoin and Ethereum blockchains. They envisioned a trustless and distributed protocol that allows for greater scalability, and this led to Solana's creation in late 2017.[4]
The company launched its alpha testnet in the summer of 2018 and was successfully able to raise a $20m initial investment, led by Multicoin Capital in 2019. The founder and CEO at Solana, Anatoly Yakovenko, previously led the development of operating systems at Qualcomm, distributed systems at Mesosphere, Inc., and compression at Dropbox. Solana's core team mainly includes engineers from Qualcomm who are well experienced in managing big projects such as Firefox OS and the BREW Operating System.[4]
Solana became live on Mainnet Beta in March 2020 after raising $1.76 million in a CoinList public token sale. On the project's beta network, simple transactional features and smart contract capability were accessible. There were no staking rewards, either, as Solana was still formulating its continuous release schedule. The beta version was updated to a more production-ready version in Q1 2021 and as of Q4 2022 is yet to fully complete its move to the mainnet version.[5]
Outages
Solana has a history of outages, with five occurring in 2022. The disruptions are due ​​to a high level of network usage combined with a limited number of validators to manage the workload, as well as issues with bugs in its blockchain system. The network experiences strain when there is an unusual influx of transactions, which often occurs as a result of targeted attacks on Solana (such as DDoS) or the use of bots during non-fungible token minting events.[14]
First Outage: December 4, 2020
The network experienced a six-hour disruption due to the Mainnet Beta cluster's inability to generate new blocks. This caused the network's ability to process new transactions to come to a standstill. The problem was quickly rectified the following day by Solana's over 200 validators, who rebooted the network.[14]
Second Outage: September 14, 2021
The network was hit with a 17-hour outage as a result of a DDoS attack, which is a cyber-attack where excessive traffic is flooded to the network, causing it to stop functioning. In this case, during an initial DEX offering on Raydium, the Grape Protocol flooded the network with 400,000 transactions per second, causing the longest outage in the network's history. The protocol's validators decided to restart the network in order to address the problem in the most efficient manner.[14]
Third Outage: December 2021
Blockasset, a Solana-based NFT project, detected another DDoS attack, but the network appeared to have remained operational and did not experience any significant downtime. However, the network doesn't officially recognize this incident. [14]
Fourth Outage: January 2022
Network instability and degraded performance arose, but contradictory reports were declared, as Wu Blockchain, a web3 news outlet, reported a 4-hour network disruption, while Solana Status insisted that the platform was fully operational. Anatoly Yakovenko denied that this event was caused by a DDoS attack, and instead the company called this as a 'performance degradation'.[14]
Fifth Outage: March 2022
This particular network issue did not receive a lot of attention, but it was recorded in the protocol's incident records. According to the data, the platform experienced degraded performance on March 10 and 21. It also noted that on March 28, some of its remote procedure call (RPC) nodes were down. Although not as severe as previous incidents, it was partly caused by a malfunctioning update that led to some RPC nodes forking off.[14]
Sixth Outage: April 30, 2022
On April 30, 2022, Solana's Mainnet Beta cluster froze due to a flood of transactions, clocking at 6 million tps and causing a seven-hour outage. It was later determined that the cause was bots programmed to win an NFT mint at Metaplex's Candy Machine and not a DDoS attack. The network was restarted to resume normal operation. The downtime occurred a couple of days after the Okay Bears NFT collection launch, which was heavily hyped and had a large number of bots.[14]
Seventh Outage: June 2022
The network was down for four and a half hours because of a bug that generated different outputs, resulting in a major consensus failure.[14]
Eight Outage: September 30, 2022
This outage lasted for six hours, and it was caused due to a misconfigured node, thus freezing the operations on the network.[14]
FTX Bankruptcy
After the collapse of FTX, where Sam Bankman-Fried (SBF) was the CEO, the value of SOL dropped 30%, as SOL was Alameda's second-largest holding. Fears that FTX and Alameda Research would unload SOL tokens to raise liquidity arose. Solana Labs raised $314.2 million in the summer of 2021 with heavy investment from Alameda Research, a crypto hedge fund founded by SBF. SBF also built a decentralized exchange called Serum on the Solana blockchain and invested a significant amount of money in SOL tokens through his companies.[17] Nonetheless, even after the incident, the network has been steadily gaining users and developers. According to Austin Federa, head of strategy and communications at the Solana Foundation, developers are joining the protocol through a variety of projects.[18]
"You're not really seeing any projects migrate off of Solana that need the performance and power of the network. There's a lot of stuff that you can only build on Solana, and those developers are continuing to build here."
Overview
Solana is a high-throughput blockchain. It is a web-scale blockchain, providing a solution that is capable of hosting applications with a computational bandwidth akin to the modern internet. Solana is the only blockchain in existence with the capability to power decentralized versions of Nasdaq, Facebook, Twitter, and all other existing blockchains – with more available area to spare. It is currently supporting 50,0000 to 65,0000 transactions per second and 400ms block times, without complex solutions like sharding or layer-two. As the world's first web-scale blockchain, Solana will unlock a whole new class of performant applications that facilitate larger-scale blockchain adoption. Utilizing an innovation called Proof of History, Solana is able to outperform any other existing layer 1 and provide fees at $0.00001 per transaction. The Cofounder and Managing Partner of Multicoin Capital Kyle Samani said:
"Solana is the closest thing to the 'world computer' Blockchain developers conceptualized in the early days of crypto."
Core to Solana's scaling solution is a decentralized clock titled Proof-of-History (PoH), which was built to solve the problem of time in distributed networks, where there is not a single, trusted, source of time.
Proof of History
The central innovation that makes Solana possible is Proof of History, PoH, which creates a record that proves that an event has occurred at a specific moment in time. Whereas other networks require participants to communicate in a bid to agree that time has passed, each Solana Node maintains its clock by encoding the passage of time in a consecutive series of events.

Proof of Stake
Anyone can participate in Solana's proof-of-stake and become a Validator. However, like any blockchain, running a full node requires hardware. Therefore, the network allows for "Delegators" who can delegate a Validator to participate in block production and receive interest from his block rewards. The PoS operates on a rotating leader schedule, where the Validator is determined according to their share of the entire staking pool. So the more Delegators stake for a particular Validator, the more blocks they will produce. Validators and Delegators receive their rewards from a combination of transaction fees and inflation.
Features
Solana sets itself apart with:
Scalability: Solana network can handle over 50,000 transactions per second. It has a block-producing time of 400 milliseconds ideally
Turbine block propagation: This protocol supports the Solana network, making the handling of thousands of nodes possible and still achieving performance and scalability
Cheaper Transaction fees: Estimated Transaction cost on the network is 10 USD for 1 million transactions
Innovations supporting Scalability
Proof of History (PoH) - A clock before consensus
Tower BFT - A Proof of History-optimized version of PBFT(Practical Byzantine Fault Tolerance)
Turbine - A block propagation protocol
Gulf Stream - Mempool-less transaction forwarding protocol
Sealevel - Parallel smart contracts run-time
Pipelining - A Transaction Processing Unit for validation optimization
Cloudbreak - Horizontally-Scaled Accounts Database
Archivers - Distributed ledger store
Wormhole
On October 8, 2020, Solana announced that it is ready to launch Wormhole, a decentralized bridge, which means Ethereum liquidity will not have to go through FTX to get to Solana anymore. This product allowed users to transfer the value of their digital assets between different blockchains, such as turning ERC-20 tokens into Solana's SPL Standard. The service is under audit by Kudelski Group, and is preparing for an official release towards the end of October. Prior to the official release, a beta version was released to developers for a hackathon on October 28.  In a Medium post, Solana Labs explained the advantages of Wormhole being implemented into the DeFi space:
"Wormhole enables DeFi platforms to leverage Solana for high speed, low-cost transactions, while still allowing for settlement on another base chain. As we look to expand the pie, adoption is contingent on DeFi applications being no less performant than centralized platforms."
Wormhole protocol connects its SPL token standard with Ethereum's ERC-20 and ETH tokens, meaning that developers can move tokenized assets to either blockchain and use the services that come with that particular chain.
Wormhole hack
On February 2nd, 2022, the platform was hacked for $325 million. The hack took place due to an update to the project's GitHub repository which revealed a fix to a bug that had not yet been deployed to the project itself.[19]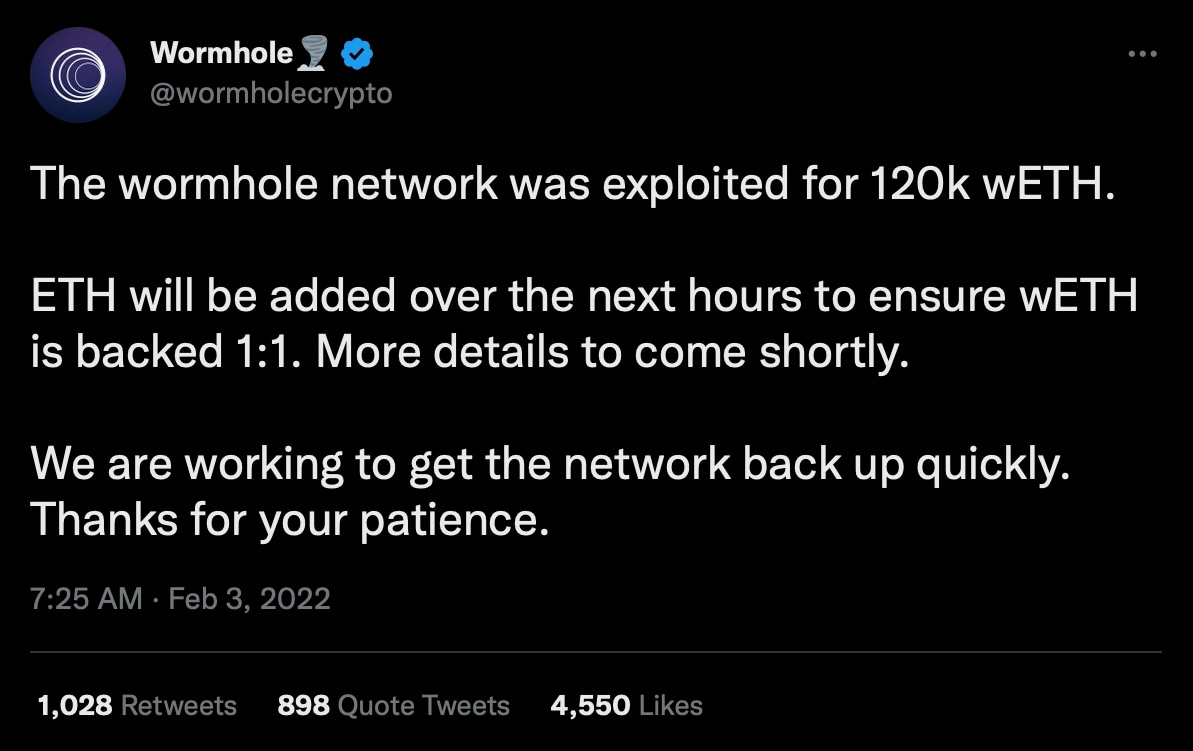 The attack was discovered when a post on the Wormhole Twitter account announced that the network was being taken offline for maintenance while a potential exploit was investigated. Later, another post confirmed the hack and announced the amount stolen.
[19]
SOL Token
The Solana blockchain has its native token called $SOL. There is a fixed supply of one billion SOL tokens, which are used as an incentive for nodes in exchange for running an on-chain program or validating its output. SOL tokens are divisible by up to 34 times so that the system may perform fractional payouts of SOL as required.
Token Allocation
The tokens were distributed in five funding rounds, where four were private sales. Venture capitals such as Muliticoin Capital, Distributed Global, BlockTower Capital, Foundation Capital, Blockchange VC, Slow Ventures, NEO Global Capital, Passport Capital, and Rockaway Ventures participated.[15]
The following is the initial distribution of SOL:
15.86% to Seed Round investors
2.63 to Founding Sale investors
5.07% to Validator Sale investors
1.84% to Strategic Sale investors
1.6% to Public Auction Sale investors
12.5% to team members
12.5% to the Solana Foundation
38% to the Community reserve fund (managed by the Solana Foundation)
Meanwhile, the following are the funding rounds for the token:[16]
$3.17M was raised in the Seed Sale on March 2018 with an average price of $0.04
$12.6M was raised in the Founding Sale on 3 June 2018 with an average price of $0.2
$5.7M was raised in the Validator Sale on 9 July 2019 with an average price of $0.225
$2.3M was raised in the Strategic Sale on 18 Feb 2020 with an average price of $0.25
$1.8M was raised in the Public Auction on 24 March 2020 with an average price of $0.22
Staking
Solana is a Proof-of-Stake (PoS) network with delegations. On Solana, validators process transactions and run the network. Since validators are also chosen based on the amount of stake they hold in the network, the biggest staked validators are likely to be chosen to input transactions on the blockchain and earn rewards. Validators are incentivized to attract delegators (i.e.non-validator SOL token holders) to designate tokens to them to stake in their stead. And for delegators to opt in, Validators need to offer lower commissions, which delegators must pay to validators in the form of a fee denoting a percentage of the rewards earned.
To stake SOL tokens can also be another way for users to earn profits if they are just keeping their tokens.
Token Transfer: Users interested in staking SOL tokens will need to first make a transfer of their tokens in wallets that support staking, such as Ledger Nano S
Making of a stake account: Users will need a stake account that will have a different address from the supported wallet that it will be linked with
Choosing a Validator: The user can choose from his/her Solana's validators, to determine who will delegate the user's SOL after creating a stake account
Stake Delegation: Once the user has chosen a validator, they can use their wallet to delegate their stake account to them
As Solana uses Dpos, Token holders are given incentives to validate the transactions. All fees are paid in the SOL and will be burnt, so reducing the total supply. Network security is achieved by encouraging Token holders to stake more to earn more incentive
Solana Pay
Solana Pay is a digital payment framework built on the Solana blockchain, which enables businesses and customers to engage in instant and low fees transactions. It has an open software development kit (SDK) that allows for the addition of new functionality and features over time. This enables developers to easily integrate their Solana-based DApps with Solana Pay and eliminate the need for financial intermediaries. Additionally, the platform allows users to build upon the base provided by Solana Pay and propose changes through contributions on GitHub.[12][13]
Some of the platforms that utilize Solana Pay include Phantom, Circle, Citcon, Checkout.com, Decaf, Kitepay, Solflare, and Elusiv.
Solana Saga Mobile Phone
Saga is Solana's Android mobile phone with Solana blockchain integrated, allowing for easy and secure transactions in web3 and managing digital assets. It utilizes the Solana Mobile Stack, a framework for Android developers to create wallets and apps on Solana.[20]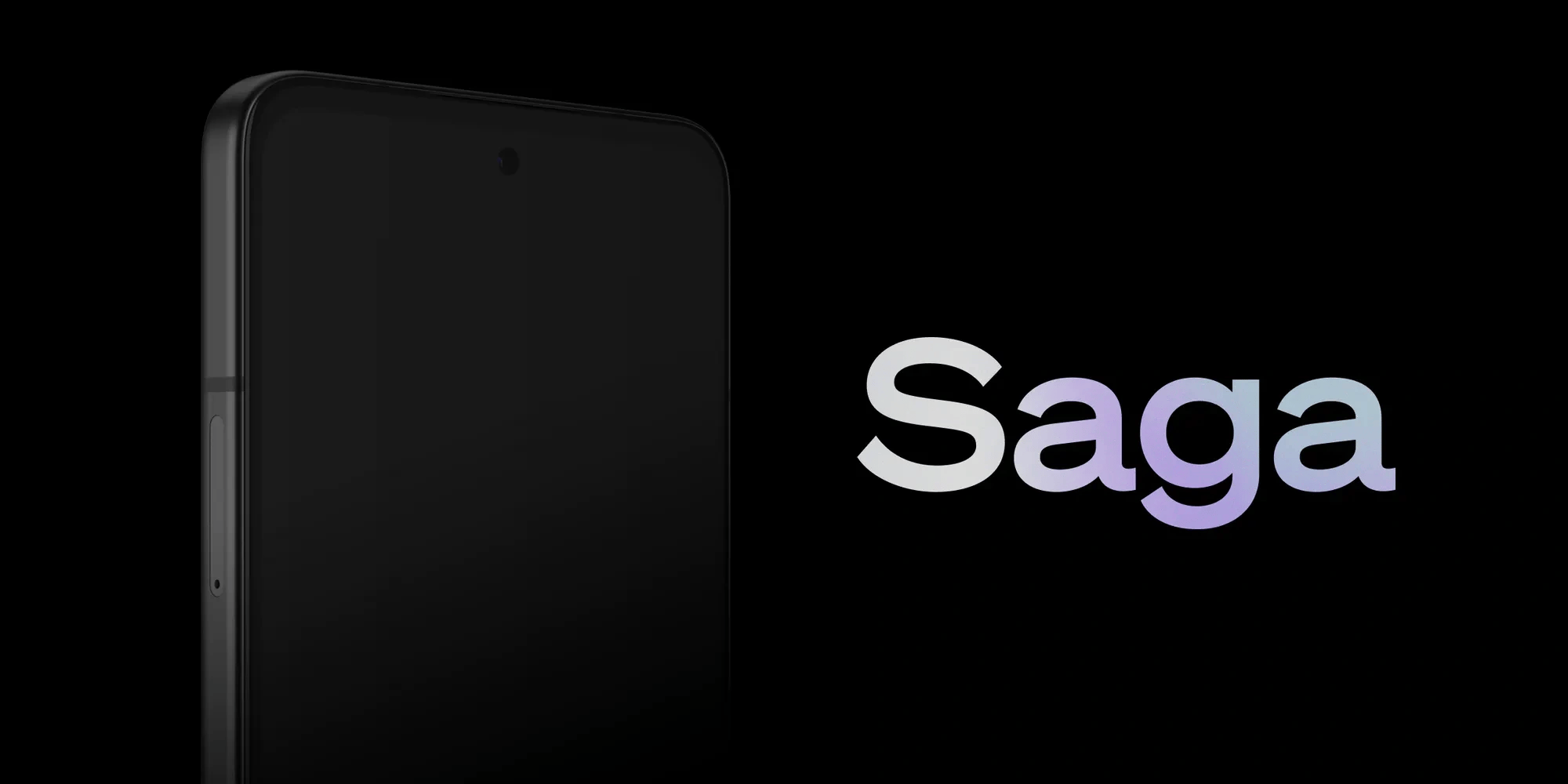 Solana University
Solana University is a program launched by Solana with the objective of educating university students about the Solana ecosystem and coding with Rust, while at the same creating projects utilizing these tools.[6]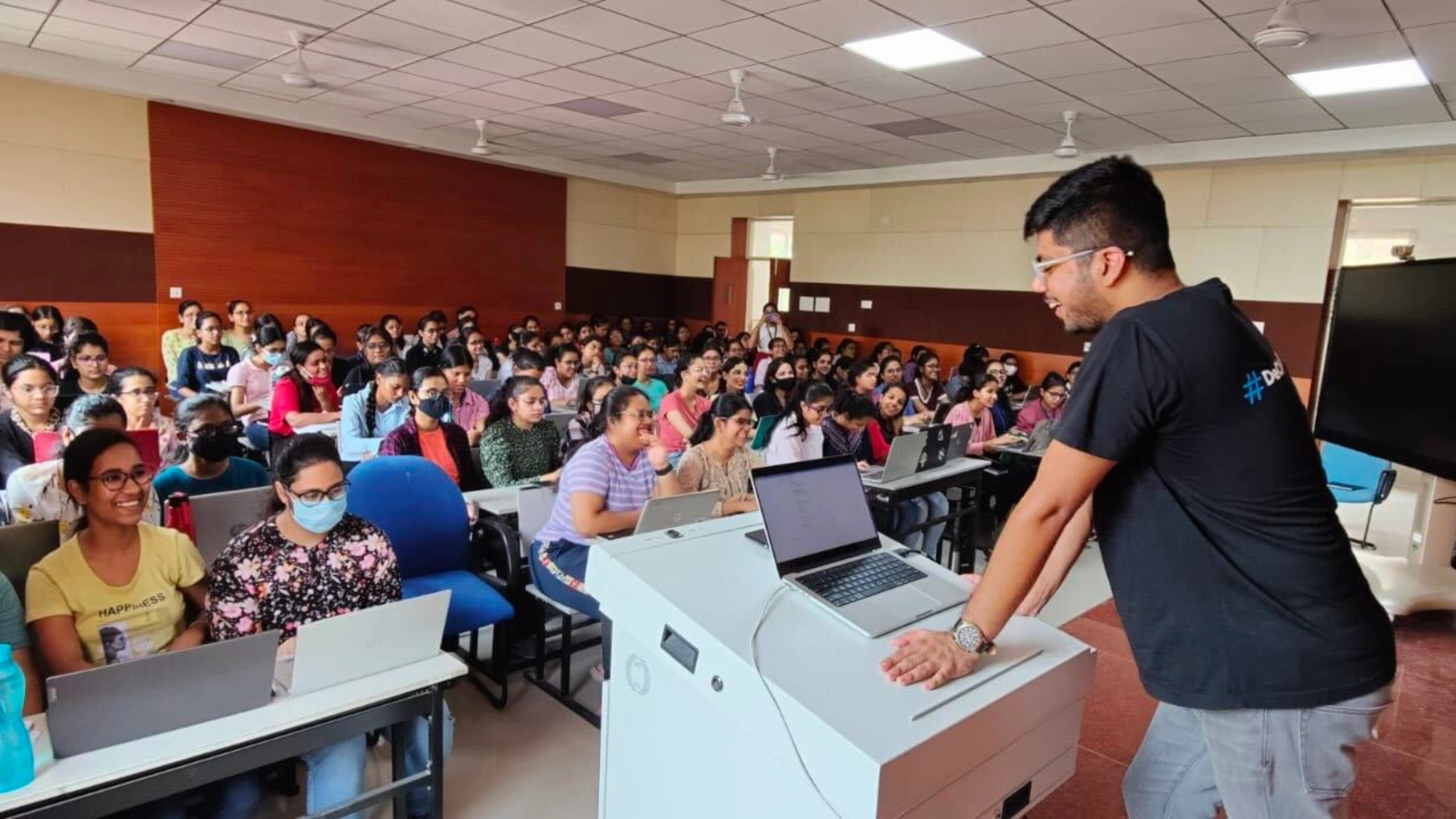 Ambassador Program
The Ambassadors Program is the main focus of the Solana Foundation and allows highly enthusiastic students at universities or in blockchain clubs to have a direct connection to the foundation and Solana Labs engineers. Ambassadors collaborate with foundation staff to create a plan for launching their school or club and receive the necessary educational materials, resources, and speakers to do so.[7]
Partnerships and Collaborations
Solana X ASICS
ASICS introduced the "UI Collection", consisting of a set of two pairs of shoes that come with a non-fungible token (NFT) and can only be bought using USDC via Solana Pay. The collection includes two versions of the GT-2000 shoe: one in white called "light mode" and another in black called "dark mode.[8][9]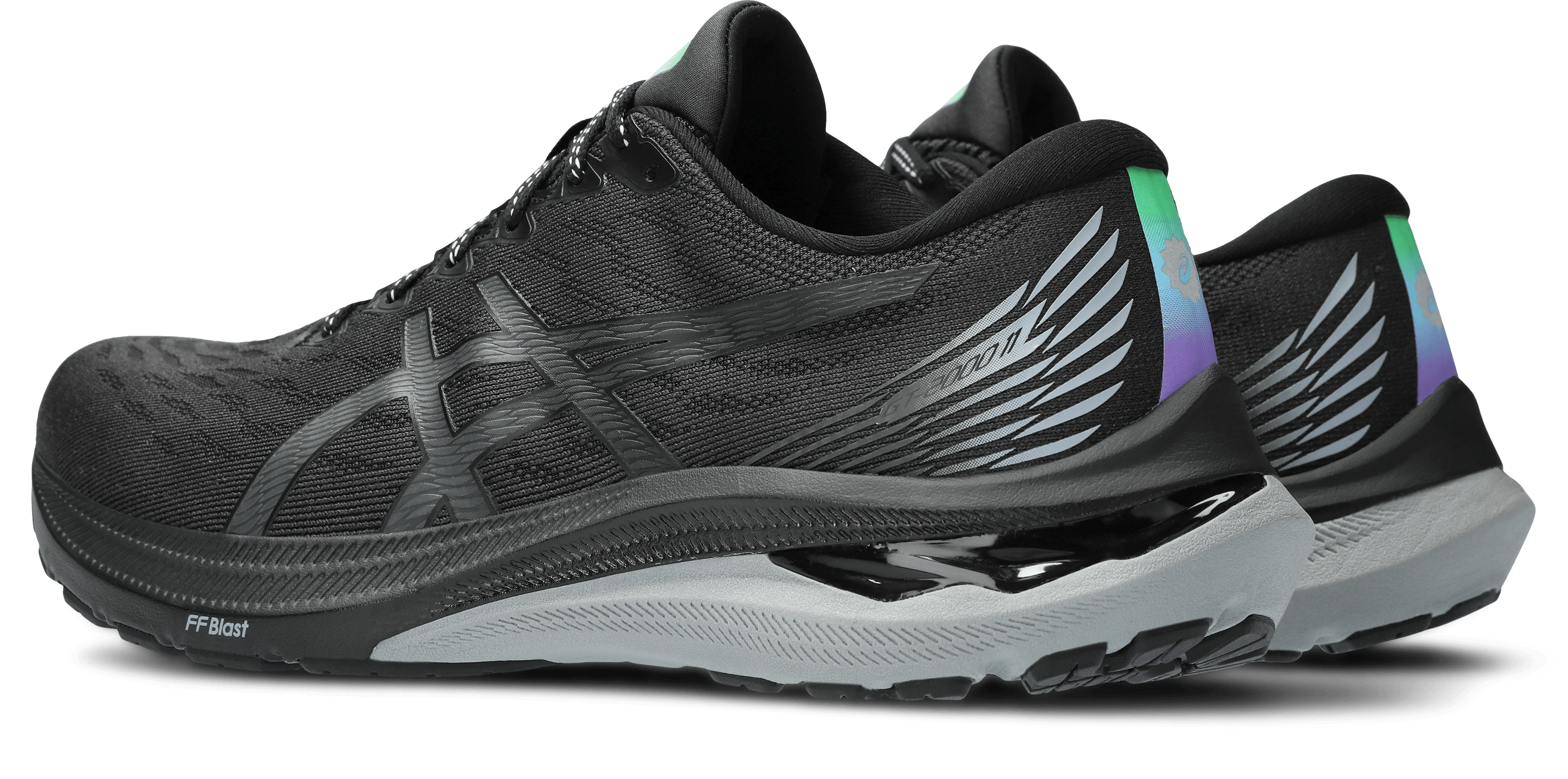 Solana X ZepetoX
ZepetoX, a crypto metaverse project, will be building its platform on the Solana blockchain, which will enable ZepetoX to offer players a highly immersive, web-based open world with advanced gamification features. In addition to this, the platform will also enable players to engage in social interactions, content creation, and other activities, while also giving them the chance to monetize their work, similar to other open-world titles.[10]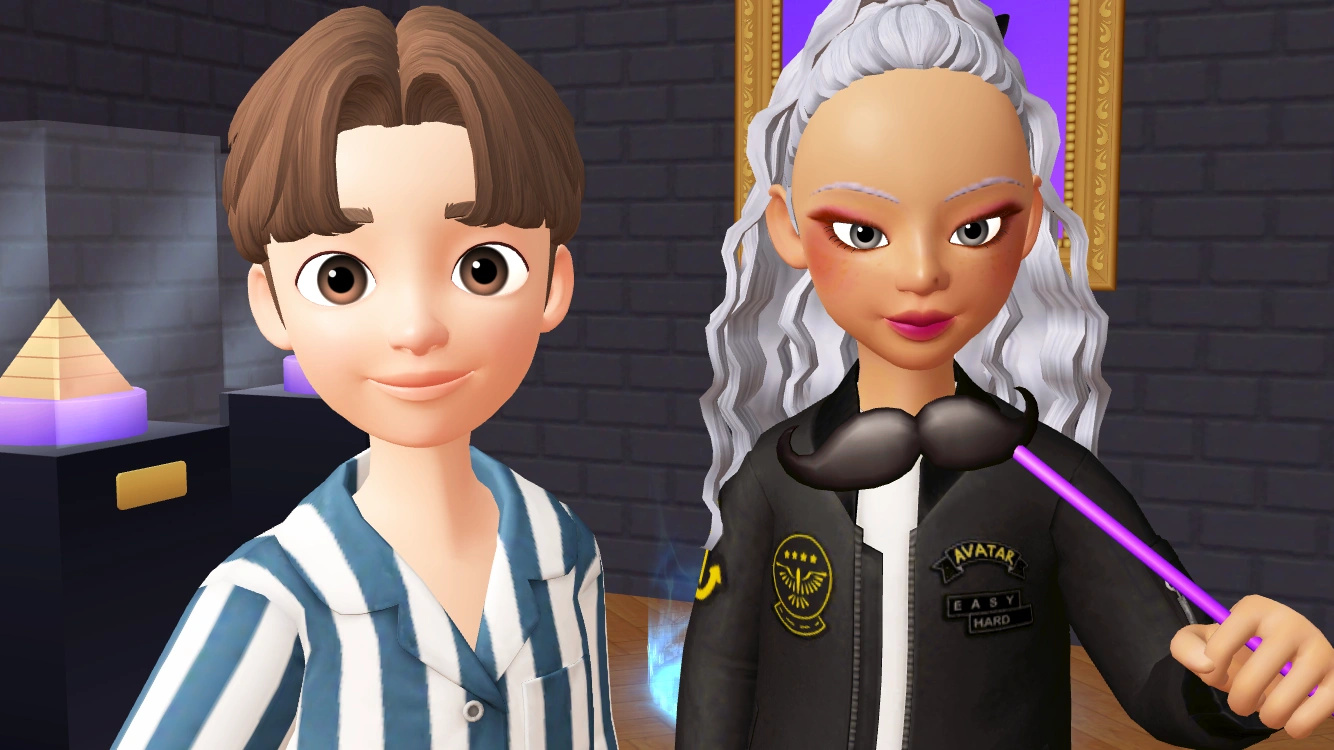 This metaverse project is being incubated by ZEPETO, Asia's largest metaverse platform, in collaboration with global blockchain organizations including Jump Crypto. ZEPETO is owned by Naver Z, a subsidiary of Naver Corporation, a South Korean internet conglomerate.
[11]
See something wrong?
Report to us.
Solana
Did you find this article interesting?