BitMart
BitMart (founded in 2018) is a global centralized exchange based in the Cayman Islands. It also has four offices in New York, China, Hong Kong, and Seoul. It supports spot trading, futures trading, and USD trading.[1][2]

Overview
Founded in 2018, BitMart is a professional digital asset exchange platform, designed for both individuals and institutions. The platform provides traditional spot and futures trading, and different products such as BitMart Earn, BitMart API, and NFT. They also have different services such as their affiliate, referral, and broker programs as well as a rewards hub that is used to incentivize users to engage with different products and services offered by the platform. [1][5][12]

Partnership with Paxful
On February 21, 2019, BitMart and Paxful announced that they were entering into a joint partnership. The main purpose of the partnership was to increase both the scalability and liquidity of both platforms. This partnership made it possible for users to make payments on the BitMart platform via the Paxful system.[13]
BMX Token
BMX is the token behind BitMart. There is a total volume of 1 billion tokens, and it is an ERC-20 token. 30 percent of tokens were allocated to the public offering with another 30 percent to the founding team, with those tokens released over three years. Early adopters received 10 percent of the tokens, 20 percent went to community expenses and 10 percent went to whitelisted investors[4].
BitMart Fees
BitMart charges 0.05% fees for trading, zero fees for deposits and there are fees for withdrawing tokens as well as minimal withdrawal amounts, but these vary based on the cryptocurrency. BTC has a minimum withdrawal amount of 0.005 BTC with a fee of 0.0005. ETH has a minimum withdrawal of 0.015 ETH with a 0.01 fee. Finally, BMX has a minimum withdrawal of 30 with a 10 BMX fee.[3][4]
Products
BitMart API
BitMart offers an API system with a range of endpoints for various functionalities. The API provides access to features related to spot trading, futures trading, copy trading, earning, NFTs, and more. Users can access real-time market data, place instant orders, and integrate BitMart's services into their own applications or platforms. The BitMart API empowers users to interact with the platform programmatically, facilitating trading and data retrieval for spot market data, futures market data, spot/margin trading, USD-M futures, or WebSocket functionality. [6]
To get started with the BitMart API, users need to create an API key and utilize it for trading and data retrieval. BitMart offers lifetime VIP membership to new API users, allowing them to enjoy benefits such as low trading fees, exclusive promotions, dedicated key account managers, and round-the-clock technical support. [6]
BitMart Earn
BitMart Earn provides savings options, offering users an opportunity to grow their cryptocurrency holdings through flexible, fixed, and promotional savings options. Users can choose from these different savings products, subscribe to their preferred options, and start generating returns. BitMart Savings supports multiple cryptocurrencies, with plans to expand the selection in the future. The platform also has a "Hold & Earn" feature which allows users to grow their cryptocurrency holdings through daily interest accrual. [7]
To get started with BitMart Savings, users typically need to subscribe with at least the minimum required amount, and some products may necessitate completing Know Your Customer (KYC) verification. After successfully subscribing to a product, users can anticipate seeing their earnings reflected in their dashboard the day after subscription, and the dashboard will also provide details on estimated earnings based on product-specific conditions. [7]
Savings Options
Flexible Savings: Users can deposit their assets and earn interest.
Fixed Savings: Users can lock in their funds for a set period and receive fixed interest rates.
Promotions: BitMart offers promotional savings options with higher APY rates for specific durations. Users can take advantage of these promotions to earn more from their crypto holdings.
Services
Referral Program
BitMart offers a referral program that allows users to earn commissions by inviting friends to join the platform. When a friend becomes a BitMart user, the referrer can start earning commissions based on their friend's trading activities for up to one year from the date of registration. Users can earn up to 40% of their friends' trading fees every time their referred friends engage in trading activities on BitMart. The platform highlights top referrers and displays their earned commissions, providing examples of top referrers and the commissions they've received. [8]
To participate in the referral program, users are provided with a unique referral link or QR code. They can share this link or code with their friends or on social media platforms to invite new users to BitMart. Users then earn commissions whenever their referred friends trade on BitMart. The amount earned is a percentage of the trading fees generated by their referred friends. [8]
Affiliate Program
BitMart offers an Affiliate Program that enables individuals and businesses to monetize their audience by earning commissions on spot and futures trading. This program welcomes participants of all levels, including influencers and businesses. Affiliate commission rates start at 50% and can reach as high as 100% for spot trading. In addition to high commissions on spot trading, affiliates can earn an additional 60% on futures trading. Affiliates also gain access to private social networks, after-parties, and opportunities to speak on BitMart's media platforms, allowing them to expand their influence. [9]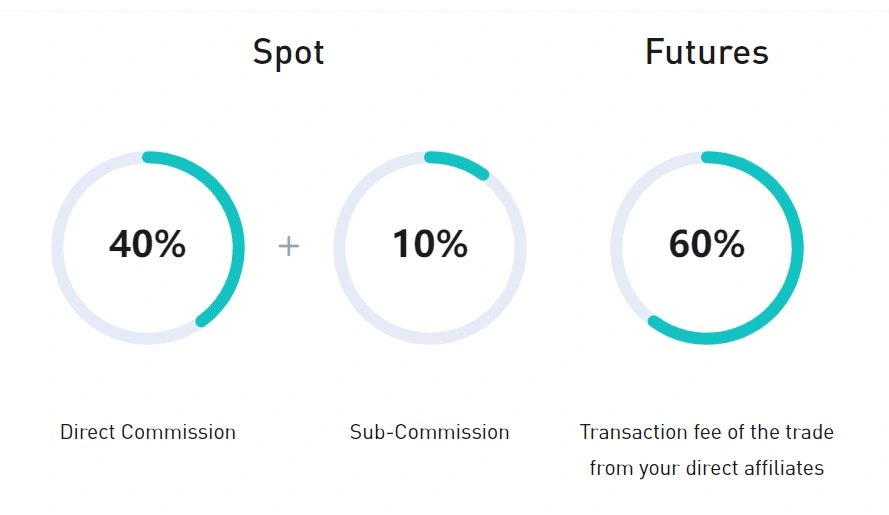 Process
Create an affiliate account and obtain a unique referral link.
Submit an application, which will be reviewed and approved to adjust the commission rate accordingly.
Promote the referral link within their network and start earning commissions.
Commission Tiers
BitMart's Affiliate Program offers three tiers:
BitMart Inspiration Club: Offers 40% direct commission and 10% sub-commission for spot trading. Affiliates can earn up to 60% commission on futures trading, including a transaction fee from direct affiliates' trades. Performance is reviewed every three months.
BitMart Impact Club: Requirements include having more than 500 followers or bringing in 100+ registered users in the past three months.
BitMart Influence Club: Specific requirements apply; users are encouraged to contact BitMart directly for commission rate adjustments.
Broker Program
The BitMart Broker Program offers businesses an opportunity to grow and earn commissions from trading fees by utilizing BitMart's liquidity and market depth. The program is designed for various types of brokers, including those engaged in trading bot services, trading platforms, crypto wallet services, copy trading services, hedge fund services, asset management, trading strategies, social trading platforms, swap platforms, exchanges, and more types anticipated in the future. [10]
Key Features
40%+ Commission Rate: Brokers can earn commission rates of 40% or higher.
Branding Support: BitMart provides branding support for broker partners.
Joint Campaign: Collaborative campaigns may be initiated as part of the partnership.
Partnership Announcement: Partnerships can be formally announced to enhance visibility.
Rewards Hub
BitMart's Rewards Hub offers users various opportunities to earn rewards through different tasks and activities. These rewards are designed to incentivize engagement with the platform across different categories, including welcome rewards, futures rewards, and NFT rewards. [11]
Welcome Rewards
Sign Up: Users who sign up for a BitMart account are eligible for rewards.
First Deposit: Depositing $100 or more as the first deposit can earn users rewards of up to $800.
Buy Crypto with Fiat: Utilizing fiat currency to purchase cryptocurrencies worth $100 or more is another way to earn rewards.
Spot Trading: Engaging in spot trading with a minimum of $100 in trading volume during specific time periods can lead to rewards of up to $800.
Futures Trading: Users who initiate their first futures trading with a minimum value of $1,000 have the potential to earn rewards of up to $500.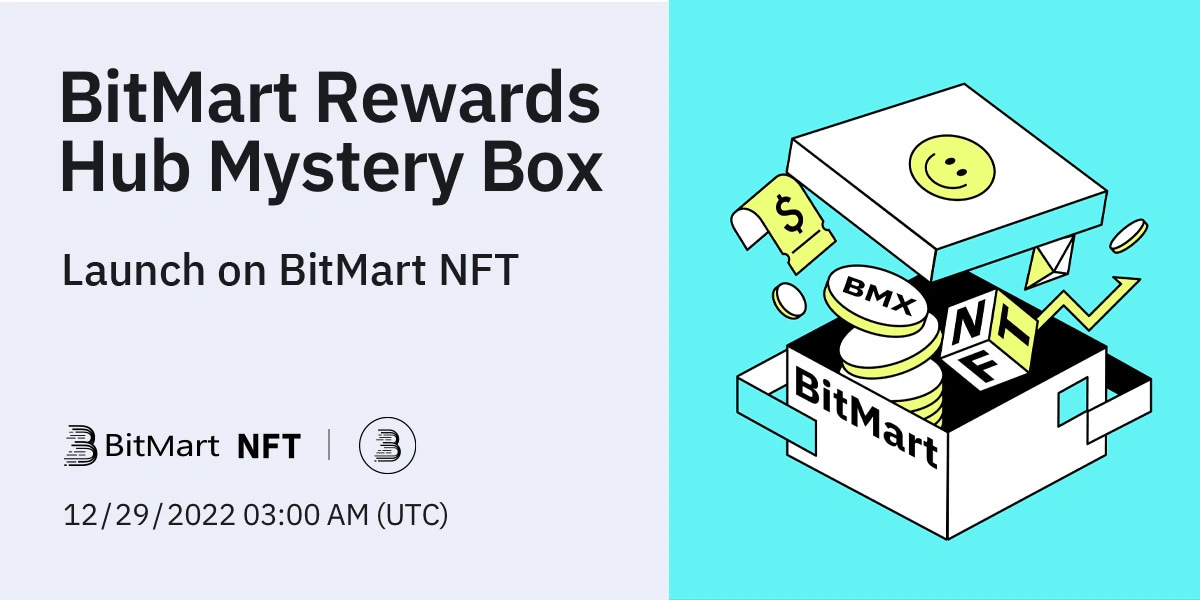 Futures Rewards
Activate Futures Trading: By meeting the qualifications for activating futures trading, users can win rewards of up to $30.
Daily Futures Trading: Achieving daily futures trading volumes of $2,000, $10,000, or $50,000 during designated time periods can result in rewards ranging from $30 to $100.
NFT Rewards
Registration Mystery Box: Users can open a mystery box upon registration and receive token and NFT rewards, with the potential to win up to $500.
AMA Stamp NFT: Redeeming two AMA Stamp NFTs for a "Learn to earn Time Capsules" NFT allows users to participate in further reward opportunities.
Learn to Earn: Time Capsules NFT: Opening the "Learn to earn: Time Capsules" NFT provides users with the chance to earn token rewards, with potential earnings of up to $50.
History
Series B Funding Round
On November 29, 2021, BitMart's series B funding round, led by Alexander Capital Ventures was announced, aiming to secure approximately $20 million in funding, with a pre-money valuation estimated at $300 million. [17][18]
BitMart Hack
On December 4, 2021, BitMart fell victim to a major security breach where hackers managed to withdraw approximately $200 million worth of tokens from BitMart's hot wallets. The security breach was initially detected by a third-party security firm called Peckshield, when they observed an unauthorized transaction of $10 million to an address identified as the 'BitMart Hacker.' According to Peckshield, the hack involved a straightforward process of transfer, swap, and laundering of the stolen assets. BitMart subsequently announced its commitment to reimbursing the amount lost in the breach using its own funds. [20][21]
The hack resulted in losses of approximately $100 million in tokens on the Ethereum blockchain and around $96 million in tokens on the Binance Smart Chain. BitMart's initial statement following the hack revealed that the hackers had obtained the private key linked to two of the exchange's hot wallets, while other assets remained secure. During the investigation, it was determined that the hackers had utilized a decentralized exchange platform called 1inch to convert the stolen tokens into Ether. These converted funds were subsequently deposited into an address using a coin mixer known as Tornado cash, making it impossible to trace the ultimate recipient of the stolen assets. [21]

$50 Million GameFi Fund
In early January 2022, BitMart, announced the establishment of a $50 million fund dedicated to supporting early-stage GameFi and non-fungible token (NFT)-related projects. This fund aims to invest in and incubate such projects while focusing on enhancing their marketing, operational, and trading aspects. BitMart CEO Sheldon Xia expressed the platform's commitment to fostering high-quality GameFi projects and contributing to the growth of the crypto ecosystem. The fund's focus areas include distribution channels, content providers exploring innovative blockchain use cases, and the development of underlying infrastructure. [19]
"BitMart has a long-standing interest in the development of high-quality GameFi projects, and has always aimed to build the crypto ecosystem; BitMart has strong partners and media resources and can provide a one-stop and streamlined initial game offering (IGO) process for quality blockchain-game project owners in conjunction with BitMart's Shooting Star IGO platform." - Sheldon Xia, CEO
BitMart Learning Center
On Huly 1, 2023, BitMart launched its Learning Center, offering users a platform to expand their understanding of cryptocurrencies and blockchain technology while earning rewards for their active engagement. The Learning Center introduces a "Learn to Earn" program which includes two NFTs that were added to their ecosystem. Nickolas Hoog, VP of Marketing at BitMart, emphasized the importance of education and engagement, stating: [22]
"Through the 'Learn to Earn Program,' we aim to offer our users an interactive learning experience while rewarding them for active participation. We are excited to see our users benefit from this program and discover the hidden treasures within the time capsule mystery boxes." - Nickolas Hoog, VP of Marketing
Learn to Earn
Two NFTs were added to the Bitmart ecosystem through the Learning Center: The "AMA Stamp NFT", and The "Learn to Earn: Time Capsules NFT". The "AMA Stamp NFT" serves as a gateway to rewards within the Learn to Earn program. Users can accumulate stamps by participating in BitMart's Twitter Space AMA sessions, known as "Off-the-Chain." These AMAs feature discussions on crypto, blockchain, and Web3 with top project leaders, key opinion leaders, and influencers. As users gather stamps, they can unlock access to the coveted "Learn to Earn: Time Capsules NFT," a mystery box containing a curated selection of tokens and exciting rewards. Users can choose to claim their prize or list the NFT for sale on BitMart's NFT Marketplace. [22][23]
The process of earning the coveted "Learn to Earn: Time Capsules NFT" is as follows:
Attend any "Off-the-Chain" AMA on Twitter for over 30 minutes.
Accumulate one stamp for each AMA attended.
Collect a total of 2 stamps to unlock the "Learn to Earn: Time Capsules NFT."
Lightning Network Integration
On July 31, 2023, BitMart announced the successful integration of Bitcoin onto the Lightning Network. This development allows BitMart users to benefit from faster and more cost-effective transaction services, enhancing their overall trading experience. BitMart users are able to make Bitcoin deposits and withdrawals within the range of 0.000001 Bitcoin ($0.03 USD) to 0.1 Bitcoin ($2,938 USD), without imposing any fees. BitMart's Lightning Network nodes are linked through five channels, including two with ACINQ, two with Kraken, and one with OKX. [14][15]
Vote to Earn II NFT
On September 8, 2023, BitMart unveiled "Vote to Earn II" NFT, a follow-up to its successful inaugural Vote to Earn NFT. In "Vote to Earn II," NFT holders can influence the platform's project listings and gain exclusive access to project tokens or stablecoin airdrops, enhancing their role in shaping the ecosystem. An exclusive pre-sale for Version 1 NFT holders ran from September 20th to September 23rd, with 500 unique NFTs available for purchase. On September 25th, an additional 1000 Vote to Earn II NFTs were released on the NFT marketplace for wider availability. This initiative aims to empower NFT holders to vote on potential projects for BitMart listing and receive airdrops from successfully listed projects. [16]
See something wrong?
Report to us.
BitMart
Did you find this article interesting?