Donald Trump's Views on Cryptocurrency
Donald John Trump (born June 14, 1946) is an American politician, media personality, and businessman who served as the 45th president of the United States from 2017 to 2021. [1]
Donald Trump Says He's 'Not a Fan' of Bitcoin
On July 11, 2019, former U.S. President Donald J. Trump tweeted that he is "not a fan" of cryptocurrencies, saying they were "not money" and referencing their price volatility relative to the dollar in his first public comments on crypto since becoming president of the United States. [2][5]
"I am not a fan of Bitcoin and other Cryptocurrencies, which are not money, and whose value is highly volatile and based on thin air.
Unregulated Crypto Assets can facilitate unlawful behavior, including drug trade and other illegal activity...." - Donald Trump tweeted
Appearing on FOX Business on Monday, June 7, 2021, the former president maintained his stance on Bitcoin and crypto saying:
"Bitcoin, it just seems like a scam […] I don't like it because it is another currency competing against the dollar. Essentially, it is a currency competing against the dollar. I want the dollar to be the currency of the world, that's what I've always said." - he said[8]
Trump attacks Facebook's Libra currency
After stating his thoughts about Bitcoin on July 11, 2019, Trump also criticized Facebook's Libra[3] cryptocurrency project in subsequent tweets, saying it "will have little standing or dependability" and suggesting U.S. regulators would subject the social media giant to regulation. [7]
"Similarly, Facebook Libra's "virtual currency" will have little standing or dependability. If Facebook and other companies want to become a bank, they must seek a new Banking Charter and become subject to all Banking Regulations, just like other Banks, both National and International"- Donald Trump tweeted [4]
In a final tweet, he added:
"We have only one real currency in the USA, and it is stronger than ever, both dependable and reliable. It is by far the most dominant currency anywhere in the World, and it will always stay that way. It is called the United States Dollar!"[6]
Trump Digital Trading Cards (NFT Collection)
On December 15, 2022, Former President Donald Trump released Trump Digital Trading Cards; a collection of 45,000 fantasy non-fungible tokens (NFT) which he announced via Truth Social, the social media site he founded in 2021. [9]
"GET YOUR CARDS NOW! Only $99 each! Would make a great Christmas gift. Don't Wait. They will be gone, I believe, very quickly!" - he wrote in a post on his platform.[9]
Trump Digital Trading Cards is a Series 1 of digital trading cards NFTs on the Polygon blockchain. The Trump Digital Trading Cards, are similar in style to collectible baseball cards and feature images of Donald Trump in different fantasy costumes and poses. The collection was designed by illustrator, Clark Mitchell. [10]

The collection features Trump in a boxing ring, preparing to wrestle, as a race-car driver, an astronaut, and on a football field. Each card has his presidential number, 45, stamped on it. The collection sold out on its first day generating $4.4 million in sales. The collection then trended on OpenSea and saw over 6000 ETH in volume less than a week after its release. [10]
The NFT cards were originally priced at $99 per each with Ethereum or fiat currency on Polygon. The collection also has a 10% royalty. On December 17, 2022, Trump Digital Trading Card #5809 sold for 37 ETH (~$42,000) on Opensea. [11]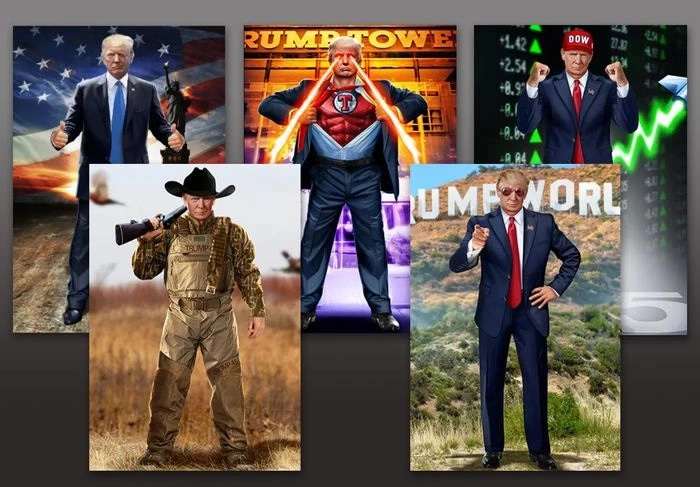 Series 2
On April 18, 2023, Donald Trump announced the release of a "Series 2" of his NFT collection Trump Digital Trading Cards on his social media platform Truth Social. The collection includes 47,000 cards - 2,000 more than the first series. There will be no more than 10 copies of each card. Like the Series 1 Collection, the cost to mint a card is $99 and it was also designed by illustrator Clark Mitchell. [12]
Collectors who purchase 47 tokens can claim a dinner with Trump at his Mar-a-Lago resort in Florida. Collectors who purchase 100 tokens with a cryptocurrency will earn the dinner and unique Trump-themed artwork. [13]
Digital Assets Ownership
A filing[34] submitted to the Office of Government Ethics (OGE) in August 2023 showed a list of assets from various sources belonging to the ex-President President Donald Trump worth between $250,000 to $500,000. An item that caught the eye of crypto enthusiasts was described as a "Cryptocurrency Wallet (Ethereum) which is likely tied to previous NFTs the former President released last year and in April 2023. [34][35]
Regulations
Commodity Futures Trading Commission (CFTC)
During the Trump era, the Commodity Futures Trading Commission approved the entrance of crypto derivatives products in the U.S., creating a regulated trading market in which institutions could participate. [14][15]
On December 1, 2017, U.S. financial firms CME Group, CBOE, and Cantor Fitzgerald revealed they would list financial products offering exposure to cryptocurrencies starting December 18, 2017. The regulator CFTC said all three companies will pursue a self-certified initial listing, after working with the agency to set a standard for the offerings.[15]
In February 2018, the CFTC General Counsel Daniel Davis authorized agency staff to hold and trade cryptocurrencies. Davis' memo also emphasized the need for employees to act ethically, stating: [16]
"In this environment, the situation is ripe for the public to question the personal ethics of employees engaging in cryptocurrency transactions. Please keep in mind that you must endeavor to avoid any actions creating the appearance that you are violating the law or government and commission ethical standards." - Daniel Davis
In March 2018, Judge Jack Weinstein from a district court in New York ruled bitcoin is a commodity and therefore subject to the CFTC's enforcement supervision in a case brought by the agency against an alleged crypto scammer. [17]
"Virtual currencies are 'goods' exchanged in a market for a uniform quality and value. ... They fall well within the common definition of 'commodity'," - the judge wrote in the order
In September 2019, Bakkt, an intercontinental Exchange-backed bitcoin warehouse and futures contract facilitator launched. Bakkt's futures is physically settled, meaning buyers receive Bitcoin at expiration. [18]
The CFTC defined "actual delivery" for cryptocurrency contracts in March 2020, answering a long-running question about what it means for a customer to receive bitcoin earned through margin trading. The CFTC shared a 35-page document[19] stating that in its view, "actual delivery" occurs when a customer has complete control over the asset and the offeror no longer has any control over the asset by the end of 28 days after the transaction. [20]
In May 2020, ErisX launched physically settled ether futures. Physically-settled futures contracts deliver actual tokens upon expiry, rather than the fiat equivalent. [21]
"Starting today individual and institutional investors can access physically delivered futures contracts based on ETH-USD with monthly and quarterly expirations. The ErisX futures exchange trades alongside the ErisX spot market on a unified and innovative platform enabling price transparency and collateral efficiencies," the blog post said.[21]
Securities and Exchange Commission (SEC)
In July 2017, the SEC published the DAO Report saying that the offering and sale of digital tokens "are subject to the requirements of the federal securities law." The agency, in its statement[23], revealed that it had been investigating the issuance of tokens connected to The DAO. Per the SEC, those "DAO tokens" constitute securities, though the agency said that it was not going to pursue any charges in connection with the project, but is releasing its finding "to caution the industry and market participants." [22]
In September 2017, the SEC spun up a new cyber unit to focus on crimes committed using cryptocurrencies and the dark web. The unit will go after "misconduct perpetrated using the dark web," where bitcoin and other cryptocurrencies are used to pay for illicit goods, the SEC said. [24]
The SEC announced in November 2017 that celebrity endorsements of ICOs might violate the law if the celebrities don't disclose they're being paid for their endorsements. Celebrities like Floyd Mayweather Jr. and music producer DJ Khaled were fined in 2018. In a statement, SEC Enforcement Division co-director Stephanie Avakian said that "with no disclosure about the payments, Mayweather and Khaled's ICO promotions may have appeared to be unbiased, rather than paid endorsements."[25]
In January 2018, the SEC shared that it's taking a look at companies that announced blockchain pivots. In February 2018, the regulation suspended trading in three companies as it looked into statements they made regarding the purchase of cryptocurrency and blockchain-related assets. [26][27]
"The SEC's trading suspension orders state that recent press releases issued by CHIT, PDXP and VICT claimed that the companies acquired AAA-rated assets from a subsidiary of a private equity investor in cryptocurrency and blockchain technology, among other things. According to the SEC order regarding CHIT, it also announced the execution of a financing commitment to launch an initial coin offering." - the regulatione explained[27]
In October 2018, the SEC created FinHub, a division specifically focused on distributed ledger technology and other financial technology products, and Valerie Sczcepanik was tapped to lead it. [28]
In April 2019, the SEC published a token framework explaining when a crypto might be a security in its view. The framework outlines a number of factors that token issuers must consider before evaluating whether or not their offerings qualify as securities. [29]
OCC
In July 2020, the OCC published an interpretative letter saying banks can provide custody services for cryptocurrencies. In the public letter, Senior Deputy Comptroller and Senior Counsel Jonathan Gould wrote that any national bank can hold onto the unique cryptographic keys for a cryptocurrency wallet, clearing the way for national banks to hold digital assets for their clients. [31]
In September 2020, The OCC and the SEC published stablecoin guidance, providing the first detailed national guidance on how cryptocurrencies backed by fiat currencies should be treated under law. Prior to the September 2020 notices, there was no federal clarity around stablecoins. [30]
In November 2020, the OCC proposed a rule that would forbid banks to blacklist legal industries – including, presumably, cryptocurrency firms. Under the proposed rule, banks could deny financial services to customers only on the basis of "quantitative, risk-based standards established in advance," not in response to political pressures. [32]
In January 2021, Anchorage, a South Dakota-based crypto custodian, became the first federal crypto bank after the OCC granted it a conditional trust charter. [33]
"In granting this charter, the OCC applied the same rigorous review and standards applied to all charter applications. By bringing this applicant into the federal banking system, the bank and industry will benefit from the OCC's extensive supervisory experience and expertise." - the bank regulator said in a statement.[33]
See something wrong?
Report to us.
Donald Trump's Views on Cryptocurrency
Did you find this article interesting?