Flywheel DeFi
Flywheel DeFi is a grassroots media and advocacy platform that provides information on Frax, DeFi and related crypto and financial topics. Although its core focus is Frax Finance coverage, education, and hosting IRL events on their behalf. Flywheel curates weekly podcasts with new and legacy protocols which include special guests from different fields of expertise. Flywheel also publishes articles, clips, learning materials, and provides educational incentives for the Frax ecosystem. In addition, Flywheel has come out with a highly regarded Frax merch line. 
Overview
The Flywheel DeFi was created in June 2022, with DeFi Dave, kapital_k and Sam McCulloch as the leading team. DeFi Dave and kapital_k are co-hosts of FlyWheel DeFi's podcasts and are the main speakers on their youtube channel and Sam McCulloch carries out the lead producer role. [2]
The Flywheel DeFi podcast is an authoritative source of information and insights about the Frax ecosystem, serving as a marketing department that provides valuable content to its target audience. The podcast sees itself as the "Bankless of Frax," taking the lead in driving the narrative for Frax and Foundational Deep DeFi forward. Its primary goal is to promote Frax to the wider DeFi community and showcase its potential to reach Ethereum-level size. [3]
Flywheel recognizes that the Frax ecosystem extends far beyond the core team, with numerous contributors and commentators advancing the protocol into the future. The podcast serves as a platform to organize and highlight these contributors, carrying the Fraximalist torch up high for those who seek it. By engaging the wider DeFi community, the Flywheel DeFi podcast is committed to promoting the potential of Frax and its ecosystem. [4]
Content
Flywheel
Flywheel is the platform's main podcast, where they release weekly videos covering various topics in the DeFi space, still aiming to have the conversations centered around Frax Finance. They have released over 40 episodes that all last over an hour and had some of the core team members behind Frax Finance such as, Sam Kazemian, Robert Sams, Jack Corddry as well as prominent figures in the web3 space including, the founder of ZigZag, Taureau; and members of the leadership council of OlympusDAO, Indigo and Jala. [3][5]

Frax Check
Frax Check is also a weekly series that aims to provide a breakdown of Frax Finance's performance and updates of the week. [3][6]

This Week in Frax
This Week in Frax is weekly content that looks over recent news as well as an overview of the discussions that took place during governance proposals and in the whole Frax ecosystem. [3][7]

Money Moves
Money Moves is a series that covers the topic of money and provides a deep dive into the value of Frax by inviting experts in the field of economics and finances. [3][8]
Frax 101
Frax 101 was introduced as a method of educating people how to use Frax.Finance. Sam Mcmulloch of Flywheel, provides in-depth video tutorials on all the Frax protocols, dashboards and how to navigate around the Dapp step by step. [14]

Fraximalist Meetups
Flywheel DeFi sets up meetups across the world at different conferences with members of the Frax Finance community in real life. Giving speeches, connecting with fellow Fraximalists and giving away merch. The first meet up was in April 2022 during the Devconnect in Amsterdam and the 2nd meetup in Paris during the EthCC in July 2022. In 2023, Flywheel would co-host a number of happy hours and events on behalf of Frax in various cities around the world including Tokyo, Hong Kong, Denver, and more. [9][10]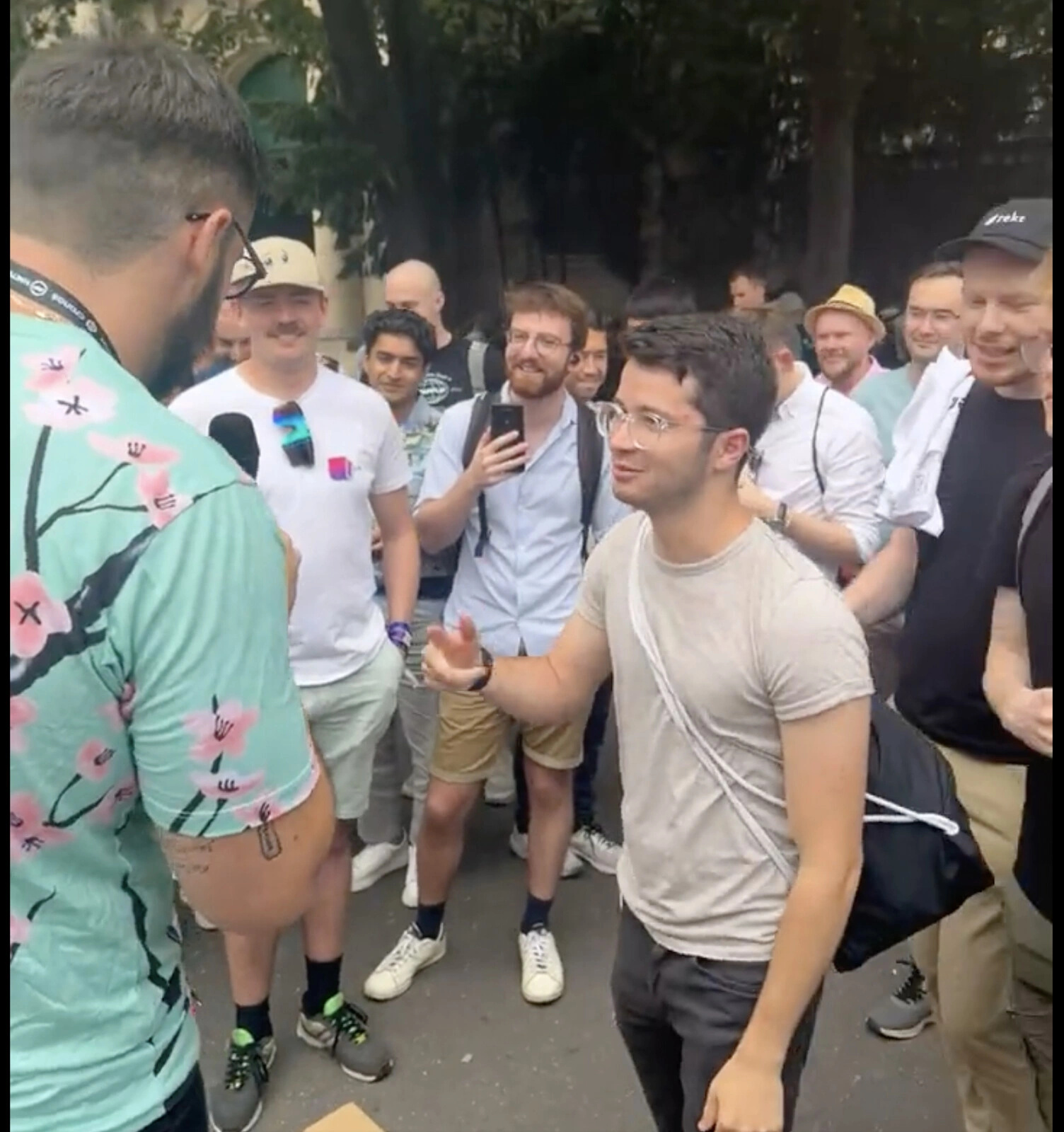 FraxBuild Hackathons
FraxBuild, is the first-ever Frax-sponsored Hackathon organized by Dorahacks and Flywheel DeFi. The first hackathon came at a time of rapid protocol progress; frxETH was poised to exceed 230k ETH staked, Fraxlend had recently incorporated its initial curve LP tokens, and the imminent arrival of Frax v3 marked the most significant protocol upgrade in over a year, to highlight only a selection of developments.
FraxBuild is a fully virtual event spanning 50 days, with the submission period for the 2023 hackathon concluding on July 18th. A total of $50k in FXS is up for contention in the following categories:
There are two days of judging that takes place and the winners were announced July 20th 2023. The all-star panel of judges in the 2023 hackathon included:
Participants were assessed across four distinct categories: business model, innovation, technicality, and alignment with Frax. By calculating scores and assigning points to 1st place (3 points), 2nd place (2 points), and 3rd place (1 point), the winners were determined as follows:
Product Expansion
1st Place: Fraximal
2nd Place: Revest
3rd Place: Zaros
Honorable Mention: zkFrax
Consumer Adoption
1st Place: Sticker Protocol
2nd Place: FraxSurance
3rd Place: Frax Lend Bot
Data Analytics
1st Place: Curve AMO
 2nd Place: N/A, 3rd Place: N/A
There was only one submission for Data Analytics so the unused prize money from the pool was used to reward the Honorable Mention in the Product Expansion category.
Furthermore, FraxBuild offers hackers the unique chance to interact with the Frax Core Team directly via a series of office hours and technical workshops. The hackathon allows for anyone looking to build with Frax or even learn about Frax to have a deep level of understand of the protocol. With Fraxchain confirmed for 2024, it is likely that there will be another FraxBUILD in the future. 
Educational Incentives Program
In April, 2023 Flywheel introduced the Frax Ecosystem Educational Initiative which aims to promote and spread awareness about the protocol throughout DeFi and beyond. The program was initially set to run for three months though, it was recently extended another 6 months for a total of 9 months. At the end of every month's term, up to $10k worth of $FXS is awarded to eligible participants. [15]
Grants
Flywheel DeFi's first grant proposal was made on August 6th 2022. Flywheel requested for $60,000, split equally between FXS and FRAX and proposed that the grant will fund Flywheel's content creation and meetups for a period of six months. They also promised that with the grant, Flywheel will continue to produce content covering the Frax ecosystem, including its flagship podcast Flywheel, which features discussions about the latest developments in Frax, DeFi, stablecoins, and more. Other content, including Fraxcast and StableClaire Explains, were also to be produced. In addition, the grant would fund advertisements for Frax's DeFi primitives, such as Fraxswap, Fraxlend, FPI, and FrxETH. This proposal was approved on August 11th, 2022, with 97.67% voting in favor of Flywheel DeFi. [11][12]
On January 20th 2023, Flywheel DeFi requested a grant of $214.2k in FRAX and FXS (50% each) over the next year to continue promoting the Frax ecosystem and producing high-quality DeFi content. This proposal was accepted well by the community with 100% of the votes voting for the grant to be made and the proposal ended on February 4th 2023. [4][13]
On June 29th, 2023 Flywheel proposed to increase the grant allocation from $214.2k to $267.2k ($53k total) to account for additional activities of Flywheel. This proposal was accepted by the community with 99.73% of the votes voting for the increased grant allocation. The proposal ended on the 4th of July, 2023. The proposal also indicated that the receiving of funds would change from llama Pay stream and lump sum at the end of the year to a monthly payout, basing the price of FXS on the 30-day TWAP from Fraxswap. [16]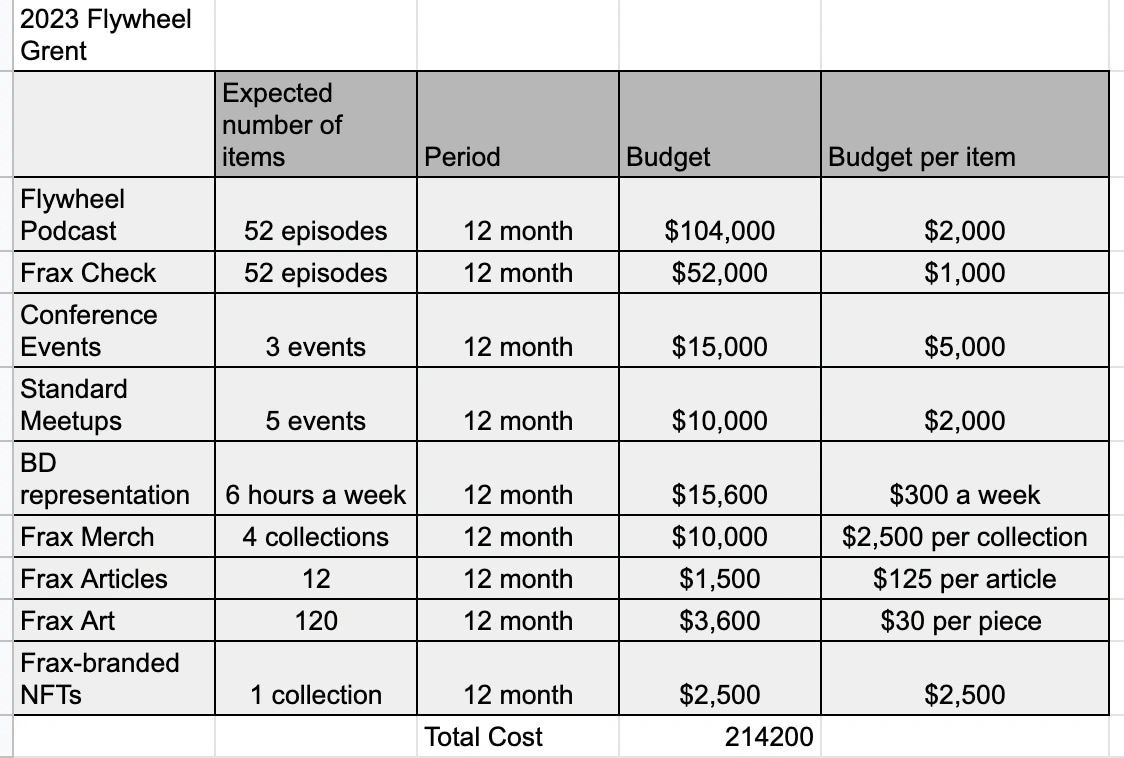 Since the passing of the grant renewal, Flywheel has continued to provide value to the Frax ecosystem. Along with staying consistent with their flagship media content, Flywheel has shepherded a number of initiatives including:
See something wrong?
Report to us.
Flywheel DeFi
Did you find this article interesting?