Gemini Dollar
Gemini dollar (GUSD) (Launched September 10, 2018) is an ERC-20 token issued on the Ethereum (ETH) Blockchain which combines the creditworthiness and price stability of the United States dollar with Blockchain Technology and the oversight of U.S. regulators.
What Gemini dollar (GUSD) is about by Coin Bureau
Gemini dollar is the first USD-denominated Stablecoin approved by the New York State Department of Financial Services (NYDFS) and launched by the Cryptocurrency exchange Gemini (digital currency exchange). Each GUSD issued and in circulation, there is a corresponding U.S. dollar held in the State Street Bank and Trust Company.  [1][2]
Overview
Gemini Dollar (GUSD) coin was launched by The Winklevoss Twins on the 10th of September, 2018, after Gemini had received regulatory approval for a new product, [the Gemini dollar (GUSD)] from the New York State Department of Financial Services (NYDFS).
Gemini Announces Gemini Dollar by Virginia Reyna Dunne
Winklevoss Twins Launch "Gemini Dollar" Stablecoin
The Gemini Dollar (GUSD) is one of the world's first regulated Stablecoins. It is issued by Gemini Trust Company LLC, a New York Trust Company. State Street which is one of the oldest operating banks in the United States is the custodian of Gemini dollar coins. Gemini Dollars correspond on a 1:1 basis with the US Dollars in order to provide a stable currency for transactions. GUSD is an ERC-20 and is built on and can be transferred on the Ethereum network.
Gemini Dollar (GUSD) aims to provide a worthy alternative to the controversial tether (USDT) token. Cameron Winklevoss commented that Gemini is poised to offer a:
trusted and regulated digital representation of the U.S. dollar which can be transmitted across the blockchain, move in an open, decentralized manner like cryptocurrencies, and be traded on cryptocurrency exchanges located around the world.
Gemini dollar (GUSD) is a stable Cryptocurrency which links the regular banking system and the rapidly evolving crypto economy. GUSD combines the price stability and creditworthiness of the US Dollar and enables instant global transactions. Its US dollar reserves are held at a United States bank and are eligible for Federal Deposit Insurance Corporation (FDIC) "pass-through" deposit insurance.
Gemini has the capability to upgrade the Gemini dollar token in order to fix vulnerabilities, extend the system with new features, and improve the system and optimize its operational efficiency. Moreso, in order to comply with regulations, Gemini has the right to pause, block, or reverse token transfers in response to a security incident or if legally obligated or compelled to do so by a court of law or other governmental bodies.
People
The notable people in Gemini dollar (GUSD) are Tyler Winklevoss and Cameron Winklevoss; Co-Founders of Gemini (digital currency exchange).
Tokenomics
Gemini dollar (GUSD) has a circulating supply of 120 Million GUSD coins and a maximum supply of 117 Million GUSD coins. OKEx is the current most active market trading it. Gemini dollar has a Market Cap of $116,424,758. Gemini dollar registers a historic All-Time High of $3.30 on October 11, 2018, and an All-Time Low of $0.782610 on September 29, 2018[3].
How GUSD Is Regulated?
Gemini secured a New York state charter in 2015 and was one of the first cryptocurrency exchanges to become fully regulated in the United States. It is subject to New York banking laws and the regulatory authority of the New York State Department of Financial Services. Gemini has proactively developed its relationship with legal and regulatory bodies in order to foster trust between the traditional financial system and blockchain community. Prominently, Gemini was the first exchange to apply for and be designated as a New York Trust Company.
The Gemini Dollar is fully backed at a one-to-one ratio with the U.S. dollar. The number of Gemini dollar tokens in circulation is equal to the number of U.S. dollars held at a bank in the United States, and the system is insured with pass-through Federal Deposit Insurance Corporation deposit insurance as a protective measure against money laundering, theft, and other illicit activities. Overall, Gemini Trust makes use of a centralized system that helps protect against security threats, giving the Gemini dollar key regulatory advantages over many of its competitors.
Gemini mints new GUSD tokens and adds a corresponding amount of USD to the backing bank account when a customer requests a withdrawal through the Gemini exchange. Conversely, when GUSD is deposited into a Gemini wallet, it is automatically converted back into U.S. dollars.
Features
Stable and Fully Backed
GUSD is a 1:1 unique USD-backed Stablecoin, convertible to exactly $1 at Gemini.
Regulated and Insured
Gemini is a U.S. company regulated by the New York Department of Financial Services. GUSD reserves are Federal Deposit Insurance Corporation (FDIC) insured to $250,000 per user.
Transparently Audited
No compromises: GUSD reserve audits are published monthly by an independent registered accounting firm, BPM LLP, and the Ethereum smart contract has been audited by Trail of Bits, a foremost information security research & development firm.
Zero Fees
There are no fees to create or convert GUSD through Gemini.
Programmable Money
GUSD is an Ethereum ERC-20 token, fully programmable and ready for use in smart contract development.
Fast
With GUSD users enjoy transfer in seconds and settlement on the Ethereum blockchain.
How to use GUSD
Transact in decentralized exchanges: Hold as a readily tradable price-stable digital asset.
Lend and earn interest: Earn high yields on digital USD.
Provide liquidity: Use with DeFi automated market makers and other liquidity pools.
Spend in daily life: Send across borders in seconds and spend at your favourite stores with Gemini Pay.[5]
Gemini dollar (GUSD) Use Case
The Gemini Dollar (GUSD) serves as a bridge between traditional financial systems and the blockchain-based financial system, focusing on giving users more transparency and financial freedom. GUSD has a growing number of use cases:
Send U.S. dollars to anyone in the world on the blockchain as easily as sending an email, in just a few clicks.
Earn interest on GUSD holdings by using lending services with interest rates of up to 9% per year.
Make routine purchases at a number of retail outlets (including Bed Bath & Beyond, AMC Theaters, and Nordstrom).
Perform larger transactions such as booking travel (via Travala.com) or paying freelancers (via Latium).
Build on the traditional financial system to create new methods for transacting. For example, a Brazilian company leveraged GUSD to create a real estate security token to drive value and transparency for its investors. These tokens yield dividends and are traded using GUSD.
Trade with other ERC-20 tokens on decentralized exchanges like Uniswap and Curve.
Send remittance payments to friends and family in other countries around the world.
Governance
The Gemini dollar (GUSD) token circulating supply is solely altered by Gemini. Gemini issues tokens when users deposit fiat currency into Gemini bank accounts while Gemini destroys tokens when users redeem tokens for fiat currency deposits in Gemini bank accounts. In order to prove that reserves exist and the system is solvent, GUSD relies on a proof-of-reserves framework whereby the framework is fully collateralized when the number of GUSD in circulation corresponds to the Gemini dollars issued and in circulation are held at State Street Bank and Trust Company. Gemini publishes monthly reports proving the US dollar reserves that back the GUSD tokens in circulation. These reports are examined monthly by BPM, LLP, a registered public accounting firm.
Gemini dollar (GUSD) Technology
Smart Contracts
There are three kinds of Smart contracts used by Gemini Dollar: 'Proxy,' 'Impl,' and 'Store.'
Proxy: is the public face of the Gemini dollar. 'Proxy' delegates the right to execute the logic that governs token transfers, issuance, and other core features to the smart contract known as 'Impl'
Impl: delegates ownership of the ledger to the smart contract known as 'Store'
Store —the external and eternal Gemini dollar ledger
Gemini dollar (GUSD) Security Features
The Gemini dollar system implements the following security features:
1) Offline Keys: Keys that approve high-risk actions are stored offline in Gemini's proprietary Cold Storage System.
2) Key Generation: Keys are generated, stored, and managed onboard hardware security modules (HSMs). GUSD only use HSMs, each a "signer," that have achieved a rating of FIPS PUB 140-2 Level 3 or higher.
3) Dual Control (Multisignature): High-risk actions require approval (i.e., digital signatures) from at least two signers. GUSD utilizes an M of N signing design, whereby M=2. This provides both security and fault tolerance.
4) Time Lock: Even after approval, high-risk actions are locked for a minimum period of time before being executed. This provides a grace period to detect — and preemptively respond to — potential security incidents.
5) Revocation: Pending actions can be revoked, allowing for the nullification of erroneous or malicious actions before being executed.
Social Media
Gemini dollar (GUSD) is accessible on common Social media handles, like Twitter, Instagram, GitHub, and Facebook.
Partnership
Flexa and Gemini Partner
Gemini dollar (GUSD) has partnered with leading brands in Cryptocurrency and beyond to take this digital frontier in new and exciting directions. GUSD has an extensive list of partnerships, including:
| S/N | Partners | Scope |
| --- | --- | --- |
| 1 | Samsung Blockchain | Gemini's integration with the Samsung Blockchain Wallet allows users to seamlessly connect to the Gemini Mobile App to trade crypto. Gemini is helping bring crypto to the fingertips of Samsung Blockchain Wallet users across the United States and Canada. |
| 2 | State Street Corporation | On December 17, 2019, State Street partnered with Gemini dollar. This joint pilot enables an institutional investor to test custody of digital assets via Gemini Custody and receive reporting for these assets via State Street using two trusted and regulated financial institutions. |
| 3 | Flexa | In partnership with Flexa, Gemini Pay is a feature on the Gemini Mobile App where users can spend the Gemini dollar and other cryptocurrencies at more than 30,000 retail locations across the United States — including major merchants such as Bed Bath & Beyond, GameStop, Office Depot, Petco, Ulta Beauty, and The Coffee Bean & Tea Leaf. |
| 4 | TradingView | Gemini's alliance with TradingView enables users to execute trades on the Gemini Exchange directly from the TradingView interface, which gives them access to high-level charting tools and a robust trading community. TradingView users are automatically placed in Gemini's lowest fee tier when trading on their platform. |
| 5 | Nifty Gateway | Nifty Gateway is a Gemini-owned company, which means users can count on the best-in-class security technology to keep their nifties safe. The partnership makes it easy for Gemini users to buy the latest Nifty art with crypto. |
| 6 | Brave | The synthesis of the Gemini Trading Widget into the Brave browser allows Brave users to buy and sell cryptocurrencies, view their Gemini account balances, and access their deposit addresses – all, without ever having to leave the Brave ecosystem. |
| 7 | TaxBit | Gemini and TaxBit have partnered to help users keep track of your crypto taxes. The partnership allows users to seamlessly connect transaction data to automate their tax calculations, optimize their taxes, and produce their tax reports.[6] |
Other partners include Chainalysis, AON, Marsh, Silvergate and the Giving Block.
Awards and Recognitions
Over 1000+ Verified Customer Reviews and over 4 stars on feefo
2020 CryptoCompare Exchange Report: #1 Cryptocurrency Exchange
2020 Crypto AM Awards: Best Custody Exchange
2019 Market Choice Awards: Best Cryptocurrency Exchange
See something wrong?
Report to us.
Gemini Dollar
Did you find this article interesting?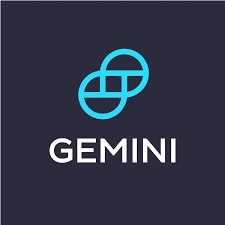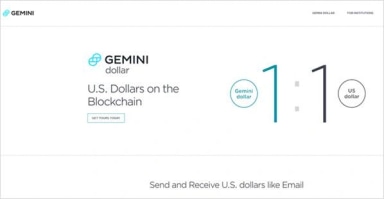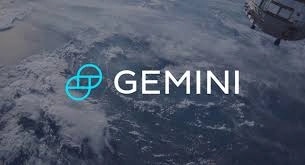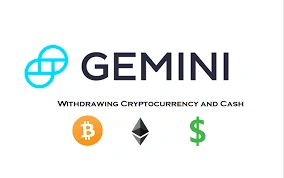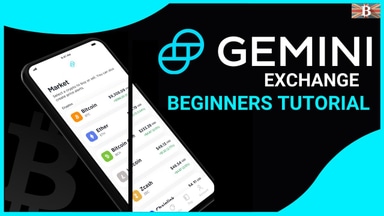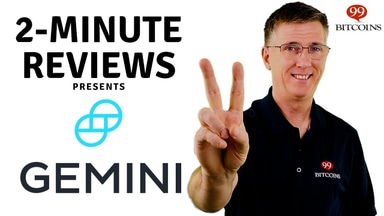 REFERENCES
[1]
Introducing Gemini-- BlockFi
Aug 26, 2022
[2]
What is Gemini--Coinmarketcap
Aug 26, 2022
[4]
Features of Gemini
Aug 26, 2022