Sora Ventures
Sora Ventures is an Asia-based venture capital firm, with the focus on digital assets and blockchain investments. [1][2]
Overview
Sora Ventures was founded in early 2018 by Jason Fang with the purpose of providing a product that is transparent and accountable. They started with investing in layer 1 projects with the emphasis on media and entertainment, especially gaming, which they thought was the easiest to get into at the time. They then branched out into secondary market, equity market and token market investments. [3]
"Started Sora Ventures with the aim to try to have as much transparency and accountability."
Investments
On April 1, 2018, Sora Ventures led a funding round, raising a total of $1.5M for the ICO issuance company, Coincart. [4][5]
In April 2018, Thunder Token launched the Initial Coin Offering (ICO), receiving investment from Sora Ventures, SV Angel, JD capital and Obsidian Capital. [6]
On July 9, 2018, Sora Ventures participated in a seed funding round led by Nirvana Capital and Continue Capital, raising $2.4 million for cloud security company, Immutable Systems. [7][8]
In December 2018, Alphaslot, a Hong Kong-based blockchain gaming startup, raised a multimillion-dollar funding round led by Sora Ventures, with participation from other investors such as Spartan Group, TRG, and Primitive Ventures. The company aims to build a blockchain-powered gaming ecosystem that integrates online and land-based gaming environments using utility tokens and Alphaslot's blockchain system. Alphaslot's initial focus was on the casino gaming sector, with plans to capture the entire gaming market. The funding was to be used to expand its operations in Hong Kong and launch its tokenized blockchain entertainment platform in the gaming industry. [9][10]
On April 16th 2021, Sora Ventures participated in a private funding round led by Mechanism Capital, raising $3.7 million for Pendle Finance. The funding round also involved the contribution of several DeFi investment players, including Crypto.com Capital, Hashkey Capital, and DeFi Alliance. The fund was used to create a credit derivatives market by interconnecting with existing DeFi protocols. By separating future yield from base yield-bearing assets, Pendle aimed to support yield markets across DeFi platforms. To trade future yield tokens (XYT), the protocol created an automated market maker (AMM) that incorporates a dynamic curve to normalize risk exposure. [11]
In December 2021, MetaVisa, a middleware protocol on Ethereum that focuses on developing decentralized identity and credit systems in the metaverse, raised $5 million in seed and private rounds from various venture capital firms including Sora Ventures. The MetaVisa Protocol Credit Score (MCS) uses blockchain data to establish and display on-chain identity and credit records, which can help DApps, NFTs, GameFi, and DAOs better serve their users. [12]
Portfolio
Republik
Milkomeda
OnChainMonkey
Autonomous
EukaPay
deBridge
Access Protocol
Intu
UpClub
Deep Life Labs
Mithril
Tari
BTC Inc
Numerai
The Block
Urbit
Mainframe
Thunder
ContentBox
CasperLabs
NAOS Finance
Onomy
Forkast News
Hodooi
Shima Capital
Bull Perks
Plair
Sunrise Dragon
Guild of Guardians
Only1
RabbitX
CitaDAO
VirgoCX
See something wrong?
Report to us.
Sora Ventures
Did you find this article interesting?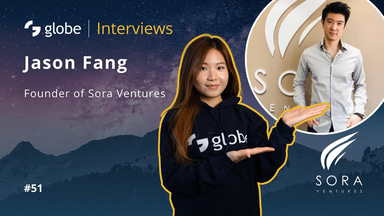 REFERENCES
[1]
Sora about section
May 2, 2023
[2]
Sora Pitchbook profile
May 2, 2023
[3]
Globe Official interviewing Jason Fang
May 2, 2023
[4]
Coincart Crunchbase
May 2, 2023
[5]
Blockdata Coincart
May 2, 2023
[6]
Thunder Token Golden wiki
May 2, 2023
[7]
Crunchbase on Immutable seed funding
May 2, 2023
[8]
Sora Ventures Golden wiki
May 2, 2023
[9]
Yahoo on Alphaslot funding
May 2, 2023
[10]
Business Insider on Alphaslot funding
May 2, 2023
[11]
Yahoo on Pendle funding
May 2, 2023
[12]
Cointelegraph on MetaVisa funding
May 2, 2023
[13]
Sora Portfolio
May 2, 2023