Worldcoin (WLD)
Worldcoin (WLD) is an ERC-20 cryptocurrency token and digital ID project launched to the mainnet on July 24, 2023, by Sam Altman, the CEO of OpenAI. [1][2]

Overview
Worldcoin is an iris biometric crypto project developed by San Francisco and Berlin-based Tools for Humanity[5]. It was founded in 2019 by OpenAI chief executive Sam Altman, Max Novendstern[16], and Alex Blania[15], and it is backed by VC Andreessen Horowitz. [6][7]
The Worldcoin project involves an eye-scanning "orb," which must be used in person and gives users a unique digital identity to verify they are real humans and not a bot. [7]
"In the age of AI, the need for proof of personhood is no longer a topic of serious debate; instead, the critical question is whether or not the proof of personhood solutions we have can be privacy-first, decentralized, and maximally inclusive," - Worldcoin co-founder Alex Blania said in a press release. [6]
In 2021, the company stated that the WLD token is intended to be a larger effort to drive a more unified and equitable global economy driven by the Internet economy. [8]
In December 2020, Worldcoin launched its network on Hubble, an optimistic rollup originally started by the Privacy and Scaling Explorations team at the Ethereum Foundation. Later, it moved to Polygon as "Optimism and Arbitrum were too expensive given the project's scale." In May 2023, Worldcoin announced a partnership with Optimism Collective. As part of the collaboration, World App migrated to Optimism's OP Mainnet from Polygon. The World ID protocol also became available on OP Mainnet.[28]
World ID
World ID is privacy-preserving proof of personhood. It enables users to verify their humanness online while maintaining their privacy through zero-knowledge proofs, via a custom biometric device called the Orb[12]. The Orb was designed based on the realization that custom biometric hardware might be the only long-term viable solution to issue AI-safe proof of personhood verifications. [13]
World IDs are issued on the Worldcoin protocol, which allows individuals to prove that they are human to any verifier (including web2 applications) while maintaining their privacy through zero-knowledge proofs. [3][13]
"World ID is a new privacy-first decentralized identity protocol. It enables seamless sign in to websites, mobile apps and crypto dapps, while proving you're a unique and real person without sharing personal data like names, emails, etc." - the website stated[3]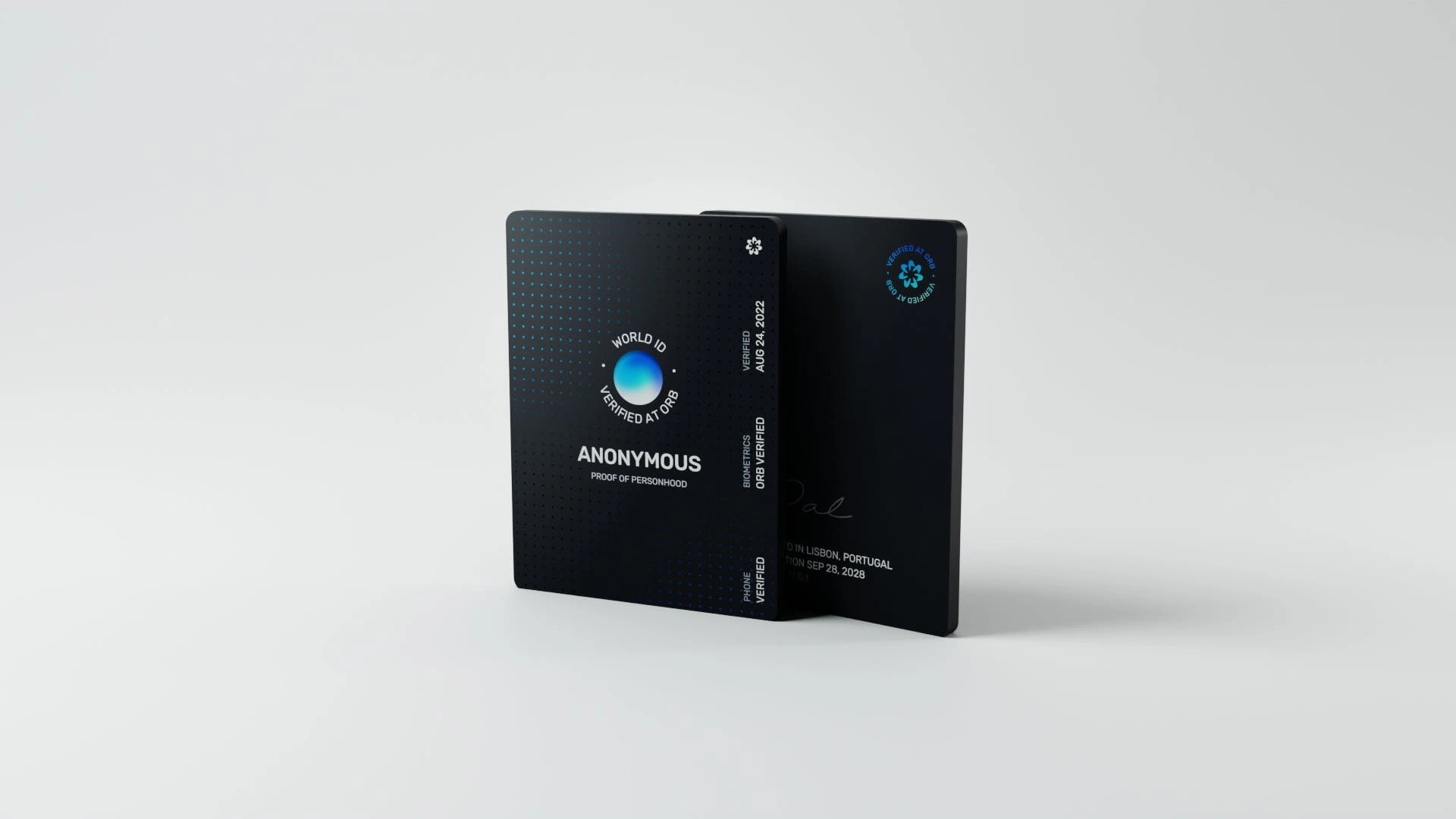 World App
World App, launched on May 8, 2023, is the first wallet and user interface for the Worldcoin ecosystem. It is designed by Tools for Humanity to guide individuals through the verification with the Orb and custodies an individual's World ID credentials. [13]
Users can authenticate with World ID to prove they're a real person, get Worldcoin tokens, send digital money anywhere, learn about Ethereum and Bitcoin - with more tokens to be added - and earn a bit of them in the process. Users can also track balances, get notifications for major changes, and trade with decentralized exchanges. [4]

Funding Rounds
On October 21, 2021, the Worldcoin project raised an initial $25 Million in a Series A funding round led by Andreessen Horowitz. On March 23, 2022, an additional $100 Million was raised in an initial coin offering (ICO) by Andreessen Horowitz and Khosla Ventures. [9]
In May 2023, $115 million was raised in a Series C funding round led by Blockchain Capital with participation from a16z, Bain Capital Crypto, and Distributed Global. The funding was announced to be used for investment into bot detection, research and development, and expanding the Worldcoin project and application. [10]
WLD Tokenomics
The initial total supply cap for WLD tokens is 10 Billion. As stated in the whitepaper, the majority of WLD tokens are to be given to individuals for being unique humans. The WLD token, alongside World ID, will be used for protocol governance, and the WLD token will form the foundation of the privacy-preserving identity and financial network. [14]
For 15 years following the launch, the supply cap is fixed to 10B WLD – enforced by the WLD smart contract. After 15 years, governance may decide to implement an inflation rate of up to 1.5% per year if it deems it necessary for the long-term sustainability of the protocol. Governance will also decide how to allocate these newly minted tokens (if any). The WLD smart contract enforces the inflation cap of 1.5% per year. Per default, unless changed via governance, the inflation rate is set to 0%. [14]
Token Allocation
75% of the total token supply was allocated to Worldcoin Community, 13.5% was allocated to TFH[5] investors, 9.8% to the Initial Development Team, and 1.7% to TFH Reserve. [14]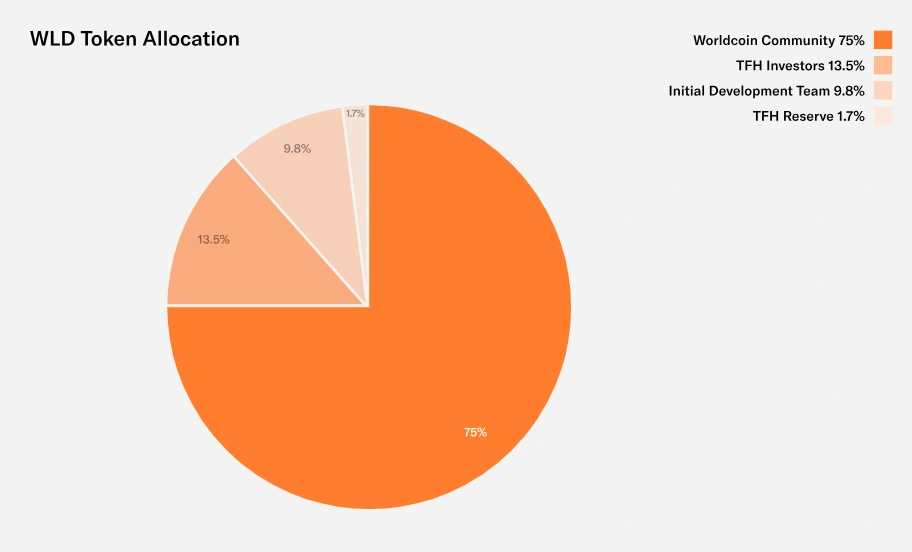 Worldcoin Foundation
The Worldcoin Foundation is an exempted limited guarantee foundation company, which is a type of non-profit, incorporated in the Cayman Islands. The Foundation's aim is to realize more inclusive, fair, and just institutions of governance and of the global digital economy. To that end, it serves as the steward of the Worldcoin protocol, supporting and growing the ecosystem until it becomes self-sufficient. [11]
Governance
The Worldcoin Foundation is "memberless"; it has no owners or shareholders. It is governed by a Board with three Directors: Chris "W" Waclawek, Phillip Sippl, and Glenn Kennedy of Leeward Management Ltd. Other Foundation advisors and contributors include Jacek Czarnecki, Remco Bloemen, and Sonja Prstec. The Foundation uses a 4-of-6 multi-signature wallet to take any action related to Worldcoin's smart contracts. [17]
Controversy
Privacy Scrutiny in Europe
After Worldcoin's launch on July 24, 2023, the U.K.'s Information Commission Office (ICO) was asked about the token launch in the U.K and said publicly it would be "making inquiries", before issuing some boilerplate warning that:
"Organisations must conduct a Data Protection Impact Assessment (DPIA) before starting any processing that is likely to result in high risk, such as processing special category biometric data. Where they identify high risks that they cannot mitigate, they must consult the ICO."[18]
The ICO's remarks also emphasized the need for "a clear lawful basis to process personal data", adding:
"Where they are relying on consent, this needs to be freely given and capable of being withdrawn without detriment"
A few days after the ICO's remarks, France's data protection authority, the CNIL, expressed more specific concerns questioning the legality of Worldcoin's activities. The French authority revealed it's already been actively investigating Worldcoin. [24]
"The legality of [Worldcoin's data] collection seems questionable, as do the conditions for storing biometric data. Worldcoin collected data in France, and the CNIL initiated investigations."- the regulator told CoinDesk. [24]
A spokeswoman for Tools For Humanity[5], the for-profit technology company that led the development of Worldcoin and operates the World App, confirmed to TechCrunch that consent is the lawful basis being claimed for processing European biometrics data.
"Under GDPR, the project relies on the users' consent for creating the proof of personhood and for opting into data custody,"
In further remarks presented after being asked for Worldcoin's response to the investigation, the Tools For Humanity spokeswoman added:
"Worldcoin was designed to protect individual privacy and has built a robust privacy program. The Worldcoin Foundation complies with all laws and regulations governing the processing of personal data in the markets where Worldcoin is available, including the General Data Protection Regulation ("GDPR"). In the European Union, the project is under the supervision of the Bavarian State Office for Data Protection Supervision (Bayerisches Landesamt für Datenschutz). The project will continue to cooperate with governing bodies on requests for more information about its privacy and data protection practices. We are committed to working with our partners across Europe to ensure that the Worldcoin project meets regulatory requirements and provides a safe, secure, and transparent service for verified humans." - Tools for Humanity spokeswoman[18]
Concerns on Worldcoin Onboarding Rate
On July 26, 2023, Worldcoin founder Sam Altman took to Twitter to say that the project saw an adoption rate of "one person getting verified every 8 seconds now."[20]
"day 3 of @worldcoin launch, crazy lines around the world. one person getting verified every 8 seconds now." - Sam tweeted[19]
However, outlets have expressed concerns about the accuracy of the information. Some users reported no such "crazy lines" at some sign-up locations, including one in Dubai. On-chain data similarly suggest limited adoption. At the time of writing, Etherscan records showed that just over 3,650 individuals held the WLD token and that 13,766 transfers have occurred. [20]
Concerns on Worldcoin Affiliates
Following the launch of Worldcoin to the mainnet, the crypto community expressed concerns about privacy, tokenomics, and reported connections to Sam Bankman-Fried and Three Arrows Capital. [26]
In its Series A round in October 2021, Worldcoin received investment from Sam Bankman-Fried (SBF), the founder and CEO of crypto exchange FTX, which has since gone bankrupt with Bankman-Fried facing allegations of fraud. [26]
The co-founder of bankrupt Singapore hedge fund Three Arrows Capital, Kyle Davies, also hinted that his firm had invested in the project.
"If my thesis holds correct, the 3AC venture portfolio will be the best performer of 2023. Congrats on Worldcoin," - Davies tweeted[25]
As for WLD tokenomics;
"Worldcoin taking a page out of SBF Solana eco playbook, launching and pumping a microcap shitcoin with 1% of total supply in circulation," tweeted Dylan LeClair, a markets analyst at Bitcoin Magazine.[27]
Vitalik Buterin's Opinion on Worldcoin
Ethereum co-founder Vitalik Buterin released a new blog post[21] on July 24, 2023, expressing concerns over Worldcoin. In the post, Buterin highlighted four major concerns with Worldcoin's user authentication system, called "Proof-of-Personhood" (PoP). [22]
Worldcoin claims it can authenticate its users without storing personal data or relying on a central authority. To obtain a "World ID," users must scan their iris with a device known as an "Orb." Compatible apps, like Worldcoin's own wallet application, can leverage Worldcoin's network of authenticated users to tailor their services and root out bots. In his blog post, Buterin argues that this system has potential issues with privacy, accessibility, centralization, and security. [23]
Buterin argues first that scanning one's iris could potentially release more information than intended. For instance, if someone else scans a World ID holder's iris, they can run it against the Worldcoin database to determine – at the very least – whether that person is in the system. In addition, Buterin says World IDs won't be readily accessible to everyone, since getting ahold of an "Orb" device can be difficult. [22][23]
Also, the "Orb" is a hardware device, and Buterin alleges that:
"we have no way to verify that it was constructed correctly and does not have backdoors. The Worldcoin Foundation still has the ability to insert a backdoor into the system, letting it create arbitrarily many fake human identities." [21]
Buterin expressed security concerns with Worldcoin given that users' phones could be hacked, and they could be coerced into giving out their iris scans. Buterin acknowledges that there is no perfect solution to overcoming these issues. [22]
"There is no ideal form of proof of personhood, Instead, we have at least three different paradigms of approaches that all have their own unique strengths and weaknesses." - Buterin writes.[21]

Those three approaches are known as social-graph-based, general-hardware biometric, and specialized-hardware-biometric solutions (like Worldcoin).[22]
Finally, Buterin adds that Worldcoin has taken certain steps with its hardware that make it superior to more traditional identification schemes – particularly when it comes to user privacy. [22][23]
"It does seem like specialized hardware systems can do quite a decent job of protecting privacy. However, the flip side of this is that specialized hardware systems introduce much greater centralization concerns." - says Buterin.[21]
See something wrong?
Report to us.
Worldcoin (WLD)
Did you find this article interesting?