Kava
Kava is a cross-chain DeFi platform offering collateralized loans and stablecoins to users of major crypto assets. Kava utilizes the Tendermint Core framework as its foundation, with the intention of enhancing its capabilities and offering additional features.[1][2][20]

Overview
Kava works by utilizing Interledger to integrate various blockchain networks, which permits new users to gain access to this group of different networks. Through Kava, a wallet user can send payments cross-chain and complete seamless asset swaps right within the wallet. To provide its services, Kava utilizes the USDX stablecoin alongside the KAVA staking token, which is used for voting and governance.[5][20]
In addition, exchanges can likewise make use of the Kava solution to permit users to retain control over their blockchain resources while transacting directly with the exchange's order book. Kava's cryptocurrency swap application called Switch allows for the nearly instantaneous swap of cryptocurrencies, even those based on different blockchains.[20]
Kava also utilizes Cosmos and operates with a Tendermint-based proof-of-stake (PoS) consensus mechanism. At its core, Kava relies on a system similar to MakerDAO with CDPs but leverages the zones from Cosmos to add cryptocurrencies running on independent networks (e.g., XRP, Bitcoin). It also uses the Ethereum ecosystem providing a co-chain for both Ethereum and Cosmos, enabling EVM compatibility, and the use of the open-source framework, Cosmos SDK.[8][9][25]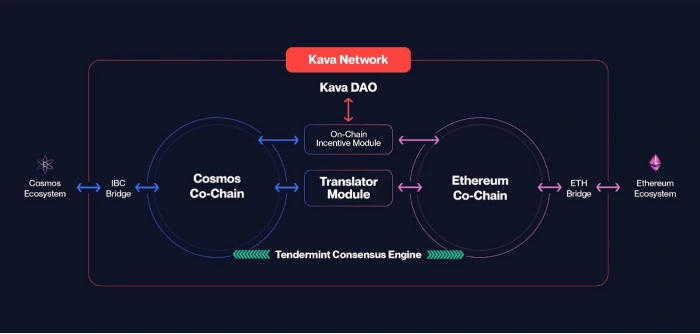 History
Testnet Launch
In April 2020, Kava's testnet-5000 went live. Testnet-5000 supported BEP3, a protocol for securely transferring assets between Binance Chain and Kava via Atomic Swaps. [10]
BNB Investor Club Collab
In August 2020, Kava cooperated with the BNB investor club - BNB48. BNB48 Club acted as a technical consultant for the Kava community by providing professional product reviews and technical consulting services for Kava's Chinese validators, staking users, and lending platform users.[21]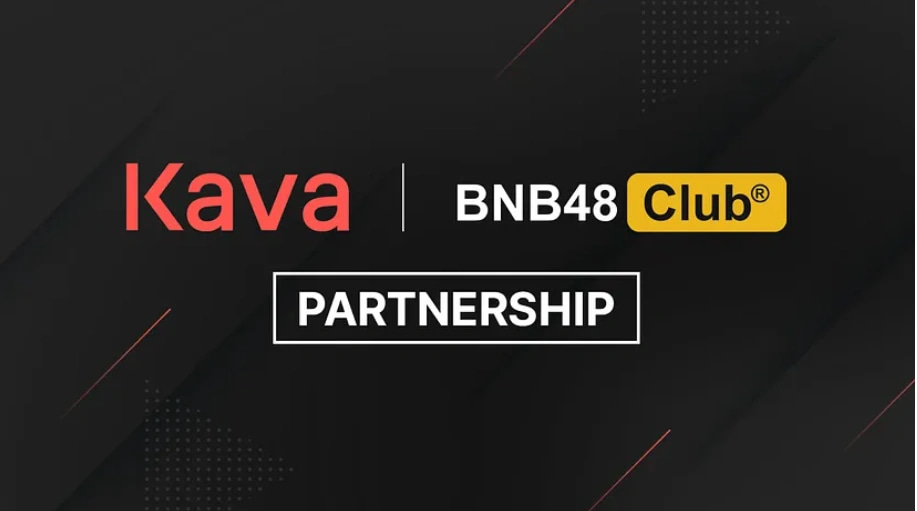 Injective Labs Partnership
On August 13, 2020, the Kava team announced the strategic cooperation with Injective Labs, creators of Injective Protocol, the first Layer-2 derivative DEX platform. The cooperation brought Kava's lending facility and stablecoins to users of the Injective DEX. In addition, the integration enabled Kava and Injective Protocol to exchange Chainlink oracle data, services, and other on-chain and off-chain resources. [11]
DeFi Staking Program
In August 2020, Binance launched its DeFi staking program with Dai, the stablecoin generated by loans on MakerDAO, and Kava. The move meant Kava users no longer needed to interface with the Kava app but instead, could go directly through Binance's DeFi staking portal. [12]
Kava web app supported borrowing USDX securely using Ledger Nano X and S devices. It also supported the Trust Wallet. [13]
Reef Finance Partnership
In November 2020, Kava partnered with Reef Finance, the leading DeFi (Decentralized Finance) project in the Polkadot ecosystem. The cooperation brought Kava's collateralized loans, USDX stablecoins, Hard Protocol, and other yield opportunities to Reef users. Kava is the first project built with Cosmos SDK that integrated with Reef's platform. [14]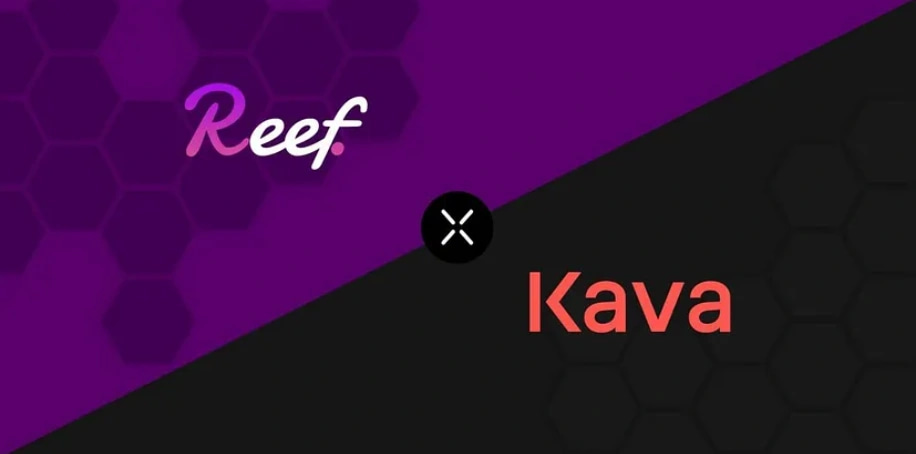 $750 Developer Incentive Program
On March 3, 2022, KavaDAO launched a $750 million developer incentive program, distributing 62.5% of all block rewards to developers building on the Kava Ethereum and Cosmos Co-Chains.[23]
Kava 12
Kava 12, released on January 12, 2023, introduced DAO technology, enabling Cosmos chain DAOs to have more control and flexibility over their emissions. Emissions since then flow clearly to the Kava community pool, providing greater control and visibility over fund allocation and portfolio management for growth initiatives. The upgrade also enabled the Kava DAO community pool to hold a portfolio of assets, allowing for rebalancing based on market conditions. The new architecture also enabled burning assets based on usage parameters and capping the total supply through Kava DAO governance. The staking APY for KAVA became a fixed parameter, ensuring more predictable staking rewards for the community. [28]
Kava 13
On March 15, 2023, the Kava 13 upgrade went live, introducing the Kava EVM 2.0 which aims to enhance performance with faster and more reliable processing of transactions. The upgrade also introduced a seamless internal bridge, enabling users to send native Cosmos assets to various protocols on Kava EVM. Additionally, the Strategic Vault controlled by Kava DAO received upgrades, providing the community with more autonomy and flexibility in supporting emerging protocols within the ecosystem. [27]
USDT Launch on Kava
In June 2023, Tether launched its USDT stablecoin on Kava. Through this collaboration, Kava aimed to provide a gateway for users in the Cosmos ecosystem to access USDT.[22]
Kava 14
On July 13, 2023, the Kava 14 upgrade went live, introducing the 'internal bridge,' which allowed for secure interoperability between Cosmos and Ethereum ecosystems. It converts Cosmos tokens into ERC-20 tokens, enabling their use within the Ethereum Virtual Machine (EVM) environment. With this upgrade, Kava aimed to enhance user experience by simplifying the process of bringing ATOM from Cosmos into the EVM ecosystem. [26]
Tokens
Kava Token
The KAVA token is the KAVA blockchain's native token that assists with security, governance, and mechanical functions on the platform. Validators are incentivized to be diligent in their work. The top 100 nodes validate blocks by a weighted bonded stake in KAVA tokens and face losing KAVA if they work too slowly or begin double signing transactions, on the flip side they are rewarded in KAVA for doing a good job. KAVA is also used for proposals and voting on the most important parts of the platform such as critical parameters of the collateralized debt position (CDP) system, global debt limit of the system, types of supported collateral and their debt limits, collateral ratio, fees, and the savings rate for USDX. It also acts as a last resort system, functioning as a reserve currency in situations where the system is undercollateralized. When that happens, KAVA is minted and used to buy USDX off the market until it is overcollateralized again. [15]

USDX Token
The USDX stablecoin is pegged to the United States dollar. It has three primary use cases which are: margin trading, hedging, and payments. Anyone can mint USDX by depositing their crypto assets into the protocol. The collateralization rate (assets must always be overcollateralized) is determined by the risk profile associated with the various assets. Rewards in KAVA are distributed proportionally every week to users who mint USDX. [16]
KavaDAO
The KavaDAO is a decentralized autonomous organization (DAO) that governs the operations of the Kava Network. Comprising Kava stakers and validators, the DAO utilizes a liquid democracy model to determine the network's functioning, implement changes, and allocate on-chain developer incentives between the chains. Operating without a central headquarters or leadership, the Kava DAO relies on contributors who secure and maintain the network to provide direction and uphold community standards. This ensures that the Kava Network prioritizes user interests and serves the needs of its builders.[24]
Investors
Kava Labs has received investment from firms including:
HashKey Capital
TRG Capital
UniValues Associates
Lemniscap
Hard Yaka
IOSG Ventures
Digital Asset Capital Management
2020 Ventures
Coil
Arrington XRP Capital etc. [17]
Team
The Kava group has been on the platform since 2017. The CEO of Kava, and one of its prime supporters is Brian Kerr. After graduating from school, he founded Fnatic Gear, the primary organization making Esports equipment and clothing structured by Esports players for ESports fans.
The blockchain improvement lead, and a subsequent prime supporter of Kava, is Ruaridh O'Donnell. Subsequent to getting a Master's degree in Physics from the University of Glasgow in 2015 he invested energy as a designer and information investigator for Levelworks before serving to establish Kava. [18][19]
See something wrong?
Report to us.
Kava
Did you find this article interesting?