OpenOcean
OpenOcean is a decentralized exchange (DEX) aggregator that aims to streamline cryptocurrency trading by consolidating liquidity from diverse blockchains. They focus on simplifying cross-chain swaps, optimizing pricing through their routing algorithm while keeping their services free of charge. [1][2]
Overview
OpenOcean was founded in 2019, and operates as a DEX aggregator, aiming to offer minimal slippage and rapid settlements. OpenOcean has integrated on multiple chains, including BNB Chain, Avalanche, Fantom, Solana, and Gnosis, with plans for further expansion. In addition to its swaps aggregation function, OpenOcean is expanding its services into derivatives aggregation and intelligent wealth management. The platform aims to cater to various trading strategies and investment requirements in the DeFi space. OpenOcean strives to provide competitive pricing and a wide range of crypto assets, making these opportunities accessible to traders of all sizes. Additionally, to facilitate its ecosystem, OpenOcean has introduced the OOE token as both a utility and governance token. [3]

OOE Token
OOE serves as the governance and utility token within the OpenOcean ecosystem, providing users with the means to engage in various protocol functions and participate in governance activities. OOE token holders play a role in shaping the protocol's parameters, DEX integrations, and chain aggregations through decision-making processes, proposals, and voting. [12]
Token Supply
OOE is a cross-chain token deployed on BNB Chain (BEP-20) with a fixed total supply of 1,000,000,000 tokens, devoid of minting functions for supply expansion. During the token generation event (TGE), 1.9% of the total supply was claimable by early users who met the criteria for airdrop rounds 1 and 2. Liquidity mining and trade mining programs commenced during the TGE, resulting in an initial circulating supply of 78,989,286 OOE tokens. [12]
Distribution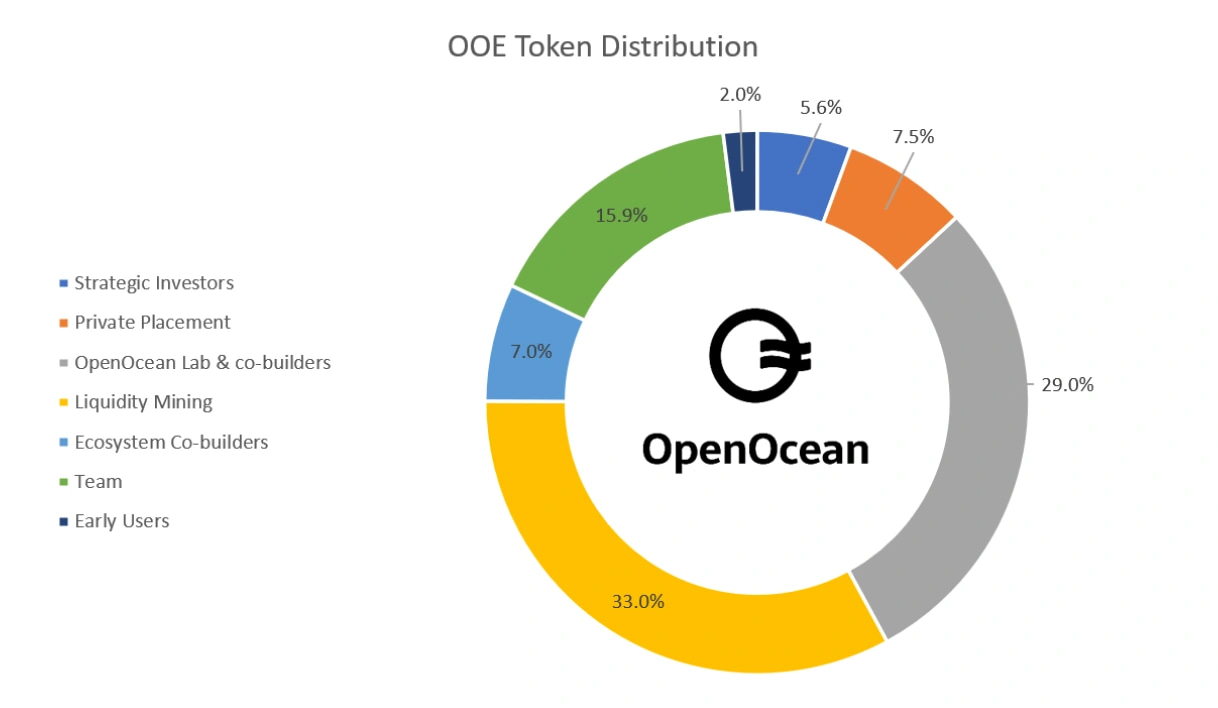 5.6% is allocated over two years to strategic investors collaborating to build a sustainable ecosystem.
7.5% is distributed over 2.5 to 3 years for private placement and a second strategic round.
29% is released over three years to support OpenOcean Lab, co-builders, and protocol development, along with onboarding ecosystem partners, community developers, and bounty programs.
33% is distributed over five years for liquidity mining, fostering future liquidity providers and incentivizing users.
7% is allocated over three years to ecosystem co-builders, managing OpenOcean's ecosystem development, community incentives, campaigns, and more.
15.9% is set aside over three years for the team and advisors.
2% was distributed to early users upon token issuance.
Release Schedule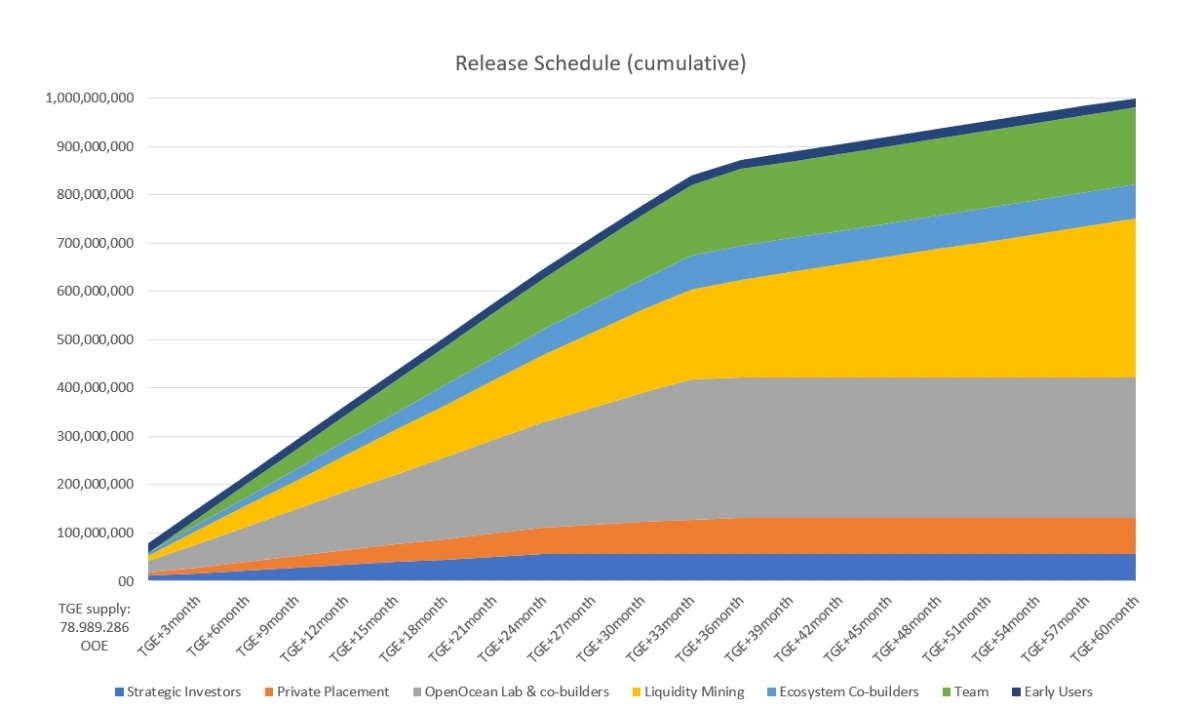 Token Utilities
Trading Fees
OOE tokens serve as trading fee options for derivative trading, providing OOE stakers in the derivative market with a 20% fee rebate. Future developments may introduce the utilization of OOE for gas fees in swap trading. [12]
DAO Governance
Users have the opportunity to earn xOOE by staking OOE tokens, with a 1:1 conversion rate. Long-term stakers can achieve higher xOOE holdings and increased APY. The DAO forum, powered by Snapshot, utilizes xOOE for voting, allowing users to propose ideas and participate in voting for protocol adjustments. [12]
Liquidity and Trade Mining Incentives
A significant portion (33%) of the OOE token distribution is dedicated to liquidity and trade mining rewards, aimed at ensuring equitable token distribution, motivating liquidity providers, and offsetting trading fees. Liquidity mining programs provide rewards to OOE pools, incentivizing liquidity providers and enhancing OpenOcean's liquidity. These pools emphasize utility over speculative purposes. Trade mining programs offset trading fees by generating OOE rewards from related transactions and offering incentives for OOE-related trading. [12]
xOOE Staking
xOOE, representing locked OOE for governance, encourages long-term engagement and participation in the OpenOcean DAO. To vote, users must lock their OOE tokens, which remain inaccessible until the locking period concludes. xOOE holders enjoy benefits such as gas rebates, increased voting power, and future protocol profit sharing. The longer users lock their OOE, the greater their rewards and voting influence. Early unlocking incurs a penalty, and after the locking period, unclaimed xOOE enters a staking pool.
Gas Refund
OpenOcean shows gratitude to those participating in OOE staking by introducing a gas fee rebate program on Ethereum, BNB Chain, Polygon, Fantom, and Avalanche. The program's rewards are proportional to the staked OOE amount, with higher stakes unlocking more substantial discounts. Gas refund levels on BNB Chain are available to claim on the first day of each month. For certain levels, users must meet a minimum monthly trading volume requirement. Early OOE unlocking incurs an 80% penalty on xOOE earnings, and the gas refund level is recalculated accordingly. Gas refund rewards start accruing from the first day of locking and expire after 10 days if left unclaimed.
OpenOcean DAO
OpenOcean's DAO was created to increase decentralization and empower the OpenOcean community, giving them a say in shaping the project's future. Through proposals and polling, the DAO aims to decentralize decision-making, enabling community-driven changes in how OpenOcean operates. The DAO welcomes contributors looking to collaborate on community and ecosystem development, making it open to anyone who wants to support the platform and provide sustainable growth. [10]
Proposals and Voting
The OpenOcean DAO relies on proposals to guide its direction. There are two methods for proposal submission: one requires staked OOE, while the other is tailored for smaller users and involves a public Discord review. Regardless of the chosen method, proposals follow a structured four-phase process. This process encompasses idea initiation and discussion, formalization, snapshot voting, and implementation. Proposals require a broad consensus to pass, with a set quorum of weighted votes and majority approval. OpenOcean's official Discord server plays a central role in this process, serving as the primary hub for DAO activities. [11]
Products
DEX Aggregator
OpenOcean serves as a DEX aggregator, integrating liquidity from over 1000 unique sources across 30+ blockchains. By aggregating these sources, OpenOcean attempts to enable users to access the best trading rates with minimal costs. Notably, it incorporates both EVM and non-EVM chains into its network. Through this, OpenOcean aims to become the one-stop solution for trading in the DeFi ecosystem. [4]
Cross-Chain Swap
OpenOcean simplifies cross-chain swaps, enabling users to bridge, swap, and transfer assets across multiple chains by leveraging two major bridges, Celer and Multichain, to provide users with competitive rates. OpenOcean's cross-chain algorithm optimizes routing, with the goal of allowing users get the best possible rates while factoring in gas and bridge costs. [5]

Limit Orders
OpenOcean's gasless limit order functionality provides increased flexibility as they don't lock traders' tokens upon placement. Users can execute orders without incurring gas fees for creating or canceling orders. The platform combines RFQ and AMM mechanisms to identify optimal price quotes, making it a tool available to all traders. [6]
Perpetual Futures
OpenOcean introduces perpetual futures trading, providing users with the ability to leverage trading positions and profits. This feature allows users to speculate on the price of an underlying asset without purchasing or selling it. Users can deposit collateral and enter perpetual swap contracts, amplifying their trading strategies. Notably, OpenOcean encourages the use of its governance token, OOE, for a discounted trading fee. [7]
Ethereum Liquid Staking
OpenOcean simplifies sourcing and staking Liquid Staked Tokens (LSTs) by providing an overview of LST providers like RocketPool, Lido, Stakewise, Ankr, and Frax. Users can access these tokens at competitive prices while earning daily Ethereum staking rewards. OpenOcean plans to expand its aggregated staking services, to provide a user-friendly one-click staking solution. [8]

Farms & Vaults
OpenOcean Liquidity Pools aim to offer the optimal pricing for OOE-related pairs, featuring a trading fee of 0.2% with rewards distributed to liquidity providers and the treasury. To encourage liquidity, OpenOcean offers liquidity mining, starting with the OOE/BNB and OOE/BUSD pairs on Binance Smart Chain. This initiative allows users to earn OOE governance tokens by providing liquidity. Token holders can influence the OpenOcean protocol's future by participating in governance decisions through OpenOcean Improvement Proposals (OIPs). OpenOcean emphasizes security, utilizing audited contracts from PancakeSwap and undergoing security audits by trusted third-party firms. [9]
Investors

See something wrong?
Report to us.
OpenOcean
Did you find this article interesting?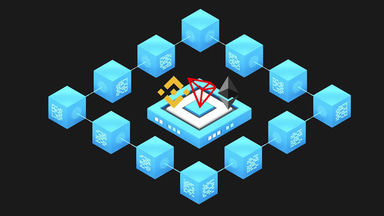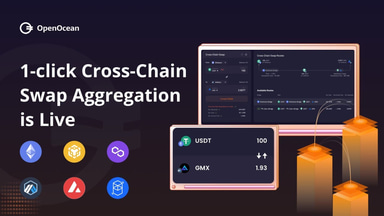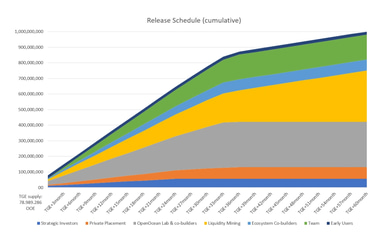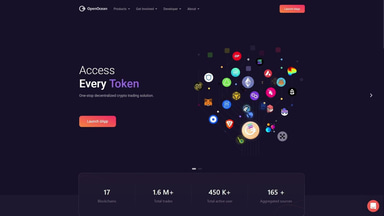 REFERENCES
[1]
OpenOcean Main page
Oct 24, 2023
[2]
Coincu on OpenOcean
Oct 24, 2023
[3]
Intro to OpenOcean Docs
Oct 24, 2023
[4]
DEX Aggregator Docs
Oct 24, 2023
[5]
Cross-Chain Swap Docs
Oct 24, 2023
[6]
Limit Orders Docs
Oct 24, 2023
[7]
Perpetrual Futures
Oct 24, 2023
[8]
ETH Liquid Staking Docs
Oct 24, 2023
[9]
Farms and Vaults Docs
Oct 24, 2023
[10]
DAO Overview Docs
Oct 24, 2023
[11]
Proposals and voting Docs
Oct 24, 2023
[12]
OOE Token Docs
Oct 24, 2023