prePO
prePo is a decentralized trading platform enabling people from all around the world to speculate on the value of pre-IPO companies and pre-token projects. The platform's goal is to democratize pre-public equity by making financial activities accessible to everyone, regardless of their background.[1]
Overview
prePO is a trading platform that aims to make pre-public investing accessible to everyone. By using prePO, individuals can gain synthetic exposure to pre-IPO companies or pre-token crypto projects.[1]
One of the key features of the prePO protocol is that traders can take synthetic positions on pre-IPO companies, pre-token projects, and eventually even real estate. Liquidity Providers (LPs) on prePO are not required to take long or short positions, and they are not at risk of liquidation. Additionally, prePO operates on a secure decentralized code that cannot be tampered with.
The synthetic assets and LP positions on prePO are standard ERC20 and ERC721 tokens, which opens up opportunities for integration with other parts of the DeFi ecosystem. This integration could enable activities such as indexes, loan collateral, and multi-layered staking rewards.
The prePO Decentralized Autonomous Organization (DAO) governs prePO, with decisions made by a global community of PPO token stakers (also known as 'pregens').
Collateral Tokens (preCT)
All prePO positions are backed by preCT (prePO Collateral Tokens), which are tokens backed by a collection of yield producing USD stablecoins. All amounts on the platform are denoted in USD, and preCT earnings are displayed as "Interest Earned (USD)". [2]
Tokenomics (PPO Token)
PPO tokens can be earned by participating actively and contributing value to the prePO protocol. Traders can earn PPO tokens through various means such as trading fee reimbursements, ranking high in leaderboard contests, performing well for their copy traders, participating in each market's comment section, and staking PPO for future distributions. Pregens, on the other hand, earn PPO through "governance mining" by participating in governance and contributing to the prePO DAO, and receive retroactive rewards for their contributions. [4]
PPO Token Presale
The token's presale took place on September 20th, 2022, where a total of 6,504,061 PPO tokens were sold, and the total USDC contributed amount was of $390,244. [3]
PPO Token Public Sale
The PPO Token Public Sale took place on October 18th, 2022 on the Arbitrum network. USDC was accepted as payment and each PPO was priced at $0.10 with no vesting, meaning all PPO received was immediately available. PPO was designed to be initially non-transferable and non-tradable but fully functional for staking, governance, and rewards. [6]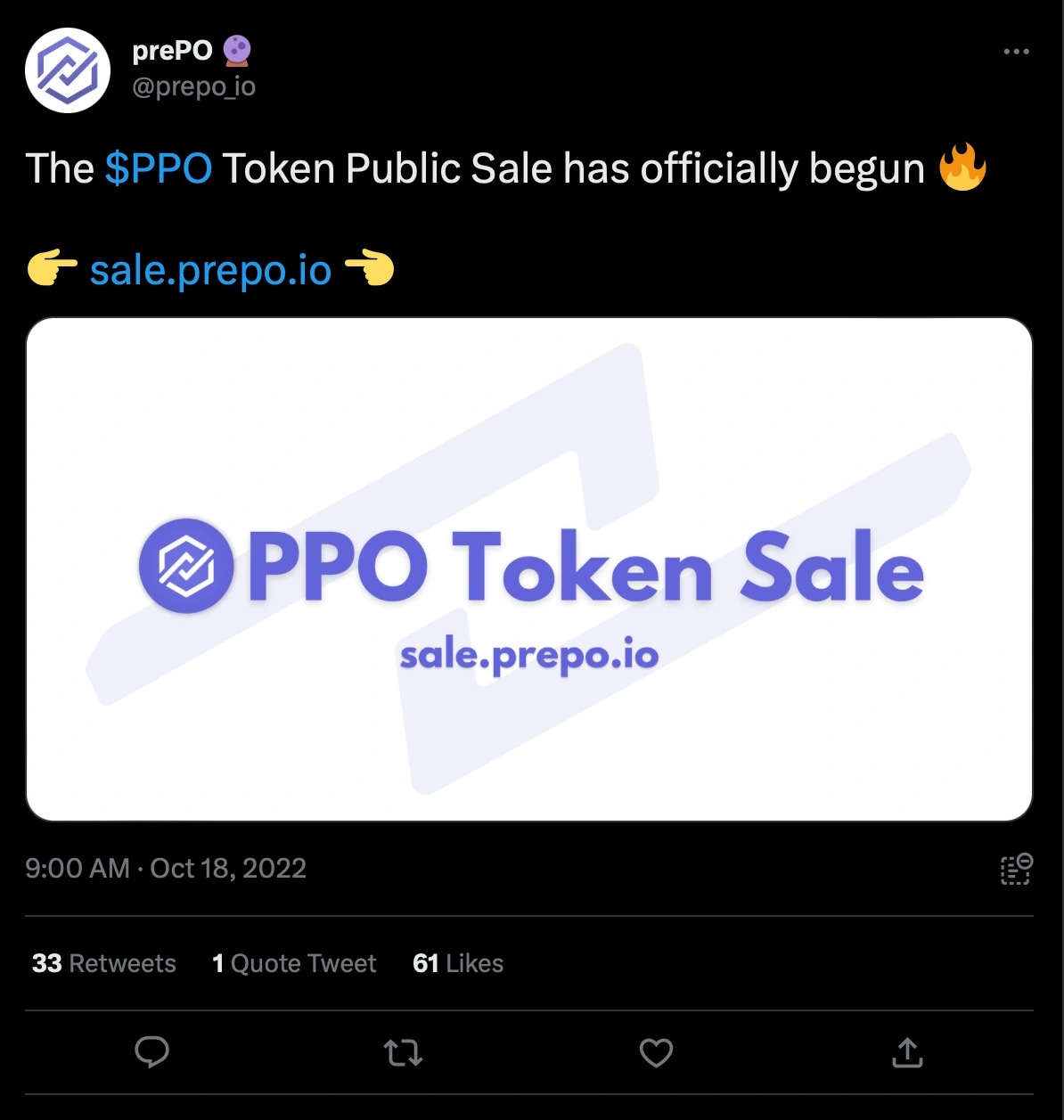 Staking
When staked, users can receive PPO Power (a non-transferable ERC-20 token). PPO Power can be increased by staking for a longer period (time multiplier), unlocking achievements (achievements multiplier), or using power boosts (boosts multiplier). A Pregen's influence in governance and their share of future PPO reward distributions is determined by their share of overall PPO Power, which is calculated algorithmically. However, only Pregens who remain active, either through governance or through using the platform, will receive staking rewards. If a Pregen becomes inactive for an extended period, their rewards will be suspended and redistributed to other stakers. This way, high multipliers accrue to active long-term stakers and PPO - and the future of the protocol - ultimately ends up in the hands of Pregens with long-term conviction rather than short-term speculators. [4]
PPO Yield

PPO Yield is a new feature that has been recently introduced on January 24, 2023, aimed at helping PPO (Token) holders to increase their token holdings over time. The program operates through a user-friendly application that can be easily accessed by PPO holders. Once they log in, they can deposit their PPO tokens and start earning interests.
[7]
One of the key features of PPO Yield is the compounding option. This means that users have the option to reinvest their accumulated interests, thereby compounding their returns. This feature has been designed to help users maximize their returns over a longer period of time. [7]
In addition to the compounding option, PPO Yield also offers a platform for users to store their tokens. [7]
Governance
The governance process is as follows: [5]
Propose: a member of the DAO makes a proposal/poll through the creation of a Topic on the Governance Forum. These posts are reviewed by a moderator, who check they are following the designated template and lock them after being approved
Discuss: The proposal discussion takes place within Discord Governance Channels
Vote: Proposal voting can proceed to a Snapshot vote if it receives support from at least one member of the Precog Council. For a PREP (proposal) vote to be valid, a minimum quorum of 5% of PPO Power is required and the vote must be open for consideration for at least 4 days before it is closed. Temperature Checks (polls), on the other hand, require a minimum of 3 days of consideration before closing
Enact: Proposals that successfully pass a vote will be executed
Partnerships
prePO announced that its PPO Token Presale would take place on Arbitrum. The presale did not have any restrictions on the minimum or maximum participation, with all participants receiving the same discounted price, and the allocation of tokens was distributed on a first-come, first-served basis until exhaustion. [8][9]
prePO integrated with Bond Protocol as an Arbitrum launch partner, which enabled users to purchase vesting PPO tokens at a discounted rate and provided prePO with the necessary capital for diversifying its treasury and improving protocol-owned liquidity. [10]
Funding
prePO is based in Sydney, New South Wales, Australia. The company has received a total of 38 investors contributing to its growth, including Scoopy Trooples, AscendEX, Anton Bukov (1INCH), Stefan George (Gnosis), James Simpson (mStable), Upside and Berggruen Holdings. prePO's most recent funding round took place on October 25, 2022, and was a Seed round. The company has raised a total of $3.2 million in funding. [11]
See something wrong?
Report to us.
prePO
Did you find this article interesting?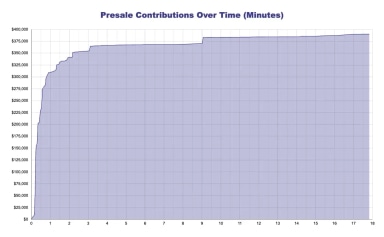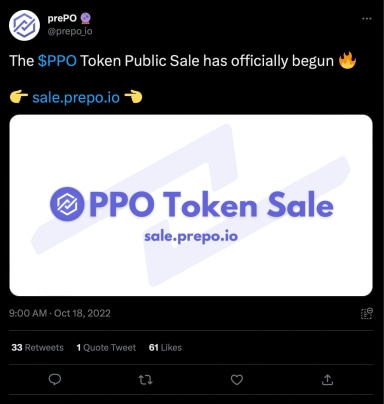 REFERENCES
[2]
prePO concepts
Jan 21, 2023
[6]
Announcing the PPO Token Public Sale!
Jan 31, 2023
[7]
PPO Yield Launch
Feb 1, 2023
[8]
prePO x Arbitrum
Feb 12, 2023
[9]
prePO x Arbitrum
Feb 12, 2023