Quant Network
The Quant Network is an open-source communication protocol that aims to connect businesses and developers with multiple distributed ledger technologies (DLTs) simultaneously. It is a blockchain network reputed as the first blockchain operating system that bridges blockchains globally without interfering with the efficiency and other properties of the connected distributed ledgers. [1]
Overview
Quant Network was established in 2015 by Gilbert Verdian, Quant Network is a solution to the growing problem of blockchain interoperability, offering an efficient and secure way to communicate with different DLTs. [11]
Quant (QNT) was primarily built to unlock the powers of blockchain technology previously hidden by the fragmented identity and the individualized progress of distributed ledgers. Quant's network is classified as an interoperability blockchain platform and is powered by its eponymous cryptocurrency, Quant (QNT). Enterprises and developers may not be required to buy QNT tokens, but payment for licenses and other associated fees must be paid for in QNT tokens. [2][5]
The Quant Network operates through Overledger, a DLT operating system that acts as an API gateway for multiple blockchains. Overledger supports multiple blockchains such as Bitcoin, Ethereum, Hyperledger Fabric, R3 Corda, and BNB Chain, making it possible for developers to build multichain decentralized applications (mDApps) with ease. [11][12]
The Quant Network operates using its native cryptocurrency, QNT, which is an ERC-20 token but blockchain independent. QNT is used by developers to build on the Overledger platform, while end-users require QNT to access the mDApps and Overledger ecosystem. [11][12]
History
Quant was first announced and launched in 2018 by founders, Gilbert Verdian, Colin Paterson and Paolo Tasca. Verdain's reputation as a renowned cybersecurity expert setting up the UK Financial Investments (UKFI) and working with the US Federal Reserve helped greatly facilitate Quant Network's entry into the market. [10]
In April 2018, they raised $11 million through an initial coin offering (ICO) from a possible $36.9 million hard cap. Quant's team burnt the leftover tokens from the fundraising event, totaling over 9.5 million QNT. [8][9]
On September 8th 2021, a major update to the Overledger, Overledger version 2.0.5 was released. The update enabled the bridging of multiple leading ecosystems, supporting various stablecoins, DeFi, NFT and ERC20/ERC721 assets. [21][22]
On August 4th, 2022, Overledger 2.2.12 was released with a new Overledger Tokenise feature, making it easier for users to create, deploy and manage secure, interoperable tokens and digital assets on supported networks. [23]
Utility
With Quant tokens, users of Quant Network can access the services and use cases of the platform. They can only make use of Quant's blockchain operating system (Overledger) after paying for licensing and platform fees using QNT. Developers, enterprises, partners, or financial institutions can leverage Overledger to build decentralized multi-chain applications (MApps). In return, they must stake a predetermined amount in QNT tokens for MApp solutions to run. [4]
Quant's ecosystem typically handles user access fees by locking up the token in a smart contract or moving them into the Treasury. When a user buys access to any of the services on Quant Network, QNT is taken out of circulation, locked in a unique smart contract, and released on the subscription's expiration. Or the cryptocurrencies may just be moved to the Treasury when a user buys a license to create anything on the network. [4]
Infrastructure
The Quant Network utilizes an infrastructure, known as Overledger which operates as an API gateway that supports multiple distributed ledgers, allowing developers to create mDApps.
Overledger
The Overledger is a solution to blockchain interoperability issues. The Overledger protocol architecture consists of four layers that work together to ensure seamless communication between multiple blockchains, making it possible for developers to create mDApps. [11][13]
Transaction Layer
This layer is responsible for storing verified transactions using distributed ledger technology. The consolidation of all related activities onto a single layer simplifies the process of reaching consensus across different blockchain domains. [11][13][14]
Messaging Layer
The messaging layer serves as a shared channel where all transactions from multiple ledgers are recorded. The layer collects transaction-related information, including smart contract data and messaging digests, from each ledger in the transaction layer. This makes it possible to combine transactions from all ledgers by wrapping all transaction information. [11][13][14]
Filtering and Ordering Layer
This layer filters and orders messages from the messaging layer that are referred to in the digest of out-of-chain messages. It ensures that the messages comply with the requirements of the application, such as specifying a certain amount of coins to be moved for a transaction to be valid or only allowing transactions from a specific address. [11][13][14]
Application Layer
The application layer is the topmost layer and controls all other layers. It establishes the guidelines and methods for interacting with blockchains, with each multichain application isolated from others in this layer. To use Overledger, mDApps must establish a set of rules for communication with other programs, users, and the Overledger system. Applications can interact with each other through the messaging layer, with messages passing from the filtering and ordering layer to the application layer if they meet the filtering requirements. [11][13][14]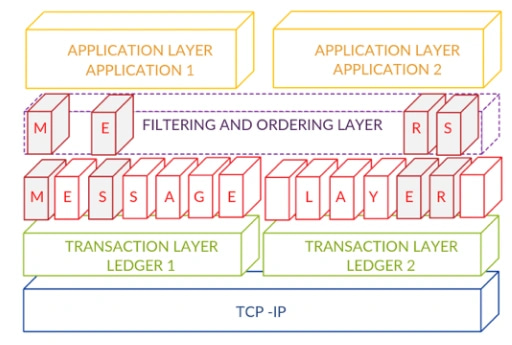 Use Cases
Quant has several use cases, all of which are geared toward creating value, mitigating costs, and reducing risks.[2]
Capital Markets
The blockchain space is ever-changing and developing, with more asset tokenization expected. The Overledger operating system exposes these assets to newer liquidity pools, creating greater exposure to new markets and increased chances of portfolio diversification among investors. [15]
Payments
There are zero preferences for any specific blockchain with Quant, which creates a more flexible and secure payment channel for digital and fiat currencies. Transaction fees become cheaper because users do not have to move assets across multiple chains or swap assets to complete transactions. [6][16]
Digital Currencies
Central banks worldwide are exploring the adoption of digital currencies, and more stablecoins may debit in the future. Overledger makes it possible for a genuinely interoperable economy. [17]
Insurance
Go-betweens and intermediaries in the insurance industry make accessing policies challenging, expensive, and time-consuming, limiting the industry's growth. Quant Network optimizes the superfluous insurance system to make its operations more effective. [18]
Supply Chain and Trade Finance
Trading and supply chains are complex, with several bottlenecks plaguing the system. Associated levels of logistics, payments, and customs are made more efficient with Quant Network. [19]
Compliance
Tracking payments across networks and blockchains can be problematic because the footprints are disruptive and not easily linked. Quant Network makes this information more relatable and trackable for humans and compliance operations. [20]
Quant Token (QNT)
QNT is an ERC-20 standard token on the Ethereum blockchain with a total supply of 14,692,423 tokens. Despite the team building on the Ethereum network for the sheer volume of support, it provided with wallets and exchanges, Quant is blockchain agnostic and can be adapted to any blockchain infrastructure, adopting its own plug-and-play solution it developed for enterprise solutions. [6]
QNT is the native cryptocurrency of the Quant Network and is used for transactions within the Overledger ecosystem. It is an ERC-20 token but blockchain independent, which means it can switch to any other blockchain. The Swiss Financial Market Supervisory Authority (FINMA) governs QNT as a utility token that aims to give users access to an application or service. [11][13]
Developers require QNT tokens to build on the Overledger platform, but they can purchase licenses using fiat currency which is then converted to QNT by the Quant Treasury. Additionally, payments for read-and-write operations to Overledger must be made in QNT. End-users also need QNT tokens to access mDApps and the Overledger ecosystem, including renewing their license key annually. [11][13]

QNT Tokenomics
QNT is set at a max supply of 14,612,493 tokens and is allocated as follows:
9,964,259 — Amount sold to the public during the ICO
2,649,493 — Is for the company reserve and used for Research and Development, Facilities, Infrastructure, Legal / IP, Marketing, Exchanges
1,347,988 — is for the company founders
650,753 — is for the company advisors [7]
Quant Network has a current circulating token supply of 12,072,738 QNT, with around 2 million remaining tokens locked by the company, which can be disposed of in any manner the company desires.
Quant Tokenise
Overledger Tokenise is a premium API offered by the company that enables users to create, deploy, and manage digital assets, including next-generation tokens, on supported networks such as Ethereum, Polygon, and XDC. This API is user-friendly and can be accessed through Quant Connect. The company recently added a new token type called QRC-721, which is a non-fungible token that can be deployed on multiple networks and is ideal for digitalizing collectibles or artwork. Users can interact with their tokens via Quant Connect and mDApps can read data and initiate transactions through the QRC smart contract. This addition to Overledger Tokenise makes it easier for users to create, deploy, and manage secure, interoperable tokens and digital assets on supported networks. [24]
---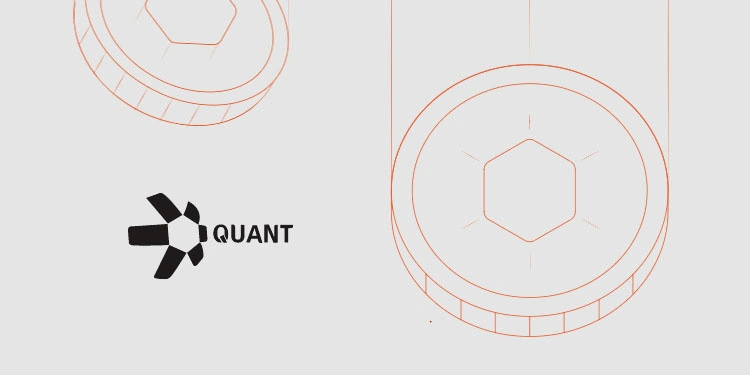 Team
Gilbert Verdian: Founder and Chief Executive Officer
Martin Hargreaves: Chief Product Officer
Lara Verdian: Chief Operating Officer
Peter Marirosans: Chief Technology Officer
Andrew Carrier: Chief Marketing Officer
Helen Kemmit: General Counsel
Gagik Alaverdian: Chief Operating Officer of Americas
Dr. Luke Riley: Head of Innovation
Christopher Harrison: Head of Engineering
Andy Nelson: Head of Systems and Architecture
Board of Directors
See something wrong?
Report to us.
Quant Network
Did you find this article interesting?