ShapeShift
ShapeShift is a decentralized exchange (DEX) that was founded in 2014 by Erik Voorhees. Shapeshift was originally a centralized exchange and required KYC however in 2021 they removed KYC and moved to a non-custodial DEX model, allowing users to buy and sell cryptocurrencies without the need to register or open accounts. [1]
History
On March 10th, 2015, ShapeShift raised $525,000 in seed funding from early industry investors Barry Silbert and Roger Ver. [2]
On June 10th, 2015, ShapeShift announces that it will stop serving New York residents after the state implements BitLicense, a regulation that would have required it to collect identifying information about customers. This was an act to protest against the new regulation with CEO, Erik Voorhees publicly showing his disapproval of New York's law enforcement. [3]
"We're not going to spy on thousands of people purely to make their job a little bit easier"
On September 8th, 2015, ShapeShift raises an additional $1.6 million from Silbert's Digital Currency Group, Roger Ver, and other angel investors. [4][5]
On March 29th, 2017, ShapeShift closes a $10.4 million Series A funding round led by Earlybird Venture Capital and other participants. [6]
On August 16th 2017, ShapeShift acquired KeepKey, a hardware wallet with the goal of increasing security for users. [7]
"One of our priorities has always been to make the exchange experience as safe and easy for users as possible, and our pairing with KeepKey enables us to provide an unmatched customer experience."
On February 18th, 2019, ShapeShift undertook a rebranding process following their recent layoff of 37 employees, moving from its shapeshift.io website to a platform that aggregates all the products the team had been working on since the company launched. [8][9]
"Today, we let 37 employees go, reducing the size of our team by a third. It's a deep and painful reduction, mirrored across many crypto companies in this latest bear market cycle."
This new platform at beta.shapeshift.com allowed users to buy, sell, trade, and over 50 digital assets. [10]
"The new ShapeShift is at http://beta.shapeshift.com. We built it to give the world a true non-custodial crypto platform in an easy and beautiful package. This is the foundation for financial self-sovereignty."
On January 6th, 2021, ShapeShift announced that they are removing 'know your customer' (KYC) requirements. CEO Erik Voorhees made a medium post explaining that they believed that it is the safest move forward as a response to the $460 million bitcoin exchange hack. [11][12][13]
"not only ineffective, but that I and others find plainly unethical and dangerous: the warrantless collection and surveillance of personal, private information of innocent individuals."

On 15th July 2021, ShapeShift transitioned into a decentralized autonomous organization (DAO) following their first airdrop, making it a community-governed, open-source project. [14][15]
"Starting today, we begin open-sourcing the ShapeShift project, dissolving our corporate structure toward zero, and re-organizing around a borderless, decentralized community governed by the holders of the FOX token."
On July 28th, 2022, ShapeShift DAO announced that its open-source web app has integrated with WalletConnect v1.0, Keplr, XDEFI Wallet and Tally Ho wallets. These integrations with crypto-oriented projects offer access to multiple ETH and EVM-compatible wallets and decentralized applications (DApps), support for the Cosmos ecosystem, over 10,000 assets/DApps across 11 blockchains, and an open-source community-built Web3 wallet. [16]
On October 19th, 2022, ShapeShift migrated its users to a new open-source application to enhance user mobility with the release of a mobile app. The mobile app is fully open-source, and the only backend is blockchain data. As part of the decentralization efforts, ShapeShift has expanded user options for managing digital assets and pledged to permanently erase users' data once the company's centralized infrastructure is fully wound down. [17][18]
Tokenomics
The FOX token is the digital asset native to the ShapeShift platform that serves as the governance token. FOX holders can use their tokens to participate in the decision-making process of the ShapeShift DAO (decentralized autonomous organization). This allows them to vote on various aspects of the platform, such as the addition of new assets, the development of new products, and the implementation of fee structures.
Token Distribution
The total supply of FOX is 1,000,001,337, with no inflation, and is distributed as shown. [23]
34%: ShapeShift customers and the DeFi community via an airdrop
32%: Employees and shareholders
24%: ShapeShift DAO for governance and treasury purposes
7.5%: Foundation
1.3%: Retained by ShapeShift during the decentralization process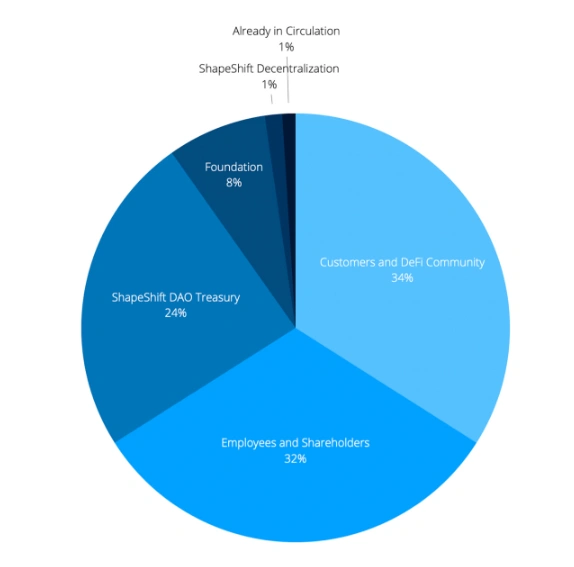 Approximately 1% of the tokens were already in circulation with over 21,000 holders. Out of the active (unlocked/unvested) supply of 438 million FOX at the time of the airdrop, roughly 75% was in the hands of the community, with the remaining 25% held by ShapeShift. All other token allocations have a three-year vesting period.
[23]
Utility
There are two main benefits of Holding FOX tokens, apart from governance-related utility.
Rainfall
Rainfall is a reward system that rewards FOX holders with free crypto when people trade on ShapeShift. The more FOX a holder holds, the better their chances of winning a Rainfall reward. For every qualifying transaction on ShapeShift, the user who makes a crypto trade earns more FOX Tokens, another random FOX holder earns free USDC, and any revenue generated goes to the ShapeShift DAO. [24]
FOX Fuel
FOX Fuel is essentially a cashback system that helps to offset the cost of gas fees. 10% of the current market value of the FOX tokens, as determined by CoinCap.io at the time of trade, can be repaid to the holder in additional FOX Tokens every 30 days. [24]
Governance
The FOX Token is a digital asset native to the ShapeShift platform and community. As the platform moves towards complete decentralization, the FOX Token will become the governing token where FOX holders will be able to make proposals and vote for or against them. FOX holders will eventually govern all important decisions of the project, including the ShapeShift DAO treasury containing over 240,000,000 FOX Tokens. [25]
The ShapeShift DAO is powered by SafeSnap, which means community members can propose and vote on proposals with zero gas fees. Initial governance parameters are as follows: 100 FOX required to submit a proposal, 0.4% of FOX supply required to vote to reach quorum, 90% relative vote support to reach "soft quorum" and 72-hour minimum voting period. These parameters are subject to change via ShapeShift DAO governance proposals. Before transitioning to a fully decentralized project, a multisig safeguard controlled by ShapeShift employees is being implemented alongside SafeSnap to mitigate the risk of malicious proposals stealing funds from the DAO's treasury. [25]
Airdrop
On July 14th, 2021, an airdrop of FOX tokens was initiated, and eligible individuals were given a 90-day window to claim their allotted tokens. As time passed, the number of tokens that could be claimed decreased by 10% each day for 10 days. Any tokens that were not claimed during this period were returned to the ShapeShift Decentralized Autonomous Organization's treasury. [19]
This airdrop turned into one of the biggest airdrops in crypto history with around 340 million FOX being distributed to over 1 million unique addresses, causing the corporate entity ShapeShift to shut down and transition into a DAO. [20][21]
"A year ago I would have thought this was sort of fanciful, but at this point I've seen how this tool is getting built and I've seen how these communities get built around a token instead of an equity structure. The fact that ShapeShift is really closing its corporate entity sets it apart."

On September 23rd, 2021, ShapeShift DAO released a second airdrop of 6,613,000 FOX tokens to over 33,000 FOX holders who were ineligible to claim the first airdrop as their tokens were being staked at the time. This was also known as the "fair drop" as people in the community believed that stakers should have been eligible to claim the tokens as well which was shown in the community vote where 99.97% voted for the second airdrop to go through. [22]
"While there was no deliberate intent to exclude DAO stakers and LP providers from the initial airdrop, the DAO offers the structure to address such opportunities through governance proposals. This is an example of the process working as intended, with strong participation and solidarity across DAO communities."
See something wrong?
Report to us.
ShapeShift
Did you find this article interesting?