Joe Biden's Views on Cryptocurrency
Joseph Robinette Biden Jr. (born November 20, 1942) is an American politician who is the 46th President of the United States. A member of the Democratic Party, he previously served as the 47th vice president from 2009 to 2017 under President Barack Obama and represented Delaware in the United States Senate from 1973 to 2009. [1]
Joe Biden's Executive Order on Cryptocurrency
On March 9, 2022, President Joe Biden issued a long-awaited executive order directing various federal agencies to coordinate on policy for digital assets. [2]
"While many activities involving digital assets are within the scope of existing domestic laws and regulations, an area where the United States has been a global leader, growing development and adoption of digital assets and related innovations, as well as inconsistent controls to defend against certain key risks, necessitate an evolution and alignment of the United States government approach to digital assets." - Joe Biden's executive order
Sec. 2. Objectives. The principal policy objectives of the United States with respect to digital assets:
"We must protect consumers, investors and businesses in the United States. The unique and varied features of digital assets can pose significant financial risks to consumers, investors and businesses if appropriate protections are not in place. In the absence of sufficient oversight and standards, firms providing digital asset services may provide inadequate protections for sensitive financial data, custodial and other arrangements relating to customer assets and funds, or disclosures of risks associated with investment."
Sec. 5. Measures to Protect Consumers, Investors, and Businesses:
"The increased use of digital assets and digital asset exchanges and trading platforms may increase the risks of crimes such as fraud and theft, other statutory and regulatory violations, privacy and data breaches, unfair and abusive acts or practices and other cyber incidents faced by consumers, investors and businesses. The rise in use of digital assets and differences across communities may also present disparate financial risk to less informed market participants or exacerbate inequities. It is critical to ensure that digital assets do not pose undue risks to consumers, investors or businesses and to put in place protections as a part of efforts to expand access to safe and affordable financial services."[2]
President Joe Biden's executive order focused on updating US financial regulations to address crypto, specifically by instructing federal agencies to study crypto and propose new rules to regulate it. [39]

Comments on Crypto Traders During 2023 Debt Ceiling Negotiations
On May 21, 2023, at the Group of Seven (G7) Summit in Hiroshima, Japan, President Joe Biden expressed opposition to a debt ceiling agreement with Republican leaders that would allegedly benefit "wealthy tax cheats and crypto traders". [3][4][8]
"Let me be clear, I'm not going to agree to a deal that protects wealthy tax cheats and crypto traders while putting food assistance at risk for nearly a hundred — excuse me — nearly 1 million Americans."[8]
The alleged protections for crypto traders refer to tax-loss harvesting. Crypto tax-loss harvesting is a strategy that investors use to reduce their overall tax liabilities. It involves selling a cryptocurrency at a loss to offset capital gains from crypto profit. To claim a loss, the assets must be sold, and the proceeds must be used to purchase a similar asset within 30 days before or after the sale. The mechanism is also available for stocks and other assets. [3]
Proposed Crypto Mining Tax
President Joe Biden on May 2, 2023, proposed a 30% excise tax on cryptocurrency mining firms. [10]
"Currently, crypto mining firms do not have to pay for the full cost they impose on others, in the form of local environmental pollution, higher energy prices, and the impacts of increased greenhouse gas emissions on the climate. The DAME tax encourages firms to start taking better account of the harms they impose on society," the President's Council of Economic Advisers (CEA) wrote in a statement.[9]
The report estimates that crypto miners in the U.S. consumed around 50,000-gigawatt hours of electricity in 2022 between Bitcoin and Ethereum, almost as much as televisions and notably more than home computers. [11]
As part of the proposed tax, digital asset miners must disclose the amount of electricity they use, its source—whether it's from renewables or not—and its associated value. It also applies to power generated off-grid, such as converting what would otherwise be wasted natural gas.[11]
Apart from raising environmental concerns, the administration contends that digital asset mining disproportionately affects communities of color because of pollution and drives up renewable energy costs. The report also makes a value judgment on crypto. [9][11]
"Cryptomining does not generate the local and national economic benefits typically associated with businesses using similar amounts of electricity," it states. "Instead, the energy is used to generate digital assets whose broader social benefits have yet to materialize."[9]
Crypto Controversy in the U.S.
Commodity Futures Trading Commission (CFTC)
On January 3, 2022, the Commodity Futures Trading Commission (CFTC) issued an order requiring Blockratize, Inc. to pay a $1.4 million fine for failing to register as a swap execution facility, for offering illegal binary option contracts using cryptocurrency on its prediction market website Polymarket, and to close betting markets in violation of the Commodity Exchange Act. [12]
"The order requires that Polymarket pay a $1.4 million civil monetary penalty, facilitate the resolution (i.e. wind down) of all markets displayed on Polymarket.com that do not comply with the Commodity Exchange Act (CEA) and applicable CFTC regulations.
Following the CFTC's announcement, Polymarket issued a statement, explaining:
"We are pleased to confirm that we have successfully agreed to a settlement with the CFTC … the three markets set to resolve after January 14, 2022 that do not comply with the Act will be prematurely wound down and participants refunded."[12]
On February 9, 2022, CFTC Chairman Rostin Behnam asked the 117th U.S. Congress for the authority to regulate certain cryptocurrencies such as Bitcoin in testimony before the U.S. Senate Committee on Agriculture, Nutrition, and Forestry.[13]
On June 2, 2022, the CFTC filed a lawsuit against Gemini alleging that the executive staff of the crypto exchange made false and misleading statements and omissions in communications with regulators about market manipulation of a bitcoin futures contract the company proposed offering in 2017. [14]
On June 7, 2022, U.S. Senators Kirsten Gillibrand and Cynthia Lummis introduced a bill to create a regulatory framework for cryptocurrencies that would treat most digital assets as commodities subject to oversight from the CFTC and would not have cryptocurrencies subject to oversight from the SEC unless a cryptocurrency's holders were entitled to the same privileges as corporate investors. [15] On June 8, 2022, Behnam announced support for the bill. [16]
At a conference hosted by The Wall Street Journal on June 14, 2022, U.S. Securities and Exchange Commission (SEC) Chairman Gary Gensler expressed concern that the Lummis-Gillibrand bill could inadvertently undermine stock market and mutual fund protections, noted that cryptocurrency companies were already engaging in behaviors overseen by the SEC, and argued that some digital assets are securities necessitating oversight from the SEC rather than commodities.[17]
Federal Reserve
On October 14, 2021, United Wholesale Mortgage announced that it would cease a company pilot to accept mortgage loan repayments in Bitcoin. [18]
"Due to the current combination of incremental costs and regulatory uncertainty in the crypto space, we've concluded we aren't going to extend beyond a pilot at this time," said CEO Mat Ishbia.
The Michigan-based mortgage company tried three different types of crypto – BTC, Ether, and Dogecoin – and multiple different borrowers to see how the process would work. UWM successfully accepted its first-ever cryptocurrency mortgage payment in September 2021 and five more in October. But ultimately, the demand wasn't there. Ishbia tells CNBC that borrowers "liked it" and "said it was cool" but having the option to transact in crypto "wasn't a driver."[18]
On July 8, 2022, Federal Reserve Vice Chair Lael Brainard called for greater regulation of cryptocurrencies before the industry's size threatens the financial system. [19]
"Innovation has the potential to make financial services faster, cheaper and more inclusive, and to do so in ways that are native to the digital ecosystem," she said in a speech at a Bank of England conference in London. "It is important that the foundations for sound regulation of the crypto financial system be established now before the crypto ecosystem becomes so large or interconnected that it might pose risks to the stability of the broader financial system."[19]
Justice and Homeland Security Departments
On March 5, 2021, McAfee Corp. founder John McAfee was indicted in the Southern New York U.S. District Court for promoting a cryptocurrency pump-and-dump scheme on his Twitter account that he made $23 million from (after being indicted by the Justice Department for tax evasion on money earned from the scheme and sued by the SEC for promoting the scheme the previous October)[20]
"McAfee Team members collectively earned more than $2 million in illicit profits from their altcoin scalping activities," the Department of Justice alleges. [20]
On May 13, 2021, Binance was reportedly under investigation by the U.S. Justice Department and the Internal Revenue Service for usage by users for money laundering and tax evasion. [21]
"We have worked hard to build a robust compliance program that incorporates anti-money laundering principles and tools used by financial institutions to detect and address suspicious activity," Binance spokesperson said in an email.
On February 8, 2022, the U.S. Justice Department arrested businessman Ilya Lichtenstein and rapper Heather R. Morgan for attempting to launder and seized $3.6 billion of the $4.5 billion worth of bitcoin allegedly stolen in the 2016 Bitfinex hack. Of the 119,756 BTC stolen from the Bitfinex platform, the U.S. Department of Justice (DOJ) recovered nearly 94,000 BTC (worth approximately $3.6 billion at the time of recovery). In a statement, Deputy Attorney General Lisa Monaco said it was "the department's largest financial seizure ever". [22]
On May 6, 2022, the U.S. Justice Department charged the CEO of Mining Capital Coin (MCC) with operating a fraudulent $62 million crypto scheme.
"Cryptocurrency-based fraud undermines financial markets worldwide as bad actors defraud investors and limits the ability of legitimate entrepreneurs to innovate within this emerging space," said Assistant Attorney General Kenneth A. Polite, Jr. of the Justice Department's Criminal Division
The indictment further alleges that the CEO and founder of MCC Capuci touted and fraudulently marketed MCC's purported "Trading Bots" as an additional investment mechanism for investors to invest in the cryptocurrency market. Capuci claimed that MCC joined with "top software developers in Asia, Russia, and the U.S.A. to create an improved version of Trading Bot[s] that [were] tested with new technology never seen before."[23]
On May 12, 2022, the CEO of EminiFX, Alexandre was charged by the Federal Bureau of Investigation with operating a fraudulent $59 million crypto scheme in Southern New York U.S. District Court. Alexandre was arrested and charged with wire fraud and commodities fraud. [24]
"Investors should beware of the downside risks of false claims and get-rich-quick schemes that oftentimes are too good to be true," U.S. Attorney Damian Williams in Manhattan said in a statement announcing the charges.
On June 3, 2022, the Federal Trade Commission issued a report showing that approximately 46,000 investors lost more than $1 billion in crypto scams from January 2021 through March 2022 (with $329 million dollars in the first quarter of 2022). [25]
On June 30, 2022, the U.S. Justice Department filed securities fraud charges against the leaders of EmpiresX, a more than $100 million cryptocurrency exchange Ponzi scheme. On September 8, 2022, EmpiresX Head Trader, Joshua David Nicholas pled guilty to Global Cryptocurrency Investment Fraud Scheme that amassed approximately $100 million from investors. [26]
In June 2022, the Federal Bureau of Investigation (FBI) added founder of OneCoin crypto Ruja Ignatova aka 'Cryptoqueen' to its Ten Most Wanted Fugitives List for the $4 billion OneCoin Ponzi scheme. [27]
On July 21, 2022, three former Coinbase employees were indicted in the Southern New York U.S. District Court for an alleged insider trading scheme involving $1.5 million worth of cryptocurrency assets listed on the exchange. Ishan Wahi, a 32-year-old ex-product manager at Coinbase, was accused of tipping off his brother, Nikhil Wahi, and a friend, Sameer Ramani, about the company's confidential plans to begin offering certain digital tokens. [28]
"Although the allegations in this case relate to transactions made in a crypto exchange – rather than a more traditional financial market – they still constitute insider trading," FBI Assistant Director Michael Driscoll said in a statement.
Treasury and Labor Departments
On August 6, 2021, the Biden administration released a press statement announcing support for the cryptocurrency tax reporting amendment to the Infrastructure Investment and Jobs Act proposed by U.S. Senators Rob Portman, Kyrsten Sinema, and Mark Warner rather than the amendment proposed by U.S. Senators Cynthia Lummis, Pat Toomey, and Ron Wyden. [29]
On August 9, 2021, a compromise amendment proposed by Toomey, Warner, Lummis, Sinema, and Portman (No. 2656) failed to pass on a unanimous consent vote called by Toomey when Senator Richard Shelby objected to the amendment if it did not include a defense infrastructure spending amendment he introduced (No. 2535), which Toomey agreed to but Senators Bernie Sanders and Tom Carper objected to. [30]
On November 15, 2021, President Biden signed the Infrastructure Investment and Jobs Act into law with the original language in the bill related to cryptocurrency tax reporting and definition of cryptocurrency brokers. In a letter to every House lawmaker, members of the bipartisan Blockchain Caucus raised concerns over the Senate's cryptocurrency provision. [31]
"Left unchanged, this provision will have sweeping implications for crypto investors in our country and further regulate innovation out of the United States," they wrote. [31]
On April 20, 2022, the U.S. Treasury Department sanctioned Russian bitcoin miners as the 2022 Russian invasion of Ukraine entered its third month. [32]
"These US actions should obviously be viewed as interference in the crypto mining industry, unfair competition and an attempt to change the global balance of power in favor of American companies," said BitRiver founder and CEO Igor Runets, adding that the company "has never provided services to Russian government institutions and has not worked with customers already targeted by Washington's sanctions."
On May 6, 2022, the Treasury Department sanctioned Blender.io, a cryptocurrency mixer, from the U.S. financial system due to its usage by the Lazarus Group (a cybercrime organization operated by the North Korean government) to launder $20.5 million of cryptocurrency it allegedly stole from the crypto-based game Axie Infinity. The Treasury's press release says this is the first time it's ever levied sanctions against a virtual currency mixer. [33]
Securities and Exchange Commission (SEC)
On June 5, 2023, The SEC filed charges against Binance, a crypto exchange, and CEO Changpeng Zhao stemming from what the agency called a "blatant disregard" for U.S. law by Binance. In a 136-page complaint[36], SEC alleged that Binance, its American affiliate, Binance.US, and Zhao have been operating unregistered U.S. financial institutions, misleading investors about the companies' risk controls, inflating trading volumes and mixing "billions of dollars of investor assets" and sending them to a third-party entity owned by Zhao. The case was filed in the U.S. District Court for the District of Columbia. [37]
"Zhao and Binance entities engaged in an extensive web of deception, conflicts of interest, lack of disclosure, and calculated evasion of the law," SEC Chair Gary Gensler said in a statement.
Binance denied the SEC's allegations in a blog post[38], including the claim that customer assets at Binance.US were at risk. The company said it was "disheartened" by the SEC's decision to bring the case to court after the two sides had been engaged in talks about a settlement.
"While we take the SEC's allegations seriously, they should not be the subject of an SEC enforcement action, let alone on an emergency basis. We intend to defend our platform vigorously. Unfortunately, the SEC's refusal to productively engage with us is just another example of the Commission's misguided and conscious refusal to provide much-needed clarity and guidance to the digital asset industry." - Binance wrote in a blogpost[38]
On June 6, 2023, the U.S. Securities and Exchange Commission sued Coinbase, a centralized cryptocurrency exchange platform. The federal regulator alleges Coinbase operated its crypto asset trading platform as an unregistered national securities exchange and broker. [40] The SEC also alleges at least 13 crypto assets that Coinbase made available to customers, including Solana and Cardano's tokens, qualify as "crypto asset securities," according to the complaint.[41]
In a tweet following the SEC's announcement, Coinbase co-founder and CEO Brian Armstrong said:
"Regarding the SEC complaint against us today, we're proud to represent the industry in court to finally get some clarity around crypto rules."[42]
Biden Calls to End $18B 'crypto tax loopholes'
On May 9, 2023, President Joe Biden shared an infographic on Twitter, calling to end "tax loopholes" that allegedly help wealthy crypto investors. Community members responded to the tweet, questioning the figures shared by the president and if the said loopholes exist. [34][35]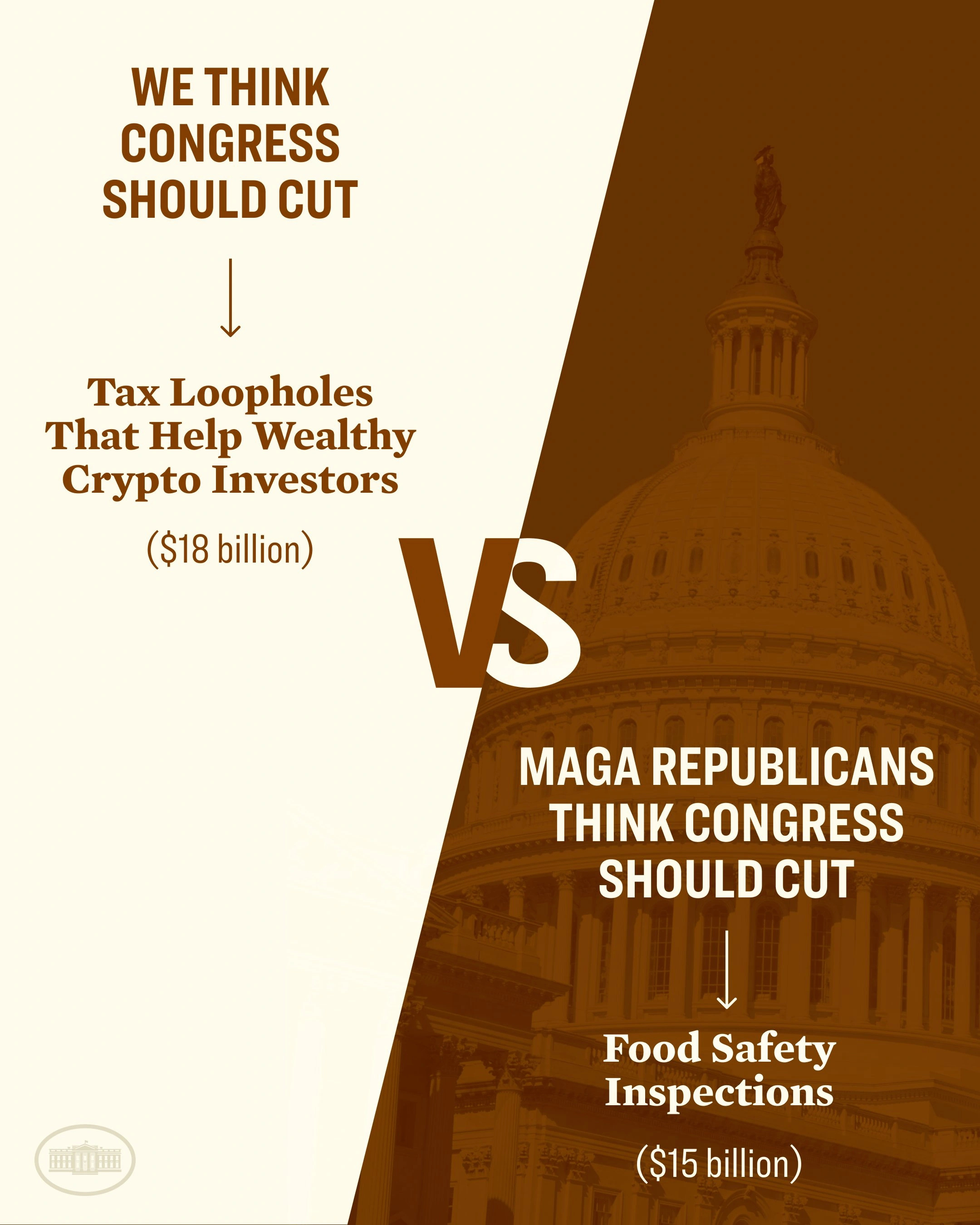 Dogecoin
 co-founder
Billy Markus
also replied to Biden's tweet. Markus asked which loopholes existed and claimed he gave the government more money than he made in crypto, "while taking all the risk." Markus then points out that most American crypto users are not rich but are trying to use crypto because they can't make ends meet.
[34]
See something wrong?
Report to us.
Joe Biden's Views on Cryptocurrency
Did you find this article interesting?