Binance.US
Binance.US is a cryptocurrency exchange for U.S.-based users. The platform is dedicated to providing a compliant and secure trading platform for digital assets within the United States.

On April 6, 2022, Binance.US raised a $200 million seed round from Foundation Capital, Circle, Original Capital, VanEck, and RRE Ventures. Binance.US is valued at $4.5 billion and is FinCEN-regulated in the United States. It operates in the United States but is unavailable in some states. As of June 7, 2023, Binance.US is prohibited in Hawaii, New York, Texas, and Vermont. [4][5]
Overview
Binance.US was launched in September 2019, operated by BAM Trading Services Inc. Headquartered in San Francisco, on top of basic services such as buying/selling cryptocurrencies, staking, etc., the platform aims to cater to U.S.-based customers' needs by offering low trading fees, with some trading pairs being free of charge, and complying with US regulatory requirements. Although the platform started by supporting fiat currencies, it transitioned into a crypto-only exchange on July 21st, 2021, replacing the support of USD with USDT. [6][7][44]

Features
Commissions and Fees
Binance.US offers free trading for its customers, including Bitcoin and Ethereum. There are different trading levels on the platform. They include:
Tier 0 trades: These types of trade have zero fees. However, it is limited to just four Bitcoin pairs: BTC/USD, BTC/USDC, BTC/BUSD, and BTC/USDT.
Tier I trades: These trades start with a 0.2% taker and 0.1% maker fee for trades less than $10,000 on certain asset pairs within 30 days. Examples are ETH/USD and SOL/USD, to name a few.
It is important to note that those using Binance Coin (BNB) receive a 25% reduction in trading fees. VIPs receive discounts on maker/taker fees. [31][32]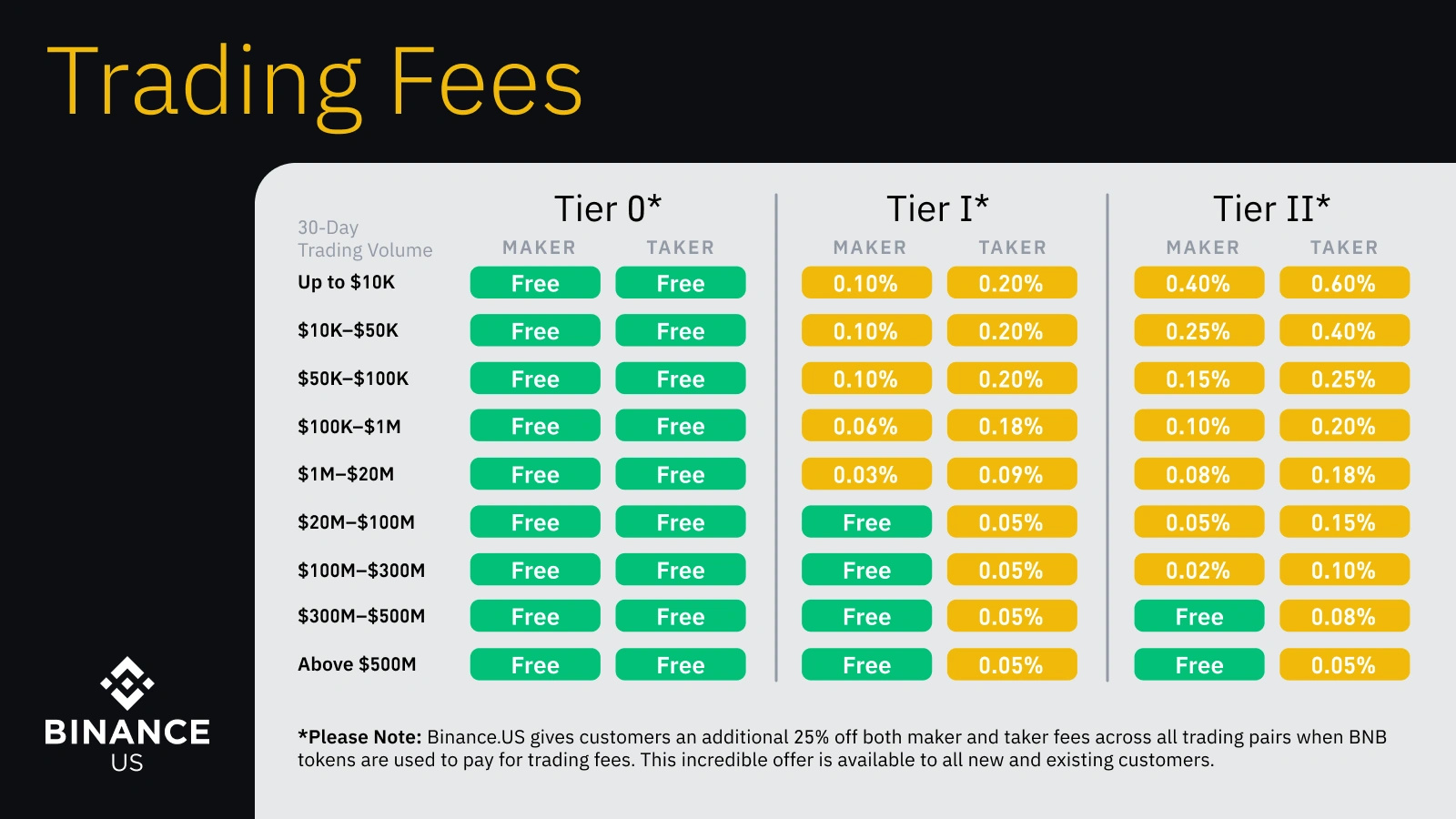 Rewards
Staking on the Binance.US platform rewards users for holding crypto assets for a set period of time.[33]
Security
The platform offers industry-standard security features for its customers by requiring account holders to verify their identities to trade, buy, or sell crypto.[34]
Timeline of Events (2019-to-date)
June 2019: Announcement of Binance.US Launch
Binance announced it would partner with BAM Trading Services to launch trading services for users in the United States. Binance.US, a FinCEN (US Treasury's Financial Crimes Enforcement Network)-regulated entity, targeted US customers to trade digital assets. The first phase of the launch allowed people in most US states to register for an account and deposit BTC, ETH, XRP, USDT, BCH, LTC, and BNB. CEO CZ said:
"We are excited to finally launch Binance.US and bring the security, speed, and liquidity of Binance.com to North America. Binance.US will be led by our local partner BAM and will serve the U.S. market in full regulatory compliance."[18][19]
A representative from BAM Trading Services said:
"It is an honor to partner with Binance to launch the U.S. extension of Binance, leveraging its tier-one security and technology in tandem. We are committed to providing a secure and compliant platform, and beginning the start of a fruitful alliance with Binance."[20]
July 2019: Appointment of Binance.US CEO
BAM Trading Services hired Catherine Coley as CEO, a former Ripple executive. She was responsible for rolling out Binance.US as well as expanding the exchange's marketplace in North America. Catherine Coley had served as a foreign exchange analyst for Morgan Stanley in Hong Kong and London for five years before entering the cryptocurrency industry. From 2016 to 2017, she served as a foreign exchange advisor at Silicon Valley Bank. CEO CZ said in an announcement:
"I am confident that with Coley's leadership and Binance's leading technology platform, Binance.US will be able to provide valuable services to the U.S. community."[21]
Coley added in a statement:
"This is just the beginning of a long journey ahead, and I look forward to working with Binance as a partner to unlock more potential for the blockchain ecosystem here in the U.S."[22]
September 2019: Binance.US Launches in 37 States and Excludes 13 States
CEO Catherine Coley pointed out that Binance.US's rollout would be gradual. The launch of Binance.US was initially supported in 37 states, and 13 states were unsupported, including New York, Texas, and Florida.
"Although it is upsetting that we cannot offer Binance.US in the states where I grew up and earned my education at this time, please rest assured that this is just the beginning, and it is our mission to bring access to those of you in these states many of us call home," Coley stated.
The platform went live initially supporting just six cryptocurrencies: bitcoin (BTC), ether (ETH), XRP, litecoin (LTC), the tether stablecoin (USDT), and bitcoin cash (BCH). BNB, Binance's own token, was also supported; BUSD, however, was not supported at the time of launch. The platform planned to have more cryptos added "as the days go by," provided they pass the Risk Assessment Framework.[23]
April 2021: New CEO Appointed
Brian Brooks replaced Catherine Coley as Binance.US's CEO. Brooks was the former Coinbase executive who held the Office of the Comptroller of the Currency (OCC) under US President Donald Trump. The reason behind Coley's replacement with Brooks was unknown, as her departure was kept secret. Coley said to Forbes:
"The tricky part … is knowing who your customer is and making sure we are accounting for all those who are who they say they are." I don't think we would ever compromise on that front… (The customers) … have to follow through with proof of address and social security numbers to verify that they are actually US citizens that are alive and well and are who they say they are."[24]
When Brian Brooks was appointed as the new CEO of Binance.US, CZ released a statement that read:
"Brian is an esteemed leader with an unparalleled blend of experience across traditional financial services, government, and the digital asset industry. Binance.US's ability to attract an executive of Brian's caliber is a testament to the strength of its platform. His knowledge and expertise will be invaluable as Binance.US continues to expand."
However, Brooks didn't stay long at Binance.US. He quit over "strategic differences" just after four months after being appointed. He was replaced by Brian Schroder in September 2021. Schroder previously served as Binance.US's president and board member. [25]
December 2022: Binance.US Signs a $1 Billion Deal to Buy Voyager Digital Assets
Voyager Digital's bankruptcy led Binance.US to bid for its digital assets. Voyager had originally agreed to sell its assets to FTX, but FTX folded before the deal could be completed. Voyager issued a statement, which read:
"The Binance.US bid aims to return crypto to customers in kind, in accordance with court-approved disbursements and platform capabilities."[26]
However, Binance.US terminated the bid to buy Voyager in April 2023 due to the "hostile and uncertain regulatory climate in the United States." Earlier, before the purchase of Voyager, Binance.US had previously invested in Custodia Bank. Custodia Bank provides digital asset banking, custody, and payment solutions for its customers. The investment was completed in March 2021 and was valued at $37 million. [27][28]
Legal Disputes
Department of Justice (DOJ) and US Securities and Exchange Commission (SEC) Investigation
In 2020, the Department of Justice (DOJ) and the US Securities and Exchange Commission (SEC) initiated an investigation into the relationship between Binance and Binance.US. The focus of the investigation was to determine the extent of control and shared access to US customer data. Subpoenas and people familiar with the matter were cited, which could lead to US regulators claiming Binance's entire business if it is determined that Binance has full control over its US entity. The Binance team was aware of what was occurring, which made one of their spokespersons say in an email to Reuters: [9]
"We have already acknowledged that we did not have adequate compliance and controls in place during those early years. We are a very different company today when it comes to compliance."
Inquiry by US Senators
In March 2023, US Senators Elizabeth Warren, Chris Van Hollen, and Roger Marshall raised questions about Binance and its subsidiary's regulatory compliance and financial operations. Binance responded to the senators' inquiries, acknowledging the presence of misinformation and expressing a willingness to provide information to address their concerns.[10]
"A lot of misinformation has been spread about our company, but we appreciate the senators' request and that it will provide information to help them better understand the firm." - Binance
Dispute with the CFTC
CFTC Claims
On March 27, 2023, the Commodity Futures Trading Commission (CFTC) announced that it had filed a civil enforcement action against Binance and its CEO Changpeng Zhao, along with three entities associated with Binance. The CFTC alleged numerous violations of the Commodity Exchange Act (CEA) and CFTC regulations. The complaint stated that Binance operated its digital asset trading platform and other corporate entities within an intentionally opaque common enterprise, disregarding provisions of the CEA for its own commercial benefit. The CFTC sought disgorgement, civil monetary penalties, permanent trading and registration bans, and a permanent injunction against further violations.[36][37]
Binance's Response
In response to the CFTC's complaint, Binance expressed disappointment and disagreement with the characterization of the issues alleged. Binance stated that it has implemented robust compliance technology, including mandatory Know Your Customer (KYC) programs and various measures to block U.S. users from accessing the platform. The company highlighted its commitment to transparency and cooperation with regulators and law enforcement, citing its extensive collaboration and assistance with over 55,000 law enforcement requests. Binance emphasized its compliance efforts, the number of licenses/registrations it holds globally, and its dedication to maintaining high standards within the crypto industry.[38]
"Binance.com is the first global (non-US) exchange to implement a mandatory KYC program, and remains today to have one of the highest standards in KYC and AML. We block US users by nationality (KYC), IP (including commonly used VPN endpoints outside of the US), mobile carrier, device fingerprints, bank deposit and withdrawals, blockchain deposits and withdrawals, credit card bin numbers, and more.

We are aware of no other company using systems more comprehensive or more effective than Binance." - Changpeng Zhao
Binance also clarified its trading practices, stating that it does not engage in market manipulation and its trading activities are primarily for converting revenues in crypto to cover expenses. The company implemented policies to prevent employees from active trading and restrict trading of specific assets by those with access to private information. Binance's CEO, Changpeng Zhao, emphasized the company's collaborative approach with regulators worldwide and its commitment to doing what is right for its users in the journey toward financial freedom.[38]
Binance.com does not trade for profit or "manipulate" the market under any circumstances. Binance "trades" in a number of situations. Our revenues are in crypto. We do need to convert them from time-to-time to cover expenses in fiat or other crypto currencies. We have affiliates that provide liquidity for less liquid pairs. These affiliates are monitored specifically not to have large profits.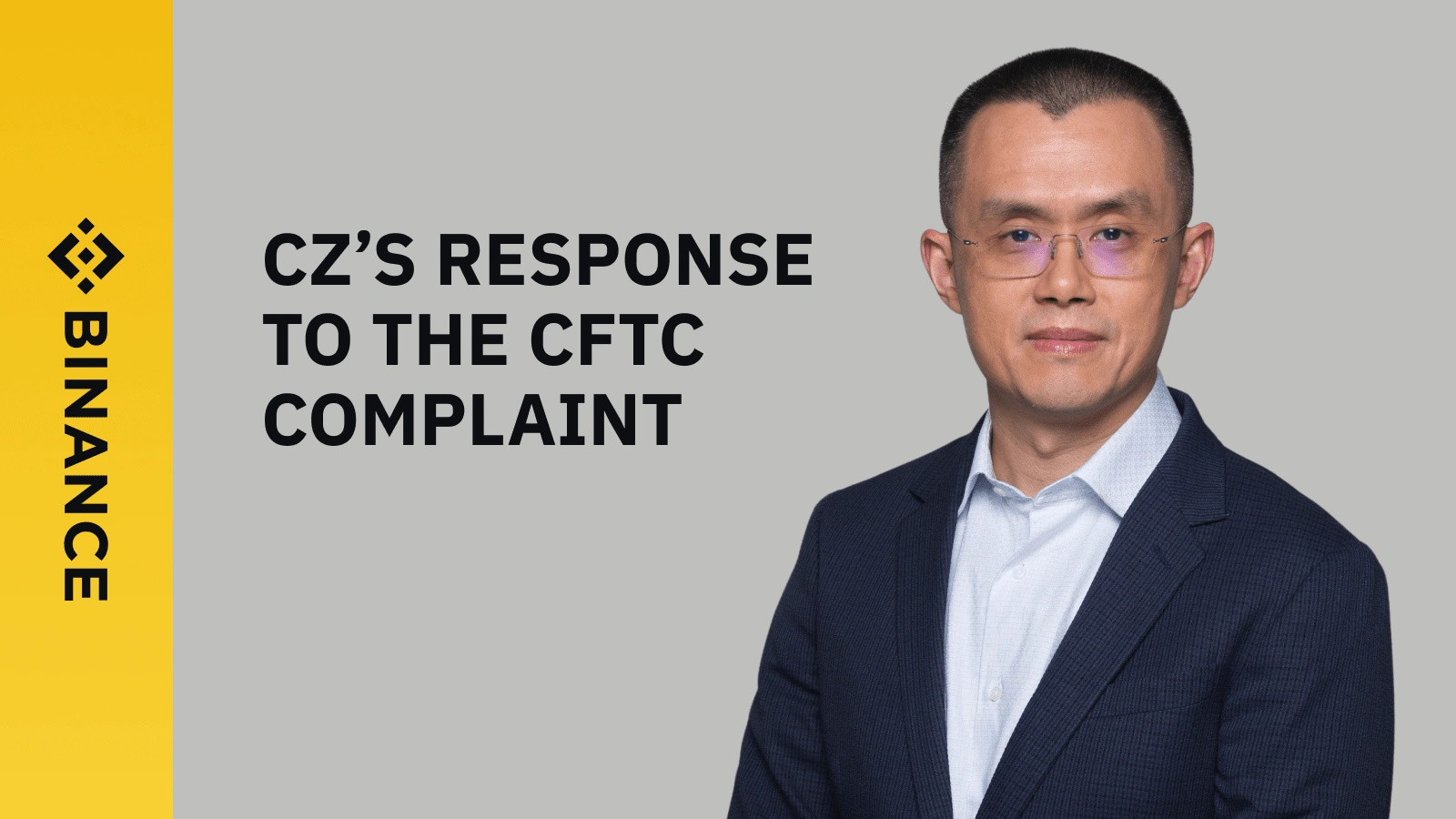 Dispute with the SEC
SEC's Allegations
In June 2023, The U.S. Securities and Exchange Commission (SEC) filed a complaint against Binance, alleging several charges. The SEC claimed that Binance operated as an unregistered securities exchange and illegally offered and sold securities, including the BNB token and the BUSD fiat-backed stablecoin. These allegations were based on the SEC's assertion that BNB is a security, despite Binance maintaining that it is a native token designed for an internal economy. The SEC's complaint also mentioned concerns about unregistered securities offerings and control over assets staked by US customers.[35]
Binance's Response
Binance strongly disagreed with the SEC's allegations and expressed its commitment to compliance and following applicable laws and regulations. The company maintained that BNB is not a security but a native token that fuels its ecosystem. Binance highlighted its efforts to establish best-in-class compliance programs, invest in advanced technology, and collaborate with regulators and policymakers globally.[35]
"We respectfully disagree with the SEC's allegations that Binance operated as an unregistered securities exchange or illegally offered and sold securities, including by offering BNB, or the BUSD fiat-backed stable coin. We work diligently to comply with laws and regulations applicable to our business. BNB coin is not a security." - Binance
Binance emphasized its disappointment with the SEC's decision to file the complaint, as they believed that the company had actively cooperated and engaged in good-faith negotiations to reach a settlement. The SEC's actions were seen as a departure from substantive engagement and a denial of due process.[35]
"We are disappointed that the SEC chose to file a complaint today against Binance seeking, among other remedies, purported emergency relief."
Binance reassured users that their assets on the platform, including Binance.US, are safe and secure. The company criticized the SEC's apparent lack of consideration for the potential negative impact its actions may have on users and the industry. Despite the SEC's decision, Binance remains committed to defending its business, collaborating with regulators, and continuing to provide robust security measures for its users.[35]
"We want to reiterate: although this glaring lack of process and cooperation is frustrating, what is most concerning to us is the fact that the SEC appears to have given no consideration to the drastic and cascading negative impact its actions today may have on users and the industry."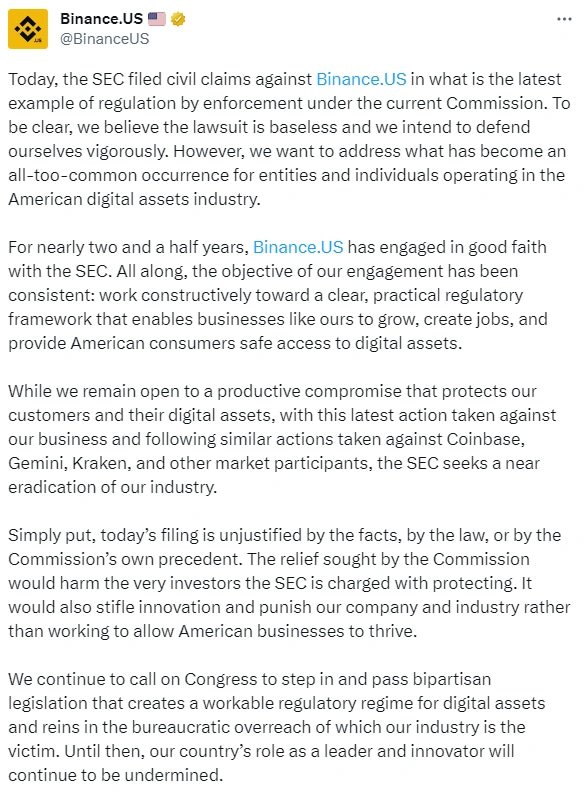 Binance, in response to the SEC's claims
Halt to USD Fiat Channels
Due to the SEC's extreme regulations, Binance.US informed its customers that it would halt USD fiat channels on June 13, 2023. The platform would no longer accept USD fiat deposits and process USD fiat withdrawals as they transition to a crypto-only exchange. Before this, Binance.US supported trading pairs in which their Tier I pairs included SOL/USD, DOT/USD, LTC/USD, and others. [13]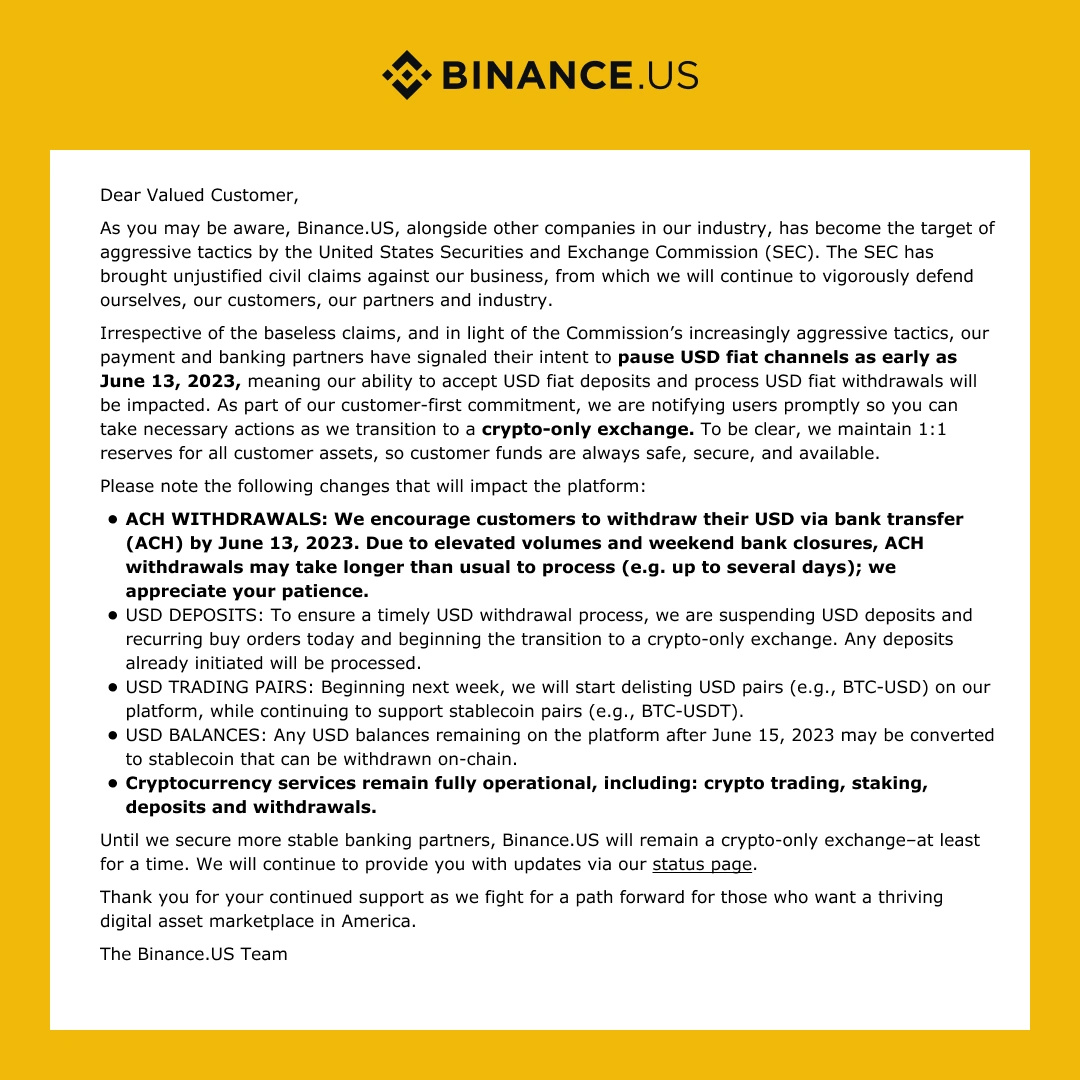 Binance on USD fiat channels
Before the SEC allegations in June 2023, Binance.US and CZ had faced allegations from the Commodity Futures Trading Commission (CFTC) in March 2023. The CFTC had filed a complaint alleging that partner company Binance violated federal law by soliciting US users for revenue. The allegation also involves the company knowingly offering unregistered crypto derivatives products in the US. The CFTC has made the following accusations: [15][16]
Zhao and Binance secretly controlled the Binance.US platform behind the scenes.
The platform is allowing wash trading and misleading investors about the controls in place to prevent manipulative trading on Binance.US.
Letting high-value US investors trade using the global Binance platform
The sale of unregistered securities, including the Binance.US stake-as-a-service program
Binance denied the claim, saying they plan to defend themselves against the accusations. [14][17]
"Any allegations that user assets on the Binance.US platform have ever been at risk are simply wrong, and there is zero justification for the staff's action in light of the ample time the staff has had to conduct their investigation."
Layoffs following SEC Actions
In June 2023, Binance.US informed staff that it would be downsizing due to regulatory actions, though the exact number of layoffs was undisclosed. The situation was a result of a chain reaction caused by the SEC's actions, affecting Binance.US' relationships with its banking partners, according to an email from management reviewed by Blockworks. [41]
In September 2023, Binance.US' CEO Brian Shroder resigned from the crypto exchange about three months after authorities charged the entity with securities law violations. General counsel Norman Reed then became the interim CEO. Shroder held the position of president and CEO at Binance.US for over 2 years and was the third president of the entity since its establishment in 2019. [42]
Binance.US also reported that it is reducing its workforce by over 100 positions, constituting roughly one-third of its employees. This marks the second round of layoffs following the SEC lawsuit.
One day after the departure of Brian Shroder and the layoff of a third of its employees, it was reported that two more executives had resigned. According to The Wall Street Journal, Krishna Juvvadi, the Head of Legal, and Sidney Majalya, the Chief Risk Officer, departed on September 12th, 2023. [43]
A Binance spokesperson spoke about how the SEC's aggressive actions against the industry are harming American jobs including their own layoffs.
"The actions we are taking today provide Binance.US with more than seven years of financial runway and enable us to continue to serve our customers while we operate as a crypto-only exchange. The SEC's aggressive attempts to cripple our industry and the resulting impacts on our business have real world consequences for American jobs and innovation, and this is an unfortunate example of that."
Funding
On April 6, 2022, Binance.US announced that it had raised over $200 million in its first seed funding round, resulting in a pre-money valuation of $4.5 billion. Investors in this funding round include notable firms such as RRE Ventures, Foundation Capital, Original Capital, VanEck, and Circle Ventures. Additionally, Binance.US partnered with mission-driven organizations such as Gaingels, an investment syndicate that supports LGBTQIA+/Allies, and Gold House, a nonprofit dedicated to fostering multicultural representation and societal equity. Using this fund, Binance.US aims to conduct an initial public offering (IPO) by Q2 of 2025 and expand the platform, with Brian Shroder the CEO at the time expressing the importance of an IPO for the company's future.[39]
"I personally feel that there is value in going through the process of going IPO because it requires a lot of regulatory discussions and those are things we welcome and are excited about." - Brian Shroder
"Every dollar raised will be plowed back into the business in a variety of ways. Today, we are a fairly simple business, a spot trading platform, but we want to be so much more. If you look at our bigger brother Binance.com, you'll see a plethora of products and services they offer." - Brian Shroder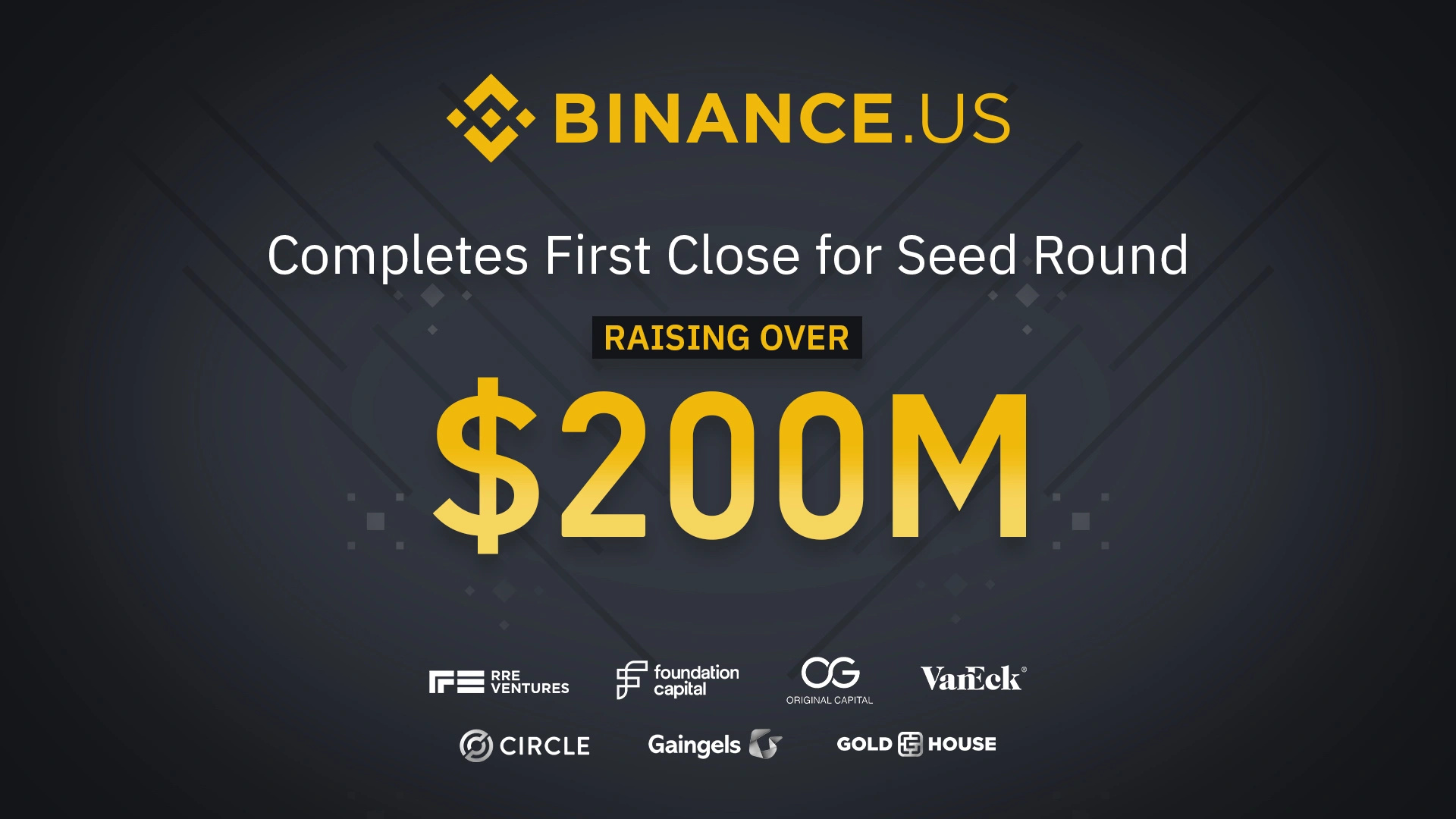 See something wrong?
Report to us.
Binance.US
Did you find this article interesting?