WOO Network
WOO Network is a Fintech startup and a deep liquidity network allowing traders, exchanges, institutions, and DeFi platforms an access to liquidity and trading execution. [1][3][5]

History
WOO Network was incubated by Kronos Research (founders: Mark Pimentel and Jack Tan) in 2019, a quantitative trading firm with a prominent presence as a market maker across all major exchanges. Kronos Research handles a daily trading volume of $5-10 billion. Drawing from their extensive experience in the cryptocurrency industry, the Kronos team identified a significant issue: a lack of liquidity that was both inadequate and costly on numerous crypto exchanges, including centralized and decentralized platforms. [6]
Funding
As of August 2023, Woo Network raised $52 Million since its incubation in 2020. Dragonfly led the seed round in September 2020, with a $10M investment, Binance Labs led the Series A funding round with a $12M investment in January 2022, and $30M was raised in November 2021 by Three Arrows Capital, Fenbushi Capital, MEXC Capital, Crypto.com Capital, among others. [7]
Products & Services
WOO X
WOO X is a centralized exchange (CEX) providing professional and institutional traders with liquidity and execution. The WOO X exchange achieves its deep liquidity by aggregating market depth from larger exchanges and setting up an open liquidity pool with participation from multiple market makers, including Kronos Research.[8]
WOO X is the network's CeFi flagship product. It launched in August 2021 as the first crypto exchange to use Payment for Order Flow (PFOF), a compensation model that rewards brokers for forwarding orders to different market participants for trade execution. The PFOF provides transparent trade execution and a competitive fee structure for retail traders. [8][9]
WOOFi
WOOFi is a decentralized exchange (DEX) and staking platform offering swaps and yield-generating pools on BNB Chain and Avalanche. It is an Automated Market Marker that uses the Synthetic Proactive Market Making (sPMM) model for determining prices. [10]
WOOFi x Polygon zkEVM
On July 5, 2023, WooFi expanded to Polygon zkEVM. The expansion allows WOOFi to become the omni-liquidity layer connecting Layer-2 networks. [19] The main advantage of Polygon zkEVM is derived from the zero-knowledge technology that supports it. This lowers transaction costs and boosts network speeds, resulting in an experience similar to that of the mainnet. [20]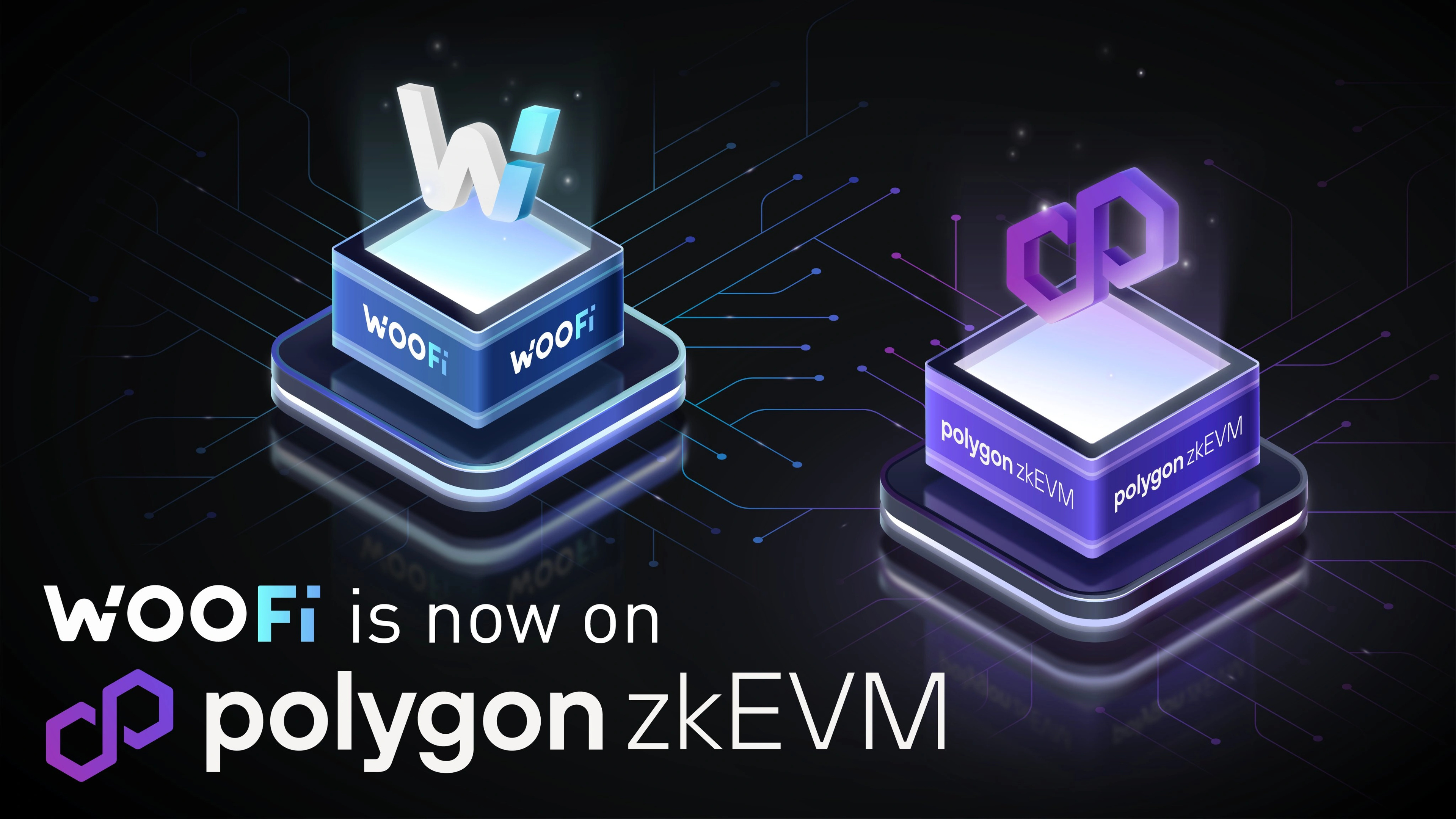 WOO Trade
WOO Trade is the network's dark pool trading platform for institutional clients to place trades without immediately revealing their strategy to the public. WOO Network offers WOO Trade for institutional clients, allowing partner exchanges to integrate WOO Network's liquidity into their services via API. [6][9]
WOO Ventures
WOO Ventures is the investment arm of WOO Network, which seeks to form strategic partnerships with projects and ecosystems. 50% of the returns from all investments are distributed back to WOO token holders. [6]
WOO Token
WOO Token (WOO) is the utility token used for various services on the WOO Network and it was launched on October 30, 2020. [11]
Tokenomics
WOO was launched with 3 billion WOO tokens created at genesis. 10% of the tokens were sold in Private and Public sales, 20% to the Team, and 5% to Advisors. [12]
50% of tokens were earmarked to support the WOO ecosystem, with the following purposes: 25% WOO ecosystem rewards, allocated to incentivize network usage, 10% Insurance fund, to back user assets on the network, 10% Ecosystem partners, to reward partners for supporting activities, 5% WOO Ventures, to invest in early-stage projects with benefits going to token holders. [11][12]
Utility
By staking WOO tokens on WOO X, users can reduce or offset trading fees and API trading rate limits, as well as increase the impact of their referral rebates. In DeFi applications, WOO tokens can be used for providing liquidity through yield farming or as collateral for lending and borrowing other crypto assets. [11]
WOO stakers on both WOOFi and WOO X, as well as anyone holding at least 1,800 WOO in an on-chain wallet, can participate in decentralized governance by creating proposals or voting in the WOO DAO (Decentralized Autonomous Organization). [6]
WOO Network Technology
The WOO Network works with Kronos Research to aggregate and incorporate liquidity utilizing quantitative trading and hedging methods. The network sources liquidity from leading centralized and institutional trading platforms, as well as from DeFi networks like Ethereum, BNB Chain, Polygon, and Avalanche. [1][6]
Clients have the option to connect to the network directly through API or by utilizing the graphical user interface (GUI) available on WOO X and WOOFi. Alternatively, some clients connect indirectly through DeFi platforms such as 1inch, 0x, or Paraswap. [6]
Partnerships
Woo Network x zkSync Era
On April 27, 2023, the $WOO token became one of the 14 officially supported bridge assets via the zkSync Era bridge, a layer 2 protocol that scales Ethereum by bundling transactions together. The partnership makes it possible for DeFi traders to gain access to WOOFi's best pricing on zkSync Era. [17]
"Our intention is to accelerate this outcome by deploying WOOFi on zkSync Era, combining their seamless UX with an unbeatable trading experience." - the announcement stated[17]
WOOFi Stake 2.0
On May 25, 2023, WOO network introduced WOOFi Stake 2.0, a cross-chain staking powered by Arbitrum and LayerZero. [18]
WOOFi Stake 2.0 improves upon WOOFi Stake 1.0 through integration with LayerZero's cross-chain messaging technology. Users can stake $WOO on both Ethereum and Optimism chains, with rewards being pooled together for claiming on Arbitrum. This simplifies the staking process for those utilizing multiple chains and provides an avenue for earning yield. [18]
Other partners include:
See something wrong?
Report to us.
WOO Network
Did you find this article interesting?