ETH Seoul
ETH Seoul is a conference that focuses on the Ethereum blockchain and related technologies. The conference usually features talks and presentations from experts in the field, as well as workshops, hackathons, and networking events. ETHh Seoul provides a platform for developers, researchers, and industry professionals to exchange knowledge, showcase new projects, and explore the latest developments in the Ethereum ecosystem.
Overview
ETH Seoul is a blockchain conference that focuses on the Ethereum ecosystem and related technologies. The conference is held annually in Seoul, South Korea, and brings together developers, entrepreneurs, investors, and other stakeholders from the blockchain industry.
At ETH Seoul, attendees can expect to participate in a variety of activities, including keynote speeches, panel discussions, workshops, and networking events. The conference provides a platform for participants to share knowledge, showcase new projects, and explore the latest developments in the Ethereum community.
ETH Seoul has become one of the most popular blockchain conferences in Asia, and attracts attendees from around the world.
ETH Seoul typically features a diverse range of speakers, including prominent figures from the Ethereum community, as well as industry experts and thought leaders. Past speakers have included Vitalik Buterin, co-founder of Ethereum; Joe Lubin, founder of ConsenSys; and Ryan Selkis, founder of Messari.
In addition to keynote speeches and panel discussions, ETH Seoul often includes hands-on workshops and coding challenges, giving participants the opportunity to gain practical experience and develop new skills.
ETH Seoul also provides a platform for startups and other blockchain projects to showcase their work and connect with potential investors and partners. The conference typically includes a startup pitch competition, as well as a demo area where attendees can see the latest blockchain innovations in action.
ETH Seoul places a strong emphasis on community building, with plenty of opportunities for attendees to network and connect with like-minded individuals. The conference also hosts a variety of social events, such as cocktail receptions and after-parties, to encourage informal interactions and relationship-building.
The conference covers a wide range of topics related to the Ethereum blockchain and its ecosystem, including smart contracts, decentralized finance (DeFi), non-fungible tokens (NFTs), and more. Speakers and panelists at ETH Seoul often share insights on the latest trends and developments in the industry, as well as their own experiences building blockchain projects.
In addition to traditional conference activities like keynote speeches and panel discussions, ETH Seoul also includes a number of interactive and experiential elements. For example, past conferences have featured live coding challenges, workshops on topics like blockchain gaming and design thinking, and interactive installations showcasing the latest blockchain innovations.
ETH Seoul is known for its strong community spirit, with many attendees citing the conference as a valuable opportunity to connect with like-minded individuals and build relationships within the blockchain industry.
ETH Seoul 2022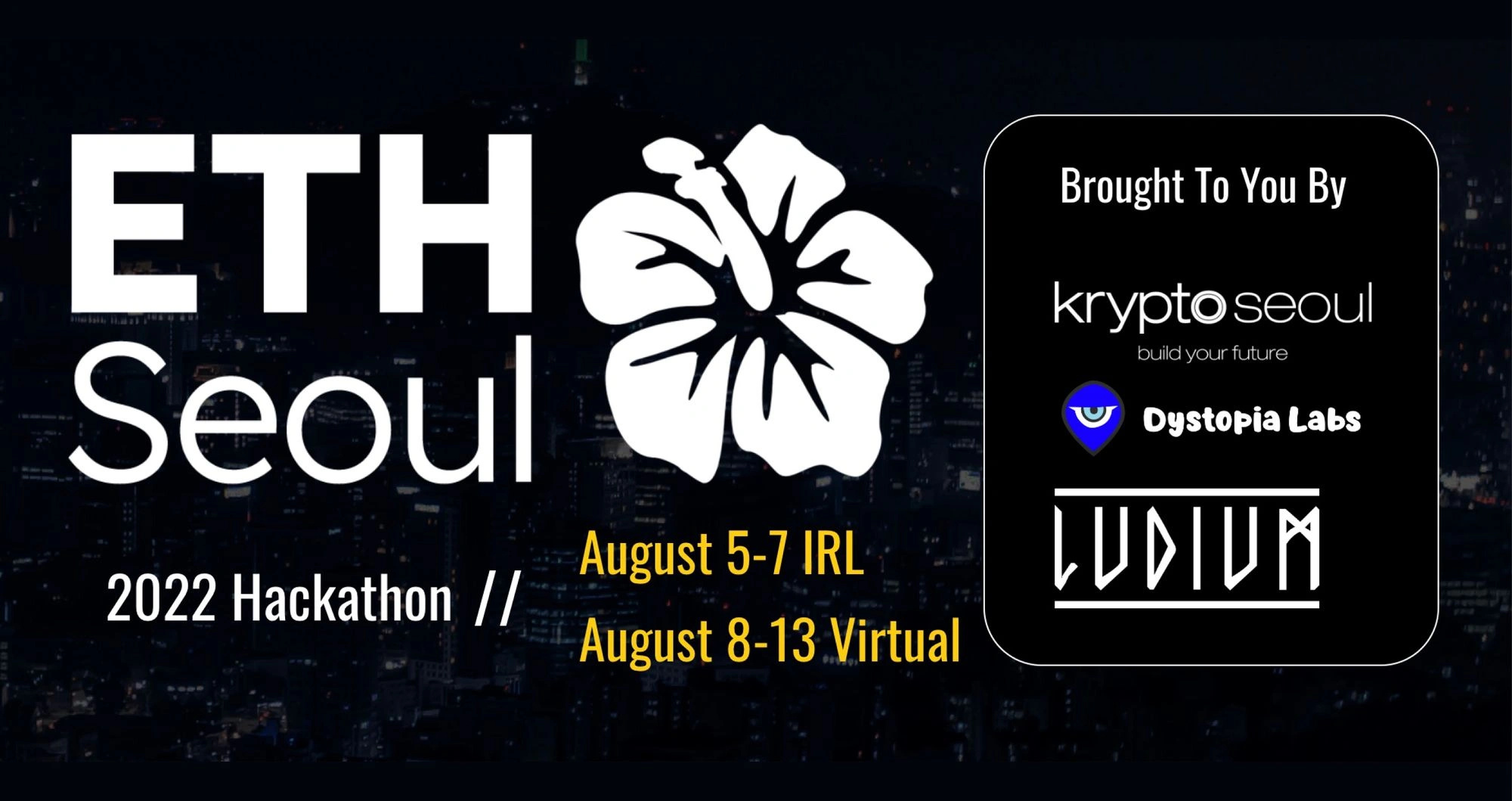 ETH Seoul 2022 was an
Ethereum
and
blockchain
-focused event that aims to bring together some of the brightest minds in the industry to discuss, redefine, and celebrate the future of
blockchain
. The event happened right in the heart of Seoul and featured a series of keynotes, panel discussions, pitch competitions, investor meet-ups, and world-class networking opportunities for all those attendees.
ETH Seoul was scheduled in two phases. The first phase, which was the IRL part of the event, was scheduled from August 5th to August 7th. The second phase was conducted virtually which was scheduled from August 8th to August 13th. The ETH Seoul event was co-organized by Kryptoseoul and Dystopia Labs.
ETH Seoul 2022 hackathon, organised by ETHSeoul and hosted on Devfolio, kicked off on August 5 and brought together hundreds of developers, industry experts, and mentors to innovate and build decentralized applications with the potential of mass adoption.
Developers from around the globe ranging from high school students to PhD scholars, joined the hackathon and built various projects. No two projects were similar and were built on diverse ideas such as the scalability of EVM chains, L2s, ZK rollups, DAOs, NFT metadata, etcetera, and won bounties from a pool of over 75,000 USD.[1][2]
The event also included expert panels, tech talks, workshops, mentorship sessions, and networking activities, making the atmosphere immersive and energetic. The panel of speakers and judges included industry veterans like:
Vitalik Buterin — Chief Scientist, Ethereum Foundation
Sandeep Nailwal — Co-Founder, Polygon
Tim Beiko — Protocol Developer Coordinator, Ethereum Foundation
Stani Kulechov — Founder & CEO, Aave
Illia Polosukhin — Co-Founder, Near Protocol
Eli Ben-Sasson — Co-Founder & President, StarkWare
Camila Ramos Garzon — Developer Relations Engineer, The Graph Protocol
Laura Shi — Director of Strategic Initiatives, ConsenSys
Longfei Wang — Developer Advocate, Protocol Labs
Doo Wan Nam — COO, StableNode
Josh Fraser — Co-Founder, Origin Protocol
0xMaki — Contributor, LayerZero
WhaleShark — Founder, whale.me
Richard Burton — Co-Founder, Balance.io
Niklas Kunkel – Oracle Core Unit Facilitator at MakerDAO
Alex Pruden – COO at Aleo
Raul Jordan – Core Developer at Prysmatic Labs
Janmajaya Mall – Project Lead / Privacy & Scaling Explorations at Ethereum Foundation
Graeme Boy – CTO at Mirror.xyz
Geoff Lamperd – Project Lead / Privacy & Scaling Explorations at Ethereum Foundation
and many more!

ETH Seoul 2023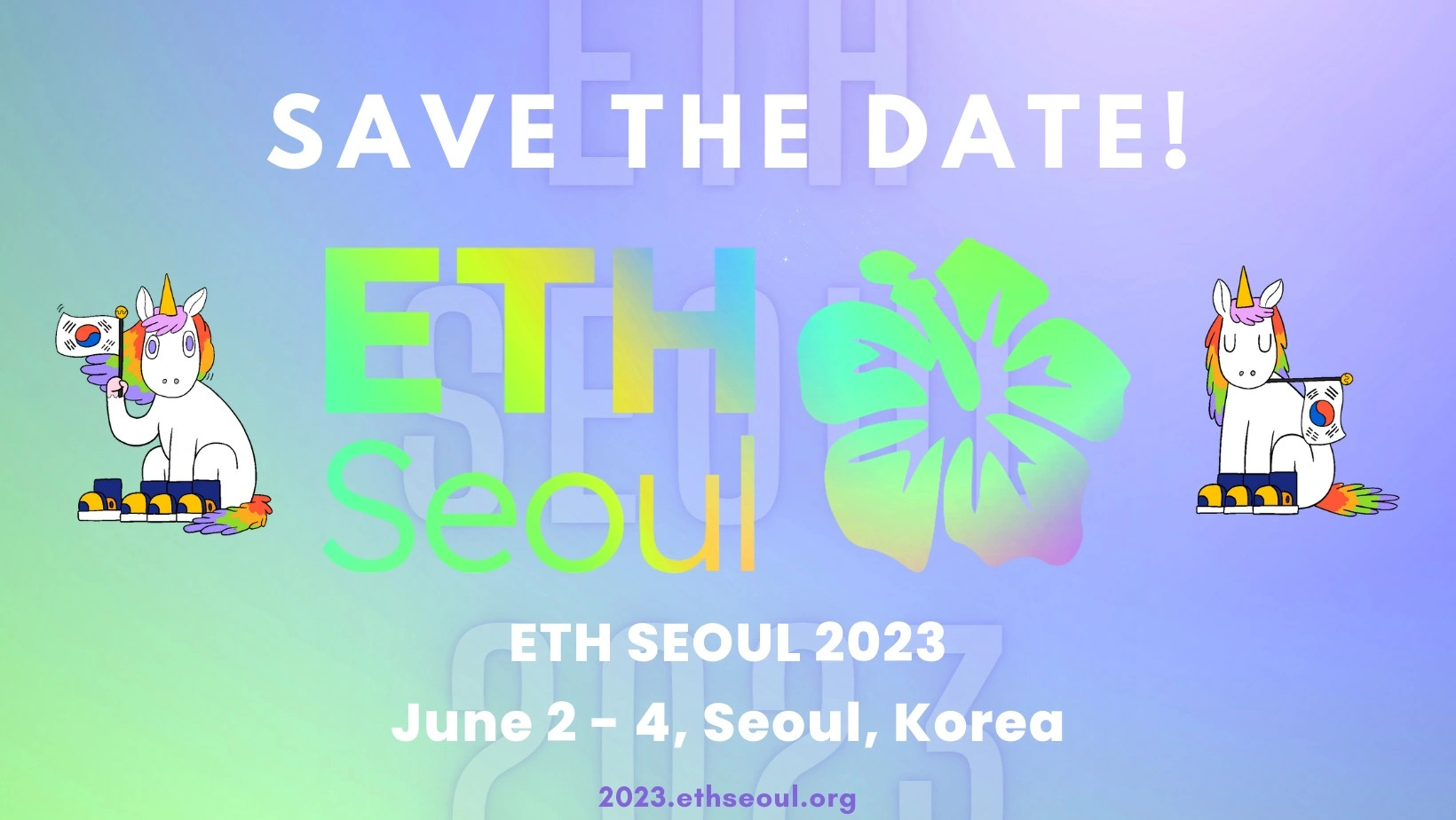 ETH Seoul 2023 will be happening in Seoul Korea on June 2nd - 4th.
[4]
The panel of speakers includes:
Chih-Cheng Liang -   Research Engineer, Ethereum Foundation
Teck Chia - Head of Gnosis Builders & GP of Factor, Gnosas Chain
Philip Bain -    Senior Engineer, Maker
Deniz Yilmaz - Core Unit Facilitator, Maker
Adam Goth - Senior Engineer, Maker
Nader Dabit - Director of Dev Relations, Aave
Tomasz Kajetan Stańczak - Founder & CEO, Nethermind
Jordi Baylina - Co-Founder, Polygon, / Senior Technical Lead, zkEVM
Igor Mandrigin - CTO, gateway.fm
Suji Yan - Founder & CEO, Mask
Aidan Hyman - CEO & Co-Founder, Chainsafe
Mike Silagadze - CEO, ether.fi
Victor Zhang - CTO, Cega
2023 Ethereum Event list
Event[3]
startDate
endDate
Geo
Link
Twitter
Tg/Discord
FVM Space Warp
January 20
February 10
Online
ethglobal.com/events/spacewarp
ethglobal
-
ETHTLV
February 3
February 8
Tel Aviv, ISR
-
ETHTLV_
-
Starkware Sessions
February 5
February 6
Tel Aviv, ISR
starknet.io/community/events/
t.me/+xpQoz-wvlOQ1YWE0
Building blocks
February 7
February 7
Tel Aviv, ISR
buildingblockstlv.com/
BuildingBlock_s
t.co/ToNTnJjjgF
KL Mini Hack
February 17
February 18
Kuala Lumpur, MYS
cny-hack-kuala-lumpur.devpost.com/
-
t.me/+WkPu1qB_pOg0MjU6
NFT Paris
February 24
February 25
Paris, FR
nftparis.xyz
nft_paris
-
Buidlweek
February 24
March 1
Denver, CO, USA
buidlweek
EthereumDenver
t.me/ETHDenver
Interop Summit
February 27
February 28
Denver, CO, USA
interopsummit.com/
Interop_Summit
t.me/+-O5uKq4ZedNlYjRh%20
We Are Millions
March 1
March 31
Online
wearemillions.online
ethswarmhive
discord.gg/4fvartJMcu
SchellingPoint
March 2
March 2
Denver, CO, USA
schellingpoint.gitcoin.co
schellingpoint_
https://t.me/EX2vtzI0earU2LER
ETHDenver
March 2
March 5
Denver, CO, USA
ethdenver.com
EthereumDenver
t.me/ETHDenver
Scaling Ethereum
March 10
March 29
Online
ethglobal.com/events/scaling2023
ethglobal
-
Ethereum Guatemala
March 11
March 11
Guatemala
ethguatemala.com/
ethereumgt
t.me/ethereumgt
ETHDubai
March 14
March 16
Dubai, UAE
ethdubaiconf.org
ETHDubaiConf
Web3Dubai
ETH Porto
March 16
March 18
Porto, PRT
ethporto.org
eth_porto
-
NFT LA
March 20
March 23
LA, USA
nftla.live/
nftlalive
discord.com/invite/2TWj8P9JVU
PBWS
March 22
March 23
Paris, FR
parisblockchainweek.com
ParisBlockWeek
-
Ethereum Brasil
March 28
March 30
Rio, BR
ethereumbrasil.com/
ethereum_brasil
t.me/Ethereum_Brasil
DAO TOKYO
March 28
March 28
Tokyo, JPN
dao-tokyo.xyz/
DAO_TOKYO_XYZ
t.me/+_bZ4gzTnmxNjNmI1
zkSummit
April 4
April 4
Lisbon, PRT
zksummit.com/
zeroknowledgefm
-
NFT NYC
April 12
April 14
NYC, USA
nft.nyc
NFT_NYC
t.me/joinchat/ZKy4Ny0R0Z0wZTlh
ETHGlobal Tokyo
April 14
April 16
Tokyo, JPN
tokyo.ethglobal.com/
ethglobal
-
Ethereum Zurich
April 14
April 16
Zurich, CHE
ethereumzuri.ch/
EthereumZurich
t.me/ethereumzurich
BlockchainWeek ZA
April 14
April 21
Johannesburg, ZAF
-
-
-
ETH Taipei
April 21
April 25
Taipei, TWN
ethtaipei.org
EthTaipei
-
Consensus2023
April 26
April 28
Austin, TX, USA
coindesk.com/consensus/
CoinDesk
t.me/+OyjKZpv18QthNWMx
ETH Privacy Istanbul
April 28
April 30
Istanbul, TUR
leadingprivacy.com/istanbul
-
leadingprivacyalliance
ETHMalaysia
May 5
May 7
Kuala Lumpur, MYS
ethmalaysia.com/
ETHMalaysia
-
ETHTallinn
May 5
May 7
Tallinn, EST
ethtallinn.org/
eth_tallinn
-
NFT Tallinn
May 8
May 9
Tallinn, EST
nfttallinn.com
NFTTallinn
discord.com/invite/xeZRAXN4Xd
ETHGlobal Lisbon
May 12
May 14
Lisbon, PRT
ethglobal.com/events/lisbon
ethglobal
-
BuildETH 2023
May 12
May 12
San Francisco, CAL, US
buildeth.io/
ETHDam
May 19
May 21
Amsterdam, NL
www.ethdam.com/
CryptoCanal
t.me/CryptoCanalCommunity
Edcon
May 19
May 23
Montenegro, MNE
edcon.io/
EDCON2023
EDCON2023_official
BlockSplit
May 22
May 25
Split, Croatia
blocksplit.net
blocksplit
t.me/blocksplitconf
SpaghettETH II
May 24
May 26
Naples, ITA
spaghett-eth.com/
SpaghettEth
t.me/spag
ETHDublin
May 26
May 28
Dublin IRL
ethdublin.io
EthIreland
-
TLV Blockchain Week
May 29
June 3
Tel Aviv, ISR
tlvbw.io/
-
-
Web3 Tales
June 1
June 2
Zagreb, HRV
web3tales.io/
AliceinBlckchns
-
ETH Seoul
June 2
June 4
Seoul, KOR
ethseoul.org
@eth_seoul_
t.me/+uKHYurHO1943OTBl
ETH Belgrade
June 2
June 6
Belgrade, SRB
ethbelgrade.rs/
ethbelgrade
t.me/+G3fTH2wX8TpiMzJk
Prague Blockchain Week
June 2
June 11
Prague, CZE
gm.events
ethprague
t.co/e9xy75TgyT
Belgrade Blockchain Week
June 3
June 10
Belgrade, SRB
belgradeblockchainweek.com/
bgdblockchain
t.me/+JHSH1qc-W85kYzdk
UTXO
June 4
June 5
Prague, CZE
utxo.cz
utxoprague
t.me/utxoprague
Brussels Blockchain Week
June 5
June 11
Brussels, BEL
blockchainweek.be/
-
-
Non Fungible Conference
June 7
June 8
Lisbon, PRT
nonfungibleconference.com
NFCsummit
t.me/+fFoOkb5AxvVlMTc8
ETHPrague
June 9
June 11
Prague, CZE
ethprague.com/
ethprague
t.me/ethprague
ETHGlobal Waterloo
June 23
July 25
Toronto, CAN
ethglobal.com/events/toronto
ethglobal
-
ETH Barcelona
July 5
July 7
Barcelona, ESP
ethbarcelona.com/
eth_barcelona
t.me/ethbarcelona
DeFi Security Summit
July 15
July 16
Paris, FR
defisecuritysummit.org/
summit_defi
https://t.me/+DEoAJOniBEAxNjE0
DaoCon
July 16
July 16
Paris, FR
daocon.io/
-
-
EthCC
July 17
July 20
Paris, FR
ethcc.io
ethcc
t.me/ETHcc2023
EthCCweek
July 17
July 23
Paris, FR
ethccweek.fr/
EthCCWeek
t.me/ethccweek
ETHGlobal Paris
July 21
July 23
Paris, FR
ethglobal.com/events/paris2023
ethglobal
-
Metafest Croatia
August 16
August 18
Pula, HR
metafest.wtf
MetaFam
Ethereum Argentina
August 16
August 19
Buenos Aires, ARG
mailto:

[email protected]

-
t.me/+2nijw5YHq_hjODkx
Web3 Lagos Conference
August 17
August 19
Lagos, NGA
event.web3bridge.com/
web3bridge
t.me/web3bridge
ETHWarsaw
August 30
September 3
Warsaw, POL
ethwarsaw.dev
ethwarsaw
t.me/joinethwarsaw
Touch Green
September 7
September 8
Luxembourg, LUX
touchgreen.xyz
-
t.me/touch_green
Ethereum Singapore
September 10
September 12
Singapore, SG
ethereumsingapore.com/
ethereum_sg
-
Permissionless
September 11
September 13
Austin, TX, USA
permissionless
Blockworks_
-
DappCon
September 11
September 13
Berlin, DE
dappcon.io
dappcon_berlin
discord.com/invite/kY3pPUjnt8
Protocol Berg
September 15
September 15
Berlin, DE
protocol.berlin/
ETHBerlin
-
ETHGlobal New York
September 22
September 24
NYC, USA
ethglobal.com/events/newyork2023
ethglobal
-
Token2049
September
September
Singapore, SG
token2049.com
token2049
token2049official
ETHOnline
October 6
October 25
Online
ethglobal.com/events/ethonline2023
ethglobal
-
ETHGlobal Istanbul
November
November
Istanbul, TUR
ethglobal.com/events/istanbul
ethglobal
-
DevConnect
TBD
-
TBD
Devconnect.org
EFDevconnect
https://t.me/efdevconnect
ETH Lisbon
TBD
-
TBD
-
-
-
Liscon
TBD
-
Lisbon, PRT
liscon.org
0xliscon
t.me/liscon2021
DevCon
Q3 2024
Q4 2024
TBD
devcon.org
EFDevcon
t.me/devcon_bogota
See something wrong?
Report to us.
ETH Seoul
Did you find this article interesting?