Hashed
#Hashed is a blockchain venture fund, project accelerator, and educator/community builder. It consists of a team of entrepreneurs, engineers, and blockchain experts and it is based in Seoul, Korea. [1][4]

Overview
#Hashed was founded by Simon Seojoon Kim, Ryan Sungho Kim, and Ethan Kyuntae Kim in September 2017. It is an investment fund that focuses on discovering, investing in, and supporting innovative decentralization projects. They approach their investments from a startup perspective, seeking to provide strategic support for the growth of these projects, rather than just assessing their financial value. [5][4]
Impact Investment
Impact investment is the first pillar of Hashed. It is similar to what other traditional venture capital funds do, and the types of projects that Hashed invests in are:
Type A: Projects that take exceptional approaches and apply innovative technology to the technological issues that the decentralization community faces. E.g. ICON, EOS, Aelf, Quarkchain, Thunder, Dfinity, Terra, etc. [5]
Type B: Projects that can effectively convey the capabilities of the token economy and decentralization to the real world. E.g. TTC, Carry, Contents Protocol, Cosmochain, Wax. [5]
Type C: Projects that offer decentralization-related solutions to social issues, and aim to have a larger social impact. E.g. SureRemit, Pluto, Sentinel Protocol. [6]
Community Building
Hashed creates and develops decentralization communities. They believe that community building is vital while the decentralization ecosystem is still in its early aughts, and so, the organization puts extensive resources into this effort.
"The value of every decentralization project is determined by the size of its community, its network effect. For example, if only a small number of people possessed all the Bitcoin in the world, its value would be close to zero. The Bitcoin network's net worth has grown because more and more people have entered the Bitcoin community as members, believing in its utility." - the blog stated[5]
Acceleration
Hashed provides support for projects in all steps of the process of becoming a competitive global participant as a strategic investor and team member from the very beginning. They aid in white paper drafting and token model design, helping projects build relationships with influential local investors and community builders.
"Hashed is not a project builder. As such, we only choose to accelerate projects with a strong understanding of the fundamentals and values of decentralization, projects that could function without our assistance. The biggest assistance we offer is acceleration of the process, since the crypto market undergoes major changes every day at an increasingly fast pace. Therefore, discussing networks with projects in a thorough manner and sending them on a fast track is vital. - Simon Seojoon Kim in Introducing Hashed[5]
Funding
In December 2020, Hashed raised $120 million for a fund that would be focused on a new era of distributed networks. [7][17]
"We believe we will be living in a society where people will be working for different networks (protocols) rather than for specific companies," Hashed CEO Simon Kim told CoinDesk through a spokesman.
"So it is our mission to find the best networks that facilitate people's work and life."[7]
In December 2021, Hashed raised $200 million for a fund dedicated to growing the Web3 ecosystem. Hashed did not disclose investors, however, it said the raise included investment from "the largest Korean IT companies, multi-discipline conglomerates, and globally renowned investment firms," according to a press release. [8][11][17]
Team
Simon Seojoon Kim - CEO & Managing Partner
Ryan Sungho Kim - Cofounder & Partner
Ethan Kyuntae Kim - Cofounder & Partner
Sean Hong - CFO & Partner
Baek Kim - Partner
Edward Hong - Chief Platform Officer
Jun Park - Senior Associate
Medha Srivastava - General Counsel
Jin Kang - Head of Legal
Dan Park - Research Associate
Edward Tan - Associate
Irene Park - Finance Manager
Wooster Han - Community Lead[9]
Hashed Potato Club
On June 19, 2023, Hashed hosted the first offline meetup for the Hashed Potato Club. The club aims to provide a decentralized community platform for the founders of Hashed's portfolio companies to connect with each other directly, without intermediaries. The meetup was attended by approximately 120 founders representing over 50 projects, who actively participated in the event. [10]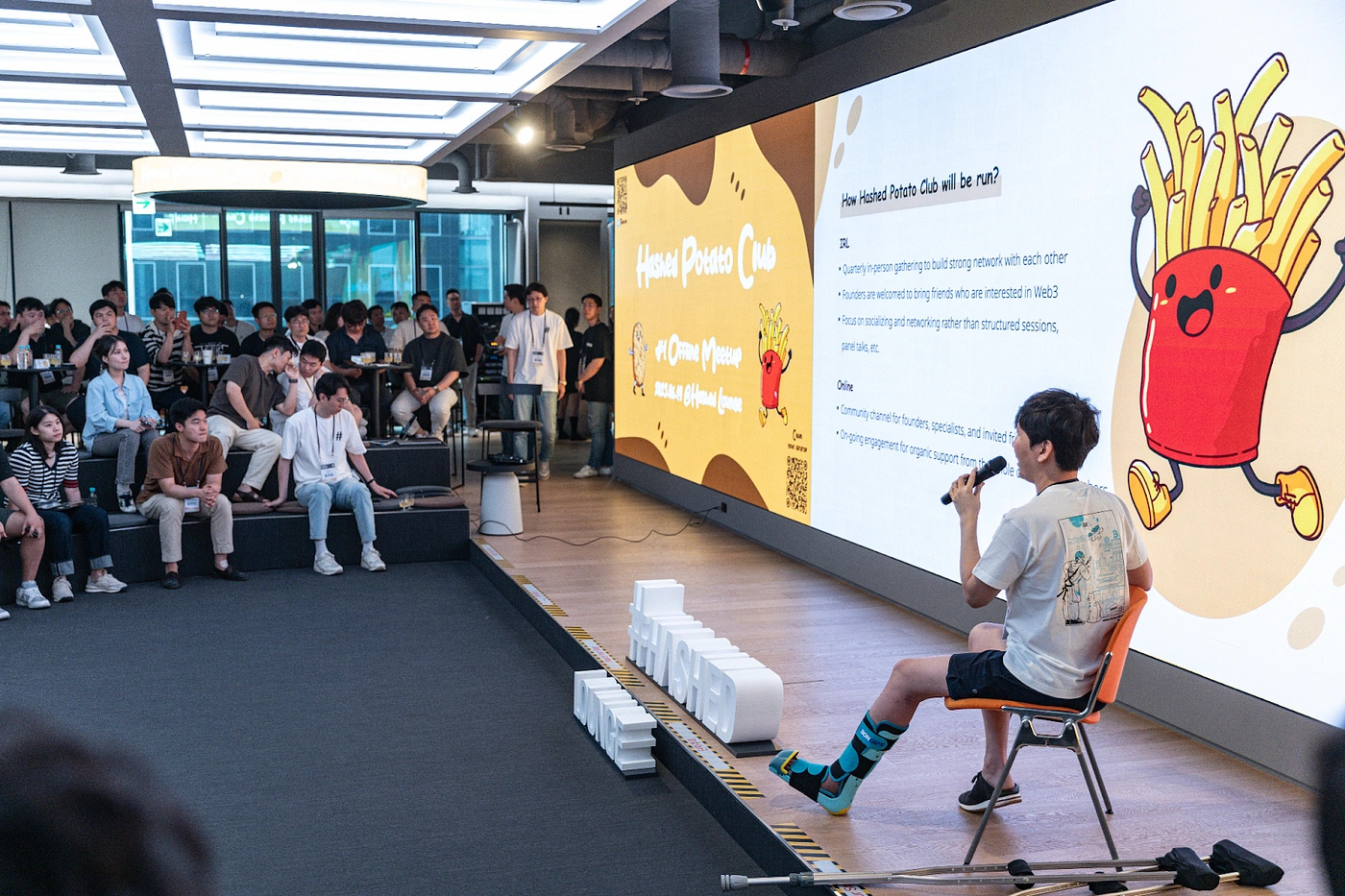 The event featured insightful presentations from Simon Kim, the CEO and Managing Partner of Hashed; Ryan Kim, the Co-founder and Partner of Hashed; Youngkwon Kim, the CEO of Playa; and Joseph Baek, the Co-founder, and EVP of Modhaus.
[10]
The Hashed Potato Club operates in two areas: offline and online.
The offline component consists of quarterly meetups featuring sessions on topics such as wine selection and stress management, deviating from conventional business presentations. The meetups aim to be networking-centric events where entrepreneurs can discuss collaborative ideas, share thoughts, and engage with one another. [10]
For the online component, the organization aims to build a community incorporating Web3 elements such as a dedicated wallet and webpage for Hashed Potato Club members, and NFTs as proof of membership. The aim of the Web3 experience is to facilitate the transition of Web2 entrepreneurs into the realm of Web3. [10]
Partnerships
Hashed x Icetea Labs
In January 2022, Hashed partnered with Icetea Labs — a gaming and metaverse incubator and enabler in Asia to co-build a self-sustainable, interoperable, open metaverse and GameFi ecosystem. The two strategic partners explored the details to cooperate closely in a hands-on manner in GameFi and Metaverse with regard to R&D and financing, ranging from infrastructure layers, platforms, and services, to interoperable flagship products, supporting the full lifecycle of games and metaverses (i.e. tokenomics design, launch plan, marketing, and etc.). [12]
The strategic collaboration is expected to fuel the overall growth of the gaming and metaverse industry, especially in the Asia Pacific.
"SEA (Southeast Asia) is the region with the fastest-growing adoption of blockchain games and GameFi. It is mesmerizing that blockchain games like Axie Infinity are now entirely transforming the economic patterns of people living in the region. Through this partnership, Hashed will work closely with Icetea Labs in the region to actively discover founders and support them to create a new value." — Edward Hong, Head of Growth at Hashed[12]
Hashed x KB Kookmin Bank
In August 2020, Hashed formed a strategic partnership with KB Kookmin Bank[14] — the largest bank in Korea, Haechi Labs[15], and Cumberland Korea[16] to advance the emerging market for digital assets in South Korea. Their cooperation around fundamental technologies such as blockchain will entail managing and storing digital assets, advocating for optimal regulatory developments, and transforming the traditional financial sector. [13]
Portfolio
Archway

Aura Network

Ceramic

Connext

Dfinity

GuildFi

Finschia

Oasis Labs

SKALE Labs

XPLA

bZx Protocol

Chai

Crypto Tax

CyberConnect

DSRV

Hyperithm

Insurace

Kado

KODA

Krystal

KTX Finance

LEDN

Lendit

Lithium Finance

Matter Labs

Merge

Juno

OnePlanet

Payhere

Olive

PSX

PundiX

Republic

Set Labs

Stockal

Uprise

Vega

Wavebridge

AdShield

Avalon

B-Clipse

Ciety

CodeStates

Comento

Doeat

DrNow

Fitogether

Flexity

Future Kitchen

GetMega

Greenlabs

Gunstar Metaverse

Halfz

Headfone

Jejememe

Korea Senior Lab

Lafity

Loco

LOVO AI

Mindcafe

Mythical Games

OXOpolitics

Planetarium

Pluto

Satellite.im

Story Protocol

SWING

The Trive

Voithru

Vrism

AcadArena

Avocado Guild

Blockodyssey

Community Gaming

Covalent

Cryptoquant

Dfns

Dune

EveryRealm

FreshCut

Halliday

Human Protocol

Line Next

NFTBank

nonce

Notifi

Nurihaus

Off Live

Playa

Ramper

RareCircles

Suberra

Ready Player DAO

RECUR Forever

Secret Network

WitU[6]
See something wrong?
Report to us.
Hashed
Did you find this article interesting?