Yuga Labs
Yuga Labs is a leading company in the NFT space, best known for launching the leading NFT project, Bored Ape Yacht Club (BAYC). Founded in February 2021, the company has quickly gained influence and success by onboarding celebrities and broadening the community, reaching a company valuation of $4 billion by March 2022.[1][2]
Overview
Yuga Labs was founded by Greg Solano, Wylie Aronow, Kerem Atalay and Zeshan Ali previously known by their pseudonyms, "Gargamel '', "Gordon Goner", "Emperor Tomato Ketchup" and "Sass" respectively, and is incorporated in the state of Delaware in the United States. The company's first NFT project, BAYC, became extremely profitable in a short period of time, with initial floor prices of $240 reaching over $137,000 in just a few months. In 2021, Yuga Labs also launched two spinoff collections, Bored Ape Kennel Club (BAKC) and Mutant Ape Yacht Club (MAYC), which quickly gained value on secondary markets. In March 2022, the company expanded its portfolio even further by acquiring CryptoPunks and Meebits and also started their expansion into the metaverse by the launch of Otherside. The team behind Yuga Labs, which includes diverse backgrounds and full-time staff working on various aspects of the BAYC ecosystem, aims to be a community-owned brand that provides world-class gaming, events, and streetwear. [1][2]
History
On April 18th 2021, shortly after creating their twitter account, the announcement of the release of the Bored Ape Yacht Club's NFT collection was tweeted. [34]
On April 23rd 2021, their presale went live, where buyers did not get to see the appearance and features that their NFT possessed, making it a relatively unsuccessful presale launch. [20][35]
Following the announcement of the launch of their project, there were 3 puzzles posted on their website where the first person to solve the puzzle would win 1 ETH and 2 runner-ups winning an ape each. [20][36]
On April 30th 2021, the BAYC collection was released with 10000 bored apes minted for around $200 at the time and completely sold out by May 1st 2021. [3]
On June 18th, 2021 BAKC was launched with 10000 dog NFTs as companions for the bored apes. [3]
On August 28th, 2021 MAYC was launched with all 10000 Bored Ape holders receiving an airdrop of Mutant Serums so that they could receive the mutant version of their ape, and also released 10000 brand new Mutant Ape NFTs that were available on the market. [4]
On December 13th, 2021, a partnership between BAYC and Animoca Brands was announced for the creation of an NFT integrated game. [5]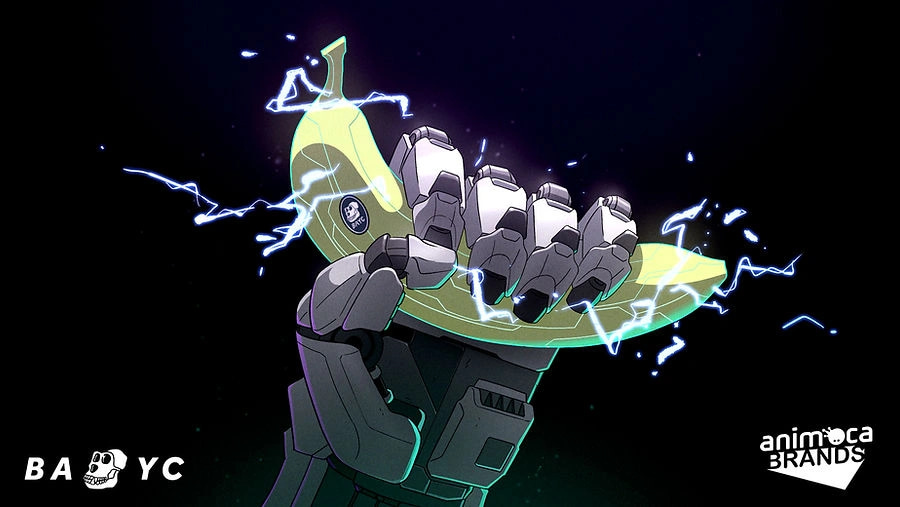 On March 12th, 2022, Yuga Labs announced that they have IP (Intellectual Party) rights for both
CryptoPunks
and
Meebits
NFTs, granting commercial rights to the community.
[6]
On April 24th, 2022, Yuga Labs released Otherside, an MMORPG (Massively Multiplayer Online Role-Playing Game) that integrates NFTs to allow up to 10,000 players to interact and communicate with each other in real-time. [7]
On November 14th, 2022, Yuga Labs has announced that it will acquire WENEW, the parent company of the 10KTF collection. As part of the acquisition, digital artist Beeple will join Yuga Labs as an advisor, and WENEW CEO Michael Figge will become Yuga Labs' chief content officer. Yuga Labs co-founder Greg Solano stated: [8][9]
"Figge, Beeple, and the WENEW team have been successful in creating a serialized story for web3 and tapping into the popularity of digital avatars and customization."
On October 13th, 2022, Yuga Labs announced that it would donate $1,000,000 to support the growth of arts and education programs in Miami. As part of this pledge, Yuga Labs started by donating $300,000 to the Venture Miami Scholarship Fund, which provides free tuition to students in Miami studying STEM subjects at a local institution. [10][11]
Following this, on November 15th, 2022, Yuga announces that they will donate CryptoPunk #305 to Miami's Institute of Contemporary Art on December 2nd, 2022, marking the start of the "Punks Legacy Project" - a movement to expand the display of CryptoPunks and NFTs in art museums all around the world. [12][13]
On December 5th, 2022, Yuga Labs was featured on Coindesk's Most Influential 2022, as Nicole Muniz, Greg Solano and Wylie Aronow were announced as the three to share the spot for 2022. [37]
The Start of BAYC and Yuga Labs
Greg Solano and Wylie Aronow met on spring break in Miami in 2011. Both had grown up in Miami but didn't meet until then, as Greg was attending college in New York and Wylie was in Chicago. They discovered that they had mutual friends from when they were about 15 years old, and met at a bar that their friends frequented. They ended up having an argument about a book called "Infinite Jest" by David Foster Wallace, which Wylie was obsessed with at the time. This disagreement on the book actually helped to start and grow their relationship, as they "became sparring partners of ideas", says Greg Solano. They also became closer through playing World of Warcraft, an MMORPG. They were both already really big MMORPG fans with Greg being into Everquest and Wylie playing Star Wars Galaxies. [20][42]
In 2017, Greg introduced Wylie to cryptocurrency, as he had been aware of it since high school in 2009. That year, they became interested in CryptoPunks and CryptoKitties with Wylie's first NFT being a Crypto Kitty. However, they saw flaws in the NFT project, including a lack of a strong storyline and a solid scarcity model. [20]
In early 2021, they became interested in a project called Hashmask, an art project being published on the Ethereum network. Greg, understanding the project better, realized that publishing an NFT on Hashmask didn't require a broad technical skill set and suggested to Wylie that they create an NFT, which Wylie agreed to. [20][42]
"i texted him like hey let's make an nft and he immediately was like let's f****** go" - Greg Solano on Nelk Boys podcast.
This is where they began "bouncing around many ideas" for an NFT project and  finally had an idea where owners of an NFT would be able to drop their NFT on a collaborative artboard - creating a single art piece, made by multiple people. With this idea, they reached out to one of Wylie Aronow's friend, Nicole Muniz who responded with "you're kind of an idiot because the very first thing that someone's going to draw on this pixel board is going to be a d***", which ended up being true. This comment gave them the idea of creating the current BAYC "BATHROOM" as they thought inappropriate, graffiti-like drawings reminded them of bathrooms in bars. [20][43]
The initial idea of the 'Bored Ape Yacht Club' emerged when one night, Wylie wrote Greg an essay about an idea he had involving the imagery of New York in the late 1960s and early 1970s. He described an exclusive club he would want to be part of, which inspired the "Yacht Club" part of BAYC. The "Bored Ape" part came from their view of certain crypto personalities as bored individuals who would "ape" into cryptocurrencies and communities without doing the necessary research. [20][42]
Realising that the pair needed more help on the technical side of things, Greg called Kerem, a friend that studied Computer Science, asking if he knew any Javascript who then quickly noticed that it had "nothing to do" with Javascript. From there, Gordon says that they, "just contacted any friend we knew that studied computer science in college basically and was like let's put together a team for this", which is where the 4th Co-Founder, Sass joined. The four then "worked nights and weekends" to build the foundation of the project and Wylie says that "they (referring to Tomato and Sass) came in more as engineers we (referring to himself and Greg) came in more from a creative and strategy perspective but we kind of met all on the same page with everything before launching". [20][42]
Founders' Identities Revealed
On February 4, 2022, the identities of the team behind the Bored Apes were revealed by Buzzfeed. They were Greg Solano and Wylie Aronow. Up until the BuzzFeed article dropped, most people only knew them by the handles they use online — Solano is Gargamel, after the villainous wizard from The Smurfs, and Aronow is Gordon Goner, a punk-inspired name — and their corresponding Ape avatars. The same went for BAYC's other two co-founders, engaged in the technical side of things: Zeshan Ali, who went by No Sass, since shortened to Sass, and Kerem Atalay, who went by Emperor Tomato Ketchup, a name taken from an album by the Anglo-French indie pop band Stereolab. [42]
All four of them wanted to stay incognito, so in their minds, Solano and Aronow were being doxxed by the Buzzfeed article, because Ali and Atalay's identities were not revealed in the piece. Solano and Aronow decided it was best to "doxx themselves" first by tweeting out their photos. Four days later, Ali and Atalay posted their first names and photos of themselves on Twitter to have more control over the narrative. [42]
After the doxxing, the Co-Founders felt as if they had no control over their identities which led them to hiring a PR firm as they wanted to find the best outlet to publish their side of the story and "take control of the narrative". The PR firm then connected Yuga's PR team with the Deputy Editor at Fast Company, David Lidsky where David and Yuga's PR team met for the first time. After this, there was a second meeting consisting of the same people that met the first time around with the addition of Nicole Muniz and Connie Lin and Yaz Gagne, Staff Writer and Associate Editor at Fast Company, respectively. The team at Fast Company started working on the story behind Yuga Labs in early July 2022 and on October 26th 2022, their official story was released. [40][41]
Roar Studios Acquisition
On August 1, 2023, Yuga Labs finalized the acquisition of Roar Studios, a company in gaming, social media, and the metaverse. They are known for developing ROAR, an immersive media platform that enables real-time connections, collaborations, and competitions among artists and fans from any location. ROAR represents a fusion of art, technology, and social engagement, and their team are dedicated to crafting immersive social experiences that aligns with Yuga Labs' vision for Otherside. The acquisition brings specialized expertise, innovative technology, and creative talent to complement Yuga's goals. [60]
With the acquisition, Eric Reid, Founder & CEO of Roar Studios, assumes the role of General Manager for Otherside and reports to Mike Seavers, Chief Technology Officer at Yuga Labs. Eric Reid emphasized the mission of empowering individuals to create and connect within community-driven, open media experiences. He expressed his enthusiasm about the opportunity to collaborate with Yuga Labs and contribute to their innovative approach to content and immersive experiences. [61]
 "Our team's mission is to empower players to create and be social in a community-driven, open media experience, so our work fundamentally aligns with Yuga's larger web3 metaverse strategy. When Daniel and Mike Seavers opened the door for us to contribute to Yuga's paradigm-shifting approach to content and immersive experiences, we jumped at the opportunity."
BAYC Investors Sue Yuga Labs
On August 18, 2023, a class action lawsuit was filed against Yuga Labs, along with 29 other companies, by a group of four investors. The investors alleged that the defendants had misleadingly promoted the Bored Ape NFTs while their prices experienced a significant decline. The lawsuit included prominent entities such as Sotheby's Holdings, Adidas, MoonPay, Justin Bieber, Paris Hilton, and others. The plaintiffs accused Sotheby's of collaborating with Yuga Labs to artificially inflate NFT prices and criticized a 2021 sale to a single buyer for over $24 million. Celebrities like Bieber and Hilton were accused of endorsing BAYC without disclosing their financial gains. Yuga Labs and Sotheby's refuted the allegations, stating that they lacked merit. The plaintiffs sought a jury trial and over $5 million in damages. [56][57]
Yuga to Leave OpenSea
On August 19, 2023, Yuga Labs announced its intention to cease its collaboration with OpenSea on Twitter due to modifications in the platform's royalty structure. The decision was prompted by OpenSea's decision to retire its Operator Filter, an on-chain tool ensuring creator royalties on secondary NFT sales. Yuga Labs unveiled its plan to gradually wind down support for OpenSea's Seaport marketplace smart contract, aiming to complete the transition by February 2024, in alignment with OpenSea's approach. [54][55]
"Yuga Labs will begin the process of sunsetting suport for OpenSea's SeaPort for all upgradable contracts and any new collections, with the aim of this being complete in February 2024 in tandem with OpenSea's approach." - Daniel Alegre, CEO of Yuga Labs
Partnerships for Otherside Development
On September 20, 2023, Yuga Labs, announced a series of strategic partnerships aimed at advancing the development of Otherside. They have partnered up with several global partners, including Hadean, AccelByte, Bad Rhino Studios, and Faraway, to collectively contribute to the development of Otherside. [58]
Key Partner Contributions
Hadean: As a spatial technology company, Hadean will be in charge of constructing high-density simulation and networking solutions, facilitating high-fidelity virtual experiences and scalability for creators and players.
AccelByte: As a platform technology company, they will aim to provide a highly scalable and extensible backend platform for live game services, contributing to Otherside's technical infrastructure.
Bad Rhino Studios: This team of experienced game developers, designers, artists, and engineers from Bad Rhino Studios will contribute to Otherside by enhancing social and dynamic virtual experiences for players.
Faraway: Faraway will assist in crafting engaging moment-to-moment gameplay experiences within Otherside.
[59]
Yuga Labs also became a member of OMA3's board of directors to reinforce its commitment to metaverse interoperability. OMA3 is a coalition of web3 metaverse platform creators, collectively striving for high interoperability and transparency among platforms and communities. [59]
The Yugaverse
The Yugaverse is a web3 platform that encourages creativity and collaboration, with "no borders or rules". In the Yugaverse, members of the community are able to participate as both owners and creators; working together to create and play in a collective environment. The goal of the Yugaverse is to realize the full potential of web3 by fostering an imaginative and limitless space for people to build and experience exciting projects together.
Bored Ape Yacht Club (BAYC)
Bored Ape Yacht Club is a collection of 10,000 non-fungible tokens on the Ethereum blockchain. These NFTs are graphical representations of cartoon-like apes that are distinctive in their metadata, which includes the characters' backgrounds, earrings, clothes, fur, and eyes. The Bored Apes are algorithmically created with over 170 potential attributes, including expression and wearables such as clothing and accessories. Some of these attributes are rarer than others, with only a small percentage of the Bored Apes having certain traits, like golden skin or different-colored fur. [14][15]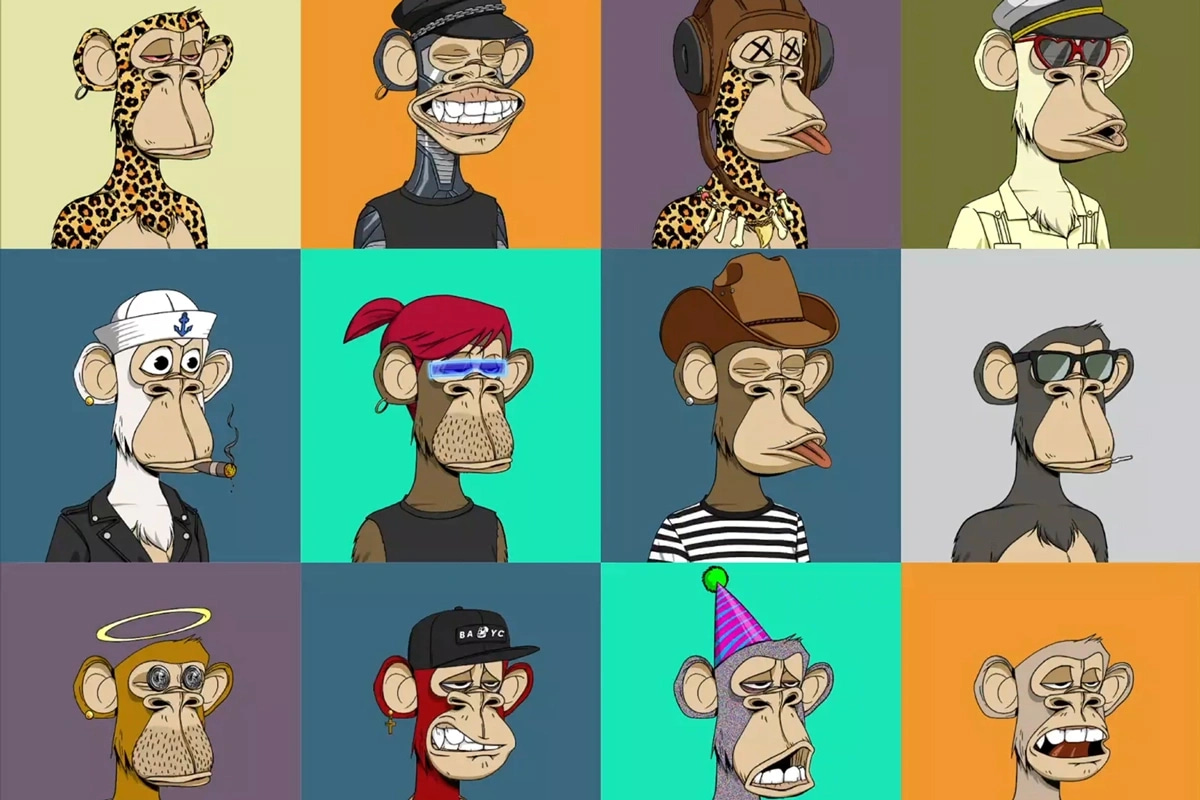 The Bored Ape Yacht Club was launched in 2021 and is similar to artwork sold physically, but these pieces exist only digitally and are unique because they are stored on the
blockchain
, which allows for ownership. When the collection was launched, the sales were initially slow, but after, well-known NFT trader Pranksy purchased many Apes and shared the news on Twitter, the collection sold out within 12 hours. The Bored Apes are now available for purchase on a marketplace where NFTs are publicly traded.
[16]
[17]
[18]
Bored Ape ownership grants access to the Bored Ape Yacht Club, which includes membership benefits like access to a private Discord server and a community drawing board called "THE BATHROOM" where Bored Ape owners can leave digital graffiti. This drawing board was actually one of Greg and Wylie's first ideas for an NFT project where owners of the NFT would have access to a drawing board and be able to drop one pixel on the drawing board - creating a collaborative art piece. However, when this idea was brought up by the Co-founders to current CEO Nicole Muniz, she brought up the fact that people would just draw inappropriate, graffiti-like drawings that reminded them of a bathroom in a bar. [19][20]
The Bored Apes were originally available on a first-come, first-served basis and were priced at 0.08 ETH, or around $200 at the time of release. The pricing model of most NFT projects at the time was basically a bonding curve: the earlier, the cheaper the NFT. The co-founders wanted to make sure that the initial sales of their NFTs would not follow the trend as they wanted everyone to invest the same amount to be part of the community, giving a sense of unity to members of the club. [20]
Bored Ape Kennel Club (BAKC)
The Bored Ape Kennel Club (BAKC) is a collection of 10,000 non-fungible tokens (NFTs) that are designed to be pets for the Bored Ape Yacht Club (BAYC) collection of NFTs. These NFTs are stored as ERC-721 tokens on the Ethereum blockchain and hosted on IPFS and were made as companions of the bored apes as it can get lonely when alone. [21][22]
"It gets lonely in the swamp sometimes. That's why every ape should have a four-legged companion. To curl up at your feet. To bring you a beer."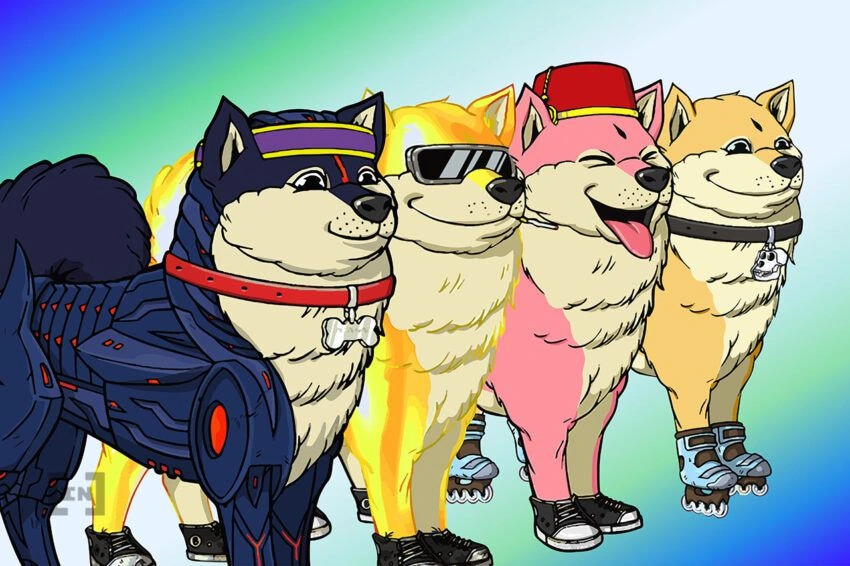 The BAKC collection was launched on June 18, 2021 by Yuga Labs, and the minting process ended on June 25, 2021, when the dogs in the collection were revealed to their respective owners. Owners of Bored Apes from the BAYC collection received a BAKC NFT for free, and it was stated that 9600 of these were claimed and the remaining 400 were released into the swamp. During the first six weeks of trading, Yuga Labs imposed a 2.5% royalty on secondary sales of BAKC NFTs which were used to donate to no-kill animal shelters. 
[23]
Mutant Ape Yacht Club (MAYC)
The Mutant Ape Yacht Club (MAYC) is a collection of up to 20,000 non-fungible tokens featuring mutant versions of the apes from the Bored Ape Yacht Club collection. These mutant NFTs can be created by exposing an existing BAYC NFT to a vial of Mutant Serum or by purchasing a mutant ape in public sale. [24]
The MAYC was launched on August 28, 2021, and consists of an airdrop of mutant serums to all existing BAYC holders, allowing them to mint mutant versions of their apes for free, as well as the release of 10,000 original mutant apes, bringing a total of 20000 new NFTs being part of the Yugaverse. [25]

The MAYC is designed to reward BAYC holders with a new NFT and allow newcomers into the BAYC ecosystem at a lower tier of membership. The mutants represent the final tier of membership, with the intention of providing utility and member-only benefits to BAYC and mutant holders, and to a lesser extent, BAYC holders with Bored Ape Kennel Club companions. 
[25]
CryptoPunks
CryptoPunks are a set of 10,000 unique digital collectible characters released in June 2017, stored on the Ethereum blockchain. They were created by Larva Labs, a development team inspired by the London punk scene and cyberpunk films and novels. Each NFT in the collection is a 24x24 pixel, 8-bit-style portrait with a unique set of attributes and traits, such as wearing a hat or smoking a pipe. [26][27]
CryptoPunks is one of the earliest non-fungible token projects and has helped to establish NFTs as a legitimate form of digital art. They can be broadly categorized into five different types of increasing rarity: male, female, zombie, ape, and alien. [26][27]


On March 12th, 2022, Yuga Labs announced that they have acquired the intellectual property (IP) of CryptoPunks, accumulating 423 CryptoPunks.
[6]
[28]
Meebits
Meebits are non-fungible tokens of 3D-voxel characters that exist on the Ethereum blockchain. The Meebits collection consists of 20,000 characters inspired by Minecraft and is divided into seven basic types, including humans, pigs, and skeletons. Each Meebit has unique traits such as tattoos, hats, and glasses, making them one-of-a-kind. Meebits can be used as profile pictures on social media, and avatars in virtual reality environments, and can even be 3D printed by holders. The Meebits collection was created by Larva Labs in May 2021 and 1711 Meebits were acquired by Yuga Labs, the team behind the Bored Ape Yacht Club NFT collection, in March 2022. Meebits can be bought, sold, and collected on the integrated Meebits marketplace, with fees only being incurred upon the finalization of trades between sellers and buyers. [31][32]


Otherside
Otherside is a metaverse project developed by Yuga Labs with the collaboration of Animoca Brands. It is a massively multiplayer online role-playing game (MMORPG) that enables up to 10,000 players to connect and communicate with each other in real-time. Otherside incorporates NFTs into the metaverse by offering a range of uses for NFTs within the virtual world, including third-party NFTs. [29][30]
This digital world features four main types of resources, known as Anima, Ore, Shard, and Root, which players can collect as well as the rare in-game collectibles, and artifacts that add to the gameplay experience. The Otherside metaverse is divided into five sectors, each consisting of 200,000 plots of land called "Otherdeeds" that can be purchased or minted by users. The game also includes an immersive, interactive storyline centered around Kodas, celestial beings that serve as guides to the Otherside. [29][30]
Players, known as Voyagers, are invited to participate in the Voyager's Journey, an 11-part storyline, and have the opportunity to shape and interact with their own slice of the Otherside by harvesting, crafting, trading, and selling items. They also play a role in shaping the platform through exclusive events, playtesting, and co-development of the Otherside Development Kits (ODKs). [29][30]
TwelveFold
TwelveFold is an experimental NFT collection consisting of 300 generative pieces crafted by Yuga Labs' Chief Content Officer Figge on the Bitcoin blockchain. It features a base 12 grid paying tribute to the data mapping of Bitcoin and incorporates 3D elements as well as hand-drawn features that use manual ordinal inscriptions. Bitcoin Ordinals, a new form of NFTs that can be permanently inscribed into a single Satoshi, is the underlying technology behind TwelveFold. The popularity of Ordinals has surged in 2023, with over 200,000 inscriptions on the blockchain, and Yuga Labs sees them as more than just another crypto craze, being optimistic about their future on the Bitcoin blockchain. [44][45]

The F****** Metaverse
On December 2nd, 2022, Yuga Labs announced the start of their podcast "The F****** Metaverse", dropping a trailer for their new step forward. The TFM podcast is hosted by the co-founders of Yuga Labs, Greg Solano, Wylie Aronow and Kerem Atalay aiming to "get serious and seriously off-topic about all things web3 – the metaverse, cryptocurrency, NFTs". The podcast features people in the center NFT and metaverse space such as: Mike Winkelmann, digital artist at BEEPLE; and John Watkinson and Matt Hall, Co-Founders of Larva Labs and also people that are involved in the space such as Snoop Dogg and his son Cordell broadus; Alexis Ohanian,  Co-Founder of Reddit; and Timbaland. [38][39]
Games
Dookey Dash
Dookey Dash is an NFT minting game created by Yuga Labs. It is a 3D endless running game where players aim to get the highest score by running as far as possible while collecting fragments, demolishing obstructions, and using power-ups. Yuga Labs' first mint through a skill-based game was available to play from January 19th to February 8th, exclusively for people holding the Sewer Pass NFT, with the highest-scoring player receiving the most valuable reward at the end of the event. Yuga Labs also released a special version of Dookey Dash called Toad Mode, for players who weren't able to participate before the deadline, giving everyone a chance to participate in the Summoning. The Summoning is an event that opened on March 15th, 2023, where players who have participated in Dookey Dash or Toad Mode with a score higher than 0 can transform their Sewer Pass to an unknown "Power Source" with the type determined by the rank achieved in Dookey Dash. [46][47]
Sewer Pass
Sewer Pass is a non-fungible token (NFT) that was free to mint for holders of the Bored Ape Yacht Club (BAYC) and Mutant Ape Yacht Club (MAYC) collections released by Yuga Labs. These Sewer Passes were used as keys to playing Yuga Labs' first skill-based minting game, Dookey Dash, where the players' scores would determine the rarity and value of their prizes. Sewer Passes were free to claim starting from January 17th, 2023, and the minting process ended on February 8th, 2023. Users were given a Sewer Pass grading from tier 1 to tier 4 depending on which NFTs of the Yuga Labs collection they owned. Holders of only the MAYC were given tier 1, MAYC and Bored Ape Kennel Club (BAKC) were given tier 2, only BAYC were given tier 3, and BAYC and BAKC were given a tier 4 Sewer Pass. Tier 1 allowed the holder to play the game as it was, whereas tier 2, 3, and 4 passes gave the user an additional 10%, 20%, and 30% to their final scores, respectively. [48][49]

HV-MTL
HV-MTL (Heavy Metal) is a collection of evolving mecha non-fungible tokens (NFTs) that were first introduced by Yuga Labs on May 17, 2023. These NFTs consist of floating robots that can transform into giant wearable mechas called HV's or HyperVerse. The collection comprises a total of 30,000 NFTs, featuring eight types of Mechs with over 1,050 traits. In the HV-MTL Forge game, players control their HV, build personalized workshops, and evolve their mechas. The Forge community determines which forges receive recognition, and players earn votes (Amps) for their HV and forge. Season 2, which started on July 20, 2023, introduced various updates, including Amp validations, class-based rewards, and exclusive items for Bored Ape Yacht Club (BAYC), Mutant Ape Yacht Club (MAYC), and Bored Ape Kennel Club (BAKC) holders. The collection's rarity and token IDs are predetermined based on the ranking obtained in the Dookey Dash mini-game. [52][53]
Legends of the Mara
Legends of the Mara is an upcoming 2D strategy game developed by Yuga Labs, set in the Otherside Metaverse. Players will embark on a journey to claim Vessels, nurturing them into apprentices called Maras, and uncovering the origins and connection of the Kodas to Otherside. The game offers various strategic choices, including defeating enemies, collecting resources, and protecting Otherside. Each Otherdeed holder can claim a Vessel, nurturing it into a Mara with specific roles such as Hunter, Farmer, or Enchanter. The goal is to evolve Maras into powerful Kodamaras using Sediment Fragments and a Seasonal Catalyst. Players will face adversaries called the Shattered, and defeating them will reward rare treasures. Unlocking expanded traits in Otherdeeds introduces artifacts and resources that impact strategic decision-making. Kodas, the primary keepers of Otherside, play a crucial role in defending and enriching the game's backstory. [50][51]
Team
Executive team
Chief Executive Officer: Nicole Muniz
Chief Legal Officer: Cameron Kates
Chief Operating Officer: Jasmin Shoemaker
Executive Producer: Natalie Stone
Leadership team
Head of Strategy: Haley Ross
Vice President of Finance: Charles Ma
Vice President of Engineering: Chris Haire
Vice President of Product: Chris Fortier
See something wrong?
Report to us.
Yuga Labs
Did you find this article interesting?