Metronome
Metronome (MET) is a fully autonomous cryptocurrency and monetary system, designed in 2017 by Bloq, a U.S. blockchain technology company. The native token of Metronome is MET. It was founded by crypto veterans Jeff Garzik and Matthew Roszak.[1]
Overview
Metronome was designed in 2017 by Bloq, a U.S. blockchain technology company, with the sole purpose of providing a long-term monetary system.[2][3]
Metronome was founded by Jeff Garzik and Matthew Roszak. The platform supports portability to enable maximum decentralization, even across different blockchains. The first chainhop took place in summer 2019, between Ethereum and Ethereum Classic. Portability empowers MET owners to choose the chain where they hold their MET for whatever reason they desire, such as security, fee optimization, and governance arbitrage.
Metronome aims to create a protocol that can transfer cryptocurrency across different blockchains. Initially, the Metronome token (MET) was issued as an ERC-20 on Ethereum. Currently, MET can be ported between Ethereum and Ethereum Classic.[4][5]
Additionally, Metronome offers advanced payment features such as the ability to send MET to multiple addresses in a single transaction to save on transaction fees and the ability to authorize a set amount of MET to move between two addresses on a recurring basis.[6]
MET Token
MET token has no capped supply and as of December 14th, 2020, it has a circulating supply of 11,172,171 MET. In June of 2018, Metronome held an Initial Coin Offering (ICO) and raised $12,110,000.[7]
Metronome Wallet
In November 2018, the team behind the Metronome announced the availability of its mobile wallet for iOS and Android, downloadable via the App Store and the Google Play store, respectively.[8][9]
Strategic Partners
Metronome has strategic partnerships with: Delta Strategy Group, Jaxx, Perkins Coie, Smith+Crown, Zeppelin, and New Alchemy.[6]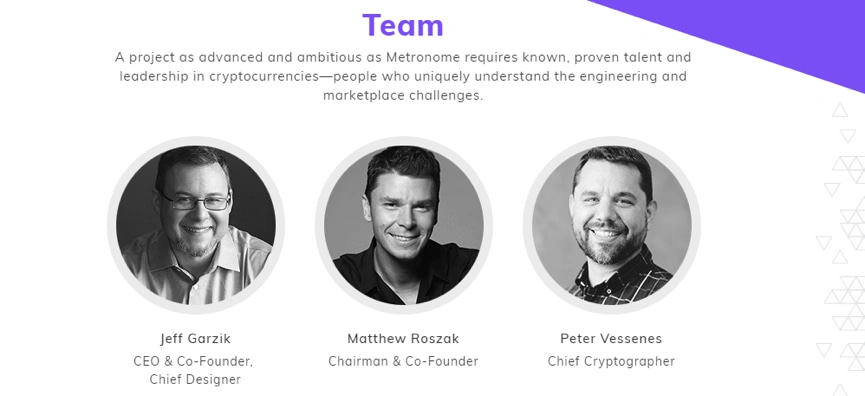 Team
| Name | Position |
| --- | --- |
| Jeff Garzik | Co-Founder and Chief Designer |
| Matthew Roszak | Co-Founder |
| Jordan Kruger | Managing Director |
| Manoj Patidar | Principal Engineer |
| Phil Gomes | Communications and Marketing |
| Gabriel Montes | Blockchain Engineer |
| Gustav Simonsson | Advisor, Orchid Labs Inc. |
| Jim Newsome | Advisor, Delta Strategy |
| Don Tapscott | Advisor, Blockchain Research Institute |
| Vinny Lingham | Advisor, Civic |
| Don Wilson | Advisor, DRW |
| William Mougayar | Advisor, Virtual Capital Ventures |
See something wrong?
Report to us.
Metronome
Did you find this article interesting?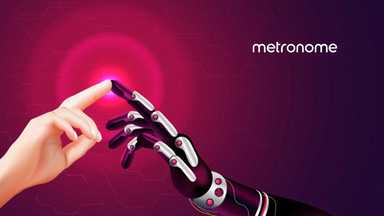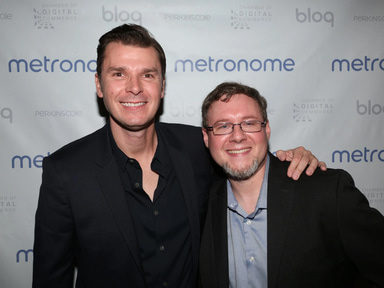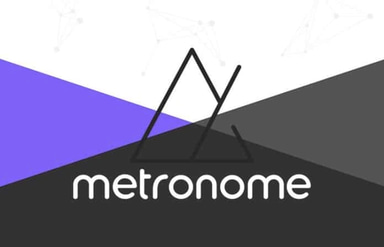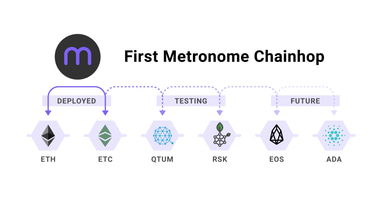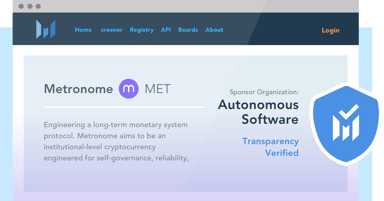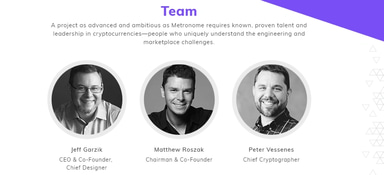 REFERENCES
[1]
Where Metronome Fit in the Cryptocurrency Space?
Aug 23, 2022
[2]
[Product Review] Metronome: Built to Last
Aug 23, 2022
[3]
Metronome ICO - Consistent Money Machine
Aug 23, 2022
[4]
ETC Labs and Metronome enable cross-chain swaps
Aug 23, 2022
[5]
Metronome | Cryptowisser
Aug 23, 2022
[6]
About Metronome
Aug 23, 2022
[7]
icodrops | Metrnome
Aug 23, 2022
[8]
Metronome Team Introduces Mobile Cryptocurrency
Aug 23, 2022
[9]
Official Mobile Wallet Delivers Full Desktop
Aug 23, 2022