SingularityDAO
Singularity DAO is a DeFi protocol overseeing DynaSets, diverse cryptocurrency baskets managed by AI. It integrates AI-based risk management from SingularityNET, a decentralized marketplace for AI collaboration.[1][2]
Overview
SingularityDAO was introduced on April 28, 2021, with Marcello Mari serving as CEO and co-founder, alongside Ben Goertzel, who is the CEO and co-founder of SingularityNET. SingularityDAO employs AI for portfolio management, efficient asset allocations, and liquidity provision on decentralized exchanges (DEXs). It fosters a new ecosystem of digital asset managers, aiming to enable automated trading strategies through AI-enhanced data analytics services.[1][2]
SingularityNET
SingularityDAO relies on SingularityNET, which houses in-house AI technology within its decentralized marketplace. This approach aims to optimize Alpha generation.[3]
DynaSets
SingularityDAO incorporates DynaSets as an essential component for optimizing portfolio management. These DynaSets operate as shared vaults, initially focusing on asset rebalancing but with plans to introduce more advanced strategies, including yield optimization and interactions with external protocols.
The protocol has organized DynaSets into two key sections: "Dynamic" and "DynaLab." The "Dynamic" section involves the automatic rebalancing of assets by the Dynamic Asset Manager, utilizing AI-driven signals and algorithms. Meanwhile, "DynaLab" serves as a testing ground for emerging features and products, encouraging user participation.
Presently, SingularityDAO offers three primary DynaSets. "dynBTC" and "dynETH" provide exposure to Bitcoin and Ethereum with the anticipated added benefit of reduced fees. "dynDYDX" offers an innovative approach by enabling the Dynamic Asset Manager to utilize dYdX derivative solutions, intended to enhance the management of cryptocurrency assets. This dynamic framework strives to offer users versatile options for cryptocurrency asset management within the SingularityDAO protocol.[2][4][6]
Tokenomics
SingularityDAO operates as a decentralized autonomous organization (DAO), governed by the SDAO token, an ERC-20 utility token on the Ethereum blockchain. SDAO token holders have the right to participate in governance voting events within the SingularityDAO protocol.
SingularityDAO's token allocation is structured across various rounds and categories:
Seed Round: Priced at $0.15, raising $500K, with a total valuation of $15M. Tokens are subject to a vesting period of 20.0%, released monthly at a rate of 6.67%.
Private Round: Valued at $0.2, this round raised $2.26M, with a total valuation of $20M. Similar to the Seed Round, tokens undergo a vesting period of 20.0%, with a monthly release of 6.67%.
Public Round: Priced at $0.3, this round raised $400K, resulting in a $30M valuation. All tokens from the Public Round are fully unlocked.
Community Round: With a price of $0.2, this round raised $1.61M, contributing to a $20M valuation. Tokens are subject to a vesting period of 20.0%, released monthly at a rate of 6.67%.
Team & Advisors: Tokens allocated to the team and advisors have no vesting period at the time of token generation event (TGE), with a monthly release of 4.17%.
Airdrops: Representing 25.0% at TGE, with a 2.08% monthly release.
Rewards: Tokens for rewards have an 8.33% allocation at TGE, featuring a 9-day cliff and an 8.33% monthly release.
Foundation: Allocated tokens have no vesting period at TGE, with a 2.78% monthly release.
Farming: Accounting for 2.5% at TGE, tokens undergo a 4-day cliff, followed by a 24.4% monthly release.
SingularityDAO (SDAO) Token
The SDAO Token is central to participation in SingularityDAO's governance. It enables users, whether token holders or delegated by others, to engage actively in the protocol's operations. Delegates, who need not possess SDAO tokens themselves, can delegate voting rights to any Ethereum wallet.[2][5]
Governance
SingularityDAO relies on decentralized governance, fostering an inclusive environment for community participation. Using the SingularityDAO Governance Token (SDAO), community members can engage in discussions, provide input, and vote on protocol-related proposals.
Proposals are introduced and discussed within the DAO, with discussions conducted on the SingularityDAO Discord and Forum. Voting on proposals follows, and SDAO token holders are entitled to participate, regardless of their storage methods or blockchain network.
The use of Snapshot, an off-chain multi-governance client, ensures transparency and verifiability in SingularityDAO Governance Votes. The protocol is committed to a gradual transition towards decentralization, allowing external developers to propose upgrades. The long-term goal is to transfer full control of the protocol to the DAO, a process that will be managed meticulously with active community input and any necessary adjustments addressed through governance proposals.[5][7]
See something wrong?
Report to us.
SingularityDAO
Did you find this article interesting?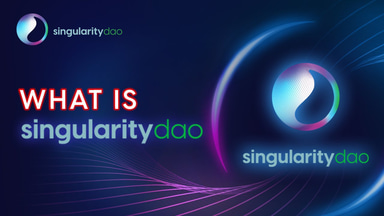 REFERENCES
[1]
SingularityDAO introduction
Nov 6, 2023
[2]
Coinbase CingularityDAO Introduction
Nov 6, 2023
[3]
SingularityNET
Nov 6, 2023
[5]
docs governance
Nov 6, 2023
[6]
coinmarketcap
Nov 6, 2023