DeFi 2.0
DeFi 2.0 is a new phrase in the blockchain world that refers to a subset of DeFi protocols built on prior DeFi breakthroughs like yield farming, lending and other things. Many on-chain systems with native tokens experience liquidity constraints, which is a crucial focus of notable DeFi 2.0 implementations.[2]
Overview
Decentralized finance, commonly known as DeFi, has been one of the most impactful and successful waves of blockchain-based innovation. Powered by blockchains with built-in smart contract functionality and secure oracle networks like Chainlink, DeFi refers to the wide range of decentralized applications that disintermediate existing traditional financial services and unlock entirely new financial primitives.[2]
Fueled by their inherent advantages of permissionless composability and open-source development culture, DeFi protocols are constantly advancing and iterating upon proven models of financial-based agreements. The DeFi ecosystem moves at a lightning pace—over the past few months, a rising movement of liquidity-focused DeFi projects has brought forth a new wave of DeFi innovation, commonly referred to as DeFi 2.0.[1]
Early DeFi pioneers such as Uniswap, Aave, Bancor, MakerDAO, Compound have constructed a solid foundation for the burgeoning DeFi economy allowing for on-chain yield for deposits and permissionless access to operating capital and adding many critical and composable "money LEGOs" to the ecosystem.
The fundamental problems now preventing the sector from becoming sustainable are the sector's reliance on third-party providers and token incentives to secure liquidity, as well as DeFi's essentially non-existent correlation with traditional finance and the global economy. The entire purpose of DeFi 2.0 and beyond is to address these issues.
Some of the DeFi 2.0 movement's pioneers are focused on developing methods for long-term liquidity.
Building protocol-controlled value mechanisms is another way DeFi 2.0 is expected to help decentralized automated organizations (DAOs).
Stablecoins, which are cryptocurrencies linked to a basket of assets such as the dollar, euro, or even gold and other cryptocurrencies, are commonly used in DeFi operations. However, it is more common to use stablecoins backed by US dollars. Well, DeFi 2.0, on the other hand, is "against it" because it does not want to keep us tied to inflationary centralized systems and regulatory risks. Some platforms are innovating by issuing their own floating reserve currency – again, Olympus is an example.[6]
Limitations of DeFi 1.0
Scalability
High fees and extended wait times for approved transactions continue to strain the user experience. As we all know, most DeFi solutions are built on the Ethereum blockchain and owing to the enormous number of users on the network, there are considerable delays and transaction costs are skyrocketing. As a result, users with less than a few thousand dollars make using DeFi devices unprofitable.
As a result, the question arises: How can users experience DeFi without dealing with Ethereum's scaling issues?
The cash flowed to BSC, Polygon, and Solana, which are some of the blockchains that can deliver what users require the most. The next market wave could be triggered by solutions to the scalability problem.[2]
Limited consumer protection
DeFi operates on a peer-to-peer network in a decentralized manner. Thus, there aren't as many rules and regulations for DeFi users as in centrally regulated financial systems. Although this absence of tight regulations has, in a way, helped DeFi thrive, there are serious challenges associated with this modus operandi. For instance, consumers may have limited recourse in the event of a bad transaction. On the other hand, there is sufficient buffer for users as well as institutions in centralized financial systems. In the US, the Federal Deposit Insurance Corp. (FDIC), for example, reimburses deposit account owners up to $250,000 per institution in the event of a bank failure. Banks must also have a minimum amount of capital as reserves for continued stability. DeFi offers no such protection.[4]
DEXs and AMMs without altering the token's price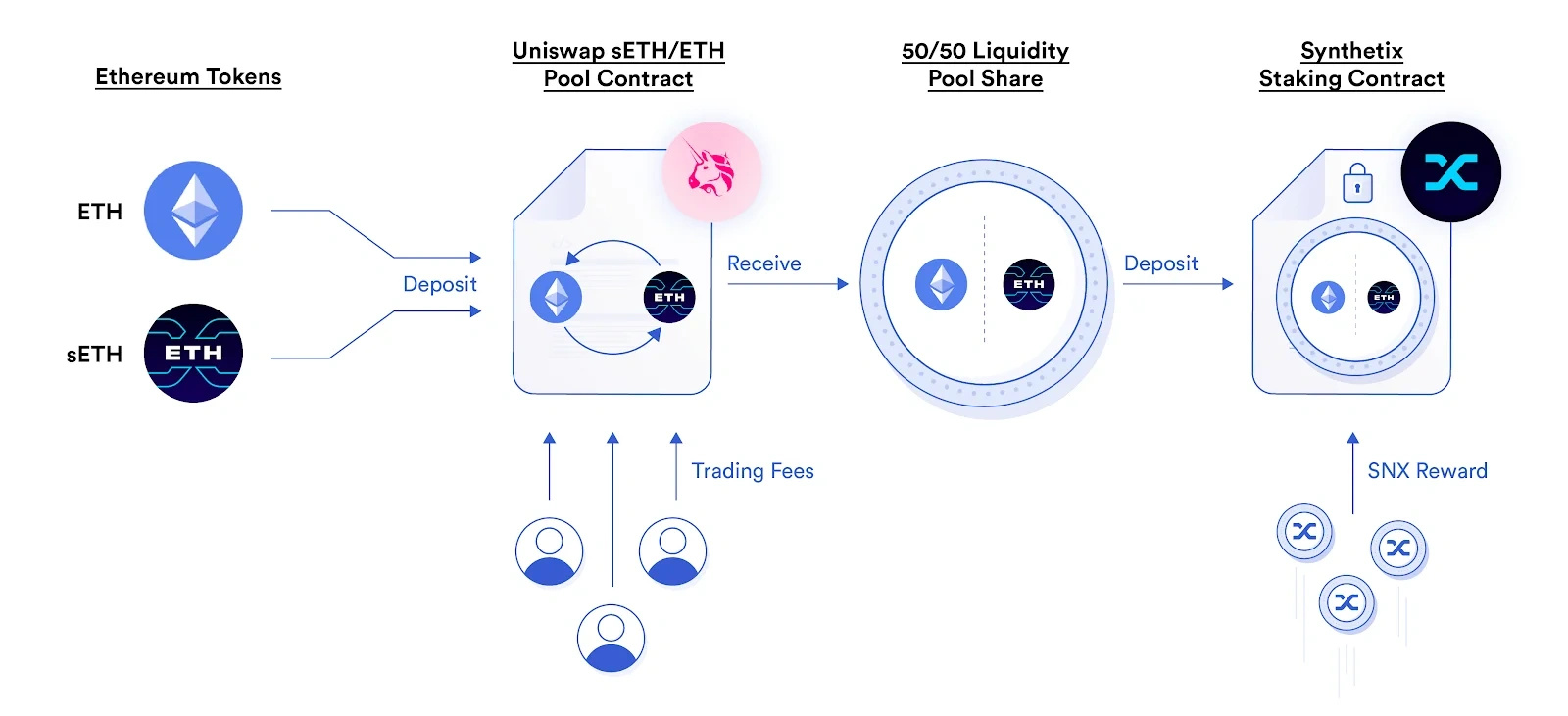 All cryptos require liquidity. While incentive programs can provide temporary respite, they are far from ideal and pose a more significant underlying risk for small investors.
The simplest solution to the liquidity problem, or to entice additional users and capital into the DeFi market, is to assist them in earning yields. Third-party liquidity providers on AMM protocols provided a partial solution to the liquidity problem, allowing any independent person with sufficient funds to provide liquidity for a token pair.
In the summer of 2020, when yield farming (also known as liquidity mining) became available, there was a rise in DeFi activity, dubbed "DeFi Summer" by blockchain specialists. The concept of yield farming is straightforward. Users offer liquidity for an exchange pair via an AMM protocol, receive an LP token in exchange, and then stake the LP token for returns in the project's native token.
This approach addresses the chicken and egg dilemma by providing a strong economic rationale for third-party liquidity providers to supply a token's higher return. They might earn even more yield by staking and getting more of the project's native token, in addition to generating higher cumulative fees on AMM swaps due to deeper liquidity.
New DeFi protocols were able to bootstrap significant amounts of liquidity to launch and sustain operations and minimize slippage for users entering their ecosystem, thanks to the advent of yield farming. As a result, the number of DeFi protocols has increased exponentially across the board, demonstrating how yield farming has lowered the cost to entry for both users and DeFi project creators.
Yield farming has proven to be an effective means of bootstrapping funding for DeFi projects, but it is not without risks in the long run. Moreover, due to the specific limits of long-term yield farming projects, it does not fully solve the liquidity problem by itself, despite its effectiveness.
Most DeFi projects must undertake yield farming initiatives and bootstrap liquidity since it is necessary and healthy. Still, project teams must be cautious of their token supply and long-term yield farming tactics to avoid negative, long-term consequences.[2]
Centralization
Apart from the fact that people come to DeFi to generate money, they also come to DeFi to pursue independence and be self-sufficient. Nonetheless, a group still controls a large number of DeFi protocols, leading to a loss of faith among DeFi users.
To address this issue, DeFi projects have a propensity to prioritize the decentralized aspect. The DAO, which allows anybody to vote on the project's evolution, has exploded in popularity in recent years.[2]
Inefficient asset use
People, especially in crypto, have short attention spans, and people are moving away from DApps to pursue bigger financial prospects. Yields are not as appealing as they once were, particularly for DeFi's blue chips. This has resulted in a recurrent farm and dump scenario, resulting in unhealthy cash flow for practices and many other issues.
DeFi 2.0 will be able to do the following with projects focusing on capital efficiency:
Collateralization
Collateral is an item of worth used to obtain a loan. For instance, the collateral for a home loan could be the home you wish to buy. Nearly all DeFi lending transactions require collateral equaling 100 percent of the loan value. This restriction does not just limit who can apply for a DeFi loan but also who is willing to accept one.[4]
User experience
DeFi platforms' usability is also a major problem. Decentralized products are difficult to use due to their complicated UX and UI. This is why the majority of DeFi active users are seasoned crypto enthusiasts. Defi 2.0 projects intend to eliminate this problem by making DeFi platforms more fun, interactive and user-friendly.[4]
DeFi 1.0 vs DeFi 2.0

Currency transactions are required to create a DeFi 2.0 decentralized financial system that is both sustainable and automatically distributed. Decentralized finance in the DeFi 2.0 stage is more likely to connect all community members who supply liquidity. Liquidity incentives are being pushed to connect relationships in all future transactions to build a warm, sustainable and interconnected decentralized financial architecture.
It is committed to breaking DeFi 1.0's cold transaction mode, expecting users to develop close horizontal connections while forming strong vertical ties, as it advocates for close user relationships.
| | DeFi 1.0 | DeFi 2.0 |
| --- | --- | --- |
| Connection between users | No connection between users | Strong connection between users |
| Ecosystem | It includes decentralized central trading applications, DEXs, lending and stable coin applications, liquidity machine gun pool applications, synthetic assets, and insurance-type projects | DAOs, liquidity incentives to create a warm, sustainable and interconnected decentralized financial architecture and capital efficiency |
| Incentive schemes | Unattractive limited incentive scheme for users | Users are 100% rewarded. Attractive incentive scheme for users |
| Governance pattern | Disorganized community and inappropriate governance pattern | Governance & policy rights are delegated to the members |
| Scope for innovation | One-way technology development and innovation | Unlimited scope for technological and financial innovation |
Advantages and Disadvantages of DeFi 2.0
Advantages
DeFi 2.0 promises a number of functionalities to make the DeFi space easy to be used by users.[5]
Disadvantages
Although there are many advantages of DeFi 2.0, the system also has some risks which are:[5]
Decentralization
Decentralization is not a new concept and there has always been a decentralization trend with blockchain technology. When building a technology solution, three primary network architectures are typically considered: centralized, distributed, and decentralized. While blockchain technologies often make use of decentralized networks, a blockchain application itself cannot be categorized simply as being decentralized or not. Rather, decentralization is a sliding scale and should be applied to all aspects of a blockchain application.
By decentralizing the management of and access to resources in an application, greater and fairer service can be achieved. Decentralization typically has some tradeoffs such as lower transaction throughput, but ideally, the tradeoffs are worth the improved stability and service levels they produce. DeFi is no different. One of DeFi 1.0's first projects, MakerDAO (DAI), set a standard for the movement. Now, it's increasingly common for projects to offer their community.
Benefits of decentralization
Every blockchain protocol, decentralized Application (dApp), Decentralized Autonomous Organization (DAO), or other blockchain-related solution adopts varying levels of decentralization. The adoption level is typically based on the maturity of the solution, the time-proven reliability of its incentive models and consensus mechanisms, and the ability of the founding team to strike the right balance. For example, many DAOs have various components at different stages of decentralization.
Many platform tokens also work as governance tokens that give their holders voting rights. It's reasonable to expect that DeFi 2.0 will bring more decentralization to the space. However, the role of compliance and regulation is becoming more important as they catch up with DeFi.[3][7]
Major DeFi 2.0 projects
Frax Protocol

Frax Finance has introduced the first fractional-algorithmic stablecoin protocol. Frax protocol is open-source, permissionless, and entirely on-chain. The vision for the Frax protocol is to provide a highly scalable, decentralized, algorithmic money in place of fixed-supply digital assets like BTC. Frax is the only stablecoin with parts of its supply backed by collateral and parts of the supply algorithmic. The ratio of collateralized and algorithmic depends on the market's pricing of the FRAX stablecoin. If FRAX is trading at above $1, the protocol decreases the collateral ratio. If FRAX is trading at under $1, the protocol increases the collateral ratio.[9]
The Frax ecosystem has several subprotocols that integrate its stablecoins.[10]
The Frax Protocol currently issues 3 stablecoins.[10]
The Frax Protocol is governed by two tokens.[10]
Unlike many other stablecoins, the supply of FXS DeFi 2.0 tokens changes based on the supply and demand. The end goal of the system is to introduce a highly scalable, decentralized asset that can overcome deficiencies related to fixed-supply digital assets like BTC.
To meet its goal, the protocol depends on the world's first fractional-algorithmic model to keep its value pegged near $1. For instance, if the stablecoin is trading above $1, the algorithm will decrease the collateral ratio, and vice versa. Before FRAX, stablecoins were divided into three distinct categories: Fiat collateralized, overcollateralized with cryptocurrency, and algorithmic with no collateral. However, the introduction of the new model has given stakeholders a new paradigm to test.
With possible cross-chain implementations in the future, it's the right time to think about adding it to the portfolio.[8]
Olympus DAO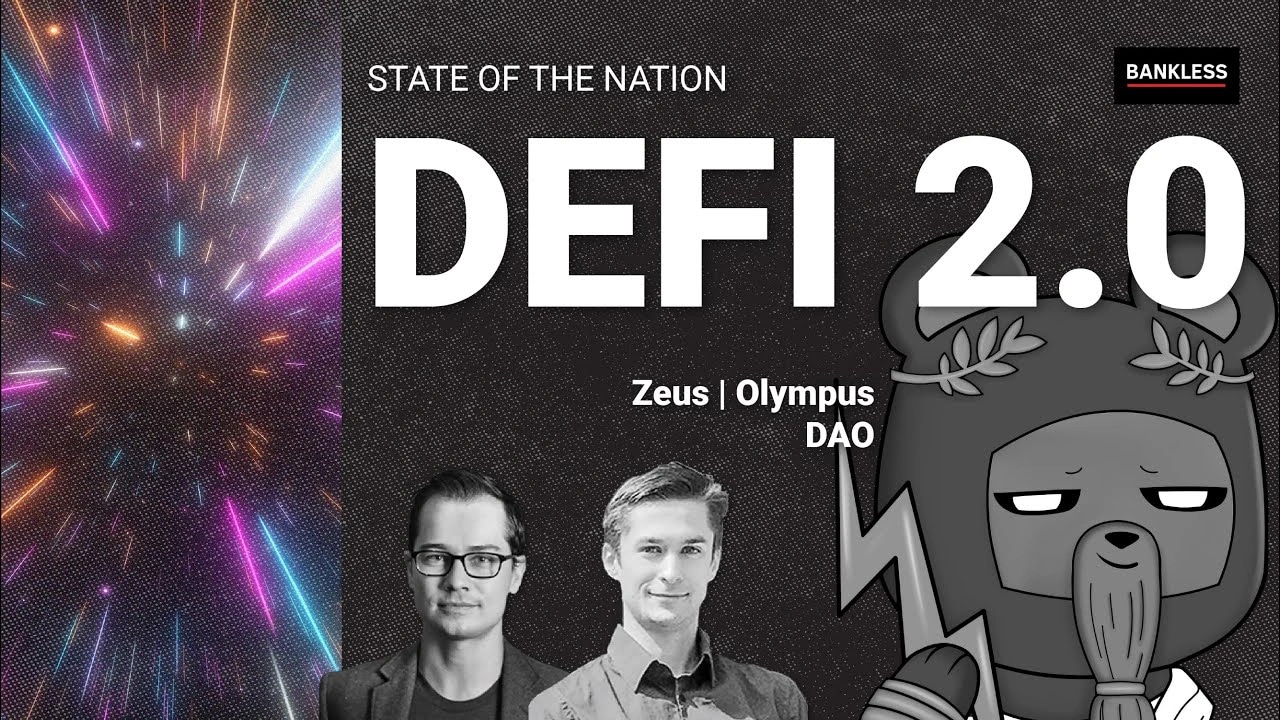 Olympus DAO
is one of the pioneers in the DeFi 2.0 movement and is popular for its innovative
protocol-owned liquidity (POL)
model. The platform is a self-governing
decentralized autonomous organization (DAO)
that uses
OHM
as its native token. This token, according to Olympus, could become the reserve currency for decentralized finance. OHM tokens are backed by
stablecoins
such as
DAI
and
FRAX
and, hence, can maintain price stability.
Olympus allows token holders to vote on important decisions much like any other DAO. Staking OHM tokens can also help users make money on the platform. Staking allows users to earn sOHM tokens, which can then be used on different DeFi platforms. You can convert your sOHM tokens into OHMs by burning them.
Users can generate LP tokens, issue bonds with them and then buy OHMs at a discounted rate. Selling bonds is another way Olympus DAO members can make money.
[4]
Abracadabra.money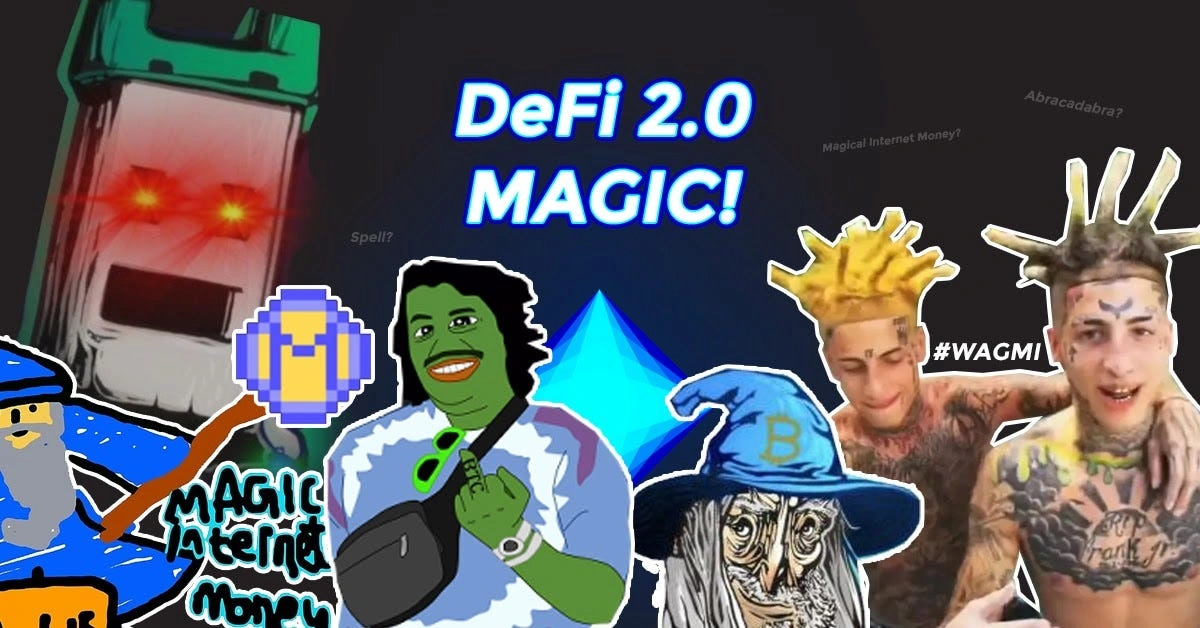 Another important DeFi 2.0 project on our list,
Abracadabra.money
, is essentially a lending platform. If you own interest-bearing tokens like yvUSDC and yvWETH, you can use them as collateral for borrowing or minting Magic Internet Money (MIM), a dollar-pegged stablecoin.
Doing this allows users to turn their interest-bearing tokens into liquid assets. The interest rates on the platform are stable, and the borrowing rates are low. The platform's governance tokens are called SPELL, which can be used for voting on proposals and also earn a platform fee by staking them.
[4]
Convex Finance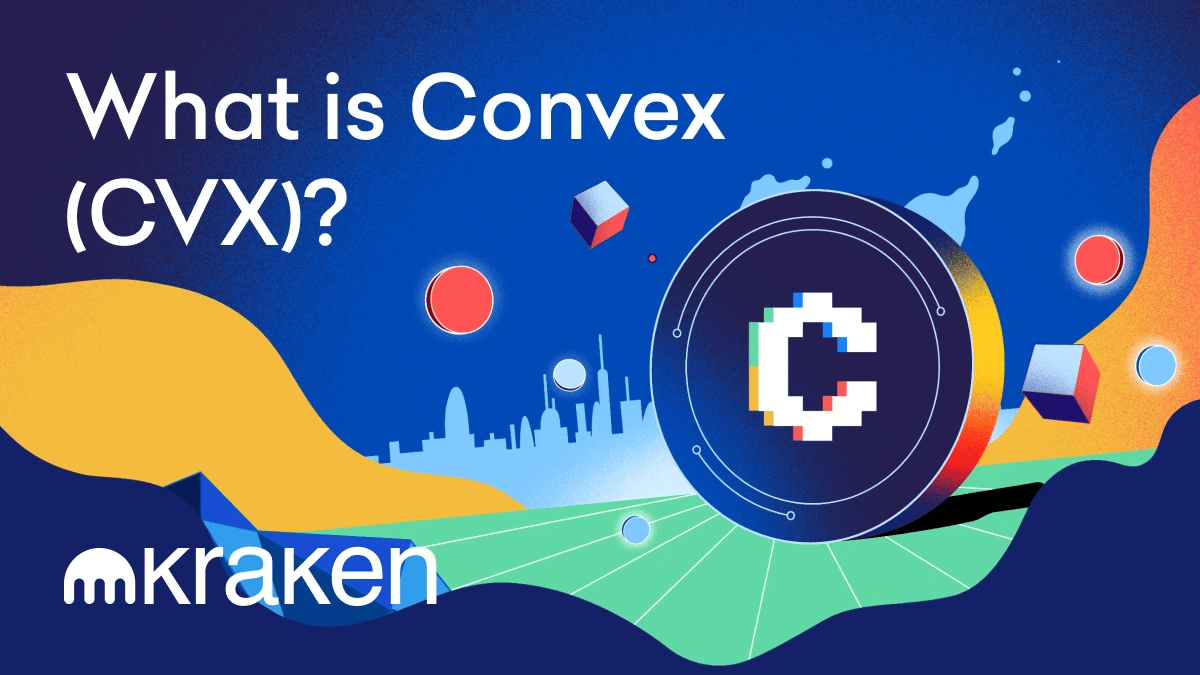 Convex Finance
is a decentralized finance platform built on stable exchange
Curve Finance (CRV)
. This platform is beneficial for liquidity providers and stakers alike. For Curve Finance's liquidity providers, Convex offers an opportunity to earn boosted rewards without them having to lock in their CRV tokens. Besides, the platform has no withdrawal fees, and charges very little in performance fees. Similarly, people interested in staking can use Convex to stake their CRV tokens and earn a share of boosted rewards.
[4]
See something wrong?
Report to us.
DeFi 2.0
Did you find this article interesting?